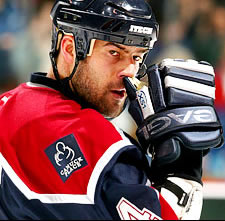 Oh, those goddamnable Canucks - the streakiest, most heartbreaking team in hockey. Have you noticed the behaviour of the local squad reminds you of a kid who has been brought up by neurotics?
As any social psychologist will tell you, a child's ability to thrive is a combination of genes and environment. The genes here appear to be good-nature has been kind. That leaves nurture. And a stifling hothouse of over-parenting it has been.
It takes a village to raise a hockey team. But when mom is a hothead, step-dad is distant, the extended relatives are bipolar and the villagers are all convinced they know best (and are never shy about saying so) well, that's a recipe for a kid who's brave and responsible one minute and, later, sets fire to the dog.
Mom, here, is coach Marc Crawford-everything about whom, from the featureless, plain face to the petrified hair, puts you in mind of the blast zone on a dormant volcano, and not coincidentally, there's a fierce temper under there. Step-dad is newish general manager Dave Nonis, who shows his love and confidence in his charges by not meddling; which is to say, by being a ghost. The drama queen-ish extended family, given to extremes of effusiveness and woeful despair, are the local media. The busybody villagers are the fans.
What does it all add up to? Confusion. Mixed messages, which breed insecurity. No wonder the team acts out - sometimes violently (see Bertuzzi, Todd), sometimes with rebellious, expectation-flouting, "you're-not-the-boss-of-me" unpredictability. (When the Canucks are expected to overachieve, that's when they underachieve, taking momentum-killing penalties and just generally losing interest. It's only when everyone appears to give up on them that they turn on the jets.) About half the time, they shuffle in to class, take a seat in the back, plug into the Game Boy and count the minutes till home time.
But wait a minute, aren't all NHL teams raised this way: scissored by all kinds of competing demands and criticisms? Well, not necessarily. Toward big-city teams like the Rangers, the extended relatives and villagers - the media and fans-are often relentlessly harsh; and toward tiny-market teams like the Wild, they consistently bestow love-bombs. Both are preferable to the passive-aggressive Lotusland approach, where the villagers seem to have their own ambitions and dreams and very identities hitched a little too snugly to the fortunes of the team. As go our boys, so goes our mood.
In any case, some classic parenting mistakes are being made. Don't believe me? Just ask the experts.
BOUQUET TOSSING
At season's opening, the Canucks were a can't-miss bet, poised, finally, at the dawn of the free-wheeling "New NHL" to display their skills to full, blazing effect. Bertuzzi was back and hungry, Naslund was unconcussed and the insert of Anson Carter alongside those wily twins was said to be the "missing piece" of a surefire Stanley Cup champion. Rose petals rained down. The rests of the season has been spent sweeping them up.
"Children belong on pedals, not pedestals…Excessive praise of our children's skills will produce mediocre performances." - Fred G. Gosman, author of Spoiled Rotten: Today's Children and How to Change Them.
ENABLING LAZY HABITS
A typical game pattern: the Canucks fall behind early, then wake up round about the middle of the third period. There is no better team in hockey in the last ten minutes of the game -but often, by then, it's too late.
"Teach your kids to 'set goals'" - say, scoring a minimum of one goal per period- "and work quietly and systematically toward them." - Marian Wright-Edelman, The Measure of Our Success
ENABLING POOR SELF-DIRECTION
The Canucks have played very well this year at The Garage. On the road? Not so much. Tomcatting around L.A. or St. Louis or Edmonton, the boys seem to lose the plot. Only the stern eye of the villagers seems to keep them in line at home.
"Boys need structure, they need supervision, and they need to be civilized. When raised in an environment that is devoid of leadership, they often begin to challenge common sense." -Dr. James Dobson, Bringing Up Boys
MANAGING THE MESSAGE
In 2003, after the Canucks blew first place in their division by tanking in the last few games of the season, Naslund said what everyone was thinking: "We choked." For his candour, he was pilloried. Since then, the captain has been almost robotically diplomatic-and the rest of the team has learned, similarly, to button it.
"Why do children lie? Sometimes they lie because they are not allowed to tell the truth." -Dr. Haim Ginott, Between Parent and Child
HATING THE SIN, SPANKING THE SINNER
After game days, the Vancouver Sun bestows kisses - or a public caning - in the form of a report card, in which the performance of forwards, defensemen and goaltenders are rated. Last night's mistakes always come off as signs of trouble and confirmation of some systemic deficiency.
"Don't make your approval conditional on the child's success-keep the achievements separate." -Robin Goldstein, Ph.D, The Parenting Bible
HOLLER FOR YOUR DOLLAR
After a loss (and sometimes, after a win), coach Crawford can often be heard screaming in the dressing room or the coaches' office.
"Eventually, when you yell, children just turn off and hear nothing. Yelling disconnects children from their desire to be guided." - John Gray, Children are from Heaven
THE NOODLE AND THE LASH
Recently, after a couple of road wins, the Canucks were given a day off in Phoenix. Many chose to go golfing. On losing skids, extended, extra-grueling practices are often scheduled.
"As the parents vacillate between brick-wall (over-authoritarian) and jellyfish (overly permissive) the children are left so disoriented and confused that they easily lose a sense of who they are." -Barbara Coloroso, Kids are Worth It
MANAGING THE SIBLINGS
The little brothers, the Sedins, frequently outshine the big brothers; Naslund, Bertuzzi and Morrison. And in fact, the even littler brother, Alex Auld, has saved the team repeatedly this year. Yet until very recently, when Crawford started playing mix-and-match, the big line was rewarded with the most ice-time."
"A better alternative to granting privileges by age is to treat kids equally, and make allowances for differences in size, maturity and physical development." -Goldstein et al, The Parenting Bible
BESMIRCHED
Marc Crawford refers only to a certain number of the players, and they remain nameless, at least in press conferences, as "the character guys." As in, "I thought the character guys had a lot of compete tonight." The implication is the rest of the players aren't.
"Acknowledge your child's feelings without attacking her character." - The Pocket Parent, by Gail Reichlin and Caroline Winkler
NO SUBSTITUTE FOR EXPERIENCE
Management has expressed its trust and belief in its roster by refusing, by and large, to make changes. In January, after a seven-losses-in-eight-games streak, step-dad Nonis met privately with the team and is said to have delivered an ultimatum: I want to keep this team together, but I will take it apart.
It looked like the turning point of the season, as the team won the next three games. Then, they got shut out in Jersey and returned to the old inconsistency.
"How does one become a butterfly?" she asked pensively. "You must want to fly so much that you are willing to give up being a caterpillar." Abraham Taverski, When Do the Good Things Start?
THE TRIBE HAS SPOKEN
Emotions ran high after the Steve Moore incident. On an online discussion board, one fan posted the following: "I hate Steve Moore. I hope Jovanovski gives him an open-ice hit and gives him a concussion. Funny how a fourth-line centre basically ruined the Vancouver Canucks' season."
"What are some of the values and characteristics you would like to see in your children when they become adults? At the present time, to what degree are you a model of those characteristics and values." - Life-style Parenting, by Gary J. Oliver
Bruce Grierson is a widely published Vancouver writer. His last piece for The Tyee was about struggling to stay in Vancouver as house prices skyrocket.