Valemount, B.C. is the end of the line. It's the last stretch for hydro on a line running from Kamloops. It's the final stop for produce shipments. When a service is missing, it's up to the community to find a way to supply it. A place like this, says Korie Marshall, president of the Valemount Geothermal Society, tends to collect individuals with a strong, pioneering spirit.
"Since we're a remote location, if there's something we need and it's not here, it's up to us to make it happen," she says. "So the people who choose to live here are usually pretty resourceful."
Once a thriving forestry town until most of the small mills closed, enthusiasm has surged in the community of 1,020 for a new industry. Geothermal direct-heat and power could transform Valemount from being the end of the line to a hub for power, food and tourism.
An Alberta company, Borealis Geopower, is proposing to harness the geopower potential at Canoe Reach 15 kilometres south of Valemount to produce micro-power for commercial uses, create "Sustainaville" — a demonstration village that will make use of the direct-heat produced by the wells, and ultimately build a geopower plant that should supply 15 MW of power to the community and to the energy grid.
Marshall says the company's plans are particularly appealing for a community that can be without power for hours because of a downed tree near Kamloops, and whose one grocery store often has empty shelves where produce should be.
Sustainaville, the geo-park, or eco-village that will be entirely heated and powered by geothermal, could serve as a demonstration of geothermal potential for the rest of the region. Developing this resource may offer part of the solution to finding clean energy resources and meeting sustainable energy goals in the province.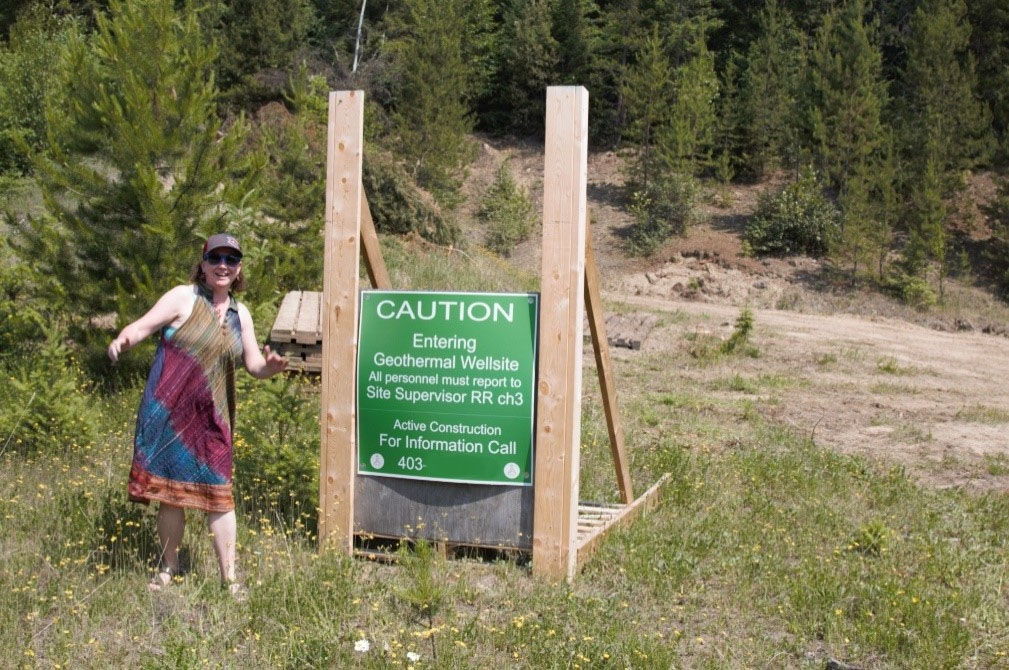 What is geothermal?
The Earth's core is continuously producing heat. Magma brings that heat close to the surface where it warms underground reservoirs of water. Geothermal takes that heat and uses it to generate electricity. There are several different methods for generating electricity from these reservoirs, but Christopher Engman, a representative for Climeon, the company whose technology will be used at the Canoe Reach project, says that to keep things simple, it can all be understood as "heat power."
"If you think of a normal radiator," Engman explains, "you send electricity into the radiator and that gives us heat. We're like a reverse radiator, we suck the temperature in to produce electricity."
Geothermal is not entirely without environmental risk, and concerns include potential seismic activity from drilling and the release of gases like sulfur dioxide and silica that are trapped beneath the surface. The wells may also contain traces of heavy metals like mercury, arsenic and boron. But the risks are considered minimal and these emissions are still nothing compared with the pollution produced by coal power and other fossil fuels.
There are also concerns about what is called "enhanced geothermal systems," which make use of similar methods to fracking, injecting millions of gallons of water and chemicals at high pressure into wells to create a network of fractures through which water can be pumped. This method increases the productive capacity of geothermal wells but comes along with increased risk of small earthquakes.
Innovations in the field have minimized the risk of seismic activity, however, and Engman says the technology to be used at the Canoe Reach project avoids these pitfalls.
The technology is capable of generating electricity at lower temperatures, so it isn't necessary to drill as deeply, and since it re-injects the water back into the ground, it isn't changing the pressure underground or releasing emissions as is done by traditional geothermal plants that empty aquifers and release steam into the atmosphere.
Climeon's approach is to channel heated water between 70 and 120 C from underground reservoirs into a power plant, where a sheet of metal separates it from a liquid that has a lower boiling point. When the heat is transferred from the water through the metal sheet to the other liquid, it begins to boil immediately and the pressure that's created spins a turbine to generate electricity. The water is then channelled back into the reservoir where is it again heated and the process repeats.
A new company called Eavor Technologies is also experimenting with a drilling technique that essentially creates its own wells, taking the guess work out of finding reservoirs suitable for generating electricity.
Eavor Technologies hopes to drill two vertical tunnels with a horizontal shaft connecting them at the bottom in suitable sites. It will then pour a liquid into the arm-width tunnels that will coat them and solidify to form pipes. Water or some other liquid would then be introduced into the tunnels, heated by the earth and used to generate electricity.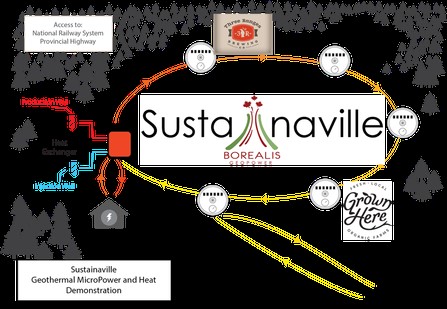 Welcome to Sustainaville
The Sustainaville project is meant as a demonstration not only of the potential of geothermal for generating electricity, but also of the secondary uses of direct heat. After the water passes through the Climeon power plants, it will be cooler but the temperature will still be high enough to heat housing clusters and greenhouses.
Sustainaville will make use of that heat by channelling the water from the power plant through piping to a demonstration village composed of houses, fish farms, greenhouses, a brewery and biomass operations before returning it to the underground reservoir.
Having this heat source could improve food security for the community. Using hydro to operate greenhouses in the winter when temperatures drop to -18 C is just too expensive to be viable, making the community reliant upon produce shipped from far away.
"Growing conditions are great in the summer, but it's really hard in the winter," Marshall says. "Local food security is really top of mind for a lot of people. Especially since we have one grocery store in town and they do as much as they can, but their produce shelves are often empty because we're at the end of a shipping line."
Marshall says the community also hopes that the village will generate tourism and act as an educational project for geothermal.
"We got really excited about the spin-offs. You know, the idea of a greenhouse business, a hot pool business, a fish farm, maybe starting an education program around geothermal, having trails whether for bikes or hiking around the marsh that are heated by geothermal and having little signs that help explain to other people who visit us what's going on."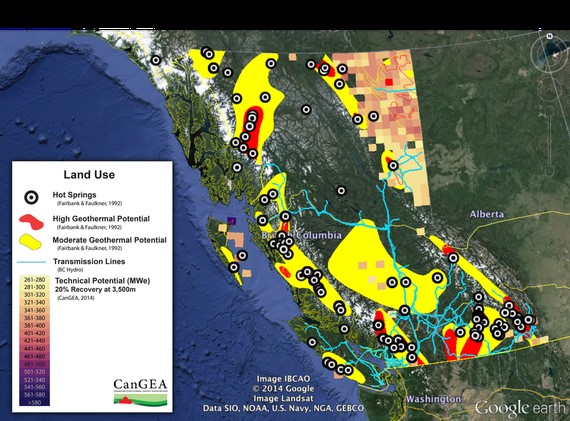 Geothermal's regional potential
Iceland has been taking advantage of its geothermal potential for decades. Nine out of 10 of the country's households are heated by direct heat from wells, and geothermal is responsible for 25 per cent of the country's total electricity production.
I asked Engman how geothermal potential in B.C. compares to that in Iceland. He said that while Iceland is a unique case since there is so much heated water at surface level, which eliminates the need to drill, the volcanic activity in the Pacific Ring of Fire that runs along the western coast of the province and the heat under the Rocky Mountain trench means there is strong potential in B.C. as well.
He believes many countries have refrained from exploring their geothermal potential as Iceland has done because of the complicated terminology used in the field. The potential of the technology won't reach politicians and regulators, he says, if you need to be a specialist to understand it.
"There are similar terms for solar and wind as you find in our category, it's just that they decided not to use the nitty-gritty terminology but instead call everything solar power. Typically, the people deciding where subsidies will go and how you legislate around renewable energy — they're not specialists. Our industry has been appalling at explaining what we do and we're trying to fix that."
But there is also the risk involved in drilling. There is no way to know for sure beforehand whether the temperature and flow of the water will be conducive to generating electricity. This makes investing in geothermal development risky.
The federal and provincial governments are currently subsidizing the oil and gas industry at $3.3 billion a year. Offering government incentives for geothermal production could encourage more companies to invest in this more sustainable power source and facilitate the shift away from fossil fuels to cleaner energy resources.
I reached out to the Ministry of Energy, Mines, and Petroleum Resources to ask about whether and how geothermal potential in B.C. is being explored and supported.
Kent Karemaker, a representative for the ministry, said in an email that the government is interested in the potential of geothermal.
"As a firm, clean source of electricity, unlike intermittent or seasonal sources like run-of-river, solar and wind, geothermal power has the potential to offer capacity benefits to BC Hydro's system. For example, it has the ability to help deliver power on the coldest, darkest days of the year."
Three geothermal exploration permits are currently active: one at Canoe Reach south of Valemount; one at Lakelse Lake near Terrace; and one on the north side of Mount Meager near Pemberton. A single geothermal lease is active at the Mount Meager site. These permits allow companies to conduct exploration in B.C. to gather information on geothermal resources. So far none have demonstrated that they meet the eligibility requirements for BC Hydro's procurement processes.
"We know the resources are there," Karemaker says, "but the resource is very difficult to pinpoint."
The province does not provide special credits to geothermal operators who have drilled wells, but there is federal tax relief for unsuccessful drilling, and the province is in the process of establishing a royalty rate for geothermal production.
Karemaker says that in an attempt to streamline the application process for exploration permits and make it more affordable, the ministry transferred responsibility for the regulation of geothermal exploration activities to the B.C. Oil and Gas commission in March 2017.
The four drilling authorizations granted to Borealis in May are the first to be awarded by the commission in its new role, and it has subsequently awarded one more for the community forest site — the ideal location for Sustainaville.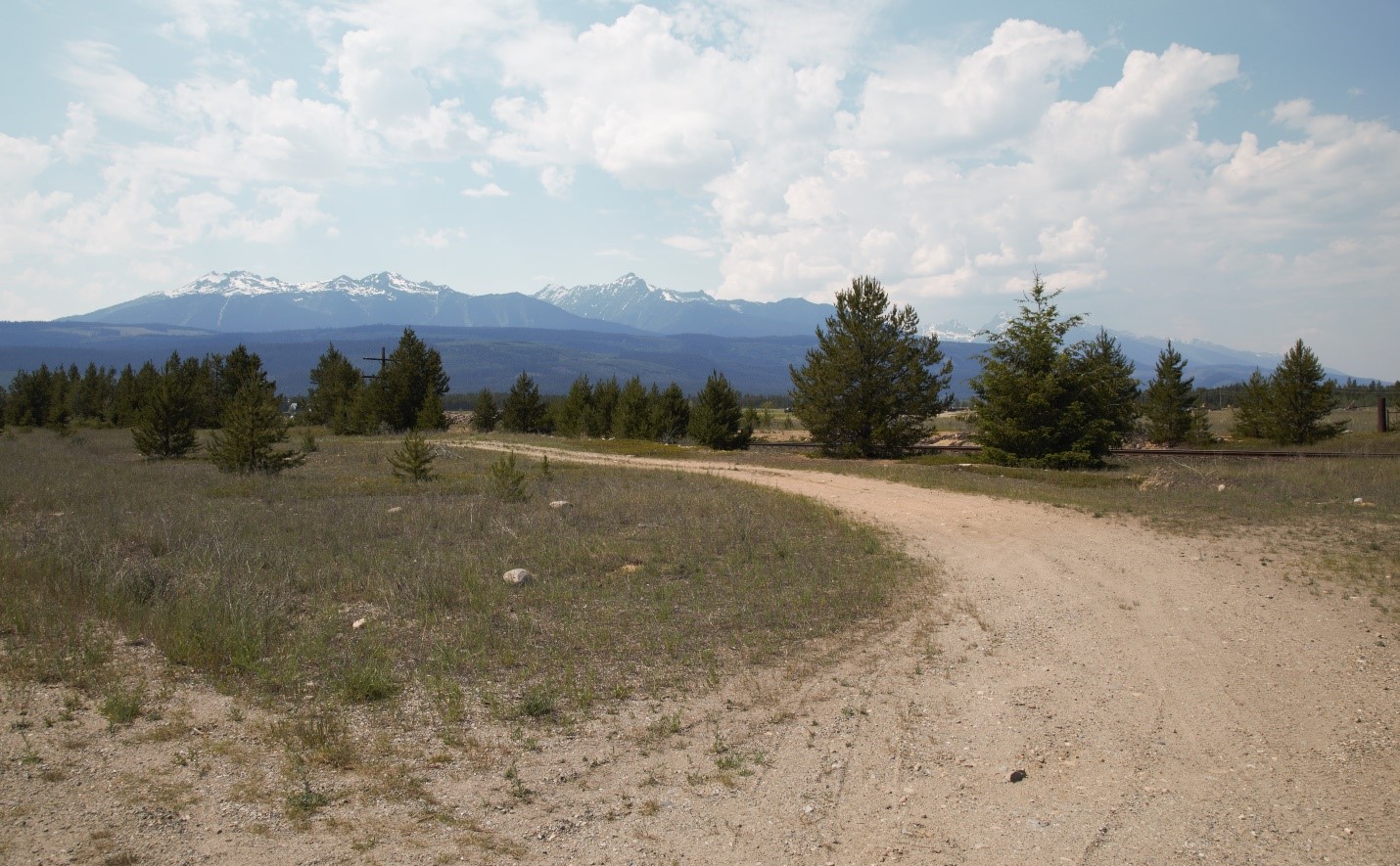 Oil, gas and geothermal
As we attempt to minimize our dependence on fossil fuels and shift away from this resource, geothermal offers a promising avenue for oil and gas industries to move into.
As Engman points out, they already have the knowledge and resources that would enable them to take advantage of geothermal potential.
"Alongside the entrepreneurs like Alison Thompson [of Borealis], the big guys in the future in geothermal will be the oil and gas players because they have the competencies — they know prospecting, they know how to create land leases, they know how to do the drilling, they know how to do the pumping, they know how to operate the site, how to maintain it and so forth."
Oil and gas companies already have wells drilled that could generate geothermal electricity. When wells are pumped for oil, approximately 80 per cent of what comes up is heated water. That water is considered a waste product, but it is exactly what geothermal companies are trying to find. Oil and gas companies could use that heated so-called "waste-water" to produce electricity. They can also make use of wells that have been drilled but did not yield any oil as access points to heated aquifers.
For remote locations like Valemount, where many businesses are using propane that must be trucked in, that heat is a valuable resource.
"I mean no matter which way you look at it if you generate electricity you still have leftover heat, or you can just use the heat," Marshall says. "And heat is never a waste, not in northern communities."