The Energy Step Code project may not be sexy.
But it highlights the power of broad partnerships, and creates a path to transform the BC Building Code and slash greenhouse emissions.
The Energy Step Code is a simple plan to take the BC Building Code from where it is today to where it needs to be by 2032 to increase energy efficiency and reduce emissions.
It's not an easy process. Building codes are highly technical, and revisions affect everyone from builders to municipalities to homebuyers.
Local governments and the residential construction industry launched the project. Both wanted to work towards reaching climate action goals, but there were no consistent standards or plan for change.
"So this group came together with the province and said, can we create a long-term stairway that helps the market transition from where we are at the moment to where we know we need to get to for climate action," says Robyn Wark, vice-chair of the Energy Step Code council and sustainable communities team lead with BC Hydro.
They formed the Energy Step Code Council out of 25 organizations, including the Union of BC Municipalities, Local Government Management Association, the Canadian Home Builders' Association and the Urban Development Institute, utilities and the provincial government.
The council won the Built Environment Land Award from the Real Estate Foundation of BC in October for its work in reducing carbon emissions and increasing energy efficiency.
The plan is a performance-based program with five steps. Step 1 is simply meeting the building efficiency of the current BC Building Code; it's the baseline. Step 2 improves efficiency by 10 per cent; Step 3 improves by 20 to 40 per cent; Step 4 by 50 per cent.
The end goal, Step 5, reaches net zero building emissions from new construction.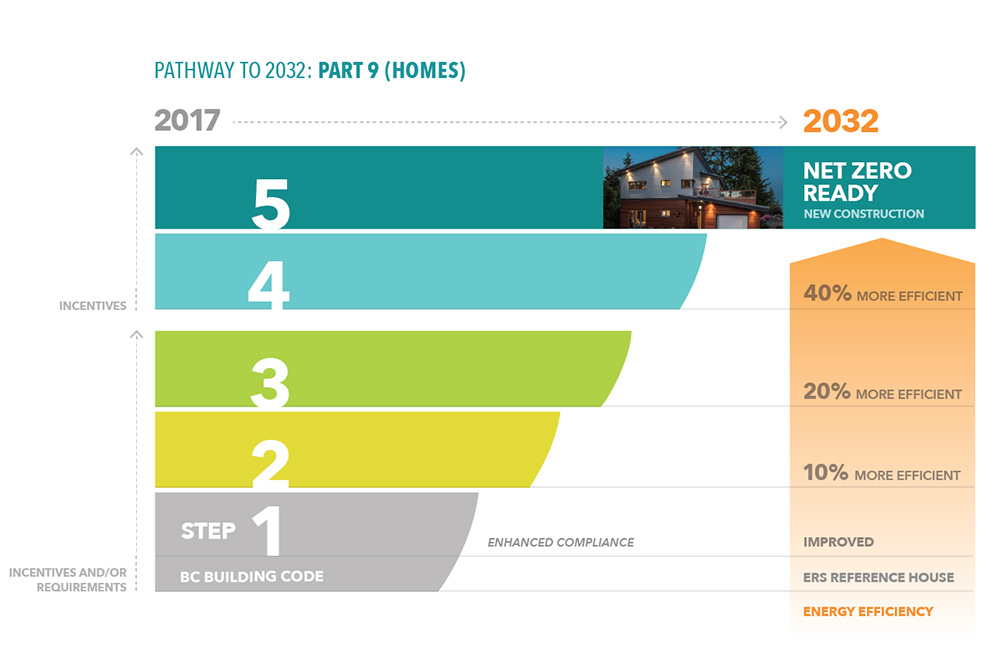 Instead of prescribing specific energy saving methods that builders must use to reach these targets, like the current building code, the Energy Step Code simply sets the targets and builders get to decide how they'll get there, using their strengths, the available products and the needs of their clients.
It's a methodological change from a prescriptive to performance-based code. Instead of a thick document of specific building instructions — a "thou shalt" list, Wark calls it — the Step Code has just three metrics: energy used for heat; total energy used; and air tightness. It's simpler to measure and test compliance, and allows builders to use new technology as soon as it's available. The code isn't being eliminated; this optional program just applies to energy efficiency.
The B.C. government, involved from day one, is planning to implement Step 3 in its revised Building Code in 2022. Step 4 will be the required code in 2027, and Step 5, net zero, will be required by all new buildings in 2032.
The Energy Step Code was released in December, and already 15 municipalities have adopted it, representing 45 per cent of new building permits.
By next year, Wark expects half to two-thirds of new building permits to be issued under the Step Code. The high adoption rate is because municipalities and industry initiated the plan, Wark says.
Steps 1, 2, and 3 use conventional technology that most builders are familiar with.
But Steps 4 and 5 use some approaches that are still not widely used in the industry. It will take time for the market to be ready to support widespread use.
"We're going to see broad market transition on that lower step," Wark says. "But let's make sure we are working on leadership projects on the higher steps so when the time comes to transition to the upper steps, the markets are ready."
Municipalities choose what step they start at.
North Vancouver, for example, started at Step 3, feeling confident their builders could easily adopt. Richmond started at Step 1, where the only change is working with an energy advisor who builds a software-based energy model before construction and does an on-site test when the building is done to check that it meets the requirement.
In the past, building code updates have caused delays and frustration as builders and city workers figure out new requirements, even with advanced warning. The hope is that by letting municipalities and companies opt in early, challenges will be identified and solutions found before the energy efficiency requirements become law.
For years some builders have been constructing high-performance buildings, so their experience is being used to advise other builders. Bob Deeks is one of these; he's also involved with the Canadian Home Builders' Association and runs a building company.

This article is part of a Tyee Presents initiative. Tyee Presents is the special sponsored content section within The Tyee where we highlight contests, events and other initiatives that are either put on by us or by our select partners. The Tyee does not and cannot vouch for or endorse products advertised on The Tyee. We choose our partners carefully and consciously, to fit with The Tyee's reputation as B.C.'s Home for News, Culture and Solutions. Learn more about Tyee Presents here.