One day a few months ago, two large faces printed on two large sheets appeared on opposite sides of the street in Vancouver's Downtown Eastside. The faces blew each other a kiss across the road.
And as suddenly as they appeared, the faces were gone at the end of the day.
Architecture and design firm HCMA was behind the installation, the result of a day-long company event where staff members were assigned random public spaces (by throwing darts on a big map) and given only the instruction to "activate" them -- however the staff wanted to interpret the word.
The group assigned the intersection of Abbott and East Hastings streets felt there was a divide in the area, near the controversial Woodward's redevelopment and the Downtown Eastside.
What else to do but to give each side a kiss? "It was a serious observation of what the group felt like were two cultures on both sides of the street that didn't acknowledge each other's presence," said Darryl Condon, a managing partner at HCMA.
On Nov. 4, HCMA along with SFU Public Square is hosting an event called TILT City: Engaging the Streets, to encourage everyone to interact with public spaces. Groups will be given a location and an assortment of craft materials to "activate" it in some way for passersby to notice.
Condon hopes the event will stir up conversations about social isolation, social divides, gentrification, public spaces, and also "shine light" on street level issues that many might look past every day.
"It's a critique of the city, and sort of a call to action," said Condon. "It's important to use our skills and passions and concerns to think about questions that matter."
Another HCMA team filled holes in a concrete block with little dioramas of daily life -- models of little people watching TV or chatting, for example. The tiny scale was a metaphor for condo culture, and prompted questions about whether affordability means small in Vancouver. Another used glitter to spell welcome messages to tourists.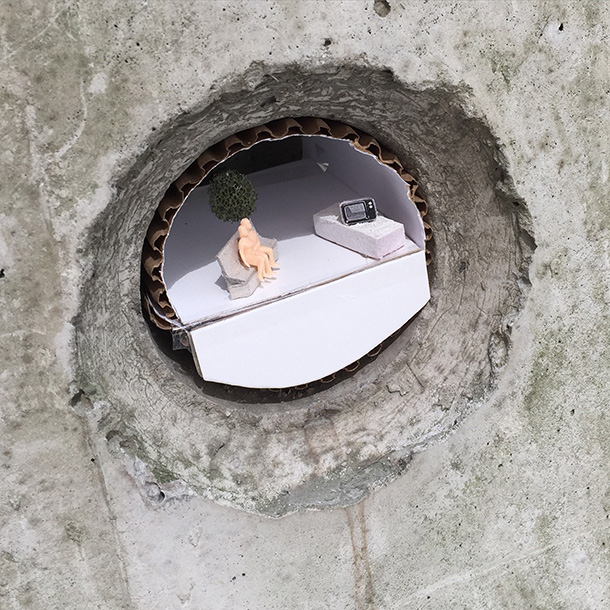 All were up and gone in a day's time, but HCMA associate Melissa Higgs said that's how they're remembered, in a "guerilla" sort of way.
"The power is in the fleetingness of it," she said. "If you walk the streets to get from A to B -- using roughly the same path every day -- if your path is interrupted for just one afternoon with something that is provocative or interesting, it's something that you talk about."
HCMA didn't draw inspiration from any specific project or city, but Higgs likens the idea to yarn bombing, taking something "that's anonymous and making it personal."
Going beyond the building
The TILT City event is also inspired by the importance of designs with social impact, something Condon said more architects are recognizing globally.
"We're coming out of an era where there's a real reluctance to engage in things beyond form making, and I think that's really necessary," he said.
HCMA tries to include active social spaces in its projects too, but on a larger scale. A Prince George high school designed by the firm has an atrium that doubles as a town plaza. Its open design of Vancouver's Mozilla office included informal meeting spaces and chalkboard walls, while avoiding traditional aspects like corner offices.
In addition to the social, the firm also has sustainability and the environment in mind. A childcare centre at Simon Fraser University was designed under the guidelines of the "Living Building Challenge," which means it harvests more rainwater than it uses, is free of toxic materials, treats and recycles its own black water on site, and is mainly made of materials found within a 400-kilometre radius of the site.
"We feel a sense of responsibility as architects as we have the privilege of working in the public sphere, and we recognize that our buildings reflect people's lives on a deep level," Condon said.
The City of Vancouver, too, has tried to liven up pedestrian spaces through interventions. There's the Keys to the Street public pianos project, "parklets" built on the edge of wider sidewalks of streets with lots of walkby traffic, and the annual summer seating installation on Robson Street between Howe and Hornby streets. This year's was a hot pink porch.
Creative collaborations
Everyone is welcome to the Nov. 4 event, and Condon hopes the groups will include people from different backgrounds and disciplines to reimagine and interact with the city.
The event is taking place at the Permanent on 330 West Pender St. and will begin at 8:30 a.m. with a light breakfast and orientation before teams venture into the city for brainstorming. After lunch, intervention with a public space will begin.
"You don't have time to obsess over the details," Condon said. "It's a gestural sketch, a quick observation, a quick ideation about what's possible and a quick implementation. It causes the response to be very instinctual and almost emotional."
Wherever that A to B routine might be for downtown visitors, they can expect the unexpected to pop up that day.
Maybe they'll talk to a stranger. Maybe they'll realize something they've ignored. And maybe their daily routine in the city will look a little bit different from then on.
TILT City: Engage the Streets takes place Nov. 4 at the Permanent on 330 West Pender at 8:30 a.m. It is hosted by HCMA Architecture and Design and their TILT Curiosity Labs in partnership with SFU Public Square.
More information can be found here. Register for the event here.

This article is part of a Tyee Presents initiative. Tyee Presents is the special sponsored content section within The Tyee where we highlight contests, events and other initiatives that are either put on by us or by our select partners. The Tyee does not and cannot vouch for or endorse products advertised on The Tyee. We choose our partners carefully and consciously, to fit with The Tyee's reputation as B.C.'s Home for News, Culture and Solutions. Learn more about Tyee Presents here.