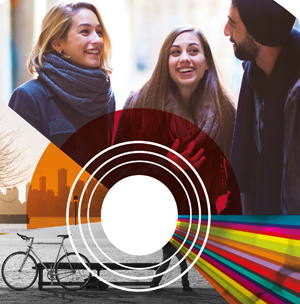 Fifty years ago when Simon Fraser University's first chancellor, Gordon M. Shrum, was tasked with deciding where to place the Lower Mainland's brand new university, the dramatic vistas of Burnaby Mountain captured his imagination and swept the institution, literally, up into the clouds.
But it didn't take long for the subsequent leaders of SFU to realize the ivory tower they were building needed stronger roots -- roots in the communities they were squinting to look down upon from their mountaintop offices. Over the years, the university spread itself throughout the region, opening satellite campuses in downtown Vancouver and Surrey, and building a whole new ''city'' -- UniverCity -- up on the mountain beside the main campus.
But the story of the institution reaching into the cracks of the region with bricks and mortar mirrors a more fundamental philosophy that underpins its mandate as a knowledge-building institute: ''One of the driving forces for SFU as a different kind of institution of higher education is that we see ourselves very much within the city. We've been a very important force for driving the intellectual heart of the city. City building has been a part of what we've done as a university,'' says Shauna Sylvester, executive director of SFU Public Square.
That's why, in the year of its 50th anniversary, SFU Public Square is hosting We the City, a week-long community summit and series of events on the theme of city building aimed at probing the roles that different institutions and communities can play in building thriving and connected places.
We the City takes place from October 30 to November 7. The Tyee caught up with Sylvester to learn more about what SFU Public Square thinks about city building, what Metro Vancouver stands to learn, and what we can look forward to when We the City comes to town.
A lot of people think about city building as changing the way we zone our cities, or the architecture and transit systems. But the topics We the City is approaching are much different. What does city building mean to you?
You're right. City building is often seen as the built form. It's the buildings, it's the streets, it's the parks. But we took a different take on it. We said no, at the core of the city are the people. It's people coming together and expressing their values through the way in which the city is shaped. So when we look at this from the perspective of Metro Vancouver, we see the cities evolving to accommodate the people that live there.
This notion that city building is the way we express our values through the city is interesting. Ultimately, in some ways, that does translate into a physical form, does it not?
It's a physical form, it's a mindset, it's a brand, it's a sensibility. For example, at the Centre for Dialogue we've put a lot of work into understanding the green history of Vancouver. You go back to the turn of the century to find the environmental mindset in the city, it existed at the first planning of the city.
You think about the decisions that various city councils made over space and the way in which we think about our relationship to the environment, and you can see that ethos. It would be very hard, I would argue, for somebody to get elected in the city that doesn't have an environmental ethos. And it's not just attached to one political party. It's embedded in the psyche of Vancouverites. That's about people.
What do you think Metro Vancouver does well in terms of city building, and where do you think we still need to grow?
Our very first community summit was called ''Alone Together'' and it was in partnership with the Vancouver Foundation. The Vancouver Foundation had conducted a study of belonging in Metro Vancouver and discovered that there were a number of different concerning statistics: 77 per cent of us do not talk to us to our neighbours. Sixty-three per cent do not volunteer because we don't think that we have anything to offer. Over 60 per cent do not have a friend that's from a different cultural background. I think it was over 70 per cent feel isolated.
Those are disturbing if you're looking at the city as a place of connectivity. I think that we've done a great deal over the last four years to improve that situation. We're much more conscious of it. We're starting to see developers looking at this much more closely, from a design perspective… but I think that's something we still need to improve on.
There are certain things we have done well. We are a city surrounded by green. We have the Agricultural Land Reserve. We have an established water reserve. We have integrated planning in some regards, within Metro Vancouver. We have aspirational goals to be livable, healthy, happy, green. I think we have really strong local governments that are striving to create vibrant, livable, sustainable communities.
I think we have work to do in understanding how people want to be engaged. I've seen a number of really innovative, exciting community consultations but for whatever reason, the public still thinks, particularly that the City of Vancouver is falling short of that engagement. From a local democratic development perspective, we need to figure that out.
With this summit you're also looking at creativity, arts and culture and how that plays into city building. Why?
That's a big theme for us. Again, you start with ''We the City,'' the expression of ourselves as people in the city, [and that] takes you very quickly to arts, creativity, expression, identity.
I'm really excited how we're going about creativity. We're putting it in the hands of residents and businesses with Tilt City. At this event, citizens come together, they throw a dart against the map and wherever that dart lands, they have to create an intervention that builds connectivity in that place. There's an opportunity for people who are not artists, people that never do this, to experiment in the arts and creativity sector.
Metro Vancouver has got this really vibrant cultural entrepreneurialism. We wanted to look at that more closely and wanted to understand that in the context of how we are building our cities. What's the role of arts?
The creative economy is also a really important part of this region and where we've seen real growth in jobs is in the creative economy, whether that includes the digital economy or the green economy. So that, naturally, when we're looking at cities, is definitely a theme that we want to explore.
How much of city building involves just letting things organically develop?
City building suggests intentionality. It's this idea that we have a vision of what we want for the future and we move towards that. That's what's embedded in the notion of city building. You can choose the kind of city building, you can let things grow organically -- that's one idea.
I've lived in so many of these communities -- I've lived in Coquitlam, Burnaby, New West, Vancouver, North Van -- and they've all got such different characters. Each one has its own sense of how it wants to grow.
How do you hope that this event will inspire a different type of engagement? How do you hope that it will ensure that the direction these cities are taking is one that is expressed by its citizens?
One of the things I hope we do is that people see how many institutions and players shape our cities and think 'Oh, I'm one of them!'
This idea that cities are shaped by just what's going on in city council, that's really important but that's not what a city is. City council is an expression of the residents in that city.
My hope is that people walk away animated, excited about the role that they play. This is civic building at its best.
For me, the role of a university is engaging citizens, engaging students, faculty, staff. We have a role to be an animator in this community. We have a role to help uncover the forces, the shapers of our city. We have the role to shine the spotlight on people as players. So that to me is a really appropriate role for SFU.
What are the events that you're looking forward to the most?
Aboriginal City: We've been involved for many years at the Centre for Dialogue and at SFU with the reconciliation process. I'm excited about the new narrative that will come out of Aboriginal City events that we're doing, where we're profiling aboriginal people that have played a critical role in city building. [Editor's note: When available, information on Aboriginal City will be posted here.]
Campus to City: Another thing that I'm excited about is that we're doing one of the most innovative university conferences I will ever be a part of. Originally this conference started up in a room up at the top of SFU Burnaby. It has now become a national conference designed by students. It starts at SFU Vancouver, takes transit to Surrey. The breakout sessions happen on busses. UniverCity hosts us for lunch up at Burnaby Mountain. We're doing a big dinner at Woodward's atrium. We're going on walking tours. It is a conference in the city. I don't think anybody would have ever been to a conference like that before. I don't think there ever has been a conference like that before.
Thrive! Surrey in 2030: I would say the third event I'm really excited about is the one in Surrey. We're taking 100 citizens who are only chosen based on their demographics. They're going to go through a simulation, in a sense a Sim City lab, where they have to build out their vision for Surrey to 2030. For the first time, they have to put on the hat of a city planner. How are they going to ensure that there's clean air and clean water? How are they going to ensure the conditions will be there for others to thrive? And there is a bit of a surprise element to that, which I won't reveal.
We the City: 2015 Community Summit takes place from October 30 to November 7. For event listings, go here.

This article is part of a Tyee Presents initiative. Tyee Presents is the special sponsored content section within The Tyee where we highlight contests, events and other initiatives that are either put on by us or by our select partners. The Tyee does not and cannot vouch for or endorse products advertised on The Tyee. We choose our partners carefully and consciously, to fit with The Tyee's reputation as B.C.'s Home for News, Culture and Solutions. Learn more about Tyee Presents here.