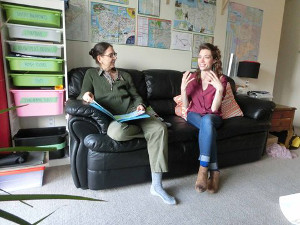 My mother has a fridge magnet that reads, "Where there's tea, there's hope."
One might dismiss this quaint kitchen adornment's message as rationalized caffeine addiction. However, a cutting-edge residential project in Burnaby is trying to prove the aphorism true: the idea behind InWithForward is to find hope through three months of tea.
For a small group who moved into Apartment 303 of a BC Housing-owned Burnaby low-rise in April, big hopes are placed in the conversations that arise from daily interactions with residents. InWithForward, a social problem-solving initiative, aims to show these exchanges can lead to a shift in the way we live in our neighbourhoods -- starting with one apartment building and branching out from there.
"Last night at 11 p.m., we had a few residents we've been getting to know over for some tea," said Sarah Schulman, founder of InWithForward. "We've spent the last three weeks having dinners and lunches with 16 different individuals or families in the building.
"The goal is really to understand the day-to-day lives of residents living in one particular apartment building in Burnaby and to peel back some of the labels that get attached to folks -- whether around being elderly, disabled, low-income, single mother, refugee or immigrant. We're trying to redesign what supports could look like."
Schulman will be talking about the Burnaby project and her seven years facilitating such programs May 26 to 30 at the upcoming Social Innovation Week, a series of events in Vancouver coinciding with an international convergence of social entrepreneurs, creative planners, and change-makers.
The residential building near the intersection of Edmonds and Kingsway is run by the Burnaby Association for Community Inclusion. The InWithForward team was granted permission to move into one of its suites, and transform it into a common living room and project space for the whole building.
Until the end of June, the project will be using a range of creative tools to explore challenges, service barriers, and daily survival strategies in the neighbourhood. Whether their tools are filming and playing-back residents sharing their experiences, or using art and models to create "prototypes" of new services that residents would like to see offered, the idea is to engage people where they're at rather than impose top-down services designed outside their day-to-day lives.
Starting global, thinking local
Schulman's previous projects have spanned the globe, including an intensive program connecting several hundred Australian families with each other to hold barbecues, visit one another, build connections, and share knowledge and skills. That program, she said, was so successful it expanded far beyond the original community to other states.
She admitted that her efforts haven't always been successful. Some programs have not carried on after their completion, as was hoped. But having spent years in large U.S. organizations fighting against things like smoking, with an often top-down or external approach to social problems, she felt the need to start addressing root causes and underlying issues.
"Our approach is actually born out of a lot of failure, after trying to run community consultations, focus groups and services. The folks not showing up to the room were actually the most interesting," Shulman said. "The most striking thing is the similarity in their experiences, regardless of the label attached to them by the government."
Whether Schulman is working with low-income tenants, refugees, or homeless youth, the theme of isolation and connection often rises to the surface. "The experience of isolation and loneliness is pretty profound across the board. Folks are connected to stuff on paper, they are connected to services, but that's not translating into necessarily feeling like they're moving forward... It doesn't equate to feeling connected."
Such questions around isolation are increasingly pertinent in our society today, with many people experiencing an ongoing state of loneliness. The issue is particularly worrisome amongst seniors, says Andrew Barnett, director of the Calouste Gulbenkian Foundation's UK branch. He is one of many international participants traveling to Vancouver for Social Innovation Week, and said that in the U.K. one in ten people over 65 say they struggle with loneliness.
"Loneliness is not only a problem experienced by many in older age, but it's set to be a bigger problem over time," he told The Tyee. "Well-being is too often only thought of through a material lens: housing, pensions, income. We want to focus on the less material problems experienced by people."
His foundation, which was started by an Armenian-Portuguese oil industry leader in 1956, funds numerous projects in the U.K. around themes of ageing, connection, diversity and, most recently, recognizing the emotional and economic value of protecting the ocean. Building and nurturing a sense of connection is a thread that runs throughout the foundation's work, and Barnett sees the initiatives around seniors and loneliness as offering deeper lessons for society.
Barnett also disputes the common misconception that cities are fundamentally different that rural areas when it comes to social isolation.
"Solitude is, in itself, not the same as loneliness," he said. "It would seem counterintuitive to think that there are more lonely people in the city, but there's actually no evidence to suggest that people are less lonely in rural areas either. The issues are just different.
"There are no silver bullets here... but we feel a solution to many problems lies in taking inter-generational approaches. We sought to embed it across our work around loneliness."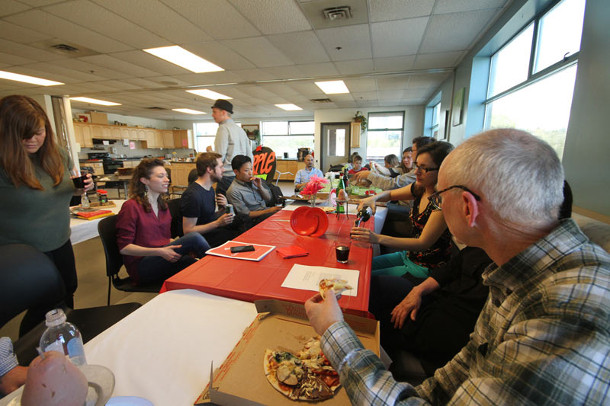 Both Barnett and Schulman are preparing for Social Innovation Week, a five-day event that will see a coming together of the influential global conference Social Innovation Exchange (SIX), culminating in an outdoor festival and "Ideas Jam."
'System change' needed
For the Burnaby project, Schulman hopes the three months spent day-in, day-out with the building's residents will help identify "where there's a real gap" in services offered. Once the first stage of the project wraps up, she said, the team will pull back and work with community organizations and agencies to put the residents' ideas into action.
Perhaps it's creating a new type of outreach worker position to help residents share their everyday solutions to common problems. Or perhaps existing agencies could adjust their offerings to meet specific needs. The most important thing is that the solutions come from those served, and honour the immense resources and skills that are already in their midst.
Encouraging creative ideas to bubble up over the three-month InWithForward residency -- even over a simple cup of tea -- has the potential, Schulman believes, to become a lasting change that can break down isolation and build up residents' connections to each other.
"We can prototype lots of stuff, but how we actually achieve systems change is often elusive," she said. "Our work in Burnaby is focused on systems change: what to tweak, what to dismantle.
"It's an opportunity to step into people's worlds for a bit and see how they're making it work. People are making it work, it's not always pretty, but everybody has a capacity that's impressive when you see it in action. That's what really excited me about it."

This article is part of a Tyee Presents initiative. Tyee Presents is the special sponsored content section within The Tyee where we highlight contests, events and other initiatives that are either put on by us or by our select partners. The Tyee does not and cannot vouch for or endorse products advertised on The Tyee. We choose our partners carefully and consciously, to fit with The Tyee's reputation as B.C.'s Home for News, Culture and Solutions. Learn more about Tyee Presents here.