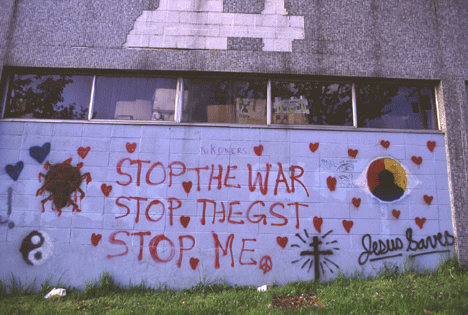 The City of Vancouver has a draconian anti-graffiti policy that infuriates 50-year-old photographer Alan Sirulnikoff. It goes like this:
If it's deemed you have graffiti on your walls, you've got 10 days to do something about it.
Let's say you don't crack out the paint and brushes. In that case, the city sends over a crew of its own to coat the offending material over, then hands you a bill when they're done.
"It seems almost the instant someone sprays something up in Vancouver it gets taken down, which is a big contrast from Toronto," observes Sirulnikoff, who's been building a remarkable collection of graffito dispatches over the last 15 years.
Some call Vancouver's anti-graffiti bylaw a savvy way to deal with an expensive scourge. And many think it's fair, since the city provides the tools for the job, free of charge (when city staff aren't on strike, that is.)
Sirulnikoff, on the other hand, thinks the bylaw is "bullshit." What if it's a crime of art that you think adds a flourish to your building? Should you be browbeaten into removing it?
But he's more ambivalent when it comes to determining if graffiti in general is vandalism or art.
"Some people might think it's good or bad, I'm just making note of it," he says. "I guess I would distinguish between certain properties: I don't think there's anything the matter with graffiti scrawled in back alleys and the like, which is where I find most of it, and I think a lot of energy is put into getting rid of that very quickly, which could be used in other ways. I mean, pick up the garbage on the streets before you worry about back alley graffiti."
Based in Gibsons, B.C., Sirulnikoff has traveled widely shooting offbeat photo essays -- like this one on roadkill or this one on snakes -- for years.
Everywhere he goes, he keeps an eye out for the writing on the wall, instances of poetry, humour, anger, and originality tucked away in the back lanes and hidden corners of the world's urban centres.
Turf-marking tags on cars, windows and prominent walls he finds boring, egotistical and out of hand. (Montreal, for example, now spends $10 million a year to combat gang-related vandalism, and Vancouver has been hit by a wave of tagging in recent months too.)
But while cities argue graffiti invariably attracts vandalism and other crimes, Sirulnikoff counters that back alleys and corporate billboards are important zones for individual expression.
"Some of the best things I've ever read have been on the wall," he says of his rationale for collecting those statements as images. Like his series on roadkill and other themes, this one is a work-in-progress, one that started on Vancouver's bohemian Commercial Drive in the '90s.
"A lot of people start out with a project in mind," he says. "For me this one sort of presented itself."
Related Tyee stories: