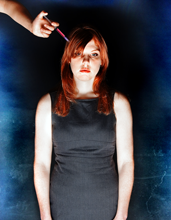 Imagine you're sitting in a bar having a drink with a few friends when one of them chimes in about a new gadget they just got -- some kind of electronic daytimer, let's say, with all the new bells and whistles. Your friend takes the gizmo out, gushes about how great it is, shows off a few features, and then sticks it back in his or her bag before you order another round.
Chances are you've been in this kind of situation before: whether it's a new cell phone, MP3 player or album, we all like to tell our friends how much we like or don't like the things we buy.
But what if you found out your friend hadn't actually purchased the daytimer? What if, in fact, it was given to him or her for the explicit purpose of flashing it around and generating hype around it? What if you found out they were reporting back to a marketing firm to let them know how you reacted?
Welcome to the weird world of viral marketing, where word-of-mouth rules, and anyone can be an insider. It may sound scary at first, but it's pointless to panic.
The truth is, you were probably infected long ago, whether you knew it or not.
Catching the bug
Viral marketing certainly comes with all sorts of malevolent connotations attached. Just the term "viral" in and of itself often conjures up images of catastrophe: crashing computers, avian flu epidemics, or maybe that disease-ridden monkey from Outbreak. But in reality, the world "viral" is often used to refer to any self-replicating phenomenon, biological, technological or otherwise. In the case of marketing, it refers to any kind of promotional campaign that relies on consumer endorsement to gain momentum and exposure.
Though computer viruses have been running wild since the dawn of the information age, the idea of "media viruses" didn't come around until the popular techno-culture critic Douglas Rushkoff coined the phrase in the mid-'90s. The term refers to the exponential spread of ideas over the web through improved, accessible media channels in a way analogous to the rapid spread of real viruses in a biological population: explosive and sweeping, with a lasting effect.
At the time, Rushkoff's vision of media viruses catapulting critical thought over the Internet was heady and optimistic: he considered media viruses -- be they in the form of footage of the Rodney King beatings or rumours of counterculture bars promoting "smart drugs" -- to be naturally resistant to oversimplified, mainstream dogmas by virtue of the fact that they had to be thought-provoking if they were to be absorbed and relayed to others. In Rushkoff's cyber-future, advanced media communications and word-of-mouth would filter out stale ideas and accelerate the evolution of new ones, part of a grand cultural and social evolution.
But it didn't take long before his idealism was taken down a notch. In 1999, he confessed in an interview for the intellectual website The Edge that he felt the self-regulating "datasphere" he once envisioned was as vulnerable to exploitation as anything else.
"I suddenly realized that the people who had put my books on best-seller lists were not those Mondo 2000-era hackers and Internet homesteaders I so admired, but rather the public relations and advertising industries," he said. "I had been selling 'cool' to corporate America. My books were primers, required texts for young executives on how to take advantage of new media to do the same old thing they were doing before. That's when I realized that we were in an arms race and that I was just as caught up in it as everyone else."
It was around this time that the term viral marketing really started to take hold and word-of-mouth started to take on a whole new meaning.
Friends let friends validate
Sean Moffitt is a rare kind of marketing agent: he's a word-of-mouth marketing (WOMM) specialist. His company, Agent Wildfire, is one of two or three buzz-marketing firms working in Canada today, and started up only about two-and-a-half years ago. But in contrast to Rushkoff's fearful portrayal of parasitic advertising agents, he seems quite amiable and transparent about what he does and what his company is trying to achieve.
So how does his business work, exactly? Essentially, his firm hires people like your hypothetical friend at the bar to hype electronics, cars, restaurants and other products to their friends.
The process is customized for each product and company, but the standard procedure goes something like this: recruit influential people within a specialty or social network, allow them to familiarize themselves with a product, give them the means by which they can relay their product assessments to other people (over the Internet or by some other channel) and provide them rewards for reporting back on how the product was received and criticized by their peers.
He stresses that this kind of marketing could never work as efficiently and discreetly without the accessibility of the Internet or the advances in media communications once celebrated by Rushkoff.
"What the web allows is to be really efficient," he says. "We recruit a lot of people through the web, we ask for feedback on the web, so it makes it really easy, as opposed to 10 years ago when you'd have to do telemarketing and stuff. But there's an irony there in the fact that more than 80 per cent of word-of-mouth actually happens away from your computer."
Spreading the gospel
At first glance the technique might seem invasive. The fact that you don't know who's a recruit, or an "evangelist," as they're called by WOMMers, gives the whole idea a bit of an Orwellian slant.
Moffitt doesn't see it that way. He believes WOMM serves a greater purpose and is in fact less intrusive and more efficient than conventional advertising. This is good for everyone involved, he insists, and that includes the consumer.
"There are two benefits: one, we validate what stuff's working," he says. "The second is that [companies] get some really rich insight on stuff that happens not in a focus group but stuff that happens in a real-world environment."
Moffitt also knows deception tactics in advertising are far from new. There have been and will always be advertising firms that will choose to be intentionally manipulative, whether it happens through word-of-mouth marketing or not. The difference today is that the wealth of information and peer consultation available to your average consumer, largely through the web, makes the risk of screwing with the customer pretty unappetizing.
Something old, something new
That's why marketers today are far more reluctant to use deceptive tactics than ever before, regardless of how viral or word-of-mouth marketing is perceived in the mainstream media.
"Fifty years ago, ethics aside, you could be quite successful in North America being a stealth marketer," he says, and refers to a pivotal campaign launched by Heineken in the '50s.
"Heineken hired 30 university students to go from bar to bar to bar in New York and leave en masse when it was recognized that 'Hey, this bar doesn't stock Heineken!' Bar owners pretty quickly put Heineken on tap and the street-level theatrics made Heineken take off in New York."
He compares how that stealth campaign would fare today: "Great for 1953; horrible for 2007," he says flatly. "Because [now] there'd be a blogger in the bar and they'll get the story and when they get the story, The Globe and Mail and the New York Times get the story and the negative reaction is huge."
New media's real beauty
Darren Dahl doesn't worry all that much about the dangers of word-of-mouth or viral advertising; he doesn't really think it's anything new. People, says this professor of applied marketing at the University of British Columbia, have been hyping products to their friends for as long as things have been for sale. And influential people, traditionally found in newspapers and mass media, now also found on blogs and websites, have been solicited by companies for endorsements for just as long. The difference now lies in the technology and information available, which apparently serves the interests of both the company and the consumer.
"The consumer has never had so much information accessible to them before," Dahl says. "The power's now in the consumer's hands more than it's ever been."
Alfred Hermida, a UBC journalism professor and one of the founding editors of BBC's news website, cites a scant 70-second ad that became an overnight Internet sensation, even though it not once graced the screens of the boob tube. As part of Dove's Real Beauty campaign, the ad simply showed the extensive preparation needed to make a model's face and picture acceptable for public release -- ultimately showing how unreasonable it is to aspire to the modern standard of beauty.
Eviscerating the image-distorting underbelly of its own cosmetics industry through online word-of-mouth went far in raising Dove's integrity in the public eye, and its successful virus seems to indicate that even with the armies of marketing firms making use of it, viral media really circulate best when they're thought-provoking, just as Rushkoff had originally hoped. Though product-pushing still dominates Rushkoff's datasphere, it seems that there still is an element of self-regulation keeping things in check.
Viral vigilantes
Over the past few years, a consumer-friendly blog called Engadget has exploded and become one of the most consulted electronics websites available. The site's editors have garnered a strong following with their candid product assessments and interactive blogging. Part of the response is due to the fact that it holds itself to rigorous regulations to maintain impartiality and gain consumer trust.
"We have a very strict editorial policy," says Ryan Block, the managing editor. "We don't keep review gear, we don't take junkets, we basically hold ourselves to many of the same standards as the Wall Street Journal and the New York Times."
This is probably good practice, considering Engadget is often subjected to numerous viral campaigns, with PR reps sneaking in pretending to be anonymous bloggers. The site is also a central arena in which both overt and covert viral campaigns are assessed and criticized in forums.
"We're on the receiving end of viral marketing," Block concedes. "But generally speaking, it's becoming a lot easier to tell when a PR firm or a company tries to launch a viral marketing campaign."
That said, he does admit that the exposure of so many bogus viral campaigns in the past year has been getting a reaction.
"It's definitely becoming such that I think that consumers are starting to feel a little tricked," he continues. "They definitely feel a little deceived...and feel they aren't really being given the straight dope."
But vigilant bloggers are keeping an eye on things. In his experience, Block has found that deceptive viral campaigns often leave a calling card of one kind or another. The tricky part is that only the most watchful, media-savvy bloggers catch them, while your average Joe web-surfer is still susceptible. This is essentially why sites like Engadget exist: to keep a critical eye on the campaigns that are out there and spread the word.
"It's funny because after you've been doing this for a while, you get a sense for it," Block continued. "It's very difficult to quantify in simple terms but there are certain telltale signs where you know [a campaign is] not legitimate."
Sony's embarrassing PSP video game console campaign in 2006 was the first example that sprang to my mind. Between their fake promotional blog, their agonizingly uncool "All I want for Christmas is a PSP" YouTube music video and their faked urban graffiti, the company's reputation has been dragged through the mud recently, despite having some of the highest-ranked conventional ads five years ago. On the Engadget website, comment threads can be found in which people say they're too ashamed to buy Sony products anymore.
When it comes right down to it, the bottom line is the product itself. Deceptive tactics aside, it doesn't seem to matter if companies generate incredible amounts of hype through horribly unethical means: if the product sucks, that's it. The word will get out and the campaign will be crushed faster than you can say "Microsoft's Origami Project."
Even on the receiving end of viral campaigns, in the thick of all unregulated mudslinging, Block is far from worried about being exploited and, 13 years after Rushkoff's utopian forecast, is still holding tight to an optimistic perspective.
"The penalties...for deceiving your customer base are so stiff, there are very few incentives to follow that practice."
Block echoes Moffitt's mentality, even though they're on opposite ends of the playing field. "Hopefully companies will get with the program and do a little bit better...and help bloggers influence buying patterns, and help bloggers influence the 'influencers,'" Block says.
"I don't think it's going to get worse, I think it's going to get better. We're on the cusp of a new world when it comes to this stuff," he says. "People are trying new things, and the negative stuff...is being met with [a] huge negative response. I think everyone will learn from that."
Break it down
Scary as it may sound, viral marketing seems to be more about increasing consultation between people selling stuff and people buying stuff than it is about infecting the susceptible masses and exploiting them. Though there are definitely unethical companies to watch out for, it seems that the droves of online private eyes out there do a pretty good job making sure they get their just desserts.
Hermida believes the underlying assumption regulating the spread of viral marketing is that people aren't stupid. This seems to be key to keeping consumers immune. So if this is the case, then only one question remains: how stupid are you?
Related Tyee stories: