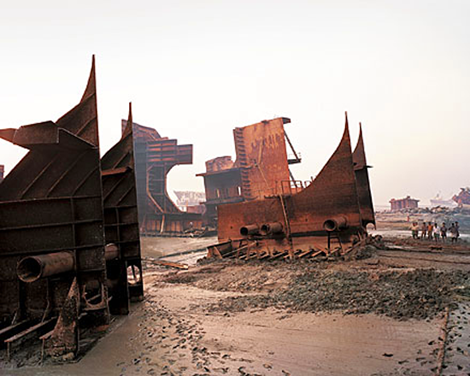 Renowned Toronto photographer Edward Burtynsky is pondering the difference between being an artist and being a citizen, because I have offered him this quote by Harold Pinter:
"A thing is not necessarily either true or false; it can be both true and false. I believe that these assertions … apply to the exploration of reality through art. So as a writer I stand by them but as a citizen I cannot. As a citizen I must ask: What is true? What is false?"
Burtynsky, who has powerfully documented humanity's relationship to consumerist capitalism around the globe over the past 25 years, considers himself no shooter for hire, but an artist relentlessly "building a body of work with an underlying philosophy that is expressed through my personal visual narratives."
Yet he wants to make it clear, as well, that he is very much a citizen of the world.
"Truth is open to a lot of interpretations in the artist's hands. I think, what Pinter is saying is that, as a global citizen you are responsible for asking a question: do I agree with particular politics, do I agree with a direction we are being lead. As a citizen you have to make a decision how you feel about the world, what you think is right. As citizens, it's our responsibility to move out of the domain of creating reflections on humanity into the domain of acting on our beliefs."
"As a citizen I do take a pretty strong stand. I do believe that there are serious environmental consequences to what we do and what we don't. There are millions of little things we can do every day. We're making decisions about the kind of cars we drive, how we insulate our houses, how wastefully we use the water and what we do with our old computers. These are real things that make a difference, millions of these decisions done by millions of individuals."
Burtynsky's critically acclaimed bodies of work have been published as books: Manufactured Landscapes and Burtynsky – China. His retrospective exhibition organized by the National Gallery of Canada in 2003 has been also shown at the Finnish Museum of Photography, The Art Gallery of Ontario, and The Brooklyn Museum of Art. A film documentary about his work, Manufactured Landscapes, directed by Jennifer Baichwal was released in 2006.
In a recent interview with the Tyee, here is what Edward Burtynsky also had to say:
On why the news media isn't really getting the big story:
"Mainstream news media has a problem with it because they are searching for the breaking story that would sell papers. They're always on the search of headline grabbing material. At the same time, the news media are very top down hierarchal organizations that are not very good at allowing creativity. They are not very good at allowing the people who are on the ground, seeing things first hand, to become a feedback system to back up the organization's pyramid."
On his relationship with magazine editors:
"What I am telling them is: If you want to get the best of me, let's collaborate on shaping the story. The top down way does not work very well with me. I am not really interested in illustrating magazines' stories in the traditional way."
On why he decided not to photograph the aftermath of Hurricane Katrina:
"I've photographed several natural disasters in the past and have decided that it is to close to spot reporting for me. You're in and out very quickly. The thing I was interested in was the slow burn, not the ka-boom, the things and processes that gradually create the world we live in, the processes that we tend to see as normal, as opposed to a tsunami or a hurricane.
"I focus on a world that we're consciously creating. The Three Gorges dam under construction on the Yangtze River looks like a disaster but it was a conscious decision to tear all these cities apart, to relocate 1.5 million people and to build new homes for them beyond the flood area. It was a conscious, industrial transformation of the landscape.
"I don't think it's been adequately covered. As far as I know, I am the only guy who ever went there with a 4x5 camera. In many places up the river, I was the only professional photographer people said they'd seen."
On whether photographs reveal or conceal the truth:
"I constantly face questions concerning truth and distortions. As an image-maker I have degrees of control on how I tell my stories. If there is a piece of plywood somewhere in the corner of my frame that catches the sun and burns a hole in my image, I may consider moving the plywood, or if access is difficult, to remove the reflection in the Photoshop. Now, if I take that same image and paste some people into it and introduce some staged narrative without telling anybody about it, that would create a challenge to the traditional trust in the relationship between the image, the creator of the image and the viewer.
"Having said that, photography can be used in various, non-documentary, forms depending on how the author wants to engage the audience. The meaning can be found in making something up completely, a flight of imagination can sometimes have more to do with truth about poverty than, let's say, a straight picture of a street scene."
On simplistic framing of images – and issues:
"I started my work off saying: look these are the complex issues here; there is a definite disconnect between what we consciously do and what the global reality of what we do is.
"To me, if you build your polemics around the point that all corporations are bad, it lacks the necessary complexity, it is just too narrow and almost a caricature of a view. There are some bad corporations and some good corporations. There are some very bad people who work for the corporations but it is also quite easy for some environmentalists to feel self-righteous, to get up on the soapbox without the full grasp of the complexity of the problem.
"My goal is to allow dialogue, not to draw lines and start throwing things at each other again, because this has not gotten us anywhere all these years. It pleases me if my work does something to arouse consciousness, to increase dialog or to influence people to make real personal changes, which is the only thing that makes a difference, as far as I am concerned."
On whether a still image works differently on our consciousness than a documentary film:
"Absolutely, I do believe that a still image fixes in the consciousness in a whole different way than a documentary film does. With a film we are caught up in following the narrative and we don't really pay attention to the images. The still image does fix into the memory, it locks in, it's easier to recall. It has a role in raising consciousness and it does it differently than a documentary film. One might say that film is more compelling because you're more driven to understand the theme but the film doesn't recall the same way in our minds. What I recall from the Vietnam War is not the video footage; it's Eddie Adams' images that stick in my mind."
On what separates him from the professional "assignment photographer":
"I think that the fundamental difference between an assignment photographer and myself is that an assignment photographer may actually not know anything about the thing they are about to photograph.
"They get an assignment to photograph, let's say, a nickel mine in Sudbury. They go there, come back in the afternoon with the pictures and that's it, as long as they bring what the editor wants. If I want to photograph a nickel mine, I am going to research it, I am going to look in every hole they've dug and I am going to look at geographical studies. I am also going to look at it at different times of the day, under different lighting conditions, and during different seasons.
"I kind of become engrossed in a subject and keep working with it until I come out the other side and say: Yes this fits the language I am interested in speaking with."
On the photographers who inspired him:
"I never thought about myself as coming out of the photojournalism tradition. Looked at the history of photography, I was looking for what nineteenth-century photographers contributed to the understanding of the landscape. I was also looking at the early twentieth-century photographers: Edward Weston , Ansel Adams , Eliot Porter, as defining the pristine landscapes in any respect.
"I think that Ansel Adams, in his time, had a great influence. You can think about his work as the aesthetic foundation for the Sierra Club. The evidence he brought about motivated people socially to engage in protection of the environment.
"Around 1976-77, I realized that a new visual language was forming. I became aware of the work of Bern and Hilla Becher and the New Topographics group [whose photographs observe the effects of humans on the land]. I realized that one could bring a new visual language to bear on the landscape that we're changing, on the way we changing it. It was a photographic work that was not a celebration of the land as Ansel Adams' but a kind of a social critique of man's interaction with the land, a question mark about the progress. To me it was a far more compelling and contemporary world view within the medium of photography and within the history of photography.
"For me, it was not as much a human-interest story as a story of incremental march towards progress, a story of how we create or remove things one block at a time and of the scale of that process that shifted in the last century. I became interested in telling that story which I hadn't seen told before through images.
"I wanted to create a work that had an open narrative. A work that wasn't didactic -- telling this is good, this is bad -- but more about who we are, our relationship to the planet, to materiality, to consumerism capitalism.
"I am more in-line with the documentary tradition than the photojournalism tradition, although, even within the documentary tradition, I am far more interested in creating and evolving a visual language than telling a particular narrative. For example, photographing nickel mines, I am not looking for a story on how we mine for nickel. I am looking for metaphors for the scale at which we now operate in nature, how we are becoming a force in nature, and how the landscape reflects that."
On whether artists need to be analytical, like anthropologists:
"People who are engaged in art are engaged in a process of thinking beyond the present moment, looking both forward and backward, reflecting on how the human story plays itself out. In a way, art is a research and development department. It shows us new places we can go in terms of thought; it makes us reflect upon our actions, our ethics; it questions our definitions of good and evil.
"I believe that culture is key to a healthy society. So many people are caught so entirely in the process of working and making a living that society needs somebody to put a mirror up, to open up our consciousness to the things that are out of sight, out of mind."
Related Tyee photoessays: