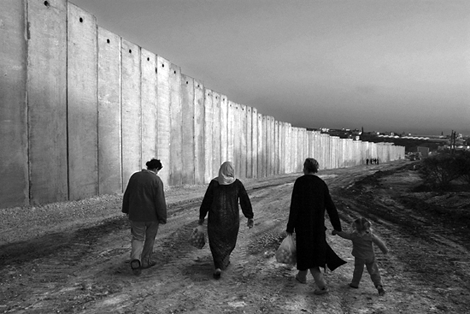 [Editor's note: Roger LeMoyne, one of the most noted contemporary Canadian photographers, has recently published a book of documentary photojournalism from the conflict zones, Details Obscurs. (Click the yellow Gallery feature to view some of his images.) Christopher Grabowski talks with LeMoyne about his work and his reasons for taking his camera where humanity is on the edge.]
Christopher Grabowski: Your photojournalistic credentials include a World Press Photo award and more than two dozen major international and national prizes. A number of newspapers and magazines would certainly be happy to have you on their staff, yet so far freelancing has been your career choice. Why is that?
Roger LeMoyne: I want to a certain extent, direct my own work. To be able to build a cohesive body of work that has a continuous line to it, you have to have control over the direction of your work, and that is almost impossible for a staff photographer in a media organization.
As a freelancer, I am still dependent on the contracts that I get, but I almost always use my contracts as a vehicle to do other work on my own time. I am also fortunate that a couple of my clients, most notably UNICEF, have interests that overlap considerably with my own interests. What I like to do is very close to what they need. That in a sense is a closest thing to a real job that I ever had, the series of contracts with UNICEF over the years.
CG: Do you think it was possible back in the 50s, in the times of Eugene Smith and Life magazine, to be a staff photographer and still be able to produce a body of work that had a particular point of view and continuity?
RLM: I don't think it was so common. It's just not in the nature of the newspaper work. There are some people who are doing great work, like Tyler Hicks of the New York Times, who as a stringer was able to dictate where he was going. Eventually they put him on staff because he was consequently producing such a good work. So he got some kind of a special deal with the New York Times, but that's kind of exception.
But to me, these are just vehicles for getting to where you need to be. I don't mind working either for the press or for non-profits as long as the intention is legitimate, truthful.
CG: In the preface to your book Details Obscurs you stated that your prime motivation for photographing in conflict zones is a need to understand what is really happening and an unwillingness to take other peoples' words at face value. From your essay, it seems that you approach the events as an historian almost as much as a photographer.
RLM: Today's news becomes tomorrow's history. Events that have the shape of history built into them are of interest to a photographer because you know that your photographs are not going to be disposable. As for being a historian -- I am really interested in photography; I only have a sensibility for photography as a medium. I am interested in historical or news worthy events because photography expresses these events in a unique and interesting way.
CG: But you also said that in your photography you attempt to represent those who "have been betrayed by a world that has the resources, the alleged ideas and the international structures to protect them and ensure their rights." Your approach to photojournalism goes beyond strictly photographic excellence.
RLM: I am attracted to that aspect of photojournalism and documentary photography that is affiliated with humanitarian and social issues. If I weren't doing photography, I would be interested in doing humanitarian work before I would be interested in writing the news or being a historian.
CG: Does your humanitarian approach to photography sometimes collide with objectivity as practiced in most western media?
RLM: Objectivity is an idea, it's a philosophical ideal, but nobody is really entirely objective. Everybody has some notion of who or what they believe when approaching a story. It is human nature to sympathise with whoever you're with, whose experiences you share.
That said, these preconceptions often evaporate confronted with the facts on the ground. In the early days of the invasion, a lot of American photographers went to Iraq believing that it was the right thing. I don't think very many of them believe that anymore.
In general, the media loves stories that are black and white, they are not very happy dealing with moral complexities, it's hard to tell a good story about murky issues.
CG: Do you think that it is possible for a media professional embedded with the US army, or any other army, to still deal satisfactorily with the issues characterized by moral complexity?
RLM: What people forget is that in a conflict zone, a journalist is almost always embedded with somebody in a sense. You are either with Chechens or with Russians, either with the Iraqis or with the Americans, with the Serbs or the Bosnians.
I have been embedded myself with the US troops in Iraq. It is a very impractical way of reporting but a practical way of surviving. However, I have seen some very powerful reporting by embedded photographers. My friend Chris Hondros, for example, was embedded with American troops and he took photographs of the killing of Iraqi civilians that were absolutely devastating, and could only be perceived as "anti-war". The problem is that it is a very inflexible way of working but sometimes there is no other way.
CG: Photojournalists are often accused of the exploitation of misery and suffering by creating aesthetically pleasing images. As different photographers as Sebastiao Salgado and Shelby Lee Adams have met this kind of criticism in the past. Your own work has been described as both "terrifying and beautiful". What is your thinking on this subject?
RLM: Looking at my book, people often say how beautiful the photographs are but then catch themselves, feel a little embarrassed, say that they can't be beautiful because of the subject matter is so grim, so they say that the pictures are powerful. That kind of tension exists in documentary photography, and I think that it is almost an equivalent of dissonance and consonance in music. That tension is part of the medium. It is what makes it interesting.
Something you probably know as a photographer is that you can't really change your eye, or your way of seeing, just as you can't change your voice when singing. If there is such a thing as a gift in photography, that's where it is, in the way of seeing. You can change your technique and your camera and so on, but you can't change your eye. I feel we should accept that there are different kinds of voices in this medium and Salgado's is a romantic voice.
Another point is that if you want to show respect to your subjects bringing certain aesthetics into it is important. It is possible to denigrate and humiliate people with photography. Certainly a lot of people in developing countries are afraid to be humiliated by the media. I've experienced this many times, particularly in Africa where people are in dire situations and quite aware that they are being photographed in their worst possible moment. Dignity is an essential part of being human, and somehow beautiful photographs are more likely to preserve people's dignity than ugly ones. I think there is a value to that.
I try to take the pictures that are resonant of truth of the situation, and that's what's ultimately important. It counts how truthful and how powerful the pictures are.
CG: It has been said that in your photography you strive to see "the sameness of self in the other". Do you think that a socially conscious photojournalism has the power to cut through the dehumanization of the 'other' that is rooted in verbal rationalizations like "empire of evil", "the war on terror", "ethnic strife", "third world", "collateral damage" etc?
RLM: I began photographing seriously when I began traveling to other countries, experiencing other cultures and recognizing universality in our experiences, recognizing my own feelings in other, very different people. That was the overwhelming experience I drew from traveling with camera to the most distant, remote and dissimilar cultures.
Photography has the power to convince us that we are more similar to other people than we think. Can photography itself have the power to undo the effects of long-term cultural and political processes that push us apart? I don't know, but every little bit helps...
CG: Do you think that documentary photojournalism played a significant role in the anti-war movement during the war in Vietnam?
RLM: Media certainly did. Inescapable awareness of what war is really like certainly fueled the anti-war movement, any anti-war movement. Media always had that capacity and we should continue to use it that way.
Regarding the role that photojournalism plays in it, I can only say that photography is an emotional medium. Images initially enter your mind in a non-intellectual way. It is an emotional, intuition-based medium by its nature. It reaches people in a very direct manner.
Read more about Roger LeMoyne's new book Details Obscurs here.
Christopher Grabowski is a widely published photojournalist and regular contributor of images and words to The Tyee.