On the corner of Columbia and Pender there's a barbershop called New Shanghai where I get my hair cut. The décor is striking.
On a poster across the room, the late American rapper Tupac Shakur is flipping me off, a spliff dangling from his lips. Next to me there's a vivid digital painting of the late NBA star Kobe Bryant. Amidst the contemporary pop memorabilia, there are also inklings of a past here too. A bright "CASH ONLY" sign greets you at the door and hot towels are kept in decades-old steam machines. The chairs are pre-1950s, the leather having that comfortable worn-in look of your favourite childhood sofa.
It's a great spot. And aside from 'Pac and Kobe's presence in the room, there's little else new about New Shanghai. The shop has been here since 1963, founded by master barber Jack Gee, a native of Hoi Ping, China. Since he retired in 2016, a new, younger group of barbers has taken over the space, blending the past and present into a place that is a thoughtful evolution of Barber Gee's old shop.
A few blocks east, another group of younger people helmed by opera singer-turned dim sum maestro William Liu is operating Kam Wai Dim Sum, which has been in the neighbourhood since 1991.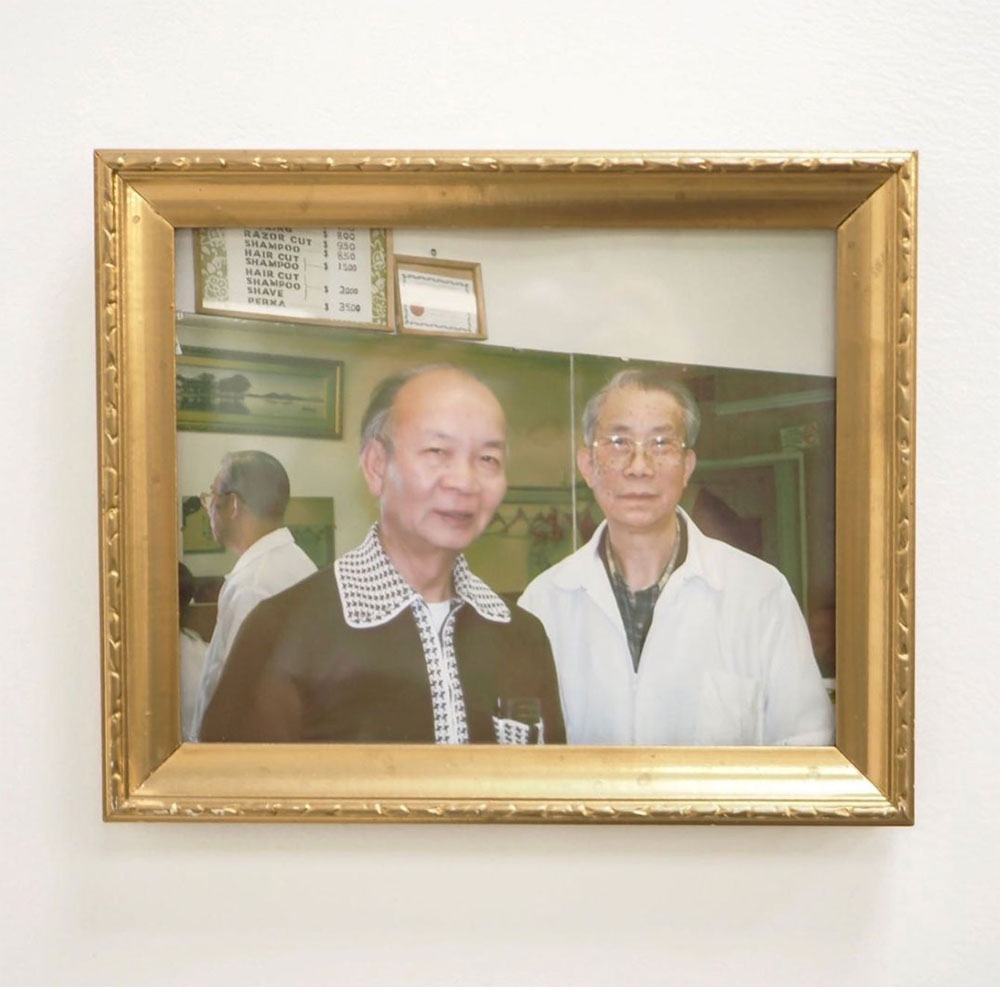 I live a block from Chinatown and frequent the neighbourhood standbys of Bamboo Village, Sun Fresh Bakery and Tin Lee Market on a near-daily basis. When I first caught wind of a proposal to build a condo at 105 Keefer St. in Vancouver's Chinatown, the first word that came into my mind was gentrification.
The thought of a condo and the trendy high-priced establishments that would likely come along with it left a bad taste in my mouth. Does the historically low-income racialized immigrant community really need another home for up-and-coming clientele in search of made-to-order acai bowls and walnut pesto pizza? Won't this contribute to the ongoing alienation that many senior community members feel, some even calling the neighbourhood "coffeetown" and "whitetown"?
What's being proposed is a nine-storey mixed-use condo with businesses and a seniors' cultural space on the ground floor. 105 Keefer sits on the site of a former gas station and parking lot adjacent to the Dr. Sun Yat-Sen Garden, the Chinese Cultural Centre and the Chinatown Memorial Monument.
Since 2014, various iterations of the proposal have been through the permitting process, including a 12-storey version which would have included 25 units of housing for seniors, of which eight would have been at welfare rates. The current nine-storey version was rejected by the development permit board in 2017, a decision that was since overruled by the B.C. Supreme Court that deemed the permit board's reasons for rejection as "substantively unreasonable" as it had not provided enough evidence.
Much has changed in the neighbourhood since 2017. Chinatown has been battered by the intersecting toxic drug, housing and public health crises, garnering provincial and national attention.
This is an emotionally charged development, one that has been vigorously opposed by those who see it as a nail in the coffin of Chinatown's working-class roots. Chinatown is a place that's close to the hearts of many. A neighbourhood that historically helped newcomers young and old feel a little more at home; the taste of culturally relevant food, the comfort of communicating in your mother tongue, the security of knowing the community has your back.
Over the years its residents have watched as family-run grocers were replaced by trendy juice bars and traditional herbal apothecaries were swapped for vegan pizzerias. In 2015 a 17-storey condo at 188 Keefer was dropped onto the neighbourhood, igniting mass public outcry and leading the city to implement a "downzoning" policy which height-limited new developments in the area. Just this year Chinatown has also lost three of its most beloved restaurants: Daisy Garden, Gain Wah and Kent's Kitchen, along with Tinland Cookware, an anchoring kitchen supply store that had been open for 27 years.
This is the context that I'm trying to navigate as I express my belief that the 105 Keefer development can be positive for the community.
But it can only be done if radical, innovative policies take shape.
Consider function over fashion
Much has also been said about the built form of the 105 Keefer development. It's too boxy. It doesn't mesh well with the look of the buildings around it. But culture isn't defined by inanimate objects. It's defined by people.
Take Crystal Mall in Burnaby — certainly not an icon of Asian architecture. Dull brick buildings clash against a somehow-round-yet-square tower of off-green glass. The interior isn't much better; it seems like the contractors have forgotten to install ceiling tiles for half the place.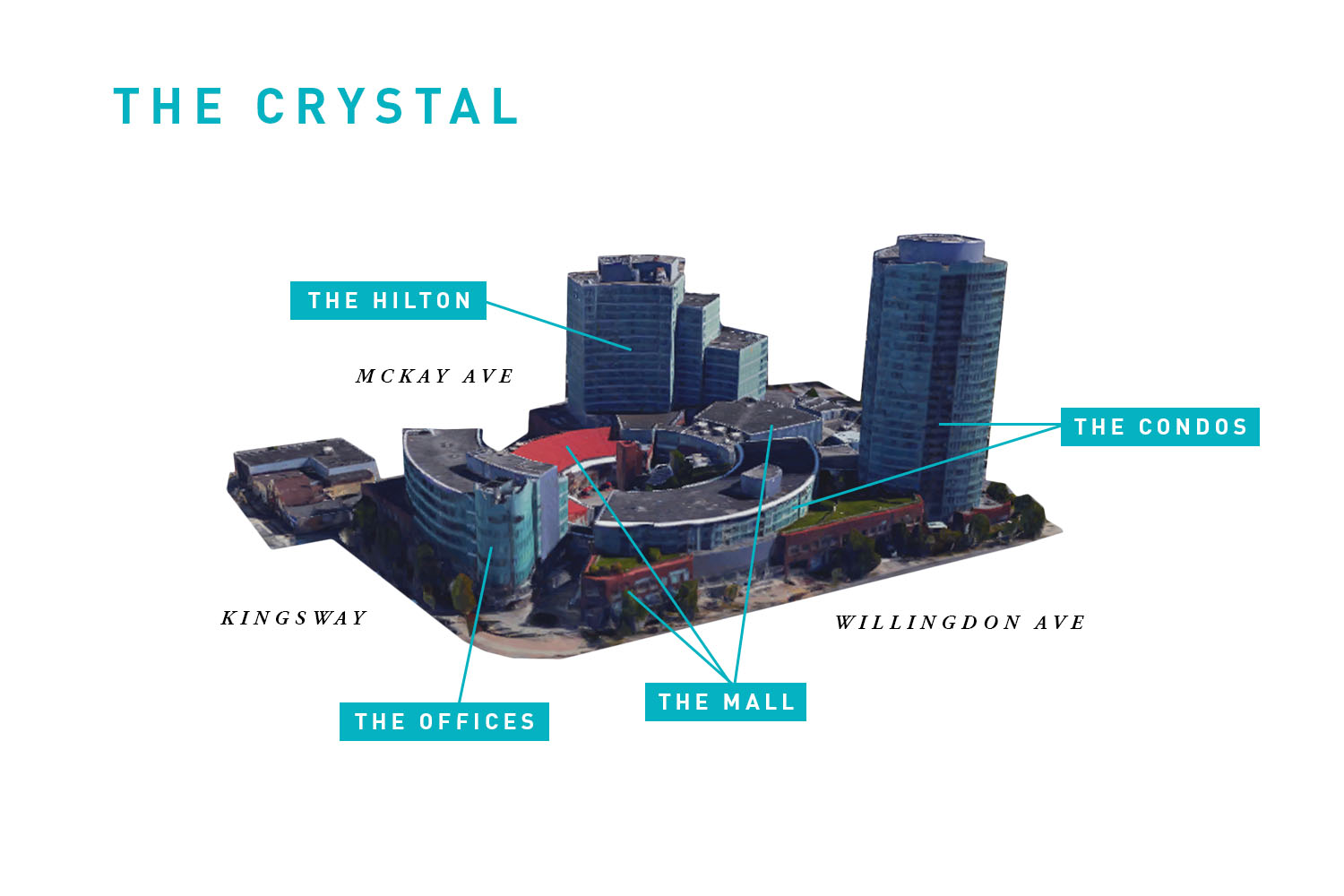 Yet Crystal Mall is alive. Customers jostle shoulder-to-shoulder on the ground level, a maze of grocers, butchers and bakers. On the second floor, crowds sit on cheap tables and happily devour some of the best Asian food in the city. From the outside, it's an eyesore. On the inside, it's captivating. A cherished gathering space for the Asian diaspora.
The key? A smattering of affordable, culturally relevant businesses, run by and for the community.
Activity on the street helps a neighbourhood feel like home
In 2012 on a single block on Main Street between Keefer and Pender there was (at least) one jeweller, two hair salons, multiple restaurants, a music store, a locksmith, a travel agency, a gift shop, a casino, a doctor's office and an insurance broker. In 2015 after the block was redeveloped there were just two banks, one dentist and two chain restaurants.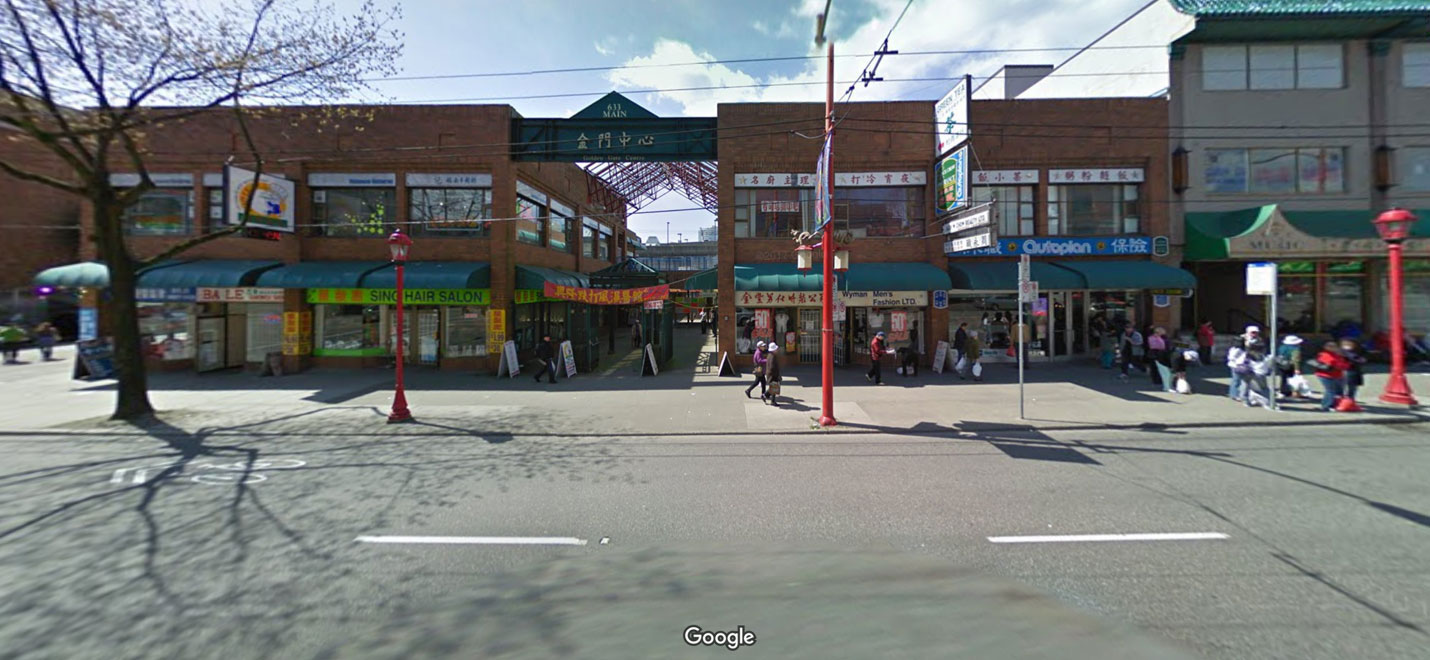 To me, this is the real concern with gentrification: a net loss of smaller local businesses and, in turn, a loss of affordability for area residents. New developments often replace small, "fine-grained" commercial spaces for large frontages with a single anchor tenant. These larger commercial spaces are also out of reach for many small businesses to lease, leaving chains to take their place. When an entire block is taken up by one grocery store, bank or drugstore, activity on the street suffers. These factors compound to result in a streetscape that is both inactive and alienating for lower-income residents.
But what if we could make these spaces affordable to the small local businesses we so cherish?
In 2022, Vancouver passed the Broadway Plan which came with some of the strongest renter protections in the country. Most significant was a "right of first refusal" clause, which gave displaced tenants priority to move back into a new development at their original or discounted rent.
In a similar spirit, could we offer legacy or small local businesses first pick on the commercial spaces in the new building? Could we subsidize their rents so they can afford it?
In 2022, spurred by the potential loss of a cluster of Filipino businesses near Joyce-Collingwood SkyTrain station, city council passed Coun. Christine Boyle's "placekeeping" motion, which intended to explore ways to protect culturally important food assets throughout the city.
Mom-and-pop stores form the backbone of a community, and in historically marginalized neighbourhoods, provide residents with access to regional foods and a "third place" to connect with others, a critical service for the neighbourhood's senior residents, many of whom live alone.
"Mom-and-pop stores are so important for seniors," Beverly Ho, operations manager at the Yarrow Intergenerational Society for Justice, tells me. "They're cherished by seniors as the staff speak their language, and seniors form a deep personal connection with a business by being regulars."
"Many of the new stores that have opened in Chinatown are unaffordable, and many of the staff don't speak Chinese, which can be very intimidating to seniors."
Low-income seniors are among the most vulnerable groups in Chinatown, and it's important that we take steps to protect the legacy businesses that they rely on.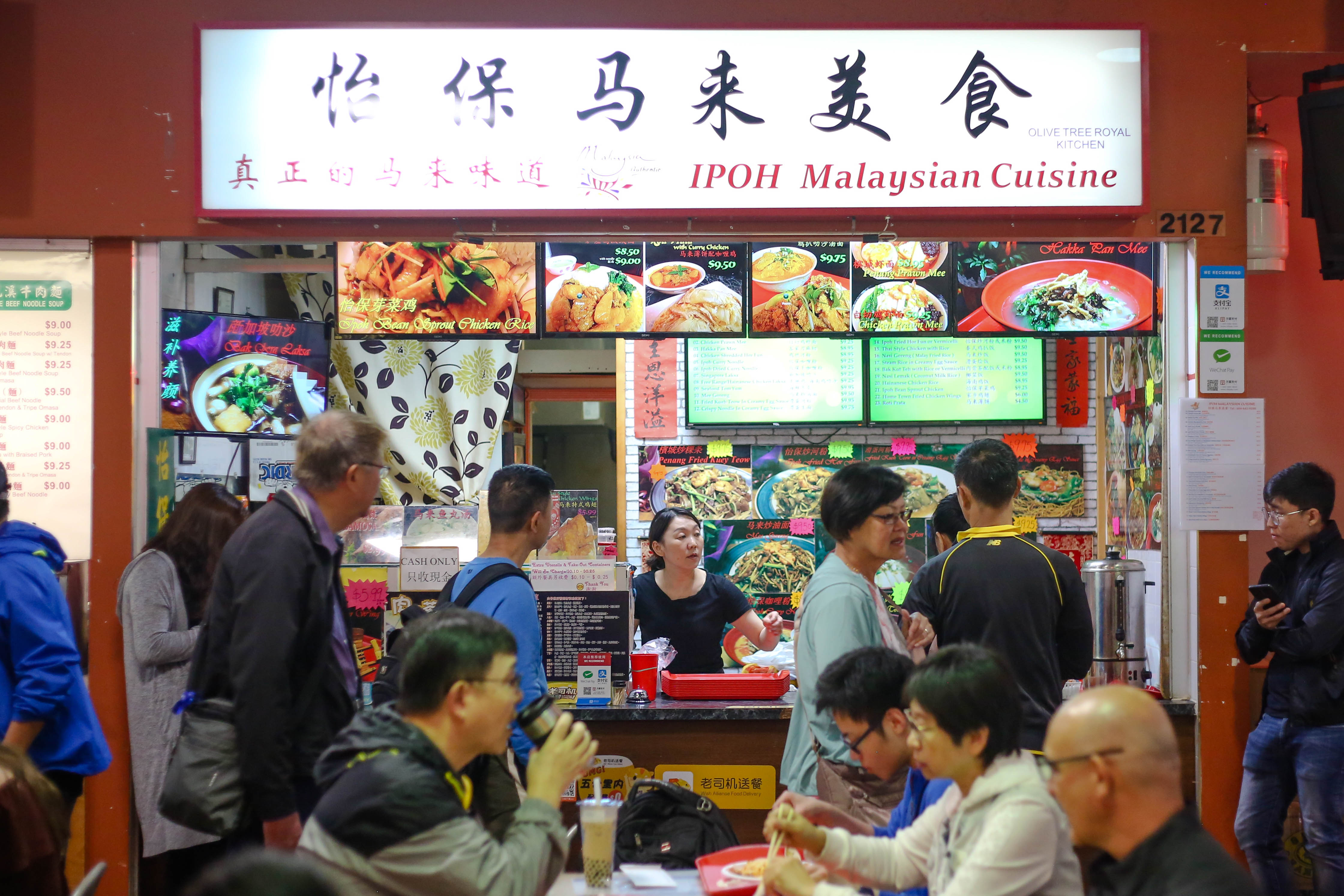 Rethinking 'authenticity'
There is an endlessly romanticized idea of the small business glorified for its "hole-in-the-wall" traits. I think of the dark, dingy restaurant serving up Yelp-approved "cheap eats" that are 100 per cent "authentic," or the "quirky" souvenir shop so jammed with items they must pose a fire hazard. But have we thought about what those who work in these holes-in-the-wall think of their working conditions? Are they not deserving of clean bathrooms, fire safety and air conditioning? Or must they toil in decrepit old buildings in service of our nostalgic image of "total hidden gems"?
In the case of Chinatown, I think there's room for both old and new — and that small business earners deserve dignity and sustainable working conditions.
But there should also be room for the next generation of Chinatown's residents to decide what heritage looks like and feels like to them. We should also support those who are nurturing those roots, letting them blossom into something new, exciting, yet still true to the past.
Chinatown can't solely be a museum exhibit. It's a neighbourhood that's evolving, experimenting and creating. By radically reimagining the way we think about the neighbourhood and its heritage, I'm hopeful that new developments can transform it into a place that will be cherished for many, many years to come.
I have a vision for summer 2026 in Chinatown that feels radically hopeful, yet possible. On the corner of Columbia and Keefer, Kent's Kitchen is making its long-awaited return to the neighbourhood. For weeks now I've walked past the "opening soon" sign, relishing the fact that I'll again be able to stroll down here and grab a takeout box of noodles that reminds me of a time gone by.
Chinatown is a place with a little something for everyone. Familiar herbal shops and grocers spill out onto the sidewalks like they have for years, but above them are gleaming glass buildings that house a mix of seniors and young families.
Building fires are less frequent and residents shelter from heat waves in air-conditioned units. Yes, there are now stores selling matcha cream puffs. But if that's not your thing, you can still pick up a freshly made pineapple bun for under $3.
It's a captivating neighbourhood grounded in the past yet looking ahead, one that will define Vancouver for years to come.