[Editor's note: This series republishes "Hell's History: The USW's fight to prevent workplace deaths and injuries from the 1992 Westray Mine disaster through 2016," commissioned by the United Steelworkers union and downloadable for free as a PDF here.]
The deaths at Westray Mine recounted in part two of this series inspired a number of regulatory and criminal cases, all of which failed to make anyone responsible for the tragedy.
Those deaths also triggered an inquiry led by a prominent Nova Scotia jurist, which, much to the surprise of many who expected it to be a whitewash, delivered a detailed and passionate indictment of Westray owners and managers, as well as describing a failed and politically corrupted regulatory process in the province's mines. Justice Richard tellingly called his report "The Westray Story — A Predictable Path to Disaster."
Workers killed by their bosses' negligence were a common feature of Nova Scotia coal mining, as they have been throughout Canadian history in all the provinces. But something about Westray's stench of political favouritism, regulatory neglect and heedless profit-mongering hit home with the public and the provincial government, sensitive for once to public opinion, and an inquiry into the Westray deaths was established quickly — only six days after the mine disaster. This inquiry, led by Nova Scotia Supreme Court Justice K. Peter Richard, was delayed for years in order to avoid prejudicing trials on the criminal and regulatory charges laid in connection with the disaster.
Five years and $5 million later, well after the province had abandoned both regulatory and criminal charges, the Richard Inquiry delivered its report, and with it a scathing condemnation of those who should have protected the miners' safety.
But before the partial victory represented by the Richard Inquiry, the family members and surviving miners of Westray had to witness a complex (and in the end ineffective) attempt by Nova Scotia officials to at least be seen as taking steps toward justice.
The RCMP in Nova Scotia started an investigation into the disaster as soon as search and rescue operations were called off in late May 1992, and by Sept. 17 of that year, the Mounties were going underground in the ruined mine guided by some of the draegermen who had conducted the heartbreaking search for survivors. On Oct. 5, Westray and four of its managers were charged with 52 non-criminal regulatory offences under the Nova Scotia Health and Safety Act. But in December 1992, 34 of the 52 charges were dropped. On March 4, 1993, the rest of the regulatory charges were also dropped, with John Pearson, the director of public prosecutions for the province citing the danger of jeopardizing future criminal charges.
A few such criminal charges were finally laid in April 1993, when Westray officials Gerald Phillips and Roger Parry were targeted for 26 separate counts including manslaughter and criminal negligence causing death. In the end, the criminal charges were stayed after it was learned that the Crown had failed to disclose significant evidence to the lawyers defending the Westray managers. It took several years for that stay to be appealed to the Supreme Court of Canada, which ordered a new trial in its review of a Court of Appeal ruling.
However, in June 1999, provincial prosecutors decided not to proceed with the charges, saying they did not believe they had enough evidence to secure a conviction. So Phillips and Parry, who as management figures for Westray Mine had done much to create the culture of negligence and disdain for safety regulations that helped kill 26 miners, walked free without any punishment.
A powerful indictment
While the criminal case was winding its long way through the courts, the Richard Inquiry, long delayed by legal challenges from Westray managers, began its investigation in 1995. The work of the inquiry was hampered by the refusal of two key Westray figures, Clifford Frame, the company founder, and Marvin Pelley, the president of Westray, to attend the hearings and testify. Nevertheless, after two years of intensive work, Justice Richard issued his report.
A first hint that this document was not going to be the coverup operation some observers in Pictou County had feared came on its opening pages, where the justice quoted a 19th century French mine inspector, Fr&eacuted&eacuteric Le Play, who had said, "The most important thing to come out of a mine is the miner." If any doubt remained about where Richard's sympathies lay, the fact that he then went on to dedicate his report to the 26 miners who died at Westray made them clear. This was not going to be a coverup.
The report notes Westray management's "disdain for safety" and goes on to say that the Westray story was one of "incompetence, of mismanagement, of bureaucratic bungling, of deceit, of ruthlessness, of coverup, of apathy, of expediency and of cynical indifference." Little wonder that Westray managers had done their best to slow and sabotage the inquiry.
Richard notes that in the first two months the mine was officially open after Sept. 11, 1991, it experienced four more roof-falls in addition to ones that had occurred during preliminary work before the gala opening. Mine manager Gerald Phillips, one of the Westray officials who refused to return to Nova Scotia to testify, had minimized the rock falls at the time, but miners testified that they included very dangerous near misses. They also told the inquiry that the company deferred and delayed implementing the improved roof supports and regular stonedusting of coal dust that would have improved their safety at work.
Throughout the inquiry, Justice Richard heard accounts of coal dust coating the tunnel floors and other surfaces in the mine, of inadequate ventilation and systematic management disdain for safety regulations, all possible because provincial regulators took a light touch, don't-make-waves approach to the many safety breaches observed at Westray.
"The Department of Natural Resources had failed to carry out its statutory duties and responsibilities as they related to the Westray project," said Richard in evaluating the regulatory failures that allowed Westray to continue to operate without any effective remedies being implemented for the serious (and soon-to-be lethal) safety breaches encouraged by managers.
Given all this, it was a particularly bitter pill to swallow when Phillips and company founder Clifford Frame, as well as Douglas Cameron, who had been a key political backer for Westray, tried to blame the miners for the disaster.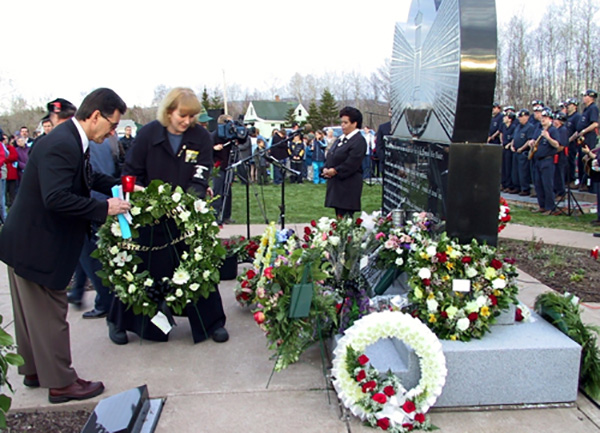 But if the (non) progress on regulatory and criminal charges might have been bitter for the Westray families, the report of the Richard Inquiry was a different matter. It is, in some ways, a curious document, drafted with all the verbal precision and attention to detail consonant with the lead author's legal background but still infused with passionate outrage at the willful failures of due diligence on the part of mine management and government safety inspectors he discovered while working his way through a staggering amount of evidence and testimony.
Justice Richard summarized the evidence his inquiry had heard in a report that weighed in at 800 pages and included 74 recommendations. One of his key suggestions was the creation of a new criminal law to make it more possible to hold companies and executives to account.
For Allen Martin, whose brother died in the mine, the outcome of the inquiry was a positive surprise.
"The day the inquiry report was released, we (family members) were all in a room at the Museum of Industry," Martin told me. "The thinking was that co-operation to that point was non-existent from any officials and since Justice Richard was appointed by then-premier Donald Cameron, a big Westray supporter (and a coward, I might add), we could expect nothing good. However, in my opinion, Justice Richard wrote an excellent report, pulled no punches, made excellent recommendations, vindicated the miners themselves and laid the blame squarely where it belonged."
Although no Westray management figures were ever successfully prosecuted, the surviving miners (117 not killed in the blast) were awarded severance pay for 12 weeks, which came to $1.2 million. Individual cheques to the miners ranged from $6,626 to $12,367. The severance pay was only awarded six years after the mine explosion and only because of concerted public pressure. A $30-million lawsuit was launched against the Province of Nova Scotia by families of the dead miners, but Nova Scotia's Supreme Court threw it out, ruling that the province was protected from lawsuits under the Workers' Compensation Act.
Workers and their unions, in a drive spearheaded by the USW, had to lobby hard for another six years before C-45, the Westray Act, a flawed but important first step toward holding businesses and managers to account when they recklessly endangered workers, was passed in 2003, coming into force in 2004.
Taking safety and justice fight to Parliament
Pat Van Horne, currently legislative representative for the United Steelworkers in Ottawa, told me recently that her union's efforts to get Parliament to respond to one of the key recommendations of the Westray Inquiry, a law that would make it more likely that management and board figures could be held criminally responsible for negligent decisions that led to worker deaths and injuries, began very soon after the inquiry report was tabled.
"We held our first member lobby for a Westray bill in 1999," she said. "Our members met with panels of politicians while they were in Ottawa for a policy conference."
Noting that the Westray Act was not made law until 2003, Van Horne remembers the years of lobbying that led up to the bill's final passage.
"We brought people in from across the country, put them up in hotels and kept them there for weeks. Dozens of members were involved. We roamed the halls and talked to MPs. This was before security on the Hill got tighter and we were able to go everywhere."
Immediately after the Westray Act was passed in late 2003, then Steelworkers national director Lawrence McBrearty told the press:
"Our union has fought long and hard for this legislation to hold corporations, their executives and directors criminally accountable for deliberately putting workers' lives at risk.
"We fought for the public inquiry in the mid-1990s, which put forward a recommendation in favour of this kind of law. Our activists lobbied every federal politician in two separate Parliaments to get their support for a law to amend the Criminal Code of Canada."
Van Horne credits the NDP for its active support for a new bill. NDP members introduced private member's bills to keep the debate alive, she said, mentioning Alexa McDonough, then the party's leader, and Pat Martin, then-Winnipeg Centre MP, as two NDP members who had authored private member's bills. She credited Martin for allowing Steelworkers in Ottawa to lobby for a Westray bill and to use his offices on the Hill as an unofficial headquarters for their efforts.
But the NDP was not alone in addressing Westray issues. Peter MacKay, Elmer MacKay's son, held a parliamentary seat from Nova Scotia during the years that unions were lobbying for a bill to correct the deficits in legal accountability revealed by the Westray disaster. In 1999, MacKay introduced a private member's motion calling for accountability on the part of employers when employees were injured or killed at work. MacKay's motion and one of the NDP-sponsored private member's bills were sent together to the Justice Committee of the House of Commons in June of 2000, but the government was slow to respond, and that version of a possible Westray Act died on the order paper.
The next Parliament's Justice Committee held hearings on Westray but failed to come to consensus and reported out to the House, where government law writers drafted a bill, only to see progress stalled by another year of government delays. The NDP, in particular MP Bev Desjarlais, pushed hard to get Bill C-45 addressed and the bill passed unanimously in the House of Commons (Oct. 27, 2003) and the Senate, receiving royal assent on Nov. 7, 2003. The amended Criminal Code became law on March 31, 2004.
The new law created rules for establishing criminal liability to organizations for the acts of their representatives, and established a legal duty for all persons "directing the work of others" to take reasonable steps to ensure the safety of workers and the public. It set out the factors that courts must consider when sentencing an organization and provided optional conditions of probation that a court may impose on an organization (i.e., municipal governments, corporations, private companies, unions, charities and non-governmental organizations).
Vern Theriault, a miner who had bravely joined the rescue effort the day Westray exploded, played an active role in the ongoing lobby for a new law.
"I was in Ottawa in 1999 for a health and safety meeting," he told Straight Goods News in 2012. "In 2000 I got a chance to lobby. We fought hard but the bill didn't get passed then," he said. "In 2002, I lobbied again, and again the bill didn't get passed. In 2003 we came back up on the Hill, and that time we got the bill passed."
"We wouldn't have got the bill passed if we hadn't been persistent," Van Horne told me in late 2015. Even more persistence has been needed to get the Westray Act effectively enforced, and that is still a work in progress.
A law with bite, timidly enforced
Writing in 2013, a decade after the Westray Act was passed, Steelworkers legal counsel Robert Champagne was not impressed by what had been accomplished to that date in enforcing the law. In a document prepared for his union, Champagne wrote:
"Amendments passed in 2004 to the Criminal Code of Canada to make it easier to impose criminal liability on corporations for serious workplace injuries and fatalities are being woefully underutilized. There have been only three successful prosecutions under the Westray amendments to date. Sentences issued in these prosecutions have been paltry. Serious workplace injuries and fatalities continue to occur at alarming rates."
Champagne also provides a clear summary of what, in theory, is now possible under the Westray Act.
"The Westray amendments," he writes, "make it easier to hold corporations liable for criminal negligence by:
creating a new legal duty (Sec. 217.1) that all persons directing work, or having the authority to direct work, must take reasonable steps to prevent bodily harm arising from work, and
creating rules (Sec. 22.1) for attributing liability to organizations for the acts of their representatives which are criminally negligent."
In brief, he explains, "if a person with the duty to take all reasonable steps to prevent bodily harm to a worker fails to do so, and in failing to do so acts with wanton or reckless disregard for the life and safety of the worker, then that person is guilty of criminal negligence (Sec. 219). If one or more representatives of a corporation commit criminal negligence and a senior officer (or officers) of the corporation departs markedly from the standard of care that could be reasonably expected to prevent the representative from committing criminal negligence, then a corporation can be convicted of criminal negligence (Sec. 22.1)."
Penalties for a conviction for the indictable offence of criminal negligence under the Westray amendments seem tough, and they might be if the law were properly enforced. The penalties, in theory, include for individuals:
Injury — 10 years in prison
Death — life in prison
Unlimited fine and 15 per cent victim surcharge
And for corporations the penalties could in theory include:
Criminal record
Probation
Unlimited fine and 15 per cent victim surcharge
The devil, the old saying goes, is in the details. The devil in Westray Act history during the law's first decade lay in its startlingly thin record of enforcement. By 2013, only a few charges had been laid and sentences, Champagne noted, were "paltry."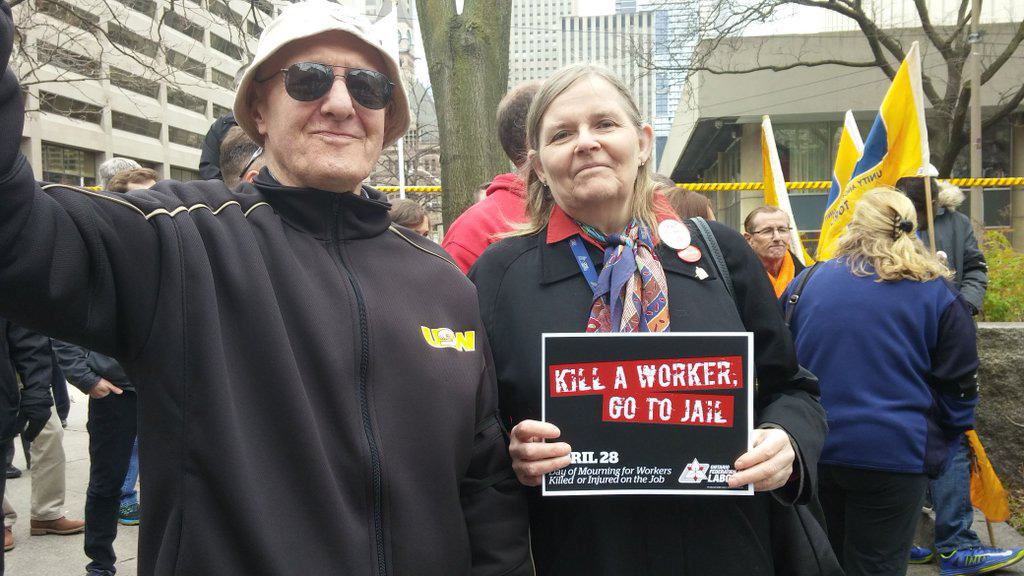 On July 10, 2014, the Canadian Criminal Justice Association, a group founded in 1919 that describes itself as "an umbrella organization representing all elements of the criminal justice system, including the public," sent a letter to Justice Minister Peter MacKay echoing Champagne's concerns. It read, in part:
"The CCJA recommends that this issue be referred back to the Standing Committee on Justice and Human Rights to investigate the root causes of the well-documented lack of application of the Westray laws across Canada. After more than 10 years since the law's enactment, we feel that it is an appropriate time to look into the enforcement status of this bill.
"We recommend that this committee conduct an inquiry into the existing training provided to police officers, Crown attorneys, and health and safety regulators in each province and territory to assess existing gaps in awareness and training and investigate potential solutions.
"Further, we recommend that this committee work toward identifying other reasons for the limited application of the Westray laws to injuries and fatalities in the workplace. Following this inquiry, we suggest that the minister's office work with provincial and territorial counterparts toward a more thorough and accurate application of the Westray amendments to appropriate workplace injuries and fatalities."
Early victories, small but real
The first two convictions under the Westray Act did not occur until years after the law was passed. The first was laid against Transpav&eacute, a Quebec paving stone manufacturer and it related to the death of Steve L'&Eacutecuyer, a Transpav&eacute worker, in October 2005. L'&Eacutecuyer was crushed by a machine that was operating with its safety cut-off mechanism unplugged. The company pled guilty to criminal negligence in December of 2005, and in March of 2008 the courts imposed a fine of $110,000.
The second Westray Act conviction also took place in Quebec. On June 12, 2006, Pasquale Scrocca, the owner of a Quebec landscape company, was driving a backhoe when it struck and killed Aniello Boccanfuso. The court heard evidence that the backhoe had no functional front brakes, had no brake fluid in the reservoir and had never undergone routine maintenance since it was purchased in 1976. After the fatal accident, inspection revealed 14 other serious defects, including non-functional horn, turn signals and parking brakes. Despite evidence of ongoing and serious negligence, the court imposed a relatively light sentence, a conditional sentence of imprisonment of two years less a day, to be served in the community with conditions, including a curfew.
Quebec workers have built up a very strong union movement in the province, a fact that may both reflect and enhance a public culture that takes workers' lives more seriously than in other parts of Canada. That is the view of Dominic Lemieux, assistant to the director of USW's District 5 in Quebec. The public education work done by the USW over the last decade, noted Lemieux, has created a much higher level of popular consciousness about health and safety issues at the province's work sites.
"Quebec media used to put stories about workplace deaths on the back pages," Lemieux told me last summer. "Now, when a worker dies on the job, it is more often a front-page story. People in Quebec get angry when a worker dies and want to know if management has made decisions that put workers' lives at risk. People say it is not normal for workers to be killed at work."
Since Champagne made his disheartening assessment three years ago, there have been a few more prosecutions and one more conviction under the Westray Act.
Criminal negligence charges laid March 15, 2015, against Stave Lake Quarries and two managers, relate to the death of Kelsey Anne Kristian, a young and inadequately trained truck driver working in a Mission, B.C., quarry.
In September 2015, in the first action based on the Westray Act in Nova Scotia history, charges were laid against auto body shop owner Elle Hayeck in the 2013 death of shop employee Peter Kempton.
And, in Toronto, Vadim Kazenelson, a construction project manager for Metron Construction was sentenced to three and a half years imprisonment in the 2009 Christmas Eve deaths of four men who fell from a swing stage suspended high above the pavement. The company was reportedly rushing completion of the work being done by these men in order to cash in on a $50,000 bonus for early completion and Kazenelson was found responsible for overloading the swing stage with too many workers.
It is notable, however, that charges against Metron's president Joel Swartz were dropped and that the company was assessed a relatively modest $750,000 in fines for regulatory offences. A separate company that provided Metron with the swing stage (Swing N Scaff) and a Swing N Scaff director were also fined for regulatory offences. Once again, however, the pattern that emerged in the Westray Act's first decade was in evidence.
Even with the law on the books for over a decade, the prosecutions are typically of low-level managers working for relatively small companies.
Tomorrow: Sam Fitzpatrick died on a B.C. mountainside, the job site for a hydro-power project, and his family wants justice.