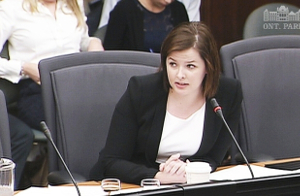 "Integrity is doing the right thing, even when no one is watching." -- C.S. Lewis, Irish author
Last week Premier Christy Clark's BC Liberal Party was rocked when executive director Laura Miller resigned after being charged with breach of trust and mischief in Ontario over alleged destruction of government emails and computer records.
The case, though unrelated, echoes the BC Liberal government's own email deletion scandal.
Miller must be presumed innocent, and the Ontario Provincial Police allegations against her have not been proven in court. In a public statement, she promised to "vigorously defend" against the charges.
If convicted, Miller -- former deputy chief of staff to then-Ontario premier Dalton McGuinty -- potentially faces up to 10 years in jail over allegations that government records regarding the $1.1-billion cancellation and relocation of two natural gas power plants were destroyed.
But a 2013 hearing in the Ontario legislature related to the gas plant cancellation decision where Miller testified under oath before an investigative committee, along with other previously disclosed information, show that B.C.'s is not the only provincial Liberal government having a serious problem with top political officials deleting emails and other public records.
During that hearing, Progressive Conservative Member of the Provincial Parliament Victor Fedeli said to Miller: "So what you're saying is you deleted your emails to do with the gas plant? That's why you have none..."
Laura Miller: "I would delete political, personal and transitory emails..."
Fedeli: "You had none because you deleted your emails."
Miller: "If I had those records, I would have provided them to the freedom-of-information request."
Fedeli: "I have the records now; don't worry. We have them now. We know you're in this up to your forehead in this gas plants scandal."
Miller: "I don't really feel that I am, but thank you for that."
BC's triple-delete scandal
Last week, former B.C. information and privacy commissioner David Loukidelis issued a government-commissioned report recommending that the BC Liberal government stop its own practice of triple-deleting of thousands of emails and destroying government documents to avoid them being released in freedom of information requests.
Loukidelis also recommended that destruction of emails directly or indirectly to avoid an FOI request be made a firing offence for any government employee.
Clark responded by promising to end the email deletion practices and study a "duty to document" law recommended earlier this year by current information and privacy commissioner Elizabeth Denham -- whose earlier report exposed massive violations of existing rules after a staff whistleblower contacted both her and the BC NDP opposition.
Tellingly, Clark's own deputy chief of staff Michelle Cadario was found by Denham to be deleting almost all her email daily, as was Transportation Minister Todd Stone.
It was email deletion by Laura Miller in her previous deputy chief of staff role in Ontario that first gained public attention.
Miller served as former Ontario Liberal premier Dalton McGuinty's deputy chief of staff, while her co-accused David Livingston was chief of staff when the gas plant scandal erupted. Livingston also denies any wrongdoing. Both will appear in court Jan. 27, 2016.
Ontario Provincial Police have alleged that Miller's partner Peter Faist -- a computer technology expert -- was wrongly brought in to "wipe" government computers of emails in McGuinty's office. Faist does not face charges and an OPP "information to obtain" a search warrant shows Faist told them he used a software product called White Canyon to erase computer records.
Miller, who filed an official complaint previously over police conduct in the investigation that was partially upheld, now says the OPP did not use "impartiality and fairness in police charging decisions" and vows to clear her name.
Clark defends Miller
When Miller first got into hot water in 2014, initially refusing to speak to police without written assurance information divulged would not be used against her, Clark leapt to her defence.
"She is a person of absolutely sterling character, and she works incredibly hard for our party and our province," Clark told reporters in Ottawa. "She is a person of the utmost integrity and we're really, really lucky to have her in B.C... of course, you know, she is not the target of this investigation."
Not so really, really lucky now that it turns out Miller actually was a police target.
After Miller was charged last week, Clark again rushed to her defence, saying: "In British Columbia, Laura Miller is known to her colleagues as a person of integrity..."
The issue will now be determined in court. But Miller's integrity was certainly tested in the Ontario legislature in August 2013 when she testified about her role in the gas plant cancellation decision and was severely cross-examined by Conservative MPP Victor Fedeli.
Fedeli: "Okay. These are not political or personal. There are emails that I've brought forward to you that are clearly gas-plant-related documents, including your Outlook calendar. Is it systemic through the Liberal associates to delete their email? Is that why we don't have any from you?
"You deleted them and felt safe to tell the freedom-of-information people, 'I don't have any,' because you did tell the truth: You didn't have any; you'd deleted them all? All 1,000?"
Miller: "When I delete emails, I do not have the ability to go back. Perhaps it's a lesson learned that the government can take back, in terms of maybe it shouldn't be political staff who search their emails; maybe it should be an individual in the civil service who has access to inboxes and sent-mail folders and deleted archives --whatever it is -- to conduct the search. But at the time--"
Fedeli: "You know the lesson learned? The lesson learned is, you thought you deleted your emails permanently and they weren't deleted permanently. Only when the Ministry of Government Services looked 'under the hood' did they find your emails that you thought were safely deleted. Is that true?">
Miller: "And I'm glad that they found them. I'm absolutely glad that they found them."
Fedeli: "I'm glad they found them, too, because you told the freedom-of-information request you had no responsive records."
Miller: "Well, let's be frank. If I had those records--"
Fedeli: "You had none because you deleted your emails."
Miller: "If I had those records, I would have provided them to the freedom-of-information request."
NDP MPP Gilles Bisson also took a hard run at Miller during the hearing.
Miller: "We're completely accountable."
Bisson: "Boy, you have a funny way of showing it. You won't release documents, you hit the 'delete' button, you think you've covered your getaway, and it turns out in fact there were backup tapes of the backup tapes, and you got caught. The fact is, you did not release documents when this committee--"
Miller: "We produced documents in July, after we had reached a negotiation on Mississauga. We produced documents in September, after we had reached a negotiation with Oakville."
"At the end of the day, political staff are told to manage their inbox in a certain way, so that requires that duplicate, personal, transitory, political emails be deleted. I did nothing wrong."
Blow to Liberal fortunes
Regardless of what the court decides, Miller's fate will impact BC Liberal fortunes in the 2017 election, not to mention that she is unlikely to take back the party helm while the case is pending -- and even if found not guilty, the Liberals may be reluctant to take her back.
That means organizationally the BC Liberals' formidable fundraising machine -- which under Miller raised $10 million in 2014, over half from corporate donors and triple the BC New Democrats' $3.4 million -- could be missing its captain.
And the party's campaign arm suddenly lacks leadership just as Clark must call two critical byelections that will test the government's popularity -- in Vancouver-Mount Pleasant and Coquitlam-Burke Mountain. The BC Liberals have no chance in the NDP's Vancouver stronghold, but a loss in one of their previously solid suburban ridings would be disastrous.
The loss of Miller alone would be a blow to the BC Liberals' prospects in the 2017 provincial election -- that it is connected with the issue of deleting emails in Ontario and the echo in the B.C. government scandal only adds dry wood to the fire.
Please note our comment threads will be closed Dec. 21 to Jan. 3 to give our moderators a well-deserved break. Happy holidays, readers.