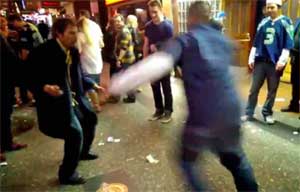 "I'll fuck you up," the man screams at the homeless panhandler as he rears back to kick him in the groin.
Clearly, he wants to hurt him. Badly. After all, he just offered to pay the panhandler $50 for the privilege of doing so.
But as the heavyset man's leg goes flying, the panhandler flinches and the target is missed.
Dissatisfied, the man retrieves his money from the ground. Another low-income man offers himself up as a victim for the cash reward, and the violence repeats.
The disturbing video of a late night Granville Street partier offering two low-income men money to be assaulted was widely covered by the media and shared on social media last week.
Even though both men volunteered for the abuse, one has an awful feeling watching the video. That's because the man inflicting the brutal kicks and verbal abuse is exploiting a vulnerable person's desperation for his own entertainment. Indeed, the second victim told CBC he did it for food money.
We understand that this kind of violence is cruel, vicious and demeaning, but it's also a growing trend in our cities. As homelessness has increased in Canada and the United States over the past decade, so too has the number of violent attacks against the homeless.
Pushed to the margins of society with few rights or protections, homeless people are increasingly finding themselves prey, in particular to the aggressions of young men.
A vicious cycle of abuse
Homelessness has always been dangerous. Being socially excluded puts one in a very vulnerable position. A 2008 University of Ottawa report, Homelessness, Victimization and Crime: Knowledge and Actionable Recommendations, shows that those without adequate shelter are more likely to be victims of assault and, for women, sexual assault. It quotes a Toronto study showing that 46 per cent of homeless women and 39 per cent of homeless men had been physically assaulted the previous year.
But over the last decade we've seen an increase in the number of these types of attacks. According to a National Coalition for the Homeless' survey of hate crimes against the homeless, there were 1,328 documented "bias motivated attacks" against homeless people in the U.S. from 1999 to 2012. Of those, 357 resulted in death -- more than double the number of homicides motivated by race, sexual orientation and religion over the same period.
Closer to home, there was a string of attacks in Vancouver's West End against homeless people in 2012. After the Vancouver Police Department reported there had been three attacks in the area, Pivot Legal Society interviewed six homeless people in Stanley Park who reported they had been assaulted in the previous month.
Attacks against homeless people fuel a vicious cycle of pain and poverty. Their homelessness puts them in increased danger and the more they're attacked, the more likely they're to remain homeless.
"Victimization on the street is psychologically distressing and can lead to depression and low self-esteem, which in turn contributes to apathy and feelings of futility, making it more difficult to escape further abuse," the University of Ottawa report states.
Bumfights and city hall
Most people are taught to be sympathetic towards the less fortunate, to give spare change to the panhandler or volunteer at a soup kitchen at Christmas. But over the last decade that empathy seems to be dissipating.
According to the National Coalition for the Homeless, the vast majority of assailants in these cases, 81 per cent, were under the age of 30, and 96 per cent were male. The creation of Bumfights, a tasteless and violent video series that ran from 2002 to 2006, in which young men hunt and tag homeless people or pay them to either fight each other or perform dangerous stunts, has been citied as the inspiration for a number of assaults and murders. Sadly, you can still buy the videos on Amazon or watch them on YouTube.
Advocates suggest this aggression is also heightened by the increasing criminalization of homeless people across North America. The National Coalition for the Homeless statistics show there is a documented relationship between anti-homelessness laws and the increase of hate crimes and violent assaults against homeless people.
Over the past decade a number of American cities have enacted anti-camping, anti-panhandling and anti-food sharing laws. These are also the cities with the highest number of recorded hate crimes.
"One possible explanation for this is the message that homelessness criminalizing sends to the general public: 'Homeless people do not matter and are not worthy of living in our city,'" states the National Coalition for the Homeless report. "This message is blatant in the attitudes many cities have toward homeless people and can be used as an internal justification for attacking someone."
It's not just unsympathetic American cities that treat the homeless as criminals. In Abbotsford, city staff threw chicken manure on one homeless camp. In Vancouver, where Mayor Gregor Robertson has promised to end "street homelessness" by 2015, the city has three bylaws that essentially make it illegal to sleep outdoors and has ticketed homeless people for doing so.
Many attacks go unreported
The number of attacks against homeless people is actually much higher than reported. According to one report cited by the University of Ottawa study, while 78 per cent of homeless people said they had been victims of a crime, only 21 per cent of them reported it to the police. There seems to be little faith in society to protect them.
And who can blame them? It's a good thing a video exists of the Granville Street event, otherwise we would never have heard about it. Judging by the laughter and egging on in the crowd, a number of bystanders were very entertained by the violence. No one apparently tried to stop it or thought to call the police.
As reports of this violence continue to pop up in the media, there have been some recent successes to try and thwart it. In the U.S., a number of states and cities have recently passed legislation that classifies attacks against the homeless as a hate crime. The National Coalition for the Homeless believes the legislation "sends the message to society that these groups are worth protecting" and in those places, the number of reported violent incidents has decreased.
There has been less of a movement in Canada to create such protections. Although the Canadian Human Rights Act Review Panel recommended that "social condition" be included as a prohibited ground of discrimination more than a decade ago, neither the B.C. Human Rights Code nor the Canadian Human Rights Act have been amended to reflect discrimination and violence against the country's growing poor.
'They think it's funny'
Although Vancouver Police Department spokesperson Sgt. Randy Fincham told reporters the Granville Street video was "distasteful" and that police are investigating the incident, he also acknowledged that it's not illegal to hit someone who consents to the assault.
Absent of adequate protections for those who face extreme marginalization in our cities, we need to rely on the public to stand up and defend them.
The Province interviewed the first victim of the kicking. He goes by "Panhandler Kelly," lives in a shelter in the Downtown Eastside and is a former patient of Riverview Hospital.
"They think it's funny," he told the reporter of the attack. "They think it's hilarious to do it to people who are downtrodden."
No one stepped forward. No one spoke out. Until they do, it's clear those who live on the street have a lot more to fear than the purse-clutching partiers who scurry by them each night.