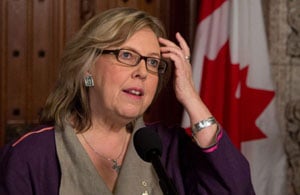 So, Ms. May, you've been Green Party leader for seven years. You want to be leader forever?
"No," she immediately responds. "Just 20 more years."
Whew! Talk about being in it for the long haul. That would take Elizabeth May into great-grandmother territory. Age 79.
Her Green Party marked its thirtieth year of existence this summer and in all that time it has elected just one federal member -- Ms. May. It doesn't take a cynic to suggest that statistic is hardly promising. The math says that's one-third of a member elected per decade.
Judging by opinion surveys, things don't appear to be getting much better. The Greens are below 10 per cent support and will be hard pressed to win another seat in the next election.
They have an added burden this time, in fact. The Greens' best potential for growth has always been with younger voters. But with Liberal leader Justin Trudeau having become the face of generational change, Green hopes of capturing young hearts have dimmed.
So why does Elizabeth May want to lead the Greens until the dawn of her ninth decade? She says it's because she sees the party on an upward trajectory, with the Greens serving as an "an essential part of the political spectrum."
She won't buy the argument that, by hanging around, the Greens are divvying up the vote on the progressive side, thus increasing the chances of re-electing Conservative governments. "I've never found that argument persuasive," she says.
May is an excellent member of Parliament and her storehouse of knowledge on issues stacks up with the best. She also has historical perspective -- which means she must realize how daunting the odds are against making the Greens a major force in Canadian politics.
As for her claim that the party is an essential part of the spectrum, it begs the question: Don't the Liberals and NDP cover a good deal of the Greens' policy agenda between them? "Not anymore. I haven't heard a decent idea in a long time from the Liberals or the NDP on the climate crisis." Where are they, she says, on the need for a carbon tax?
What about on other issues, like legalizing marijuana? "Well, if Justin is going to steal Green Party ideas, there are more important ones he could take."
She's not anti-Trudeau. She describes him as charismatic, popular, articulate. "I will cooperate with Justin Trudeau. I really like him. We get along really well together." But, ever the optimist, she thinks his youth appeal will help the Greens. "The important thing is getting young people to vote. And once young people are prepared to vote, they're very likely to vote Green."
May has a big fall schedule planned. A series of town halls, a countrywide "democracy tour" and the completion of a book she is writing on her career.
Along with climate change, the restoration of Canadian democracy has become her big cause. People are appalled by what Stephen Harper is doing to the system, she says. He doesn't understand that the prime minister's office is "not a constitutional entity. It has no role. It should be what it was under Lester Pearson -- a handful of stenographers and file clerks." Instead, she says, it's become "a monster" with no checks on its absolute power.
The PMO was a tiny operation back in Pearson's day compared to now. But it did have powerful unelected figures -- Tom Kent, for one.
On her tour, May wants to educate the public on how a true democracy is supposed to function. She gets a chuckle out of how the prime minister is taking heat over his latest prorogation. It was, as she points out, quite legitimate this time. But having poisoned the well with his previous two illegitimate prorogations, she says, he is now paying the price. "Nobody believes him this time and he has no one except himself to blame."
The Greens are polling most favourably in British Columbia, where May holds her seat. But even there the party trails the three major parties by a significant margin.
As leadership material, Ms. May is easily her party's best bet. No one is making an effort to replace her. Her goal in the next elections, she maintains, is for the Greens to win 12 seats, thereby gaining official party status.
Most observers see that goal as a pipedream. If she attains it, she'll surprise us all. If not, if the Greens are left with just one or two seats, she should face up to reality -- and drop that 20-year plan.