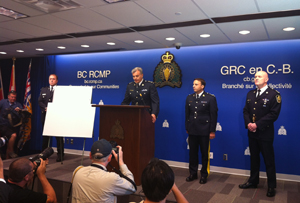 The arrest of two Surrey residents on charges of planning to blow up the B.C. Legislature is likely to be the top summer story, with no doubt a reprise next fall when a grateful legislature resumes sitting in its undamaged premises.
As I write this, we don't know much about the two persons charged, except that they're married, they live in Surrey, and they have greasy, unkempt hair. They are, according to CBC News, "inspired by al-Qaeda ideology" and "self-radicalized."
This is clearly disappointing. John Stewart Nuttall and Amanda Marie Korody (criminals always have three names) would have fit the preferred narrative much better if they'd been a couple of brown-skinned Muslim boys.
Ideally, they would have grown up playing hockey in some Canadian suburb and then mysteriously turned against the country that gave their families a new home. The influence of some sinister imam, leader of a renegade mosque, would have been invoked. The media could have run with this story, just as it did with that of the Canadian boys who died in the attack on the Algerian refinery.
But 12 years after 9/11, the media (and the rest of us) still have no clue what "ideology" Al-Qaeda espouses, apart from 72 celestial virgins for every male martyr to the cause. So the idea of "self-radicalization" will have to be the news peg: a bizarre and kinky new practice, a kind of self-abuse with shrapnel.
Trying to figure out how anyone would want to self-radicalize in the best province of the best country in the world, where we are growing our economy and looking forward to an even better future, will preoccupy most of our pundits for the summer.
But if John Stewart Nuttall and Amanda Marie Korody were in fact inspired in some way by al-Qaeda, a better line of inquiry for our media would be this: How do we deny them the prize that ultimately inspired Osama bin Laden?
Goading Goliath into behaving badly
Let's begin by agreeing on what we mean by "terrorism." My definition: A relatively small violent action carried out for political reasons where a large violent action, like a war, is impracticable. When a superpower would find a war politically awkward, state terrorism works fine. Thus the U.S. government has employed terrorism to carry out certain aims, including adventures in Guatemala, Cuba, Nicaragua and Vietnam.
The corollary is that where a small group faces a military power far beyond open confrontation, "asymmetrical warfare" -- terrorism -- is an obvious choice.
This is not because David can topple Goliath with one well-flung stone between the eyes, but because the provocation of a terrorist attack can drive the state into over-reacting -- and thereby delegitimizing itself in the eyes of its own people.
Sept. 11 was the classic example. No government in its right mind has dared attack the United States in all-out war since Pearl Harbor. But a handful of religious maniacs, having studied the U.S. more carefully than it had studied them, saw that a dramatic attack on New York and Washington could trigger the age of hysteria in which we still live.
Looked at objectively, 9/11 cost about one-tenth of the American lives lost to private violence by gunshot in any given year. Every two years, Americans kill as many of one another as the Vietnamese killed in twenty years.
But from Al-Qaeda's point of view, 9/11 provided a spectacular return on a very small investment, goading the U.S. and its client states into catastrophic wars in Afghanistan and Iraq. We are still kicking off our shoes before boarding U.S. flights, and kissing our hair gel bottles good-bye, thanks to Osama Bin Laden. Say what you will about the man, he took the measure of his enemies.
In doing so, Bin Laden also gave western governments a gift they accepted at once: to overthrow personal rights and freedoms in the name of "national security." Being delegitimized was a small price to pay for such a power grab, especially when your own citizens applauded the grab. We now sacrifice not only our footwear and hair gel, but our personal privacy on a scale Stalin could only dream of.
At the same time, Bin Laden spoke to a vast, undefined number of people living within the American sphere. For whatever reason, they did not feel like full participants in their communities. They were estranged from their governments and fellow-citizens.
Some, as Muslims or simply as brown-skinned strangers, had that estrangement thrust upon them after 9/11. Like Japanese-descended Canadians and Americans after Pearl Harbor, they were the preferred scapegoats.
Others, however, were simply alienated from the world they'd grown up in. They saw that "Al-Qaeda," whatever the hell it was, could provoke their governments into hysterics. So from their point of view it had to be OK. (I recall a continental uproar in the 1950s when some American kids formed a gang, and to sound really evil they called themselves "The Communists.")
Trained by the governments they hate
Every society has such malcontents, and apparently Surrey has a couple of them too. Stewing in their own alienation, such people surf the web for other malcontents just as some seek other pedophiles. Online communities form, sharing confidences and teaching one another how to build bombs.
A few members of those communities learned their skills in combat and came home truly alienated from the governments they had served. As a U.S. Marine, Lee Harvey Oswald learned the sharpshooting skills he needed to kill his commander in chief, and today's soldiers know many more ways to kill.
Some of these alienated surfers may even find their way to the deep web, where search engines don't go. They may feel a sense of safety there, and express themselves more freely. But we can be reasonably sure, especially after Edward Snowden, that groups like CSEC and NSA are thoroughly familiar with the deep web and its denizens.
Murderers get in trouble because they're amateurs and the police are professionals. Terrorists like the Surrey Two are equally amateur, and too stupid even to realize what they were getting themselves into.
They and others like them are also too stupid to realize that they are playing their enemies' game. Whether at the Boston Marathon or the B.C. Legislature, they cause enough of a problem to scare us into urging our governments to do more to protect us. Our governments drag the malcontents into court by their greasy hair, granting them a show-trial moment of fame before consigning them to oblivion.
Our real objection to the would-be terrorists from Surrey should not be that they wanted to kill a few of us. It's that their infantile plotting gave our government yet another pretext for robbing all of us of our freedom and dignity. Until we all "self-radicalize" like the Egyptians in Cairo this summer, we will go on being robbed.