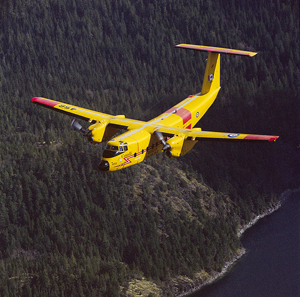 Effective search-and-rescue requires reliable modern equipment. Yet Canada's "fixed-wing" search-and-rescue aircraft -- CC-115 Buffalos on the West Coast and CC-130 Hercules in Central, Atlantic and Arctic Canada -- are more than 45 years old.
When an Inuit boy named Burton Winters became lost in a blizzard on the sea-ice off Labrador in Jan. 2012, all three search-and-rescue Hercules in Atlantic Canada were unable to deploy for mechanical reasons.
Last month, the Treasury Board granted "first-phase approval" of $3.8-billion for new search-and-rescue planes. A "Statement of Operational Requirements" will be drafted this summer, with the final selection of aircraft taking place in 2014.
Drafting the Statement of Operational Requirements is the key phase of any defence procurement. In 2009, the Department of National Defence proposed to sole-source the Italian-made C-27J Spartan for fixed-wing search-and-rescue. Industry Canada rejected the proposal because the requirements had been narrowly drawn so as to exclude all but one aircraft from consideration. Several tried and tested Canadian products -- new or refurbished Buffalos produced by Viking Air in Victoria and Calgary, and Q-400s produced by Bombardier in Toronto -- were ruled out peremptorily.
A fair Statement of Operational Requirements would allow the Canadian-made planes to compete head-to-head with foreign products.
Home grown wings
The Buffalo is the perfect aircraft for the rough coastlines and mountainous terrain of Canada's West Coast. Able to fly as slow as 70 knots with great maneuverability and plenty of excess lift and power, it can also land and take off from short, soft runways and even sports fields.
A different aircraft is needed in the rest of Canada, where the distances are greater and there is less mountainous terrain. Aircraft operating out of Trenton, Ontario, or Greenwood, Nova Scotia, must be able to reach the High Arctic or conduct long missions over the North Atlantic.
The Q400, with its high cruising speed of 367 knots, is well suited for the job. The off-the-shelf version has a range of 1,360 nautical miles, which can easily be extended with extra fuel tanks. Q400s can land and take off from gravel runways of less than 500 metres, which is handy in the Arctic.
Bombardier already makes a variant of the Q400 for maritime patrol and has sold the previous variant, the Q300, to the Swedish and Japanese coast guards and Mexican navy.
Q400s do not have a rear-loading ramp, which the Department of National Defence considers to be essential for safe parachuting by search-and-rescue technicians. But deflectors can be installed to create a more favourable airflow for jumping from side doors, while using aircraft with a slower minimum speed reduces the airflow. Q400s used for search-and-rescue in other countries even have "drop hatches" installed their underbellies to allow for the accurate and safe deployment of life rafts and other equipment.
Search-and-rescue aircraft are not required to double as cargo planes, and therefore do not need ramps for this purpose. The Royal Canadian Air Force is already well equipped with transport planes, including four new C-17 Globemasters and 17 new C-130J Hercules.
Local bargains
All of the foreign made airplanes competing for the Canadian search-and-rescue contract have serious limitations. The Italian-made Spartan C-27J can only land on hard runways, rendering it a problematic choice for a country with thousands of unimproved runways, heavy rains and spring melts. The Spanish-made EADS C-295 requires an inconvenient 844 metres for take-off and 680 metres for landing.
The U.S.-made Bell-Boeing V-22 Osprey can convert itself in flight from a turboprop plane to a helicopter, which makes it intuitively attractive for search-and-rescue. But the Osprey has experienced many technical setbacks, and its complex mechanics would almost certainly result in a lower serviceability rate and higher maintenance costs.
The sticker price of the Osprey is also expensive ($69 million), while the Spartan ($53 million) and Hercules ($48 million) are nearly as costly.
By comparison, the Canadian-made planes are a bargain, which is no small matter in a time of constrained budgets. New Buffalos would cost between $18-20 million, while Q400s cost $30 million. Last but not least, made-in-Canada planes create made-in-Canada jobs.