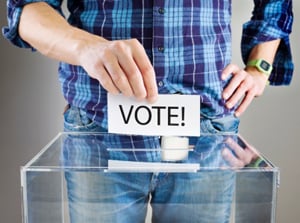 British Columbians are heading to the polls this week to vote for their local governments.
A new poll released today by the Centre for Civic Governance at the Columbia Institute found 45 per cent of British Columbians couldn't identify the date of their next municipal election, less than two weeks out from the election. This is a concerning statistic, coming as it does amidst declining voter participation in recent elections. Voter turnout hovered around 30 per cent in recent municipal elections, with a downward trend in voter turnout nationally from 75 per cent in 1988 to 61 per cent in this past election.
Citizens who miss the opportunity to cast their ballots this Saturday will lose an opportunity to act on the issues that are concerning them.
While the natural environment was not top of mind, when asked specifically about climate change, 40.7 per cent of respondents were still willing to pay higher taxes in order to see their local government take strong climate action. (Nineteen per cent neither agreed nor disagreed, 38.7 per cent disagreed.) Local leaders who have been championing climate action initiatives should take heart that, even when faced with the prospect of higher taxes, there is a substantial core of voters who want action on climate change.
Living wage scores high
Local decision-making that builds community spirit, supports the local economy, strives to include all community members, develops walkable communities, works to improve public transportation and energy efficiency can make an enormous difference and lead to a healthier, more active and stronger community.
In another area where visionary local leaders can take heart, 67.1 per cent of respondents asked about a Living Wage said they would favour their municipality adopting a bylaw to ensure that all directly employed city staff, as well as staff contracted by the city, are paid a locally calculated living wage. A living wage means that the recipient can afford basic necessities (food, clothing, shelter, transportation, childcare, healthcare), and a small amount for emergencies.
This response reflects a core concern for many: the economy. When asked about issues, 32 per cent of British Columbians expressed strong concern about the economy, with 13.5 per cent identifying cost of living as the most important problem facing their community. Second and third spots went to housing affordability (9.5 per cent) and the economy (8.8 per cent).
Communities are stronger when community members are engaged in their community. Caring enough to vote sends a strong message to those who are elected about the community they are putting themselves forward to govern. It makes for better leadership. This leadership, on both municipal council and school board, is key to building inclusive and sustainable communities. Your vote can make a difference. Occupy the ballot box!