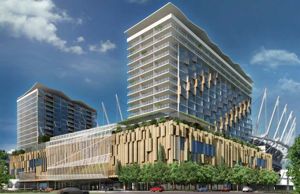 [Editor's note: MacKinnon made this address to Vancouver city council Sunday evening.]
When I first went to university I successfully paid for my tuition by gambling.
My friends and I were very good poker players. At 18, we were winning thousands of dollars from teachers, students, and even maintenance staff at the university. It was fun at first, but when I saw I was taking money from people I liked, and people who couldn't afford to lose it, then it wasn't fun at all.
I decided to retire from poker. But my good friend Bill kept gambling. And he lost everything, all his money, his family and his self respect. To me he was more than just another gambling statistic. He was a friend.
While watching previous speakers addressing council tonight on this important issue, I've discovered that they fit into two distinct groups. Group one is made up of people with a personal financial interest in this expansion, who don't seem to care much about the social consequences of gambling.
The second group is composed of those whose priority isn't their own self interest. They are concerned about the kind of city we create, about the thousands of people who will suffer from increased gambling options. When I see representatives of arts organizations, epidemiologists, religious and community leaders speaking against this proposal, I know I'm on the right side. And I hope city council will be on this side too.
A parasitic industry
I can understand that casino workers are concerned for their jobs. That makes sense; however it's clear to me that they are in denial about the true costs of what [former COPE city councillor] Dr. Fred Bass calls a parasitic industry.
I first want to addresses the business case: I've built three successful Vancouver companies, and have studied and love economics. The expanded casino is not the economic boon to Vancouver that proponents allege. Drawing on their expertise, at bluffing, they are trying to mislead the council and community with the lure of easy money.
Most of the people who'll lose money at the casino are local residents. But these people would spend this same money elsewhere. Isn't it better for it to go to other local businesses that may very well provide many more jobs, and produce something of value?
Ultimately the financial benefits of this expansion will go to a small number of people. But the public will pay dearly -- from bankruptcies to destroyed families. Gambling interests never factor in the personal and economic drains on a community.
Diverting, not increasing, local spending
And you should remember that in almost all businesses, 80 to 90 per cent of the profits come from 10 per cent to 20 per cent of customers. For the casinos, these special customers will be virtually all local residents.
When Dr. Bass suggested that 50 per cent of their revenue might come from six per cent of customers, he may be underestimating. A person who loses $200,000 is worth the same as 5,000 customers losing $40 each. Despite denials, Paragon knows how much money comes from problem gamblers. A business priority is knowing where profits come from. You don't even run a mom and pop business without knowing these basic numbers. But Paragon keeps this a secret for obvious reasons.
Last year I spent an hour with a marketing expert who works full time for the gambling industry. She told him me that they know that the real profits come from a small minority of gamblers -- the truly addicted.
The gambling industry preys on vulnerable and addicted people. Because that's where the money is.
What the studies say
Just like big tobacco, the gambling industry denies the enormity of the social problems they cause. Yesterday I heard a casino employee say that expansion opponents don't know the facts. I suspect she's not read any of the hundreds of studies that show the severe and ugly consequences of gambling.
So let me mention just a few:
The Canada Safety Council directly links gambling addiction to bankruptcy, family breakup, domestic abuse, fraud, theft, and homelessness.
Many people are on the streets because they lost everything to gambling. I care about homelessness, as do you. Here's an opportunity to stop the expansion of one of the root causes of homelessness.
Gambling also kills people. A University of California study showed that Las Vegas has America's highest levels of suicide for both residents and visitors after casinos opened in Atlantic City, suicides jumped dramatically.
The Canada Safety Council also estimates that over 200 Canadian gamblers kill themselves each year. And for every suicide, five more gamblers end up in the hospital from attempted suicide. That's 12,000 individuals over a decade.
And then there is the impact on our youth. A Harvard Medical School study found that teen gamblers are three times more likely to become addicted than adults.
A parent's responsibility
As a parent I'm concerned about what this could mean for my sons and their friends. As should everyone in this room who cares about kids.
Last fall, the esteemed Centre for Addiction and Mental Health conducted a study showing that 29,000 Ontario students have serious gambling problems. Two thirds of them now have a serious substance abuse problem, and one quarter have attempted suicide.
And research shows that teens with a gambling problem are 18 times more likely to kill themselves than teens without a gambling problem. More gambling opportunities will mean more tragedies.
I believe allowing the dramatic escalation of gambling in our city is the equivalent of allowing the clear cutting of a pristine rain forest. Once it happens, you can't turn back the clock.
You, our city leaders, have a choice. Do you want to be the people who decide to increase the suffering of vulnerable populations, especially our youth? Or do you take a principled stand and oppose this gambling expansion? I urge you to unanimously reject this proposal.