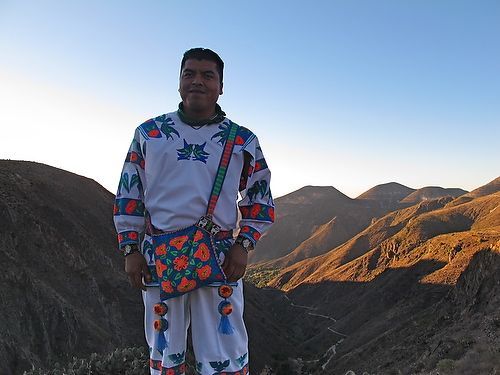 A Vancouver-based company, First Majestic Silver Corp, has ignited fierce controversy over plans to mine silver from a mountain considered by an indigenous nation to be the birthplace of the sun.
The Huichol called the Canadian mining project an "unlawful imposition" and part of a "a deepening war of extermination against our native peoples" in an October 2010 manifesto entitled Declaration in Defense of Wirikuta.
Nearly 70 per cent of First Majestic's mining rights fall within the Wirikuta Reserve, an area designated a Natural Sacred Site in 2001 by the state of San Luis de Potosí.
The Huichol believe a god appeared here in the form of a deer. With his antlers he first raised the sun into the heavens. So each year the Huichol trek across 800 kilometres of arid wilderness to their sacred summit Leunar. There they eat a sacred cactus and pray "that our ancient culture does not disappear. . . and the candles of life that give meaning to our identity are renewed."
The 6,327 hectares covered by First Majestic's mining rights contain an estimated $1.325 billion worth of silver.
As world views collide over the value of silver versus the sacred, the developing conflict is reminiscent of the hit movie Avatar.
First Majestic's mining claims overlap the Huichol's sacred mountain as well as the only underground water source in the Sierra de Catorce. The aquifer feeds 16 villages and an ecosystem recognized by the World Wildlife Fund as among the three most biodiverse deserts in the world.
"It's too early to comment on specifics [of the dispute]," said First Majestic's investment relations director Todd Anthony, when asked about the firestorm of controversy surrounding the proposed mine. "But we see nothing that could prevent the Real de Catorce mine from becoming fully operational."
'We will defend it'
The Huichol promise to use legal action as well as non-violent civil protest to stop the "devastating mining project," in their October declaration.
The town of Real de Catorce sits alongside La Veta Madre, a rich vein of silver that First Majestic intends to mine.
"Townspeople have united with the Huichol to protect our environment," said one woman who raised two children in the quiet mountain village. "We are not against mining in general -- we all use metal," she added, asking that she not be named out of concern for her safety. "But this is one of the energetic centres of the earth. And we will defend it."
In November First Majestic announced a $3 million acquisition of surface rights for land to build a silver refining facility. Anthony says the company will launch an "aggressive drilling and exploration program" in 2011, and build a fully operational underground mine by 2014.
The declaration provides a long list of state and federal laws the Huichol believe should prevent mining in Wirikuta. There is a Law for Consulting with Native Peoples, a Law for Ecological Balance and a Law for the Handling of Toxic Substances, among others, which reveal the idealism of Mexican law -- at least on paper.
"The application of law is pretty inconsistent in Mexico," said Jamie Kneen of Miningwatch Canada, an organization that monitors the activities of Canadian mining companies worldwide. "That applies to environmental and public health law violations as much as to public safety. Mexico has a serious law enforcement problem."
'Eco-friendly' promise met with skepticism
The record of Canadian mines in Mexico has sent a chill through Real de Catorce. In nearby Cerro de San Pedro, a mine owned by Vancouver's New Gold Inc. has led to widespread violence and environmental destruction. An immense slag heap leaches toxins into the water table and protestors have been beaten by supporters of the mine. In April 2010, Enrique Rivera was admitted as a refugee into Canada to escape the atmosphere of intimidation and fear.
Further south in Chiapas, Mariano Albarca was shot to death in November 2009. He was prominent in the resistance to a barite mine owned by Blackfire Exploration of Calgary. The two men arrested for his slaying were former Blackfire employees. The company is also under investigation by the RCMP for violating a law against corrupting foreign officials, according to Kneen.
The people of Real de Catorce worry that First Majestic's operation could bring similar violence, corruption and environmental destruction to their community.
First Majestic's publicity presents a rosy image of the projected mine. "All work carried out in the Real de Catorce area will. . . be eco-friendly," their corporate web site promised as of December 2010. They emphasize that "underground mining is totally undetectable by human settlements on the surface."
"That's not true," Kneen commented. "It's just a little less obvious [than open-pit mining]. There will still be tailings piled on the surface, as presumably there will be milling at the site. Typically gold and silver do their processing on the spot. One issue is the arsenic or cyanide used in the processing, and another is contaminants originating in the rocks themselves, as many of these rocks are being exposed to water for the first time."
"If there are not water problems now, there will be," he added.
There is already a scarcity of water in the Sierra de Catorce, where years sometimes pass between rains. Mines typically use large amounts of water to separate precious metals from rock, so residents fear that the mine is bound to consume much of a water resource currently shared between sixteen villages.
"First Majestic will have to de-water the mine," Kneen told me. "Presumably they will be digging below the water table, so they'll be pumping out a lot of water. This implies sucking water out of the aquifer."
The towns and villages of the sierra currently use the springs with the blessings of the Huichol. To the Huichol the water is a sacred, life-giving force. Aquino says that the Vancouver company's plans to use this water without consulting its ancient guardians shows a lack of respect for the indigenous world view.
A space seen as divine
A June 2001 entry in the Official Journal of the State of San Luis Potosí conveys a remarkable understanding of the divine nature of the Huichol world.
"Sacred Natural Sites are those natural areas which, in addition to their biodiversity importance, are sacred spaces for indigenous peoples, and where ceremonies with a divine character are performed. In these sites reality is seen and perceived under a magic, spiritual and natural perspective, and ritual offerings and ceremonies of the indigenous peoples take place."
For Huichol, who also call themselves the Wikárika People, annual ceremonies at sacred sites along the pilgrimage to Leunar are a timeless experience of connection with ancestral spirits. They access a dimension of consciousness that the Western mind is challenged to comprehend. It is the health and abundance of nature that makes this experience of ancient ceremony possible and powerfully felt.
The deserts of Wirikuta are home to a rich array of native species: 28 reptiles, 157 birds (including Mexico's symbol, the Golden Eagle), 65 mammals including deer and a few remnant black bear, and one of the highest diversities of cacti in the world. Among those in peril of extinction is hikuri, the Huichol's sacramental cactus, known in English as peyote.
To the people of Real de Catorce, the character of their town and the purity of their water and soil is at stake. For the Huichol, a mystical landscape that affects the survival of their culture hangs in the balance.
Whether First Majestic drills into the Huichol's cultural heritage may depend on whether the compassion of Canadians is strong enough to limit our own economic adventurism abroad.
First Majestic already has three silver mines in full production, and two others in development. Do they need one more, if it amounts to a war of extermination? Those to be affected feel that rare languages, sacred prayer sites and old-growth desert ecology hold far more value than lifeless bricks of silver.