Kevin Rudd, Australia's prime minister, went to work on the morning of Wednesday, June 23, 2010, with no idea that he would lose his job a mere 24 hours later.
Rudd had taken his Labor Party from the opposition benches and into government in Nov. 2007, securing a 83-seat majority win in the 150-seat House of Representatives over the once-mighty Liberal-National Coalition. The next election was scheduled for 2011.
But the prime minister's many flip-flops (notably his failure to implement a 'carbon-pollution reduction scheme') and controversial policies (a "super-profits" mining tax, among others) had angered many Australians and he was sliding in the polls. Once dubbed "Mr. Sixty Percent" for his high personal approval ratings, the Prime Minister's polling numbers had plunged to under 40 per cent.
Labor was facing the prospect of defeat after just a single term in power, and critics had amended Rudd's election catch-phrase, "Kevin 07," into: "Kevin 07, Gone By 11."
As the Wednesday work-day neared its end, Rudd learned that he had lost the confidence of many members of his Labor caucus, several influential party power-brokers, as well as leaders of the Australian Workers Union. They wanted him to step aside, to be replaced by his deputy prime minister, Julia Gillard.
Gillard herself visited Rudd's office that evening, and asked him to quit. He refused and called for a caucus vote the next day. On Thursday morning, however, the prime minister finally acknowledged that he had no hope of retaining power and withdrew from the contest.
Mere hours later, after Gillard was named as Labor's new leader, a tearful Rudd told a news conference that while he was proud of his record, he was embarrassed "to have now blubbered." (Gillard went on to win election as Australia's first female Prime Minister on Aug. 21, albeit with a minority government.)
BC's brutal political season
Politics is a rough, tough, and often nasty business, as Kevin Rudd learned, painfully.
His electoral record as leader of Australia's Labour Party: one victory, no defeats. But the mere prospect of losing power (plus growing resentment in his cabinet and caucus over his abrasive leadership style) caused the party to unceremoniously dump him before again facing the electorate.
Which brings us to events in British Columbia, where both the Premier, Gordon Campbell, and the leader of the official opposition, Carole James, have announced they are quitting their respective posts.
Both had weak or indifferent polling numbers; both faced internal party criticism over their leadership or lack thereof; and both chose to retire rather than endure a prolonged fight with fellow party members.
The BC Liberals, whose raison d'etre is simply to keep the New Democrats out of office, are approaching the task of selecting a new leader in workman-like (or, business-like) fashion. Little sentimentality has been shown for Campbell, his three successive electoral victories or his 17 years as party leader.
Nor are contenders for his crown too concerned with defending their government's policy positions. Kevin Falcon, the former health and transportation minister, quickly promised to consider cutting the hated HST by two full percentage points -- thereby whacking Victoria's revenues by roughly $1.5 billion or so, annually (or close to 10 per cent of the province's yearly taxation receipts).
On the other hand, Christy Clark, the ex-radio talking-head, said she will hold a legislative vote that presumably would kill the HST entirely. Say good-bye to $5-$6 billion in annual revenues.
New Democrats wring hands and squabble
Unlike their BC Liberal opponents, members of the New Democratic Party seem unable to move past the internal fight that James supposedly ended with her resignation announcement.
David Schreck and Paul Ramsey, two prominent former NDP MLAs, have separately predicted (see here and here) that James' departure assures the BC Liberals of a fourth consecutive electoral victory.
That view is echoed by Kennedy Stewart, a professor at Simon Fraser University and one-time federal NDP candidate (see here.)
Why they -- and many other New Democrats -- believe this to be so is puzzling. How can it be that the party that has been competitive in nine of British Columbia's last 10 general elections (the exception being 2001), and formed the government on three occasions, is so badly fractured or paralyzed by James' departure that it won't be able to compete -- even with a shiny new leader?
More to the point, why would ordinary British Columbians let the party's internal machinations affect the way they cast their ballots?
Does anyone believe that a significant number of B.C. voters, faced with a choice between the NDP and the BC Liberals, and the latter's dismal record over the last decade -- lying about the sale of BC Rail, constantly misrepresenting the province's finances, maladroit introduction of the HST, and so on -- will say to themselves: gee whiz, I really didn't like the way those nasty New Democrats got rid of their nice lady leader, so I'll have to cast my ballot for the BC Liberals?
Seriously?
Campbell's collapse
Campbell's electoral record as party leader -- one loss (in 1996), followed by three consecutive victories (in 2001, 2005 and 2009) -- was not dissimilar to those of Margaret Thatcher, Jean Chretien and Tony Blair (all of whom enjoyed three successive triumphs), and Bob Hawke (four), before their party caucuses gave them the boot. (See sidebar.)
Also like theirs, his electoral successes were of no help when both he and his government began to sink in public-opinion polls -- for him, following the disastrous introduction of the Harmonized Sales Tax in mid-2009.
In August of that year -- three months after the provincial general election, and weeks after Campbell's surprise announcement that B.C. would adopt the HST -- the Mustel Group observed that the BC Liberals' popularity had collapsed from an election tally of 45.8 per cent, down to 38 per cent. By May 2010, the government had fallen even further, to just 32 per cent.
In October, Angus Reid Public Opinion found that a mere nine per cent of British Columbians approved of Campbell's leadership.
Party dissension came to the fore when cabinet minister Blair Lekstrom (in June) quit both his post and the BC Liberal caucus in disagreement over the new tax. It continued when another member of the executive council, Bill Bennett (in October), publicly blasted the premier for failing to consult with his colleagues over a cabinet shuffle that featured significant administrative change to natural-resource departments.
Desperate to save his premiership, Campbell made a province-wide televised address on Oct. 17 and promised British Columbians a 15 per cent reduction in their personal income taxes. The dramatic (and costly -- $568 million) revenue measure did nothing to improve the premier's popularity.
On Nov. 3, Campbell announced that he was leaving politics. (The tax cut was subsequently rescinded, and Bennett expelled from both the BC Liberal cabinet and caucus.)
We'll never know how his party and caucus might have reacted had Campbell opted to fight for his job. Instead, his departure nipped dissent in the bud, and the BC Liberals will choose a new leader at a party convention scheduled for Feb. 26, 2011.
While all of this was going on, discord was on the rise in the New Democratic Party caucus.
Revolt in the NDP
Some background. "I had begun to notice signs of a revolt in caucus against my leadership. Nobody had said anything to me directly, but there was obvious unrest... This was to be expected after two election losses..."
Carole James -- who led the New Democratic Party leader to consecutive election defeats in 2005 and 2009? Nope. Try former NDP premier Dave Barrett, who offered the reminiscence in his 1995 memoirs.
Barrett, of course, had taken the New Democrats in 1972 to their first-ever electoral victory in British Columbia. His government was turfed in 1975 after a single term in office by Bill Bennetts Social Credit party, but as Bennett's government came under mounting criticism, pundits were near-unanimous in predicting that the NDP would return to power in the 1979 tilt.
The province's 32nd general election saw the Socreds dip slightly, to 48.2 per cent of the popular vote, while the NDP gained more than a half-dozen points to finish close behind at 46 per cent. The seat-count: Bennett's Socreds, 31 (down four); Barrett's New Democrats, 26 (up eight).
All in all, an impressive performance by the NDP -- and the first time ever that the party had surpassed forty percent in a general election. But instead of taking power, the New Democrats found themselves relegated for another four years on the opposition benches.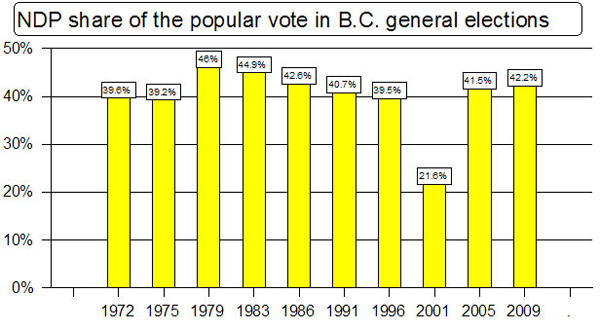 It's often been said that the worst day in government is better than the best day in opposition. And so an unknown number of Barrett's caucus members -- restless, far from the levers of power -- began agitating for a change.
The former premier responded by calling a meeting of NDP MLAs in Aug. 1982, in Nanaimo. Caucus members vented, MLA Emery Barnes confronted dissidents, and a vote was held at the end of the session: 20 cast their ballots in favour of Barrett staying on; just three wanted him gone.
In May 1983, Barrett lost another squeaker to Bennett. This time, the Socreds captured 35 seats (a gain of four) with 49.8 per cent; the NDP finished second with 22 (a loss of four) with 44.9 per cent.
It had been difficult enough to stay on as leader after two losses; it would have been impossible with three. Barrett soon announced that he was leaving provincial politics.
James' strategic decisions
Carole James' first general-election tilt was in 2005, and the New Democrats rebounded from their disastrous 2001 performance to take 33 seats (seven shy of a majority in the 79-member House) with 41.5 per cent of the vote.
In her second general election, in 2009, the NDP picked up 35 seats (eight short of a majority in the newly-expanded, 85-seat legislature), with 42.2 per cent.
Those results were heartening, compared to the 2001 disaster. But they were merely average when looking back at the NDP's electoral performance over the four decades since Barrett's landmark victory. And the second consecutive loss meant that the New Democrats -- after tasting power in the 1970s and 1990s -- would be staying on the opposition benches for another four years.
In the weeks and months following the 2009 defeat, James might have anticipated that her performance would be questioned. As Dave Barrett wrote in his memoirs, caucus unrest "was to be expected after two election losses." James might have taken the initiative by pre-empting the leadership review scheduled for late 2011 and seeking an earlier assessment and endorsement from her party, but she did not.
Nor did she take the lead when a grassroots, anti-HST campaign rose up against Campbell and his BC Liberal government. Instead, James ceded that role to ex-Socred premier, Bill Vander Zalm, and others (including a prominent New Democrat strategist, Bill Tieleman), and was reduced to being a mere bystander when an initiative petition collected more than a half-million validated signatures from angry British Columbians.
Even worse, despite the BC Liberals continuing woes, the New Democrats plateaued in public opinion polls, reaching only as high as 46 per cent in Mustel surveys, and 49 per cent in those done by Angus Reid. Those levels were far short of NDP support prior to the 1979, 1983 and 1991 general elections.
(Still, that didn't stop some of the province's commentators, notably CKNW's Bill Good, from repeatedly declaring that Carole James would "probably" and "almost certainly" win the next provincial general election. The mainstream news media's sudden support for James as she came under fire from her own party was one of the most remarkable, and strange, aspects of recent events.)
Revolt erupts
The floodgates of dissent opened in Oct. 2010, after NDP MLA Bob Simpson offered mild criticism of his leader's speech at a convention of the Union of B.C. Municipalities. James responded by kicking Simpson out of her caucus.
Norm Macdonald then quit as NDP caucus chair, and shortly thereafter, Katrine Conroy resigned as caucus whip. Former NDP cabinet ministers (Bob Williams, Corky Evans, Dale Lovick) began to openly call for James' departure.
Matters came to a head at a NDP provincial council meeting in Victoria on Nov. 20. The good news for James was that she received a massive vote of support, 84 per cent, from the assembled delegates; the bad news was that 13 NDP MLAs refused to wear yellow scarves handed out to the leader's supporters. Dissent now was out in the open for all to see.
The situation deteriorated for James on Dec. 1 when Jenny Kwan, a 14-year caucus veteran, released a lengthy public statement that called for a leadership convention as soon as possible. Public-opinion polls, wrote the Vancouver-Mt. Pleasant MLA, illustrated "Carole James' inability to capture the interest and support of British Columbians. At a time when the BC Liberal Party and the premier's personal approval rating have fallen to all time lows, the NDP under her leadership has not been able to capitalize on the BC Liberals' downfall."
James blustered and her supporters desperately ("she'll refuse to sign the dissidents' nomination papers!") tried to spin press-gallery reporters (the Province's Michael Smyth most notably wasn't biting) -- but her position clearly was untenable.
Finally, on Dec. 6, almost exactly one month after Campbell said that he was quitting, the NDP leader announced her intention to step aside once the party had selected a replacement.
A rough game, not yet over
Gordon Campbell and Carole James, after three consecutive electoral victories and two back-to-back defeats respectively, are quitting as leaders of British Columbia's two major political parties.
Both of the province's dominant political teams will go through bruising leadership contests, and then come together as they head into the next general election.
And that upcoming tilt, as we've seen on so many occasions in the past, will be a no-holds-barred, take-no-prisoners battle between a centre-right, "free-enterprise" entity (the Coalition, Social Credit, and the BC Liberals), and a centre-left, social democratic party (the CCF, the NDP).
Politics in British Columbia is a rough, tough and often nasty business. As it is elsewhere. Just ask Kevin Rudd.