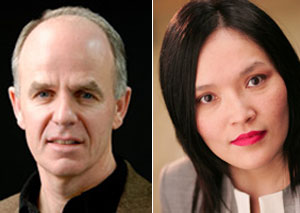 The New Democratic Party MLAs opposed to Carole James' continued leading of the party have been called leftist, selfish, sexist, stupid, morons, malcontents, a "rump group" and "not cabinet material."
James herself characterized the people opposed to her as "selfish" and said they needed to "grow up." James made those comments on the day when Katrine Conroy stepped down as party whip, with MLAs Jenny Kwan, Claire Trevena and Lana Popham supporting her.
Among prominent news media voices, the Globe and Mail's Gary Mason, recent winner of a B.C. commentator of the year award, has levelled notably disparaging generalizations.
Not long after the dispute first became public, Mason described the problem in NDP politics as "morons in positions of influence within the NDP ready to sabotage the leadership of anyone interested in recasting the party's mouldy, union-drenched agenda in more progressive, modern terms."
He added this: "Ms. James's agenda is making some of the die-hard lefties in the party uncomfortable. These are the people who would rather remain out of power than sacrifice principles that more closely align with their hardened socialist ideology."
And this: "This would-be putsch has the faint odour of sexism enveloping it... She should step aside so a man can show her how it's done. For a party that likes to flaunt its feminist credentials, it's all really quite unseemly."
In a Dec. 2 column he wrote, "Many of the dissidents are the weakest members in caucus. Few, if any, would be cabinet material should the party form government after the next election."
A day later he added in another column that they are among "the NDP's more doctrinaire members" and are uncomfortable with the party's move to the middle.
Broad labels: how sticky?
But a closer look at the dissidents paints a far more complex picture.
For one thing, the MLAs supporting James include people who are as solidly left wing as anyone in the group opposing the leader.
Vancouver-Kensington's Mable Elmore, who supports James, was a community organizer and anti-war and labour activist before running for office, for example. And Burnaby-Edmonds MLA Raj Chouhan was founding president of the Canadian Farmworkers' Union and was the director of bargaining for the Hospital Employees Union for 18 years.
Nor does it seem likely that strong female politicians Kwan, Popham, Conroy and Trevena are motivated by sexism. Kwan nominated James to be leader in 2003 and Conroy worked on her campaign.
And not only are some of the group cabinet material, but Kwan and Harry Lali both actually served in cabinet in the 1990s.
Here are thumbnail sketches of the group opposed to James, with comments from two people with diametrically opposed views on the rift: Bob Simpson, the Cariboo North MLA who became an independent after James booted him out of the NDP caucus for criticizing her speech to the Union of B.C. Municipalities, and political analyst David Schreck, the former NDP MLA who has staunchly defended James as the controversy has played out.
Jenny Kwan, Vancouver-Mount Pleasant
Kwan was first elected in 1996 and was one of just two NDP MLAs re-elected in 2001. In the first few years of the BC Liberal government's first term in office, Kwan and her colleague Joy MacPhail were the sole opposition voices in the provincial legislature.
As Simpson put it, "Jenny Kwan has cred."
It was Kwan who in 2003 nominated James to lead the party. Her statement on why she wants a leadership convention can be read here.
Before being first elected to the legislature in 1996, Kwan was a city councillor under the COPE banner. Winning the position in 1993, she was the youngest councillor ever elected in Vancouver.
Her legislature biography also notes that in 1998 she became B.C.'s first Chinese-Canadian cabinet minister when she was appointed to the municipal affairs file. She has a criminology degree from Simon Fraser University and worked as a community legal advocate in the Downtown Eastside.
Norm Macdonald, Columbia River-Revelstoke
First elected in 2005, Macdonald was caucus chair and resigned citing the unilateral way James ejected Simpson from the caucus.
An elementary school teacher for 15 years, Macdonald also spent six years teaching in Africa. He was a town councillor and mayor in Golden. Normally soft spoken, he occasionally gets fiery in the legislature.
Schreck said, "He seems like a really decent guy. It's a real loss to see him in this group of people."
"Nobody in their right mind would look at Norm and say he's not cabinet material," said Simpson. "That's just idiotic."
Macdonald was elected as caucus chair because he had their respect and support, Simpson said. Macdonald is process oriented and is a strong supporter of sustainability.
Katrine Conroy, Kootenay West
"The family has long roots in the party," said Schreck. Her husband Ed Conroy was an NDP cabinet minister in the '90s. Schreck said Katrine, however, was always "known as the brains and organizer."
"I'm puzzled as to why someone with that background would not respect the council and the constitution," he said.
Simpson said Conroy was a very strong whip who held the position uncontested for five years. She would make a good cabinet minister, he said. "She's already proven she can organize the caucus." Things might have turned out differently if James allowed Conroy to do her job, he said.
She and Ed run a ranch where they breed cattle. She has worked as a steam engineer, early childhood educator and college instructor.
Robin Austin, Skeena
"Robin is I think the kind of person the NDP was hoping to attract," said Simpson. "Very grounded, very deliberate, he takes his role as MLA seriously."
He has an eclectic background with a social work degree and 20 years experience working in the hotel and tourism industry. He worked in Terrace as a community schools co-ordinator before first being elected to the legislature in 2005.
"He seems to be a strong critic, capable in question period," said Schreck.
Simpson noted Austin chaired a committee on sustainable aquaculture that dealt with some contentious issues but held together and produced an influential report. It's unfair, he said, to dismiss Austin as not being cabinet material.
Gary Coons, North Coast
"Nobody can take away from what Gary's done on ferries," said Simpson, referring to Coons' critic work. "He's done a very, very good job on a file that's important to coastal communities."
A retired teacher, Coons worked for the Prince Rupert School District for 27 years teaching mathematics and special education.
Simpson said he is a "salt of the earth" person who would only be involved in something like the group criticizing James if he felt strongly about it.
Others characterize Coons as a moderate, a solid member of the legislature and no ideologue.
Guy Gentner, Delta North
In recent years Gentner has hosted an Internet radio show where the likes of former MLAs Corky Evans and Gordon Wilson have discussed the constraints on people in provincial politics speaking their minds.
"Guy's the dirt digger," said Simpson. "He's willing to spend the time to drill down into thousands of pages of reports and spreadsheets."
Gentner has a reputation as a populist and a bit of a rebel. He was opposed to the party's position on the Tsawwassen treaty, but managed to stay in caucus.
As Schreck put it, "A bit of an oddball."
But a very likeable one.
A former bus driver, Gentner served as a Delta city councillor from 1999 to 2005 and is a former vice-president of the Burns Bog Conservation Society.
He also planted the idea back in 1996 of hosting an Olympic Games in British Columbia.
Leonad Krog, Nanaimo
Schreck said Krog, who he counts as a friend, stopped returning his calls and emails in the last week. He acknowledged Krog has "Deep roots in the party."
While serving as an MLA, Krog has continued his work as a lawyer, and now shares a practice with his wife. He has been a chair of the United Way for Nanaimo and district and president of the Nanaimo City Bar Association.
Krog ran against James to lead the party in 2003.
As the critic for the attorney general, Krog took the lead asking questions and demanding accountability on the BC Rail corruption scandal.
Harry Lali, Fraser-Nicola
When Sav Dhaliwal stepped down as NDP president last year, his final act was to jokingly absolve Lali of his political sins. As Schreck, who sat beside Lali in the legislature, put it, "Harry's always been unusual and unreliable."
That said, he is a former transportation minister, having served in cabinet from 1998 to 2001. He won election in 1991, 1995, 2005 and 2009. He was a city councillor in Merritt for one term, and has been an employment counsellor and the owner of a sporting goods store.
Simpson said Lali has been disciplined in his work with the MLAs who would like to see a leadership convention.
Lana Popham, Saanich South
"She is what the NDP purports to be," Simpson said. As a young female politician with a business background and a commitment to sustainability, Popham is exactly the kind of person the NDP says it is seeking.
"In many respects they've Gregorized her," he added, referring to Gregor Robertson who spent one term as an NDP MLA before departing to run a winning campaign to be mayor of Vancouver. The party used her as its fresh new face during the election, then marginalized her afterwards, he said.
Popham and her husband own a certified organic vineyard on Vancouver Island's Saanich Peninsula, Barking Dog Vineyard.
She launched a campaign to reduce the number of plastic bags given out by grocery stores that resulted in many stores no longer offering them. Along with Macdonald she has been touring the province to champion sustainability.
Doug Routley, Nanaimo-North Cowichan
Routley was the NDP's deputy chair, an elected position that Simpson said shows he had some confidence from the NDP caucus.
"A very good constituency MLA," Simpson said. "He brings a lot of passion into question period."
With connections from his time teaching in Japan, Routley opened a bicycle retail and wholesale company that distributed to dealers throughout North America. He has also worked in logging, sawmilling and planting trees, as well as in construction.
Michael Sather, Maple Ridge-Pitt Meadows
"He has the baggage of having been booted out of caucus once," said Schreck, noting that Sather may be viewed as holding a grudge against James.
That ejection was over his opposition to the Tsawwassen treaty, which several MLAs saw pitting a commitment to First Nations against a commitment to the agricultural land reserve.
"Michael's already proved himself able to stand on principle and was disciplined as a result," said Simpson. He did his time in the political penalty box and returned to do good work for his constituency, he said.
Sather is known for his work on environmental and agricultural issues, along with his defense of the ALR. He has been a teacher, wilderness guide and small business owner. He has a masters' degree in psychology and worked for the Fraser Health Authority as a mental health therapist.
Nicholas Simons, Powell River-Sunshine Coast
Simons doesn't get the respect he deserves in the legislature, said Simpson. "I think Nick is one of those guys who's easy to discount because he's a jokester," he said.
He's done hard work for his constituency, however, and has had success bringing local issues to the attention of cabinet ministers, said Simpson.
His vote count in 2009 was 2,200 higher than in 2005, despite falling voter turnout. "His electoral success proves he's a legitimate player," said Simpson.
Simons has worked as a professional cellist, lectured at universities on criminology and has been a child protection social worker for the province. He worked for eight years for the Sechelt Nation overseeing health, child welfare, alcohol, drugs, financial assistance and justice programs before he was elected in 2005.
Schreck, who had no criticism of him, said, "He just has a hate on for Carole for reasons I just can't understand."
Claire Trevena, North Island
"Claire has a lot of the profile the NDP say they want," said Simpson.
She's female, interested in sustainability and the environment, he said. She also held onto a constituency the NDP easily could have lost, he said.
After the 2009 election the NDP, appointed her deputy speaker. "That has to show some kind of credibility with the leader's office," Simpson said. She's filled the position with an eye to fairness that has sometimes ticked her party mates, he added.
Trevena spoke out on sustainability issues at the party's last convention, saying the NDP had failed to promote its environmental vision in the 2009 campaign.
She's a former journalist and immigrated to Canada in the early 1990s to work as the BBC's Canadian correspondent.
War of words
Among the group of 13 described above, so far just Simpson and Kwan have offered detailed explanations of their concerns.
If there's a common thread, said Simpson, it's that they want the NDP to stand for something, but instead they see power politics taking precedence. "Their biggest fear is it is power for no purpose," he said.
"I think that whole line in the sand, complainers, dissidents, selfish, that marginalization... of serious and legitimate concerns is unfortunate and doesn't speak to the kind of person Carole presents herself to be to the public," said Simpson.
"It's unfortunate language and it's just a discounting of legitimate concerns," he said.
Schreck, in a post to his website last night under the heading of "NDP Coup," included these comments: "The only way the NDP can survive this dispute is for Carole James, with the support of the majority of her caucus, the executive and party members, to refuse the demands of an undemocratic caucus revolt."
One thing everyone can agree on, whether it's James or the group opposed to her who survive the showdown, the party and the people involved will have a hard time healing from the wounds.