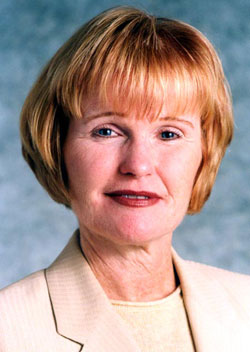 On Feb. 27, 2003, New Democrat Joy MacPhail stood in the legislature and exclaimed, "The government has no evidence whatsoever that there will be $250 million in savings over 10 years -- none whatsoever. This is a bad deal. It's a bad deal for the ratepayer. It's a bad deal for taxpayers..."
She was rising to challenge the Energy and Mines Statutes Amendment Act 2003, an innocuous sounding bill if ever there was one.
But MacPhail and her allies in the opposition saw nothing innocuous in the fact that Bill 10 would allow the B.C. government to "outsource" a number of BC Hydro operations -- and transfer nearly 1,600 employees -- to Accenture, the global consulting giant.
For the most part, debate revolved around allegations that Premier Gordon Campbell and his BC Liberals were breaking not just one, but two of their 2001 election promises.
The first had been to "Protect BC Hydro and all of its core assets, including dams, reservoirs and power lines under public ownership."
The second promise had been to "Restore an independent BC Utilities Commission, to re-regulate BC Hydro's electricity rates."
But Bill 10 explicitly defined the "support services" that BC Hydro could outsource as those "related to metering for, billing and collecting fees, charges, tariffs, rates and other compensation for electricity sold, delivered or provided by the [BC Hydro and Power] authority ...."
As well, the bill stated that BC Hydro was "not required to obtain any approval, authorization, permit or order under the Utilities Commission Act in connection with the agreement or any actions taken in accordance with the terms of the agreement...."
MacPhail, fellow New Democrat Jenny Kwan and independent MLA Paul Nettleton all demanded to know: How did the transfer of one-third of BC Hydro's operations and employees to Accenture meet the pledge to "Protect BC Hydro"?
And how did exempting the Accenture deal from scrutiny by the BC Utilities Commission fulfill the election promise to "restore" BCUC independence?
But the BC Liberals had a good news story to sweep away all the pesky questions. They maintained the new arrangement with Accenture would create $250 million in savings over the coming decade. And that's what caused MacPhail to explode.
"The government has no evidence whatsoever that there will be $250 million in savings over 10 years -- none whatsoever."
Repeated $250 million guarantees
The notion that the Accenture arrangement would yield such a bonanza for B.C.'s taxpayers first was raised during second-reading by Pat Bell, then-backbencher representing Prince George North (now Minister of Forests and Range).
"The Accenture deal that is referred to here is contractually obligated to save this province $250 million over 10 years," Bell claimed. "That's $25 million a year that can be spent on health care. That's $25 million a year that can be spent in our education system, on our kids."
Next up was Randy Hawes, a Maple Ridge-Mission backbencher (now minister of state for mining), who reiterated the $250 million figure -- with a twist.
"Can you say $250 million over 10 years?" Hawes asked rhetorically. "We estimate that's a minimum, because Accenture -- we will have a form of partnership with them -- are going to go out and market that service to other utility companies which, probably wisely -- just like B.C. Hydro -- will understand that the front end of their office is better in someone else's hands, such as Accenture that specializes in this."
To some extent Hawes was repeating an argument offered by Accenture executives: they claimed that their B.C. operations would serve as a "cornerstone" upon which to build an outsourcing behemoth servicing utilities across Canada and the United States.
(The Tyee reported last week that the Accenture cornerstone appears to be crumbling, as B.C. customers -- including BC Hydro, BC Transmission Corporation and Terasen Gas Inc. -- have "repatriated" operations previously outsourced to Accenture.)
Hawes continued: "As Accenture's British Columbia corporation becomes more profitable, we will share in those profits generated from those to whom Accenture is also going to contract. So $250 million is a minimum estimate, and we could generate substantially more."
The energy minister at the time, Richard Neufeld, took his cue from Bell and Hawes. "This bill allows outsourcing, as I said earlier, and it describes the outsourcing that can take place," he said. "We'll save about $250 million, actual dollars, in the next 10 years -- the length of this contract."
Over the next two days, the $250 million figure was raised in the house more than a dozen times -- and at least eight times by Neufeld alone.
Energy minister hadn't read contract
MacPhail was having none of it, noting during committee-stage debate, "The government has no evidence of the savings of the $250 million over 10 years -- absolutely none, except their word," she exclaimed. "The contract itself now cannot be examined by the BC Utilities Commission .... The government is just blowing smoke when they say they're going to save $250 million over 10 years."
Nettleton got to the nub of the issue the next day: "Has the minister seen the contract with Accenture?" he asked.
"No, I haven't read the contract," Neufeld confessed.
"That's not particularly reassuring, I can tell you," Nettleton replied. "That's not the kind of answer that's going to provide any answers for people who are wondering what's happening with respect to this contract."
MacPhail then returned to the much-promised savings to be provided by the Accenture outsourcing. "I assume the first application that will be made to the BC Utilities Commission will be by the BC Hydro board demonstrating that a $250-million-over-10-years benefit should be passed on to the ratepayers of BC Hydro. Is that correct?"
Neufeld: "Yes, once this is in place ... and BC Hydro appears before the BC Utilities Commission in a rate review, they will have to demonstrate that those savings they're telling us are in this deal -- by doing this deal -- are going to actually save $250 million over 10 years."
He concluded: "They'll have to demonstrate to the Utilities Commission how and when that's going to take place."
So, how are we doing today?
The contract between BC Hydro and Accenture took effect on April 1, 2003, meaning British Columbians can examine the financial results for the first six years of the 10-year outsourcing deal to see if we are on track to realize $250 million in savings.
Most Tyee readers -- being not only astute, but a tad sceptical of politicians' promises -- would not be surprised to learn that nearly all financial components of the BC Hydro-Accenture deal remains secret.
One can scrutinize much of the outsourcing contract on BC Hydro's website but all references to financial issues have been redacted.
Over at the BC Utilities Commission website, British Columbians can view BC Hydro's initial rate application following the Accenture signing -- which Neufeld promised would disclose the deal's financial components -- but nearly all financial references have been blacked out.
Still, some numbers have been made public. A news release issued by BC Hydro on Feb 28, 2003, described it as "a ten year, $1.45 billion agreement designed to save BC Hydro customers $250 million and expand Accenture's ability to offer ... services to utilities across North America."
Upon closer examination, it is evident that the $1.45 billion BC Hydro contracted to pay Accenture was in real (that is, inflation-adjusted) dollars.
To determine how much Accenture -- actually, its subsidiary, Accenture Business Services (ABS), which was set up to handle the contract -- has been paid by BC Hydro (and affiliates) over the last six fiscal years, let us consult the Crown corporation's annual Financial Information Act filings. (BC Hydro's most-recent FIA filing is for fiscal 2008/09. The 2009/10 document, for the fiscal year that ended this past March 31, should be published later this summer.)
Between 2003/04 and 2008/09, BC Hydro directly paid ABS more than $1.09 billion. Over the same period, two Hydro subsidiaries, Powerex and BCH Services Asset Corp, were dinged for a further $6.4 million and $11.3 million respectively.
On top of that, BC Transmission Corporation (spun-out of Hydro in 2003, and soon to be re-integrated back into its former parent) paid ABS another $57.4 million.
The grand total paid by BC Hydro to Accenture Business Services in the first six years of the 10-year contract -- $1,168,441,001.
Two years and hundreds of millions short
This is a stunning figure, insofar as it means that British Columbians already (in just six years) have paid all but $281.6 million of the $1.45 billion contracted back in 2003 with Accenture Business Services. At this rate, Accenture will have received the entire $1.45 billion in about two months from today; that is, some time in early August.
By then, the 10-year contract still will have about two-and-a-half years to run. To stay on budget -- that is, to ensure British Columbians realize the promised savings of $250 million -- Accenture will have to provide outsourced services over that period without compensation.
How likely is that?
Tens of millions over every year
Let's look at a breakdown by BC Hydro of its anticipated yearly payments to Accenture. They are calculated in nominal (that is, not adjusted for inflation) dollars, and were published in the Crown corporation's 2003 annual report. (See p. 124, here.)
Those annual payments were supposed to be: $150 million in 2003/04; $141 million in 2004/05; $134 million in 2005/06; $127 million in 2006/07; $125 million in 2007/08; and over the next five years, a total of $614 million.
If we restate those numbers to account for inflation (using BC Stats Consumer Price Index, here), and compare them to the actual payments by BC Hydro, the following picture emerges.
The first year was budgeted at $150 million, but Hydro paid $210.4 million -- or $60.4 million higher than anticipated. The second year should have cost $144.1 million, but Hydro paid $174.7 million -- $30.6 million over-budget. Year three, budgeted at $139.5 million, cost Hydro $187.2 million -- $47.7 million higher than the target.
Years four and five ought to have cost $134.8 million and $134.5 million respectively, but BC Hydro paid $193.2 million and $201.3 million. Those latter numbers were $58.4 million and $66.8 million higher than forecast.
Year six, 2008/09, added up to $201.6 million.
How did we get here?
To conclude, three observations. First, how did things get so out of hand? Simply, it seems Accenture executives somehow convinced the BC Liberals that they would find efficiencies over time and, as a consequence, annual operating costs would decline.
Instead, ABS's costs have been steadily rising -- each annual payment by Hydro is higher than that of the preceding year.
Second, it is not evident that BC Hydro ever received any of the new revenues promised by the BC Liberals -- notably Bell and Hawes -- from Accenture using British Columbia as a "cornerstone" upon which it would build a continent-wide outsourcing behemoth. If ever such revenues were generated, they were so insignificant as not to be recorded in BC Hydro's annual reports.
And last, how likely is it that Accenture will work for free over the last two-and-a-half years of its contract? Not very.
Probably, British Columbians will be obliged to continue paying ABS at the same rate (about $16 million per month) until the contract's expiration in 2013. The extra cost looks to be in the neighbourhood of $500 million -- which means that instead of saving $250 million, British Columbians will have paid an extra $250 million for the services previously done in-house by BC Hydro.
And that latter figure doesn't include the hundreds of millions of dollars spent by BC Hydro to set up the outsourcing arrangement way back in 2003.
A "bad deal for B.C. taxpayers"? Joy MacPhail looks to have been remarkably prescient on Feb. 27, 2003, the day the legislature debated -- and passed -- Bill 10.