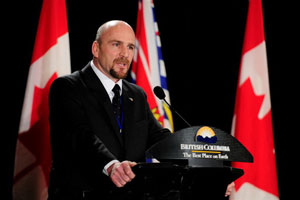 Blair Lekstrom, B.C.'s minister of energy, mines and petroleum resources, rose in the legislature last Wednesday afternoon and introduced a bill that will send the BC Transmission Corporation back into the folds of BC Hydro and Power Authority, from whence it originated in the spring of 2003.
One might have hoped that Lekstrom had the decency (or courage) to apologize to British Columbians for a misguided, failed and costly experiment that went so horribly wrong, but he did not.
Gordon Campbell's BC Liberals, elected in 2001 with a pledge to protect BC Hydro, the so-called "jewel" among the province's Crown corporations, instead embarked on a campaign to rip apart and hobble the utility giant. A third of BC Hydro's workers (nearly 1,600) were transferred to a private firm, Accenture, while responsibility for the province's 18,000 or so kilometres of electric transmission lines was shifted (along with 276 employees) to the newly-created BC Transmission Corp.
BC Hydro was left with two -- generation and distribution -- of its three traditional areas of operation, somewhat more than half of its employees, and instructed to be a mere bystander as responsiblity for generating new, clean power was shifted to so-called Independent Power Producers (IPPs).
Now, seven years on, many of those early moves have been or are being reversed. But it's not like taking a mulligan on the golf course, and saying "oops" doesn't quite cut it.
What can't be un-done for B.C. taxpayers and BC Hydro ratepayers is the wasteful, unnecessary expenditure of millions of dollars in setting up, operating and dismantling a Crown corporation that proved, in the end (as many predicted at the beginning) to be utterly, completely unnecessary.
According to calculations by The Tyee, the monies flushed down the drain through the BC Transmission Corp. is in the neighbourhood of $65 million, and likely much, much more.
You paid millions for opulent offices
It was in the spring of 2003 that BC Transmission Corporation (BCTC) representatives approached Bentall Real Estate Services to discuss office leases. Newly created after being spun-out from BC Hydro and Power Authority, BCTC needed workspace for its senior executives, mid-level managers and a cadre of secretaries and assistants.
True, Transmission Corp. executives and factotums might have remained working at BC Hydro's capacious digs on Dunsmuir Street in downtown Vancouver, built just a decade earlier and one of the city's finest office buildings. But it was important, apparently, for BCTC to demonstrate its newfound independence, and so the search for office space at some distance from BC Hydro headquarters got underway.
And could there possibly be a better place for re-location than the prestigious Bentall Centre? As Bentall's web-site gushes: "Spanning over 1.5 million square feet, the Bentall Centre offers four office towers and an expansive retail mall, complete with exterior waterfalls, reflecting pools and a multitude of wide, open spaces filled with native foliage and colourful planters."
It was perfect for the transplanted executives, because with "panoramic views over Burrard Inlet, Stanley Park and the North Shore Mountains," the Bentall Centre surely is "the choice for discerning tenants and the measure by which all others are judged."
Situated in the heart of downtown Vancouver, the Bentall Centre also is very expensive. Then again, with the full financial backing of B.C. taxpayers and BC Hydro ratepayers -- BCTC earned the bulk of its revenues by charging BC Hydro for moving electricity from generating facilities to distribution lines -- why shouldn't Transmission Corp. executives and their factotums enjoy all the amenities and creature comforts that money can buy?
So the parties agreed to a 10-year lease that would see BCTC pay Bentall -- which kindly offered a $2 million rebate off the top -- a minimum of $13.4 million before expiration of the contract in 2014.
Unfortunately, even with its panoramic views, exterior waterfalls, reflecting pools, native foliage and colourful planters, the new Bentall digs weren't quite perfect. So the Transmission Corp. ponied up another $1.5 million for lease-hold improvements and the acquisition of "other assets."
Four years left on huge lease
In the first fiscal year of occupancy, 2003/04, the Transmission Corp. paid Bentall $711,000. The next year leasing charges totaled just over $1.5 million. In 2005/06 the rent bill was almost $1.8 million, and in 2006/07, $1.9 million. The numbers jumped even higher in 2007/08, to nearly $2.6 million, and in 2008/09, the latest year for which figures are available, surpassed $2.7 million.
The total after five and a half years: $11,222,885. Moreover, British Columbians may expect something close to $3 million was spent on Bentall for the fiscal year just ended, 2009/10, which brings the total to date to about $14.5 million.
But still there remain four years on that darn 10-year lease. Will BCTC (or BC Hydro) cancel it, pay a penalty and move immediately to rejoin their former Hydro colleagues in the Dunsmuir Street office building; or, maybe -- shudder -- to the utility's offices in Burnaby or Surrey?
Then again, perhaps they'll simply stay where they are, at the Bentall Centre, surrounded by those panoramic views, reflecting pools and exterior waterfalls, with B.C. taxpayers and BC Hydro ratepayers coughing up millions of dollars each year until the lease expires in 2014.
Either way, it's difficult to see how the total cost of the Transmission Corp.'s ill-fated stay at the Bentall Centre will cost B.C. taxpayers and BC Hydro ratepayers less than $25 million.
You paid over $2 million to duplicate directors
There's more. The decision to re-marry BC Hydro and BCTC means that having two separate and distinct boards of directors at both Crowns over the last seven years was utterly wasteful and unnecessary. The following calculations were made by The Tyee using BCTC's annual filings under the Financial Information Act.
For the first five years or so of its life, the Transmission Corp.'s chair was Robert Reid, a former Westcoast Energy executive. Between 2002/03 and 2008/09, initially as chair and later as a mere director, Reid was paid a total of $459,875. The West Vancouver resident also racked up another $17,849 in expenses.
A quartet of women have served on the Transmission Corp.'s 10-member board since its inception. Like their male colleagues, all four may be considered "friendly" towards the Campbell Liberals, and each was appointed to the position by order-in-council.
Joanne McLeod, like Reid a former Westcoast Energy executive, was paid $163,515 over the five and a half years between the fiscal years 2002/03 and 2008/09. She was topped by Bev Park, chief financial officer at TimberWest, who took home $176,791.
Nicole Byers, a Trail lawyer who previously worked as in-house counsel at one of the biggest financial donors to the BC Liberals, Teck-Cominco, collected $150,500, while Margot Northey, a former dean at Queen's business school in Kingston, received an even $162,000.
The men on the board didn't do too badly, either. Topping the list was Richard Campbell, formerly a chief honcho at the global oil giant, British Petroleum, who drew $172,125 for his labours. He was followed by Gerald Wesley of the Kitsumkalum First Nation at $164,875 (plus $31,914 in expences); Ralph Winter, a UBC commerce professor at $156,875; and John Gill, president of Industrial-Alliance Pacific Life Insurance Co, $154,375.
Norm Laythorpe, a Fort St. John accountant and friend of former B.C. energy minister Richard Neufeld (now a Canadian senator), served on the board from 2004 to 2008. He made a total of $117,000 (and racked up another $18,543 in expenses).
Replacing Laythorpe was O'Brian Blackall, retired from The McElhanney Group land surveyors. He was paid $18,750 in 2008/09 (and incurred surprisingly high expenses of $6,809).
Finally, Reid's replacement as chair of the Transmission Corp. was an ex-federal cabinet minister (for both the Liberal and the Conservative parties), a veteran of the provincial bureaucracy, briefly a bank president and later head of Canfor Ltd -- David Emerson.
In the last five months of fiscal 2008/09, Emerson collected $17,890 as chair of the Transmission Corp., plus another $25,760 as interim CEO.
All told, in just five and a half years, BCTC's board of directors was paid a total of $1,914,571, and had combined expenses of $103,951. The total cost of the board to B.C. taxpayers and BC Hydro ratepayers: $2,018,522.
Of course, on top of that figure will be compensation and expenses paid for fiscal 2009/10, and then for a brief period in 2010/11 before the Crown corporation is wound down. The Transmission Board's total cost: about $2.5 million.
You paid millions more to unneeded officers
Unfortunately, the board of directors was not the only unnecessary and wasteful duplication between BCTC and BC Hydro from 2003 to the present. Looking at the corporation's officers, was it really necessary to have two presidents/CEOs, two chief financial officers, two corporate secretaries, two general counsels, two controllers, and so on?
Over the period 2002/04 to 2008/09, three individuals (Michael Costello, Jane Peverett and Janet Woodruff) who served as the Transmission Corp.'s president and CEO were paid a combined total $2.34 million. (Costello's annual compensation peaked at $424,602; Peverett topped out at $547,942.)
The total paid to three individuals (Peverett, Brian Gabel and Janet Fraser) who were CFOs was $1.37 million, and for two people (Karen Adderley and Diana Stephenson) who served as corporate secretaries, $1.03 million.
The Transmission Corp. had one full-time general counsel (John Irving) during the period, whose remuneration added up to $1.21 million between 2004/05 and 2008/09. There also was one controller (Elizabeth Hong) who took home $1.06 million from 2003/04 to 2008/09, and one director of human resources (Scott Boogemans) whose remuneration totaled $790,000 between 2004/05 and 2008/09.
The total remuneration (not including expenses) for these six positions alone between the summer of 2003 and the spring of 2009 was $7.8 million.
Payroll ballooned
It's certain that many other jobs and functions at BCTC were mere duplications of tasks performed simultaneously at BC Hydro. The Transmission Corp., for example, had its own communications department, headed by a director (Moira Chicilo) who took home an average of $212,000 each year between 2005/06 and 2008/09.
In fact, in its short existence, BCTC saw an incredible explosion both in the number of staff and their compensation levels.
At the end of fiscal 2003/04 (which was just eight months for the newly-created Crown corporation), the number of BCTC staff who earned in excess of $75,000 totaled 42. One year later, that number had skyrocketed to 212, and by the end of 2008/09, it was 302.
And it's hard to believe, but in that latter year a stunning 178 Transmission Corp. employees -- out of 401 regular staffers and 47 temporary workers -- had remuneration in excess of $100,000. An even 50 people -- one in every eight regular employees -- topped $150,000 for the year.
Not surprisingly, the Transmission Corp.'s tab for employee compensation exploded over a short period of time. In its first eight months, total remuneration was $16.2 million (with another $616,000 in expenses). At the end of the next full-fiscal year, 2004/05, that figure had nearly doubled to $29.7 million (with expenses of $1.34 million).
And when 2008/09 drew to a close, total annual remuneration had hit $46.4 million (plus expenses of $3.3 million).
Life was very good inside Transmission Corp.
By all accounts, the Transmission Corp. was a real nifty place to work, with not just huge salaries, but great perqs as well. In 2004/05, the Crown started its very own BC Transmission Academy to offer employees courses in technical and business skills, so as "to support the corporate strategy of transforming our business through operational excellence."
And don't forget about the Employee Housing Assistance Program, whereby Transmission Corp. staff can get five-year, low-cost mortgages to buy their own homes. At the end of fiscal 2008/09, seven staffers were in the program, with mortgage rates ranging from 2.8 per cent to 3.6 per cent.
(Sheesh, sky-high salaries and a company-sponsored mortgage program! But, then, probably every Tyee reader works for a company that provides the same benefits, right?)
One neat program that may not get off the ground is an Alumni Program, whereby the company would "keep connected with former BCTC employees, with the goal of providing support, opportunities and information."
Scheduled to begin in 2010, the Alumni Program may be stillborn, with the Campbell Liberals pulling the old 180-degree switcheroo, putting back together BC Hydro years after pulling it apart. It will be a sad blow for BC Tranmission Corp. employees, past and present.
Adding up cost to citizens of failed experiment
The real victims, of course, are ordinary British Columbians. How much has the Campbell government's failed experiment cost us?
There's the 10-year Bentall lease, which should come to at least $25 million, regardless of whether the contract is honoured through 2014 or abrogated sooner. And don't forget those original lease-hold improvements of $1.5 million.
The Crown corporation's financial statements also show "one-time establishment costs" of $4.936 million (which were paid by BC Hydro) back in 2003/04; there certainly will be "one-time dis-establishment costs" when the Transmission Corp. is wound down in 2010/11. Let's put it at a minimum of $6 million.
There's the board of directors at an estimated total cost of $2.5 million between 2003/04 and whenever the Crown is re-merged with BC Hydro.
Plus the cost of BCTC's six most-senior executive posts -- positions which duplicated those over at BC Hydro -- which cost $7.8 million in remuneration (and much more for expenses). Of course, that figure does not include salaries for 2009/10 and however long it takes in 2010/11 to orchestrate the BC Hydro amalgamation. Let's add in another $2 million.
We're now up to $49.7 million, and this doesn't include all the non-executive duplication at the managerial level, plus miscellaneous costs for such items as head-hunting and polling. (Yes, for reasons yet to be explained, BCTC found it necessary to conduct public-opinion surveys.) Let's err on the side of caution and hope that $5 million over the last five and a half years is not unreasonably low.
Finally, the really big item yet to come as a result of the Campbell Liberals' decision to re-join BC Hydro and the Transmission Corp. -- severance payouts for BCTC employees whose services will not be needed after the merger.
When all is said and done, the total is likely to be at least $10 million.
$65 million into thin air
That's close to $65 million in wasteful, stupid expenditures directly attributable to the decision seven years ago by Gordon Campbell's BC Liberal government to hive-off BC Hydro's transmission operations.
One might be tempted to compare this fiasco to the cost over-runs with the BC Fastcat Ferries (under the NDP) and the new Vancouver Convention Centre (under the BC Liberals).
But that comparison would be wrong, for with those projects the long-suffering taxpayers of British actually received physical goods that had some value -- three ferries and one convention centre.
But with the seven-year life-span of the BC Transmission Corporation, what, exactly did British Columbians receive for their $65 million?
Nothing.
Not even an apology from Blair Lekstrom.