Stephan Blais fishes a key card out of his pocket and presses it against an electronic reader. The door to his apartment building swings open, and Blais rolls his wheelchair inside.
Using a key to open the front door of their apartment building is something most renters do several times a day without thinking. But to get his own building key, Blais had to go to B.C.'s Residential Tenancy Branch and argue that his building is governed by provincial rental laws, meaning he has the right to open the front door instead of waiting for a building staffer to buzz him in.
Blais lives in supportive housing, a type of social housing intended to help people who have been homeless or at risk of homelessness stay housed. It's usually operated by non-profits with the help of government funding. People who live in supportive housing are low-income; some may have challenges with physical or mental health.
Many supportive housing providers have argued that the buildings they operate do not fall under the jurisdiction of the province's Residential Tenancy Act. That means tenants are left unprotected by the legislation that sets out how evictions must be carried out, when landlords can enter a unit, and other rights and responsibilities for both tenants and landlords.
Some other forms of housing don't fall under the Residential Tenancy Act but have their own legislation, such as the Strata Property Act for condos and the Cooperative Association Act for housing co-ops.
But when supportive housing is determined to be exempt from the Residential Tenancy Act, residents are left without any legislation to protect their rights.
For the non-profits that run the housing, operating outside the RTA means they can impose rules they say are necessary to keep residents safe, such as limiting visitors and controlling who can enter the building.
This is a restriction some residents agree with. They say they'd like to see more controls over visitors than the Residential Tenancy Act allows to keep their building safe.
Jill Atkey, CEO of the BC Non-Profit Housing Association, said supportive housing operators are aware they're operating in a legal "grey area." Atkey said the association has been urging the B.C. government for years to adopt a specific set of regulations for supportive housing within the Residential Tenancy Act.
"It's very clear to us that supportive housing falls under the RTA regardless of the program agreement being in place," Atkey said, "but [the RTA] is not necessarily reflective of the operational realities around the right to quiet enjoyment for all residents in the building and keeping staff and residents safe."
But a lawyer who has represented supportive housing tenants at the Residential Tenancy Branch and in court says B.C.'s residential tenancy laws do allow landlords to restrict a guest who has been abusive or disturbed other tenants.
"It's complicated depending on who that housing provider is trying to support and provide housing to," said Danielle Sabelli, a lawyer with the Vancouver-based Community Legal Assistance Society. "But I think one thing that can be done a bit better is actually speaking with tenants, asking what do they need or want, and ensuring that tenants know what type of tenancy it is before they begin living there."
'It made me feel really isolated'
Tenants who have fought for recognition that their housing falls under the tenancy act say they've gone to the Residential Tenancy Branch as a last resort to challenge policies that seem unfair or don't make sense. Blais said he decided to go to the board after his girlfriend was kicked out at 11 p.m. one night because she'd exceeded a limit of 14 visits per year.
"I just got pissed about that," said Blais. "So I went there to get rid of these conditions."
For Shawna Di Guistini, Blais's neighbour, it was being banned from her building's third-floor common rooms for several weeks. According to Di Guistini, the ban happened after she brought a friend to an astrology session on the third floor, then argued with a building staffer about a rule prohibiting guests from common areas.
"It made me feel really isolated — it made me feel trapped," said Di Guistini. "It was awful."
Blais and Di Guistini were successful in their 2019 challenges to the Residential Tenancy Branch. An arbitrator ruled against their housing provider, Kettle Friendship Society, which tried to argue that the Residential Tenancy Act did not apply to the 139-unit building in Vancouver's West End neighbourhood.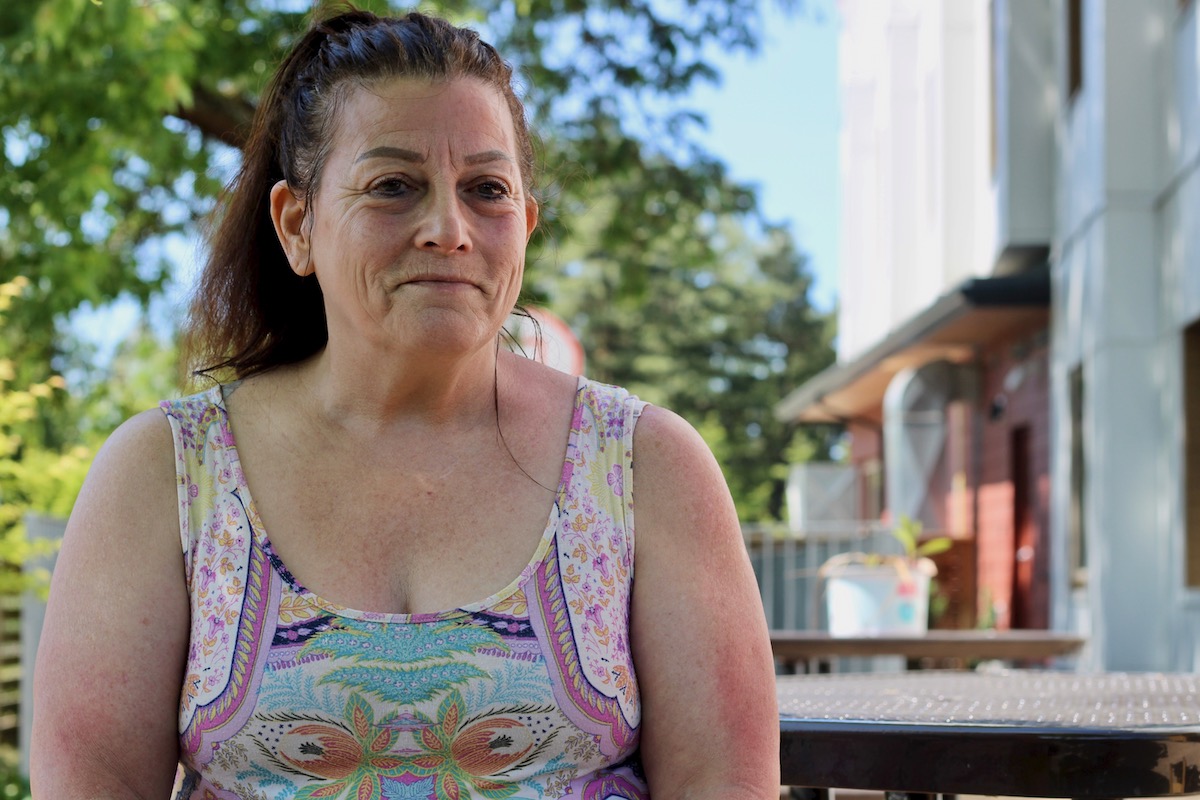 But Nicole McNeil was not successful in 2022 when she asked an RTB arbitrator to rule that the act should apply to her tenancy at Mazarine Lodge, a modular housing building in New Westminster operated by the Elizabeth Fry Society. That's because her building is considered to be transitional housing, even though McNeil and her neighbours have their own self-contained studio apartments and have been told they can stay for longer than the two years women are supposed to live there. McNeil has now lived at the building for three years.
Vera LeFranc, the CEO of Elizabeth Fry, confirmed that women can live at Mazarine Lodge "as long as they need."
BC's rental law doesn't apply to 'transitional' housing
According to a 2023 guideline from the Residential Tenancy Branch, the RTA applies to all supportive housing, even buildings where residents have signed a document called a "program agreement" that lay out extra rules that apply on the site.
But one exemption to that, the guideline says, is transitional housing.
"An individual in transitional housing may be moving from homelessness, an emergency shelter, a health or correctional facility, or an unsafe housing situation. Transitional housing is intended to include at least a general plan as to how the person residing in this type of housing will transition to more permanent accommodation in the future," the guideline says.
Although Atkey said the Residential Tenancy Act applies to all supportive housing, including buildings where operators use program agreements, LeFranc told The Tyee that "our position is that we believe it's a program, so we believe the RTA doesn't have jurisdiction."
LeFranc said the rules around guest restrictions and controlled building entry are necessary to keep the vulnerable women who live there safe.
The program agreement that McNeil signed in 2020 states that "Mazarine Lodge is a supported housing building and expressively not governed by the Residential Tenancy Act." The document does not say the building is transitional or lay out any guidelines about how long residents can stay.
BC Housing, a provincial Crown corporation that provides funding to many supportive housing sites, says supportive housing operators can choose to have residents sign either a tenancy agreement or a program agreement. But BC Housing says the Residential Tenancy Act "may apply" to a program agreement "even if it contains a clause stating the RTA does not apply."
Before turning to the Residential Tenancy Branch, McNeil and some of her neighbours tried to work with the building's staff.
"We were trying to just get them to work with us without arbitration, just because there are so many rules and they're so unbending. We have no say in anything," McNeil said. Five Mazarine Lodge residents ended up seeking arbitration at the RTB.
During her working life, McNeil, 63, was an office administrator at the Canadian Mortgage and Housing Corp., the University of British Columbia and the Ministry of Social Development and Poverty Reduction. But several years ago, severe depression and anxiety ended her ability to work. McNeil lost one affordable rental to fire, then another because a rent subsidy she had been receiving ended. In one shared house in Surrey, her roommate was verbally abusive and "there were so many guns."
McNeil was encouraged to apply for Mazarine Lodge by a housing worker who was helping her get out of that bad situation. McNeil likes living at the building — there's a large garden in the back, a community centre and library nearby, and McNeil said she appreciates the two meals a day provided by building staff.
But as someone who's rented her entire life, McNeil can't understand the need for the restrictive rules around guests or why the RTA wouldn't apply to the building. There is no elevator in the building and McNeil said it's inconvenient to have to go down to the front door to let visitors in, especially for residents who have physical disabilities that make it hard to go up and down stairs. There is no intercom system to allow visitors to buzz residents, and visitors are not allowed in any of the building's common areas.
Not all of her neighbours agreed with McNeil's attempt to get the RTA applied to the building: McNeil said some residents were in favour of the guest rules because they had safety fears about allowing male visitors into the building.
McNeil said she's also concerned about how evictions have been carried out. (The Elizabeth Fry Society uses the word "discharge" instead of "eviction.") McNeil said some of her former neighbours have ended up homeless after being told they must leave because of their behaviour. Those women are often not allowed back into the building, making it difficult to collect their belongings, McNeil said.
LeFranc said Elizabeth Fry makes every effort to ensure women have a chance to improve their behaviour after they've received a "discharge notice." If they are told they must leave the building, they're encouraged to work with outreach staff to avoid becoming homelessness.
"What would result in a discharge would be violence against clients or staff," LeFranc said. "But for those who do end up with a discharge notice, we do work with them. For example, we might have a behaviour plan with them."
McNeil lost her RTB challenge: the arbitrator accepted the Elizabeth Fry Society's argument that Mazarine Lodge is transitional housing. McNeil and her lawyer then petitioned B.C. Supreme Court, but the judge in that case also ruled against McNeil. McNeil is now appealing that decision.
"After that judgment I was so angry, it was just brutal. I thought no, we're going to appeal it — we're going to keep going," McNeil said. "We witnessed horrible things with women being thrown out."
'Without the RTA, tenants have no rights'
Sabelli is representing McNeil. For years, Sabelli has advocated for tenants who live in supportive housing and she said it's common for non-profit housing operators to try to claim their building is exempt from the Residential Tenancy Act, arguing the housing is transitional or is a "housing-based health facility."
LeFranc said applying the RTA to Mazarine Lodge would mean that if a woman's visitor is a problem, the Elizabeth Fry Society would have no choice but to evict the woman rather than banning the guest.
But Sabelli said the RTA does give landlords the power to restrict guests who have caused problems.
"If there is a guest of a tenant who's been abusive or has again disturbed other tenants, the RTA does permit a landlord to put on a guest restriction — or even ban a guest — if they have that reasonable basis," Sabelli said.
In her years of advocating for supportive housing tenants, Sabelli said she's encountered tenants who have been living in buildings that are considered to be "transitional housing" for as long as nine years. She said that's much too long to go without being covered by the Residential Tenancy Act.
Without the protection of the act, Sabelli said, tenants of Mazarine Lodge can be evicted without "any real notice" and without the opportunity to go to the RTB to contest the eviction.
That lack of protection puts tenants in a vulnerable position, Sabelli said, including potential abuses that could go unchecked because residents are worried they could be evicted if they speak out.
"The purpose of the Residential Tenancy Act is to protect tenants," Sabelli said. "Without the application of the RTA, tenants have no rights and they have no protections. All they have available to them is what's what exists as the common law, which is virtually nothing."
Sabelli argues the Residential Tenancy Act should apply to "as many people as possible — we shouldn't seek to dis-entitle people to it."
Sabelli said there are situations where housing providers are housing people who might want extra safety protections from abusive guest, or regular wellness checks to make sure they haven't overdosed. But those tenants should be fully aware of those rules and they should have autonomy in choosing them, Sabelli said.
Di Guistini, the supportive housing tenant who was successful in winning RTA protections, said supportive housing providers should involve residents when it comes to deciding how the housing will be operated.
"They need to work with their tenants," she said. "It feels like an institution."
McNeil's appeal in B.C. Supreme Court will be heard this fall. If it's successful, the case will set a precedent, Sabelli said.
"This is the first case that really deals with that criteria for transitional housing," Sabelli said. "This can be a very important case because it will dictate how this regulation is to be interpreted."
LeFranc said she's confident the judge will side with the Elizabeth Fry Society, but if Mazarine Lodge is determined to be covered by the act, "we would have to give it some thought about how we would make that possible."
"We don't allow visitors who carry out illegal activities, who are assaultive or violent. And that would be our biggest concern."