If we're going to invent the society we need to preserve the natural systems that sustain us, we'll need to identify people who are getting on with the job expertly.
Then we can learn from their successes in this bioregion, wet and green, that extends from Alaska to northern California.
Call these exemplars "Edgewalkers." And give them recognition, mentoring and financial support.
That was the thinking behind January's call for entries for the Edge Prize, which you may have read about in January here on The Tyee.
On offer were cash awards ranging from $500 to $20,000 for folks catalyzing "projects and solutions that are proven and already working in place, creating real positive change to benefit the lands, waters and people, and not based on proprietary methods, and replicable in different parts of the bioregion," said the Salmon Nation Trust as it called for entries.
Well, as it happens, there are a lot of such entrepreneurs, leaders and just plain doers out there.
Salmon Nation's inaugural appeal anointed 130 Edgewalkers from among the many applications that rolled in. All of whom were invited to network and create a short video explaining their work (The Tyee, pleased to be chosen, provided this one).
On Tuesday, the top Edge Prize winners were announced. The projects are a testament to human resourcefulness in challenging times.
Grand Prize
The $20,000 grand prize winner went to the Lomakatsi Restoration Project, represented by Edgewalker Allayana Darrow in Alturas, California. This initiative "employed an innovative and highly successful model for engaging a diversity of youth in ecological restoration to build fire-adapted forests and communities. This model creates meaningful, living-wage work that provides a foundation for the next generation of workers in forest product and ecological restoration industries," said the Salmon Nation press release.
"It's inspiring to be a part of the Edge Prize. It's a network of driven, innovative people and organizations working in service to ecosystems and communities across the West," said Lomakatsi executive director Marko Bey.
"We're honoured to be recognized for our ecological workforce training and education model that for 28 years has provided a blueprint for partnership between tribes, agencies and non-profits, while reducing the risk of severe wildfire, growing the ecological workforce, and restoring healthy forests and watersheds across Oregon and northern California."
"The grand prize will support the Taktokeewa Habitat Restoration Project as we work to expand the initial 3,100-acre project area tenfold over the next decade," said Lomakatsi Tribal Partnerships director Belinda Brown, enrolled member of the Kosealekte Band of the Ajumawi-Atsuge Nation (Pit River Tribe) and descendant of the Northern Paiute Gidutikad Band.
"Together we're raising capacity to accomplish more restorative work across all lands, providing tribal crew members with hands-on experience in technical forestry and cultural monitoring through peer-to-peer training, and laying the groundwork for future ecological forestry treatments and the return of good cultural fire on Kosealekte Band homelands."
In addition to the grand prize, a number of other Edgewalkers received awards of $5,000. The list includes British Columbians and reads like pinpoints on a map towards a more sustainable future in the Pacific Northwest.
Food and agriculture
Nia Harris for healing spaces at Black Futures Farm (Portland, Oregon)
Healing the connection between Black people and the land by cultivating a healthy place for the Black community to gather in joy and source fresh food.
Ecosystem restoration
Courtney Hill for Foodlands Corridor Restoration Program (Langley, B.C.)
Restoring and connecting adjacent, small parcels of privately held land to form a larger restored natural corridor that will support a food system that is healthy, sustainable, just and inclusive.
Culture
Tasha Faye Evans for In the Presence of Ancestors (Port Moody, B.C.)
A life-long exhibition of five magnificently carved house posts raised along Port Moody's iconic 3.5 kilometre Shoreline Trail, reasserting Indigenous values and shared and sacred responsibilities.
Education
Janneke Petersen for Symbiotic Schoolyard (Port Townsend, Washington)
A curriculum for middle school teachers to help students take on the role of restoration ecologists to increase biodiversity of their schoolyards through hands-on lessons.
Community resilience
Mary Hostetter for Community-Based Monitoring (Igiugig and Bristol Bay, Alaska)
Community-based climate change monitoring led by Indigenous Knowledge and supported by science to fill in gaps that inherently exist in the management, academic and research realms, where priorities and results are not often shared back with tribes.
Innovation and technology
Lance McMullan for Predictable Clean Energy from Ocean Tides (Juneau, Alaska)
A novel small-scale electricity turbine for generating low-cost, predictable renewable energy from ocean tidal currents.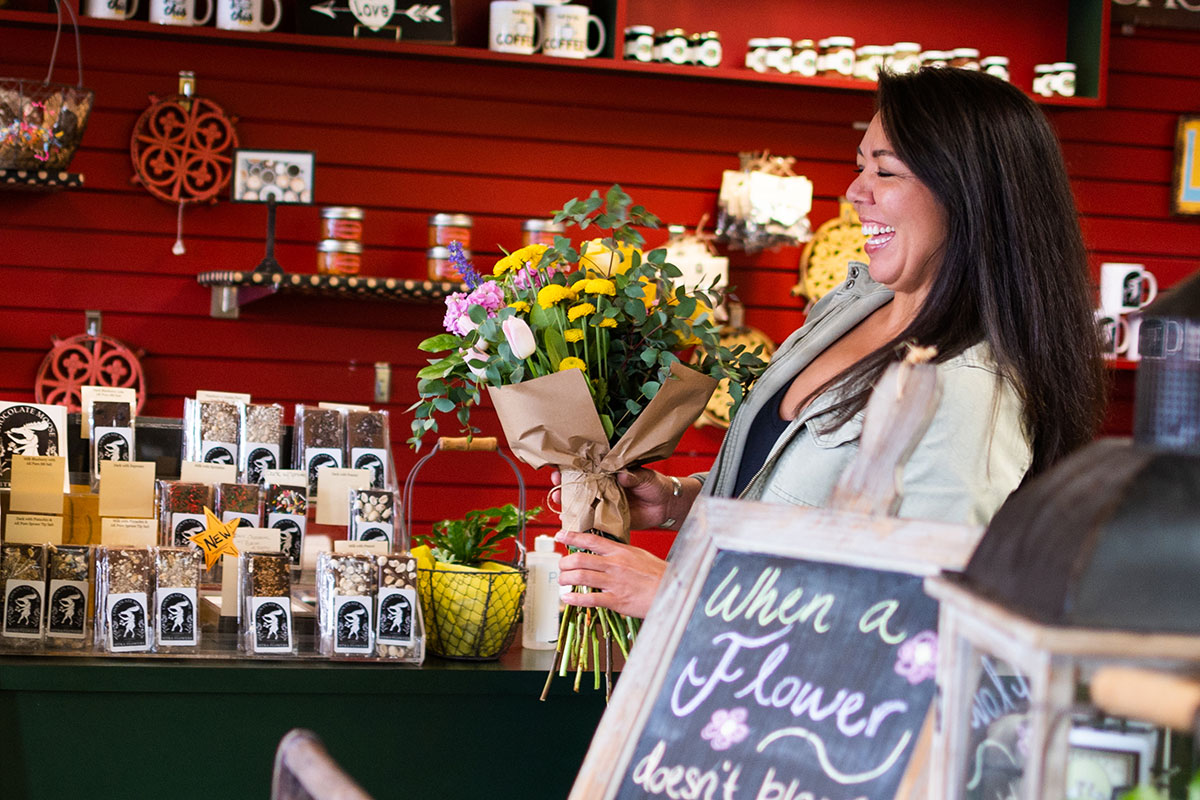 Community development and finance
Marc Wheeler for Spruce Root: Restoring Rural Economies Across Língít Aaní (Sitka, Alaska)
Driving regenerative economies across Southeast Alaska through small business loan and business training programs, building entrepreneurship in rural, Indigenous communities.
Storytelling and knowledge
Brigette Scott McConville for traditional following of our fish (Warm Springs, Oregon)
Documenting stories of the fish species of the Columbia River, through video recordings of tribal Elders and fishermen sharing their lifeways, teachings and experiences working with sturgeon, spring salmon, sockeye, summer salmon, steelhead, fall salmon and coho salmon.
Systems and governance
Brandon Letsinger and Clare Atwell for Regenerate Cascadia (Seattle, Washington and Victoria, B.C.)
Designing and implementing new frameworks of governance, ecology and economy for the regeneration and health of our bioregion, culminating in a "bioregional activation tour" and a broader movement toward bioregionalism.
Youth engagement
Austin Picinich for Save Our Salmon mural initiative (Kirkland, Washington)
Youth-led initiative painting interactive, educational "Save Our Salmon Murals" along Pacific Northwest salmon streams, inspiring thousands of volunteer painters in multiple Pacific Northwest communities to help raise awareness to protect salmon.
'Blown away'
"We were just blown away by the extraordinary regenerative projects and the leaders and innovators behind them who stepped forward to tell their stories of what's working in Salmon Nation. It's a testament to the creativity, heart and passion of those who call this bioregion home," said Edward West, Edge Prize co-founder.
So who is backing this initiative, what is its purpose and how does this first round of Edgewalker network building fit in? As The Tyee's Andrew Nikiforuk wrote back in 2021, Salmon Nation, funded in part by the U.S. NoVo Foundation, aims to "encourage conversations about what ought to happen on this well-watered landscape — instead of what can be extracted from the Pacific Northwest for the global economy.
"It also hopes to spark change by spotlighting stories about what works locally, and thereby plant seeds for change across hill and dale.... At some point a Salmon Nation Trust will raise serious capital to serve as an accelerator of economic development that must have public or nature benefits. The website favours the term 'regenerative development.'"
Salmon Nation, by the way, is the apt name the organization applies to the bioregion of watersheds and coastal zones stretching from Alaska down to northern California.
We at The Tyee, who were early to advance the idea of solutions-focused journalism, think it's important to imagine ourselves in British Columbia as part of this larger landscape where the next economy is being innovated and tested.
We have much to learn from fellow members of "Salmon Nation" who share similar ecosystems and understandings of the need to pivot to a regenerative economy.
Here's to the Edge Prize winners. And to Edgewalkers everywhere.