After much hype and hope, Alberta's provincial election was anticlimactic. Danielle Smith's scandal-ridden United Conservative Party cruised to a decisive majority victory over an invigorated New Democrat Party that fell short in the key urban ridings it needed for its narrow path to victory.
Despite the loss, the NDP made major gains and cemented its position as a viable second party in a province that has traditionally only voted conservative.
Pending at least two likely recounts in Calgary, the NDP now holds 38 seats to the UCP's 49, a gain of 14 seats from the tightest election race in more than 100 years.
"The NDP got [its] highest number of votes in history, second highest number of seats. It is the largest opposition in Alberta history," Mount Royal University political scientist Lori Williams said.
"So those are all gains and, and the UCP suffered significant losses with at least six cabinet ministers gone."
Williams said the divisive turmoil within the UCP created by the far-right Take Back Alberta or TBA grassroots group, which won numerous candidate nomination races, will likely continue.
Seven TBA candidates were elected and "that shaves away more of the UCP majority," she said. "If those folks start to flex their muscles, that could be really problematic for the government."
"It's going to be a pretty tough marriage to maintain," Williams said. "They have got some pretty deep divisions and disagreements within that party, and it will be interesting to see if they can hold it together."
In addition to this political friction, Smith must also manage the government with a cabinet even less experienced than the one led by former UCP premier Jason Kenney during the party's inaugural term.
Three senior cabinet ministers quit before the election and seven more were defeated. In contrast, the NDP will have the strongest shadow cabinet in its history, with several highly experienced candidates elected in Calgary.
In her victory speech, Smith said her first order of business would be to introduce a bill that would require a referendum on any proposed personal or corporate tax increases.
She then served notice to Prime Minister Justin Trudeau her government would fight any of the federal Liberal's Just Transition climate change policies that they believe would overly restrict the oil and gas industry or hobble the province's economy.
"Let me be clear, this is not a road we can afford to go down," Smith told a cheering throng at the UCP election party in Calgary.
"If he persists, he will be hurting Canadians from coast to coast and he will strain the patience and goodwill of Albertans in an unprecedented fashion.
"As premier, I cannot under any circumstances allow these contemplated federal policies to be inflicted upon Albertans. I simply can't and I won't."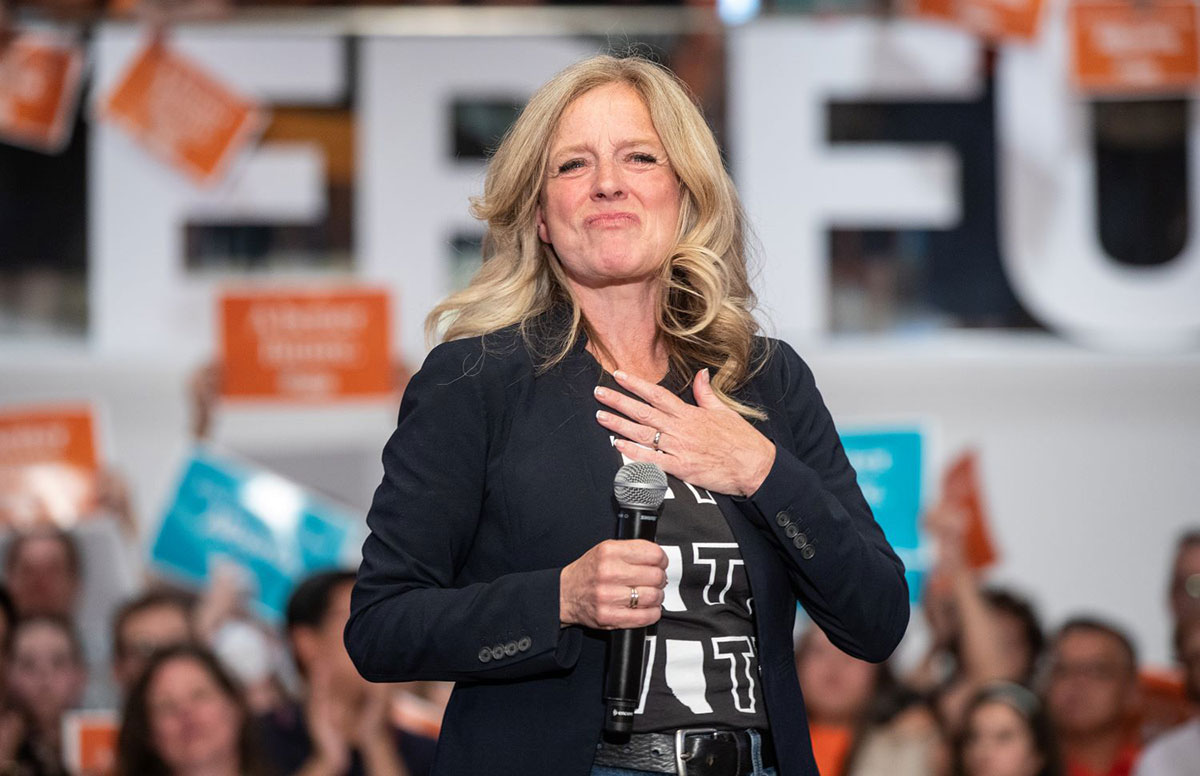 In her concession speech, NDP Leader Rachel Notley took personal responsibility for the loss but said she would stay on as leader.
"Now is not the time to let up," Notley said. "Now is the time to step up. Now is the time for us to do the work that has been asked of us."
"We will fight for better health care, better education, better jobs," Notley said. "And we will be unequivocal in our demand for respect for the rule of law and an unqualified belief in the human rights and basic dignity of all Albertans."
To win the election, the NDP needed to flip key ridings in Calgary and in the suburban cities around Edmonton. They came up short but knocked off senior cabinet ministers including health minister Jason Copping and controversial justice minister Tyler Shandro, who lost by only seven votes.
Williams said the losses of Copping, who was struggling to right the health-care system's foundering ship, and Nicholas Milliken, the minister dealing with Alberta's toxic drug crisis, will mean the troubled health portfolios will pass again to inexperienced ministers.
"The health portfolio was already shaky and now they have lost their strong people in that area," said Williams.
The NDP swept all 17 Edmonton ridings, capturing the lone holdout occupied by deputy premier Kaycee Madu. With no representatives from Alberta's capital in the UCP caucus, it will be even harder for Edmonton to have a seat at the table and for city council to get things done, said political analyst and campaign strategist Najib Jutt, who advised Green Party Leader Jordan Wilkie.
What will Smith do with her mandate?
University of Alberta political scientist Feodor Snagovsky worries the UCP will view its decisive victory as a mandate to advance controversial policies it walked back before the election. Principal among those is the Sovereignty Act, which Smith claims would allow the province to opt out of federal policies it didn't like. Policies that would create a provincial police force or an Alberta pension plan "will have huge ramifications for the province should they proceed."
"I think people have a responsibility to push back against governments like that. To show them that, maybe we have endorsed a certain set of policies, but there are still certain fundamental norms of democracy that we need to endorse."
The election of Danielle Smith as UCP leader in October and her ascension to the premier's office set the stage for Alberta's election, deemed by one pollster to be the most polarized in Canadian history.
Had a moderate candidate — by Alberta's standards — like former finance minister Travis Toews been elected instead of Smith, many political observers believe the UCP would have won the provincial election in a landslide.
But the election as leader of the far-right 52-year-old former newspaper columnist and talk show host turned corporate lobbyist and pandemic anti-restriction activist created an opportunity for the NDP.
Over the past nearly nine years, the NDP, led by 59-year-old labour organization lawyer Rachel Notley, had moved to the centre of the political spectrum, embracing the oil and gas industry, even claiming credit for building the first pipeline to tidewater in 50 years.
One columnist commented that Smith had more baggage than an airport luggage carousel, and during the election the NDP targeted Smith's trustworthiness and leadership.
The NDP dined out on a cornucopia of Smith's controversial public statements.
After she became premier, she opined that the unvaccinated were the "worst discriminated against group" she had ever seen. In a video, one of many that surfaced during the election, she likened people who chose to get vaccinated to Hitler's vacuous followers.
On the same day as the election's only leaders' debate, Alberta's ethics commissioner issued a report that found Smith had breached the province's Conflicts of Interest Act by intervening in the prosecution of Calgary anti-restriction street preacher Artur Pawlowski.
Notley beat the drum incessantly with Smith's own past statements that she believed the public should pay to see doctors and that underperforming hospitals should be handed over to private corporations to run. The NDP leader promised calm, stable, trustworthy leadership and an end to the "chaos" in health care and education.
Jutt and other political analysts said this was a strategic error.
"They just kept trying to point out the flaws that Albertans didn't really care about and they didn't focus on talking about the NDP," he said. "They tried to be old Progressive Conservatives but there is a question of whether Progressive Conservatives would get elected in Alberta today."
To win, the NDP needed to not only appeal to Calgarians with messaging about pipelines and more energy jobs, which they did, and it clearly resonated because they made gains there, Jutt said.
But "they also had to speak to truly progressive voters on social issues, and they left that behind."
The 'knock out' debate that wasn't
With much of the NDP campaign focusing on Smith's image, the party needed a knockout in the leaders' debate to show their vision for the province, and that their view of Smith was the right one, Snagovsky said.
"And following the debate, she seemed reasonable, moderate and certainly not the caricature the NDP has been portraying them as, which was a problem for them."
Public safety was also a sleeper issue that helped the UCP, Snagovsky said. Though it didn't show in polls done before the election, crime and safety proved an important topic for voters, and one that the NDP did little to contest, he said.
Several former progressive conservative ministers publicly endorsed the NDP and asked traditional conservative voters to "lend" their vote to the NDP.
They said Smith, through her association with Take Back Alberta had moved the party so far to the right that it was no longer a conservative party. Former municipal affairs minister Doug Griffiths said the UCP had become conspiratorial and fed public anger through "anti-science, anti-truth, anti-fact."
Still, all this appears not to have changed the minds of many voters. An EKOS poll released a few days before the election revealed a "stark divide" between NDP and UCP voters on the pollster's "disinformation index."
The most informed voters — those less inclined to believe disinformation — were more likely to vote NDP. The least informed were more likely to support the UCP.
"Among the indicators that are used to construct the index, belief that greenhouse gas emissions are causing climate change is the biggest driver in this disinformation polarization," an EKOS release stated.
"Nearly nine-in-ten (87.8 per cent) NDP supporters believe greenhouse gas emissions are causing climate change, while just one-third (35.2 per cent) of UCP voters do."
The UCP campaign machine relied on tried and true right-wing political messaging: the socialist and dangerously wasteful NDP will tank the economy and the UCP will restore law and order and crackdown on criminals freed to run amok by a soft-on-crime Trudeau government, closely allied with Notley's NDP. Smith's obvious skills as a communicator boosted the effectiveness of the UCP's message.
For all of Smith's, and her party's, complaining about cancel culture, the UCP still carried the election.
It didn't matter that the UCP threw the province's health care and education systems into turmoil. It didn't matter that their leader breached ethics laws, nor did it matter that she had a well-documented history of believing and stating demonstrably false, often conspiratorial and sometimes dangerous statements.
It didn't matter, because the NDP weren't only running against issues, but running in a province where being conservative is an identity, not just an ideological disposition, Snagovsky said.
"It is tough to get people to fundamentally rethink their identity, to rethink who they should be voting for, if it has always been the way it has been," Snagovsky said.