Dave Manning stands atop a craggy precipice on North Pender Island in southwestern British Columbia and recalls his "younger days" when he descended the near-vertical face in search of turkey vulture nests secreted in the rocks.
Manning is 75, and his perilous forays here at Oak Bluffs Park occurred as recently as three years ago. "I've slidden down, had a couple of close calls," he says, as we watch an afternoon wind hurry currents across a shimmery Salish Sea. "I got all scraped on the blackberries and the rocks and everything else. I wouldn't try it now with my bad knee and back. I'm a little too old to be dancing around in remote areas."
Shaded from the spring sun by a wide-brimmed hat and clip-on sunglasses, Manning spots an adult turkey vulture riding the warm thermals. It is distinguished by dark-brown wings — paler on the underside's trailing edge and tips — that wobble in flight and span 1.7 metres or more. The raptor's name is derived from its red, featherless head reminiscent of that of a wild turkey.
As the vulture passes close by, I imagine it thinking: "You're mine. It's just a matter of time." In India, followers of the ancient religion of Zoroastrianism leave their dead atop purpose-built towers to be consumed by vultures as a way of dealing with impure corpses, while Vajrayana Buddhists in Tibet practice sky burials on mountaintops, the release of one's body to the vultures representing a final gift to nature. Manning, a gentle soul who believes in reincarnation and the interconnectedness of life, is just fine with that. "It's like a spiritual lifting into the atmosphere," he says. "Who knows where it goes from there."
Manning came to Canada from Illinois in 1967 in anticipation of being drafted — a concern that never happened. Now retired, he worked as a full-time educator in various alternative schools and bounced around the enchanting Gulf Islands, not far from the international border, before settling on North Pender in 2004.
He was immediately captivated by the island's natural beauty and wildlife. He picked up part-time work with conservation organizations, investigating sharp-tailed snakes and monitoring bald eagle nests, for instance, and spent much of his spare time hiking and exploring. Despite his wanderings, it would be five years before he happened across his first turkey vulture nest.
In 2009, he spotted a pair of vultures standing on a bluff and scrambled over moss and rocks and around trees to get closer. He heard a strange hissing sound. "What on earth is that?" he recalls asking himself. "I got closer and sure enough it was a white, fuzzy ball with a black beak hissing at me. I'd never seen anything like it. My heart was absolutely racing. I was completely hooked. It was immediate love and appreciation."
Manning had not held the much-maligned turkey vulture in especially high regard. That one furry little bird poking its head from a cave changed his way of thinking, spurred him to learn more. "I've always pulled for the underdog," he adds. "I was born lower middle class and both parents had to work to support the family. Turkey vultures are the underdogs of the bird world. I was going to root for them."
Manning first learned what he could about turkey vultures from reading scientific papers and books, foraging for information at the local library because he has no internet connection at home. Most of the Canadian studies on turkey vultures came from Alberta, Saskatchewan, and the B.C. Interior; meaning the ones on the Gulf Islands represented an open slate for study.
Manning snagged the opportunity and launched into a decade of citizen science, his personal mission to track the turkey vultures' nest sites and record their behaviour.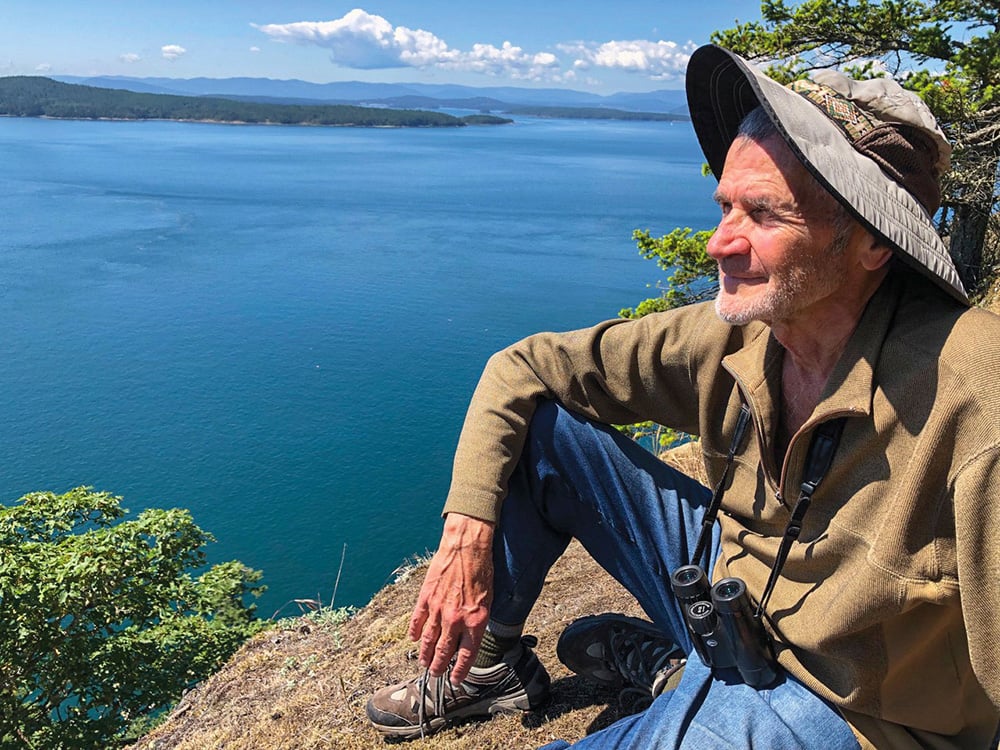 The turkey vultures that Manning watched in the Gulf Islands are part of a population that migrates annually to southwestern Canada and the adjacent United States from as far south as Venezuela and Colombia. The Atlas of the Breeding Birds of British Columbia estimates that up to 300 pairs may breed in the province.
The species' ability to efficiently use their wings to glide the thermals allows them to travel vast distances across a variety of landscapes and temperatures. That makes them more resilient to climate change, with the potential to increase their northern range as temperatures warm.
That already seems to be the case. According to The Birds of British Columbia, published by the Royal BC Museum in 1990, turkey vultures are generally found in southern portions of the province — with the earliest records dating back to the 1930s. Turkey vultures are now being spotted in Quesnel and Prince George — closer to the center of the province — and the eBird website, operated by the Cornell Lab of Ornithology, lists rare sightings in Alaska, Yukon and the Northwest Territories.
Despite their ubiquity, vultures can be a mystery to a suspicious public, be they on the Gulf Islands or beyond.
"There is a general distrust and dislike of vultures because they're associated with death," says Gary Graves, a research scientist and curator of birds at the Smithsonian National Museum of Natural History in Washington, D.C. "It's an unfounded fear of something that won't do you any harm."
Prejudice against turkey vultures is deep-rooted.
Charles Darwin called the vulture a "disgusting bird," and one definition of vulture offered by the Oxford English Dictionary is a "contemptible person who preys on or exploits others." Even Warner Bros.' Looney Tunes occasionally included vultures. In one episode, a turkey vulture mother encourages her four children — one of them named Killer — to bring a horse, cow and moose for dinner. Instead, they raid a barnyard and make off with poultry and eggs, while Killer meets a violent end when he dive-bombs into a metal rooster weathervane. It all makes for a lively, if wholly inaccurate, version of reality.
Unlike in the cartoons, turkey vultures prefer to let others do the killing for them. As such, they fill an important ecological niche as the ultimate scavengers, eating all manner of carrion. They cannot eat on the run, however, lacking the ability to fly away with their meal.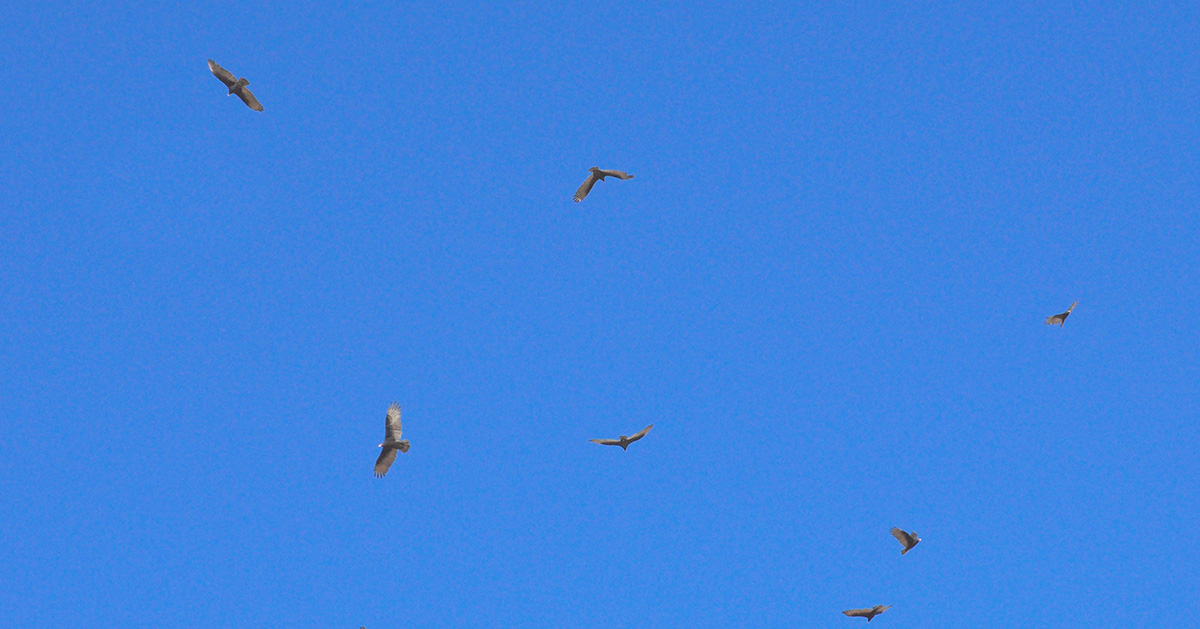 Turkey vultures aren't fussy — if it's dead, it's probably dinner — and boast the largest olfactory bulb of any birds in the world. Manning's careful observations over the years provide insight into their B.C. diet. He found that vultures on North and South Pender islands primarily live off black-tailed deer, including road kill, but also beachcomb for everything from starfish to harbour seals and other marine life. They won't pass up a garter snake killed in a grass fire or a field mouse crushed by a haying operation and are even known to consume flowers and field crops such as corn and pumpkins. Elsewhere in southwestern British Columbia, they're attracted to a rich bounty of salmon on spawning streams and have been observed eating the carcasses of newborn harbour seals on log booms. (There's a suspicion that the vultures may also hasten the death of some pups — left on the logs while their mothers forage — by poking out their eyes.)
Vultures make poor — no, downright offensive — dinner guests.
"When they find a carcass, they go for the eyes first, the anus, all the soft tissue," Manning explains. "Their beaks aren't that sharp. They can't go through the skin of a deer, so they wait for the ravens and the bald eagles to get inside." Scientists have long suspected that vultures have bald heads to avoid soiling their feathers when reaching inside a carcass, but more recent research suggests it's to keep cool.
Manning recalls finding the carcass of a young deer deep in the forest after turkey vultures had dined on it. The bones and fur were gone; only the skull and four hooves remained. The bird's gastric juices are able to tackle the gnarliest of diets, and microbes in the gut are so efficient that they can even eliminate the DNA of carrion consumed.
During his 11 years of close study of Pender Islands' vultures, Manning has discovered 11 active nest sites and observed 37 chicks fledge. He's shared his findings in numerous public and school lectures and in 2017 self-published a thin, hard-to-find book entitled The Old Man and the Vultures.
Manning's efforts have not gone unnoticed. "He goes out there and does his research on his own, but he brings all that information back to the community," says Erin O'Brien, a bird biologist with Pender Islands Conservancy Association. "There's very little research on turkey vultures. By showing people the intricacies of their daily lives, he's given people an appreciation for the species and that's really important."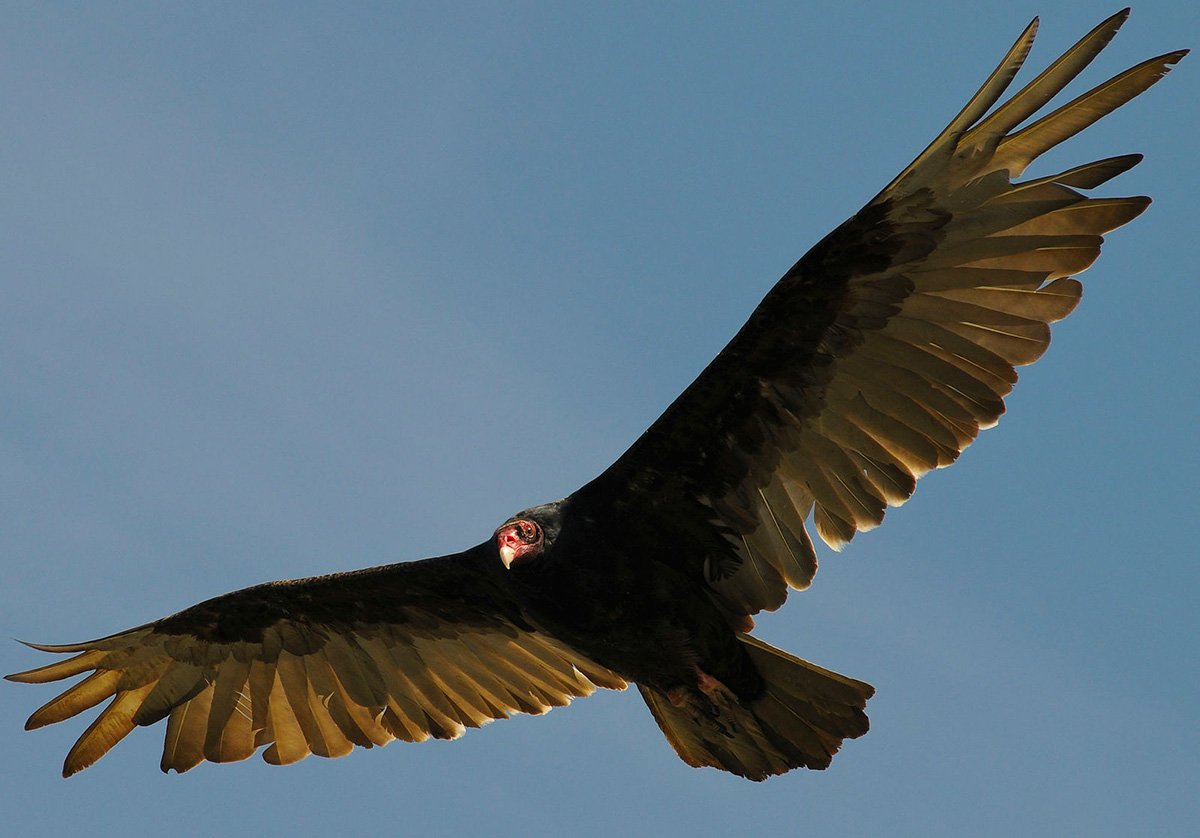 Manning has had little contact with the scientific community, even though he believes his observation that chicks eat their own eggshells would interest researchers. He is motivated purely by personal enjoyment and education. "Quite often people will come up to me, whether they've read the book or been to one of my programs, and say, 'You've changed my whole outlook on turkey vultures. I had no idea. It's really opened my eyes.' Sometimes, it's shifted their attitudes completely."
Manning's research shows that Pender Islands' vultures routinely show up in March to breed and lay their eggs in April. Adults typically take turns incubating their eggs, which measure about seven centimetres in length. Hatching occurs in May, and by July the growing chicks are making forays outside the den. They fledge around mid-August, when they're about the size of their parents, and get in a few weeks of flight practice before heading south for the fall migration. That's when hundreds fill the skies near Victoria on southern Vancouver Island, waiting for ideal wind conditions to soar 20 kilometres across the Juan de Fuca Strait to Washington state.
"They don't like flying over large bodies of water," he explains. "They do this kettling to get higher and higher and all of a sudden a whole string of them will start up over the strait." By the time the juveniles return to the islands the next spring, their gray heads will have changed to red.
You'd think Manning would be happy to show me an active nest and further the cause, but that's not the case. While populations are by no means at risk, Manning is protective of turkey vultures and concerned about the impact of excessive disturbance. He has rejected the suggestion to place a turkey vulture cam inside a nest cave to allow the public greater insight. "I'm invasive enough," he says.
Manning would just as soon stand atop Oak Bluffs Park and reminisce about the recent past, but I convince him of the potential to educate a greater audience and promise to keep my distance and not publish the nest site's exact location.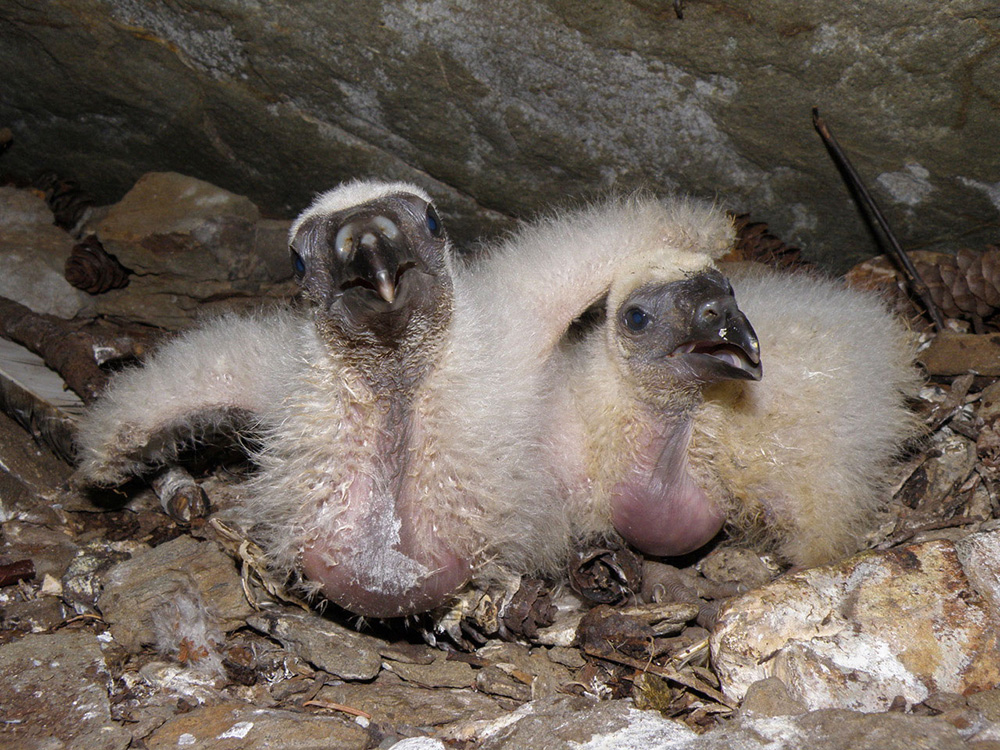 We drive to a known productive site in his 2005 Saturn, park just off the road, and begin a short walk past invasive Scotch broom and through a second-growth forest of Douglas fir. Dry twigs between mossy rocks crunch under our feet, and deer droppings litter the path like scattered raisins.
We approach a steeper section of bluff, drop our backpacks, and move uphill ever so carefully to a horizontal gap in the rocks stained with bird feces.
Manning crouches, points a flashlight into the shallow triangular cave, and exposes a single vulture standing over two speckled eggs on the bare ground about 2.5 metres away.
We can't tell if mom or dad is tending the nest since males and females are virtually identical, but the vulture clearly takes its parenting duties seriously. It stares at us over its right shoulder, but otherwise remains still. It shows no sign of fear and makes no attempt to seek an escape, seemingly content to unflinchingly watch our every move.
Manning informs me that this is typical. Turkey vultures are not aggressive and when threatened at close range can play dead — draining away the blood so effectively that the head and neck skin turn almost white — or regurgitate their latest meal, perhaps to repel or divert the attention of a predator.
We watch for five minutes, take some photos, then slowly back away from the entrance and proceed down the bluff into the lower forest. Our visit did not scare up a putrid projectile, which suggests our impact on the bird wasn't so bad after all. "People turn up their noses at vultures," Manning says as we return to his vehicle. "But I love the way they look, nothing unattractive about them to me. I think it's all beautiful."
We have every reason to leave on a hopeful note. Manning has observed turkey vultures successfully raise five chicks at this nest site since 2016.
This time, it is not meant to be.
Manning returns about a month later to find two seemingly healthy chicks being brooded by an adult. Eight days later, an empty cave. "No clue to what happened, zippo," he says.
Potential predators of chicks on North Pender include river otters, minks, raccoons, ravens, rats and bald eagles, although he has never witnessed an attack.
The other news is that Manning's body aches have forced him to stop bushwhacking through wild country in search of nests. "I can't take a chance. That's it. I can't go down on my knees now, can't squat at all."
Oak Bluffs Park, on the other hand, remains a short, easy walk through the woods.
In early August, Manning hobbles up and onto the bluffs and casts another glance upon the forbidding cliffs below. About 80 metres away, he spots a juvenile turkey vulture alone on a rocky knoll; minutes later, an adult swoops in from a nearby tree to provide it with a meal — served à la barf, of course.
After a decade of research, Manning still gets excited to watch a vulture successfully nest near the northern edge of its coastal range, hidden in plain sight among the ocean-front cottages, coastal ferries and organic farms that define the Gulf Islands.
As the turkey vultures return home this spring from their South American odyssey, know that one old man is waiting for them, standing atop the cliffs, eyes scanning the southern horizon, his fascination for the species soaring high on a welcoming Pacific breeze.