We are somewhere outside of Revelstoke, ascending Rogers Pass, this Greyhound bus full of people rocking and swaying with darkness all around. Semis whiz by at almost impossible speeds, a blur of light and then nothing, a blur of light and then nothing. The bus leans with each bend in the winding road. On airplanes they warn you if there's going to be turbulence. Fasten your seatbelts, they say. Refrain from moving about the cabin. On the bus, there are no seatbelts and turbulence is just a fact of life. Get used to it and hang on. Every once in a while a passenger stands up to journey to the washroom at the back of the bus, clutching the tops of passing seats as they go to keep from landing in another passenger's lap. We are lurching into the night, trusting the driver to keep us safe. Trusting the fact that so many buses have carried so many people so many miles that everything will be routine and go as planned. Hoping for just another boring bus trip…
Departure
This summer, Greyhound Canada announced it would cancel passenger and freight service across Western Canada and Northern Ontario on Oct. 31, 2018. The company cited financial concerns for the move — ridership is down 41 per cent nationwide since 2010 and eight per cent last year in Western Canada. Routes in the rest of Ontario and Quebec, as well as one route between Vancouver and Seattle, will remain.
The cancellation threatened to cut off a critical mode of travel for thousands of people in hundreds of small communities from B.C. to Ontario.
The backlash was swift. Calls for new private companies to step in and fill the gaps sounded along with calls for government intervention. According to a study conducted by the Angus Reid Institute at the end of July, 60 per cent of Canadians support a rural bus service funded by the federal government, and slightly more — 64 per cent — support a provincially funded service.
Prime Minister Justin Trudeau called the loss of Greyhound "difficult" and said the government would work with the company to find a solution.
Yet as Greyhound shuts its doors this week, no direct government action has been taken at the federal level. Rather, a patchwork quilt of private companies and localized provincial solutions may or may not fill the gaps.
And so, I set out to ride the bus on Greyhound's final weekend of service, a trip that would last two days, three buses and four drivers. My route would take me from Vancouver through Coquitlam, Langley, Abbotsford, Chilliwack, Hope, Merritt, an overnight layover in Kelowna, then Vernon, Armstrong, Enderby, Salmon Arm, Sicamous, Revelstoke, Golden, Lake Louise, Banff, Canmore, and finally to Calgary.
It would start in Vancouver, at Pacific Central Station, at 6:30 a.m., with Neil Wong at the wheel.
To Kelowna
Wong, a stocky man with a soul patch and glasses, is wearing a grey Greyhound baseball cap with lapel pins all over it. I board and sit right up at the front beside him and an older woman with surely way more bags than you're allowed to carry. If she is violating the rules, Neil doesn't much seem to care.
"This is my last scheduled trip with this company," he says over the intercom just outside of Chilliwack. "I cannot ask for a better day. Looking forward to getting home and starting the next chapter of my life."
I'm travelling on Saturday, four days before Greyhound is set to officially close its doors. Even now, the mood of the stations and buses is one of finality. For many staff like Neil, this is their last day of work. For most passengers on this bus, like myself, this is our last ride.
After going over the formalities of the bus — don't smoke, there's a bathroom at the back, utilize the Wi-Fi — Neil continues.
"I'll leave you now to your own devices and conversations with a little song that I have prepared for you," he says. "Some of you know it if you've been on my bus before so I expect you to sing along in four-part harmony."
We love you, you love us, we're so glad, you're on the bus.
I hope you've liked my hospitality … marry me and you'll ride for free.
"Well I guess I won't be able to have you ride for free after Wednesday," he chuckles to himself a moment later, only loud enough for those of us at the front to hear.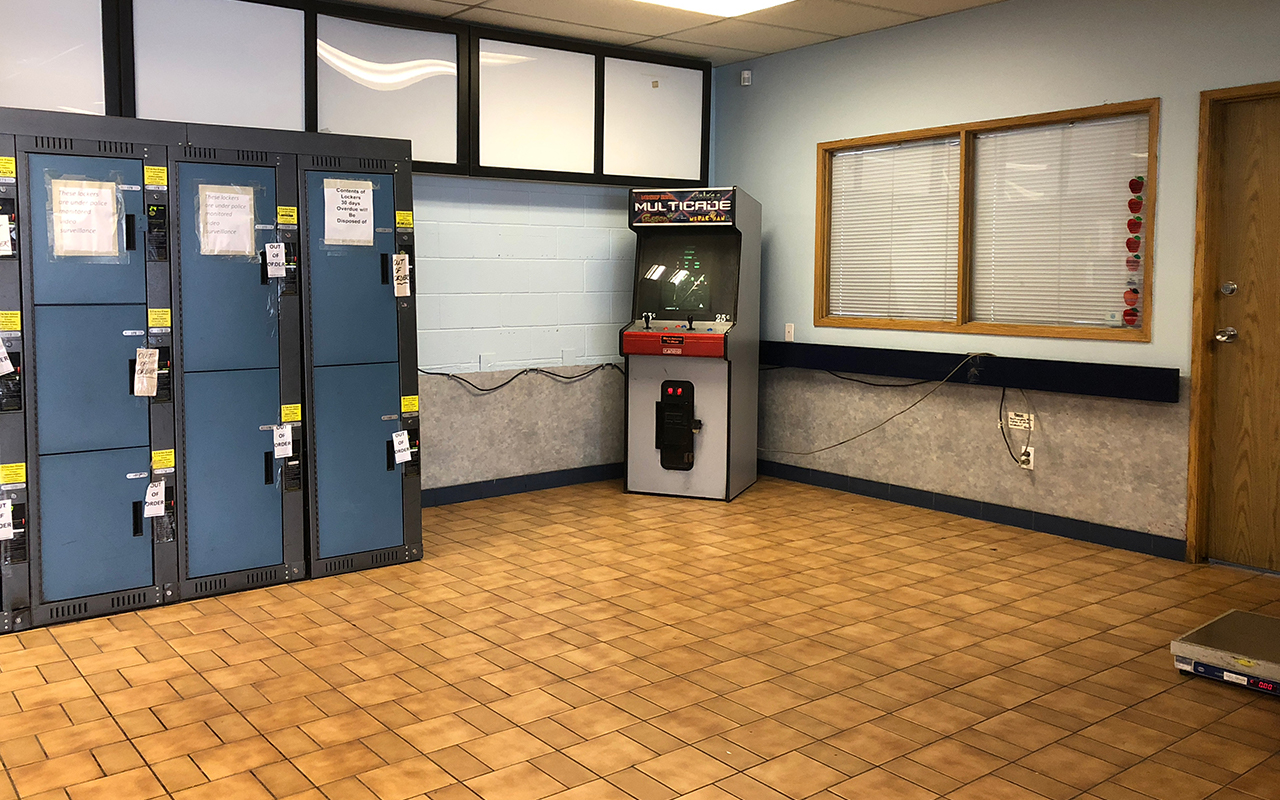 It's a bright morning in the Fraser Valley as the bus rolls through Chilliwack and Hope before turning onto the Coquihalla. Less than 24 hours later, a snowstorm will strike this infamous mountain highway, rendering it unpassable. But today it's sunny and dry. I chat with Neil, curious about what he plans to do next.
"I retired three years ago, and got bored sitting at home, so I decided to do this for fun," he tells me. "I'm going to take this winter off, I'm going to travel some, and then in the spring I have a couple job offers that I might take up, completely different from this. Depends on how much I want to work."
He says there's a lucrative contract at the University of British Columbia he's going to pursue. "They need someone with a particular set of skills," he says. "And I have those skills."
I wrack my brain trying to figure out what sort of driving is required at a university. Maybe for the football team? Maybe he's going to leave the life of transporting strangers across the Rockies for one helping students get around. Maybe there's a new shuttle set to run between downtown Kelowna and UBCO's Knox Mountain campus.
I let it rest, settling into the journey. As we pull into the station in West Kelowna just after noon, Neil lets us know something.
"If you come to the Manteo Resort around the dinner hour, 6 to 7:30 p.m. or so, you'll see that yes, I am indeed a professional jazz piano player," he says. "So there you go."
Maybe the job Neil wants at UBC is really about playing the piano, not driving a bus. I wish I'd asked. As we disembark and Neil packs up for the final time, passengers shake his hand. One confirms the location and time of Neil's piano performance, saying they'll try to make it out.
To Salmon Arm
The network of Greyhound service routes torn away, what will replace them? It's a topic of conversation among my fellow passengers. Some mention Regina-based Rider Express Transportation, which plans to operate a route from the Alberta border to Vancouver via Highway 1 and Highway 5. There will be 14 stops, including Golden, Salmon Arm, Merritt and Langley.
The company will use four 55-passenger buses on the route, and operate two departure times each day. Rider Express eventually plans to run service between B.C., Alberta, Manitoba and Ontario.
Some people are counting on EBus, an Alberta-based firm that currently operates routes between Calgary and Edmonton. The company is already booking two routes serving Vancouver, Kamloops and Kelowna. Buses will travel along Highway 1 and Highway 5, and additional stops could be made in Abbotsford, Chilliwack, Hope and Merritt.
And then there is Wilson's Transportation, which was approved for a commuter service between Vancouver and Kamloops, and Vancouver and Kelowna, running one trip a day.
Most passengers and drivers I meet on my journey discuss these potential new options with cautious optimism.
"As long as I can get where I need to go," one women tells me somewhere between Vancouver and Kelowna.
After an overnight layover in Kelowna on Saturday night, I set out on the second leg of my journey Sunday morning. This will involve two buses and three drivers, and cross the Rocky Mountains through Rogers Pass.
The first stretch is relatively uneventful. It's a grey and misty morning in the Okanagan, as we glide through Vernon, Armstrong and Enderby. We stop in Salmon Arm for a brief layover, and that's where I and the six other passengers continuing on through the mountains get the news: a snowstorm on the Coquihalla has delayed our connecting bus. We're going to be in Salmon Arm for a while.
The driver packs up to head back to Kelowna, leaving the six of us behind in the empty Salmon Arm Greyhound station. No other staff are present. We are alone.
I say hello to Taran, who tells me he's riding the bus from Kelowna to Banff where he has a job lined up as a ski-lift operator at Sunshine Village Resort. He's in his mid-20s with unkept facial hair and a green toque. Sticking out of the big backpack beside him is a ragged copy of Ready Player One.
"What brings you here?" he asks me.
"I'm writing about the end of Greyhound," I say. "I wanted to ride it one last time."
Taran gives me a high-five. "That's awesome, journalist-friend," he says. "Sucks that we're stuck here though."
"It sure does," I say.
We're sitting in a row of plastic orange chairs outside the station. There's something almost comically kitschy about Greyhound stations, with their outdated newspapers, half-empty candy machines, yellowed tile walls and block lettered schedules changed by hand. In Salmon Arm, three print publications are on offer: Forever Young, billed as Canada's lifestyle magazine for those over the age of 50. Friday A.M., a municipal affairs pamphlet featuring results of the recent election. And Tidbits, which features a range of local advertising alongside four pages of facts about Redheads and this month's "food of the month" — sauerkraut.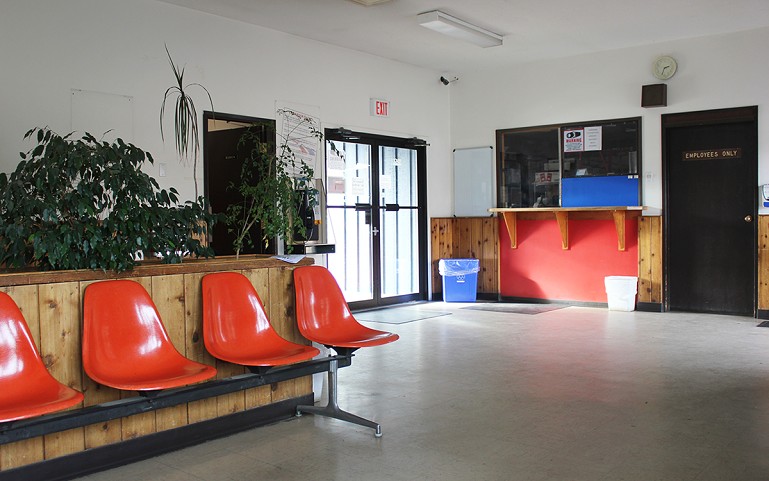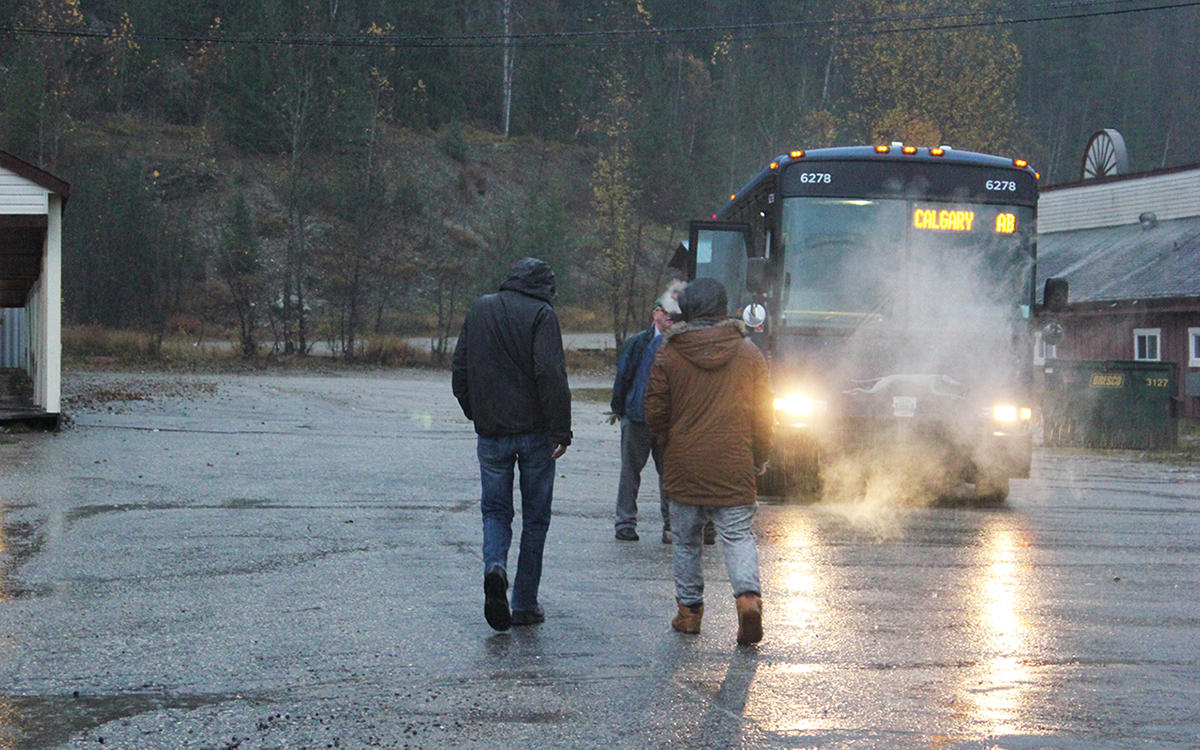 I'm browsing through Friday A.M. when I strike up a conversation with Sarah who's travelling from Vernon to Edmonton to visit friends — a trip she does every few months. I ask her what she's going to do now that the bus is ending.
"I dunno, fly I guess," she says. If so, she has more money than I do.
She paces back and forth across the small room, periodically checking on her phone plugged into an outlet beside the Forever Young newsstand.
An hour and a half later, our bus finally arrives to take us through the Rockies.
To Sicamous
Greyhound Canada doesn't actually own any of the properties where its stations are located. Most are rented spaces Greyhound has moved into over the years since it was first established in Western Canada. When the cancelling of service was announced, many stations were put up for lease or sale. In Chilliwack, a large "FOR RENT" sign looms in front of the station. In Kelowna, in front of the station, chairs and row seating are piled up, free for the taking.
In Sicamous, there isn't a Greyhound station. As in many small towns across Western Canada, the bus picks up and drops off passengers in front of a local business or sometimes — as is the case in Canmore — a mere shed.
After Oct. 31, these businesses will go back to just being businesses rather than the ad hoc transit hubs they've become over the years. The shed in Canmore will probably just go back to being a shed.
An unplanned stop
After passing through Sicamous, the bus rolls into Revelstoke for a short break and a change of drivers. It's getting dark. We pull away and climb towards Rogers Pass.
We turn a particularly sharp corner and a passenger's crutch falls with a clatter, startling awake the woman across the aisle from him.
We have a half-hour layover in Golden for dinner. Many passengers grab food at the Husky truck-stop that serves as the Golden Greyhound station. I and a few others make the trek past a row of idling semi trucks to the nearby Tim Horton's.
About 10 minutes past Golden, an older man in front of me gets up to visit the washroom. He sways with the bus as it turns the notorious bends between Golden and Field. Back and forth. Back and forth.
I remember these bends well from childhood road trips. We lived in Red Deer, and would drive these roads to visit my grandparents in Vernon. My sister had bad motion sickness. I vividly remember one trip when she violently threw up in an E.T. branded popcorn bucket we'd got at the movies the day before. My mom had to pull over our little Toyota Echo — a shell of a car that didn't even have air conditioning — to toss it out.
I'm thinking of this as we round that bend past Golden and the man wobbles past me on his way to the washroom. I hear a thump, followed by murmuring in the back of the bus. I look back and see a few other passengers getting up out of their seats.
Someone yells.
"Pull the bus over!"
The driver slows. I imagine, outside, in the blackness, the sharp cliffs that scared me so much as a kid. The driver brings us to a stop.
"She's passed out!" someone shouts. Our driver, whose name is Raj, looks over his shoulder. He walks to the back and sees three people trying to help the girl. The older man had tripped over her on his way to the washroom. She's stretched across the aisle, unconscious.
Raj walks back to the front of the bus, calmly pulls out his phone and dials 9-1-1.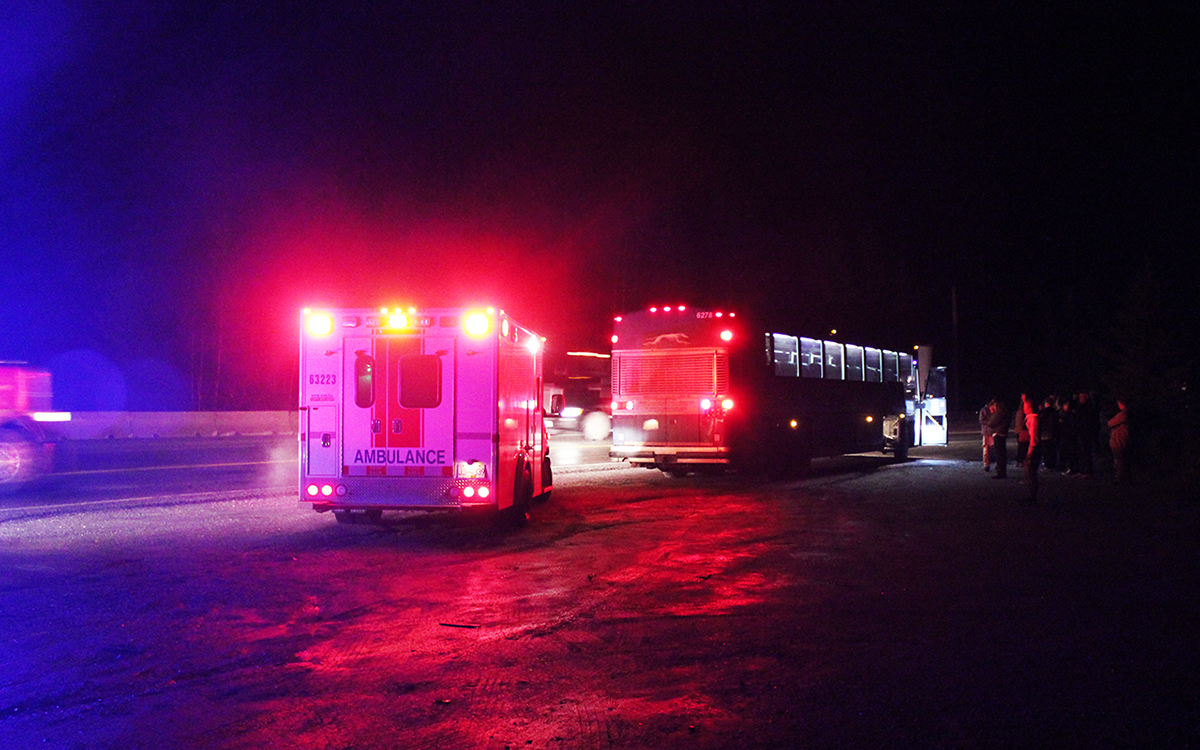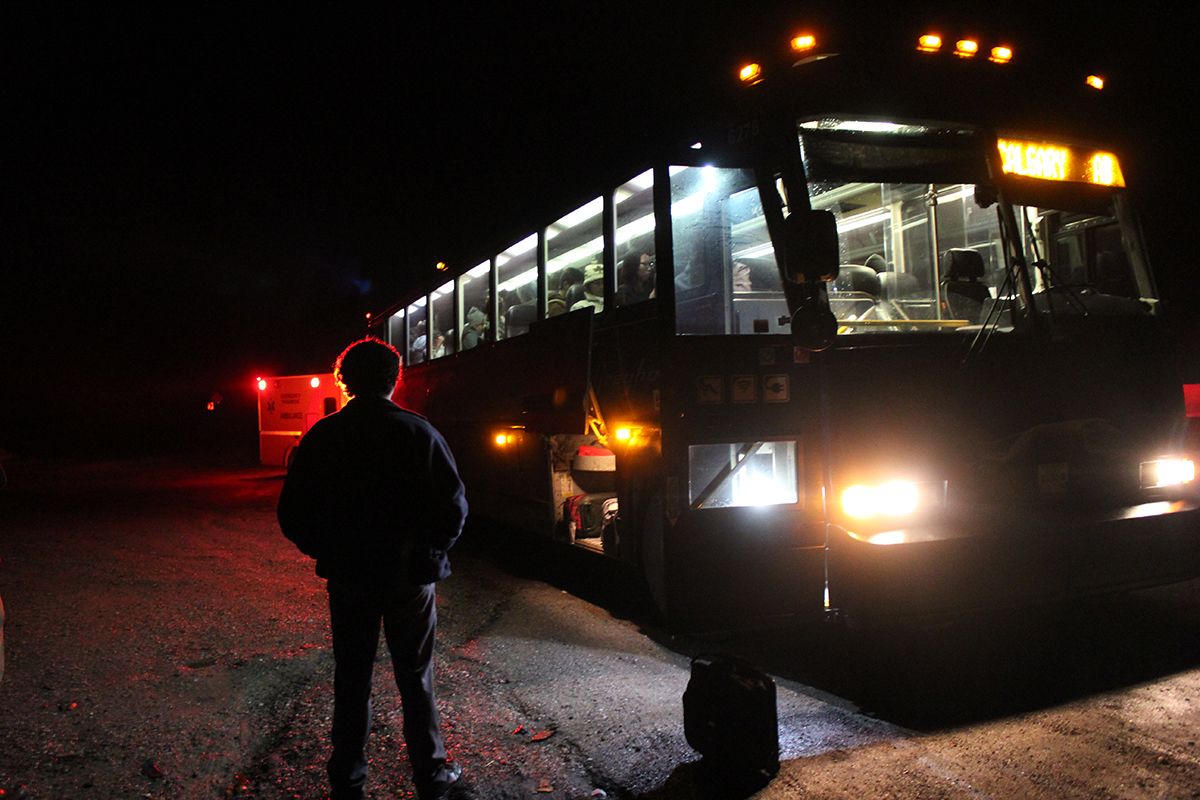 For 15 minutes Raj is on the phone. In the back of the bus, he can't get cell reception. In the front of the bus, for some cosmic reason, he can. So our driver calmly paces back and forth up the aisle, checking on the status of the girl and updating the operator on the line as he comes back to the front. He loses connection every now and then, but never his composure.
"Does anyone know first-aid?" someone shouts.
Three people get up. But there are too many cooks in the kitchen, and an Australian man in a black t-shirt is the only one to remain. With a couple other passengers, he puts the girl in the prone, recovery position and starts doing CPR.
After about 15 minutes, sirens and flashing lights indicate the arrival of the ambulance. Two paramedics board — a young guy with glasses and a black toque alongside a short girl with tattoo sleeves up her arms.
The older man is trapped in the washroom by the growing crowd at the back of the bus, cracking the door open every now and then to see past. The paramedics set to work. The rest of us sit in uncomfortable silence, rubbernecking back every now and then. Whispers ripple through the bus. She just passed out. We wouldn't have found her if that guy hadn't tripped over her.
Eventually, I disembark and find my way outside to where the driver, the Australian who performed CPR and another guy are smoking. The Australian is taking long pulls from a vape pen, the fumes drifting in the wind, capturing the flashing lights of the ambulance.
A cop car arrives. Then another ambulance. A fire medic. Another fire medic. One of the police officers clears the bus and the passengers gather outside.
The Australian tells me that he and his wife are making their way across Canada. They had just finished up a week in Vancouver and have ski-hill jobs lined up in Banff. After that, he says, they'll figure it out.
The other man mentions Greyhound is ending, which comes as a surprise to the Australian.
"Well, better hope Banff is to our fancy then, eh?" the Australian says with a short laugh.
To Calgary
The paramedics get the girl off of the bus and into a waiting ambulance. They've determined she'd likely gotten drunk on a bottle of vodka smuggled in her bag. Now she is on her way to the Golden hospital for a stomach pump. Raj passes the paramedics her suitcase and they load it in alongside her. Slowly, quietly, we re-board.
From my seat in the third row, I watch as Raj puts the bus into gear. He pauses, sighs, and pulls out. He doesn't say anything, just continues on into the night.
When we finally arrive at our destination, just after 1 a.m., the Calgary station, cavernously empty, echoes with footsteps. Flags of each province once spanned its ceiling. They have been taken down. Five years ago, when I'd just started college, I departed from this station on my first of many Greyhound rides, a one-hour trip to visit my parents in Red Deer for Thanksgiving. I have an image of myself waiting for that bus seated in a chair among many rows of chairs. But tonight most of those chairs have been carted away, as have the maintenance equipment and storage lockers I recall seeing in the bays where busses were unloaded. Tonight, there's just our bus and two others, a few employees milling about, a stack of Greyhound-branded beer cozies with a big, hand-scrawled "FREE" sign above them. It feels like a wake.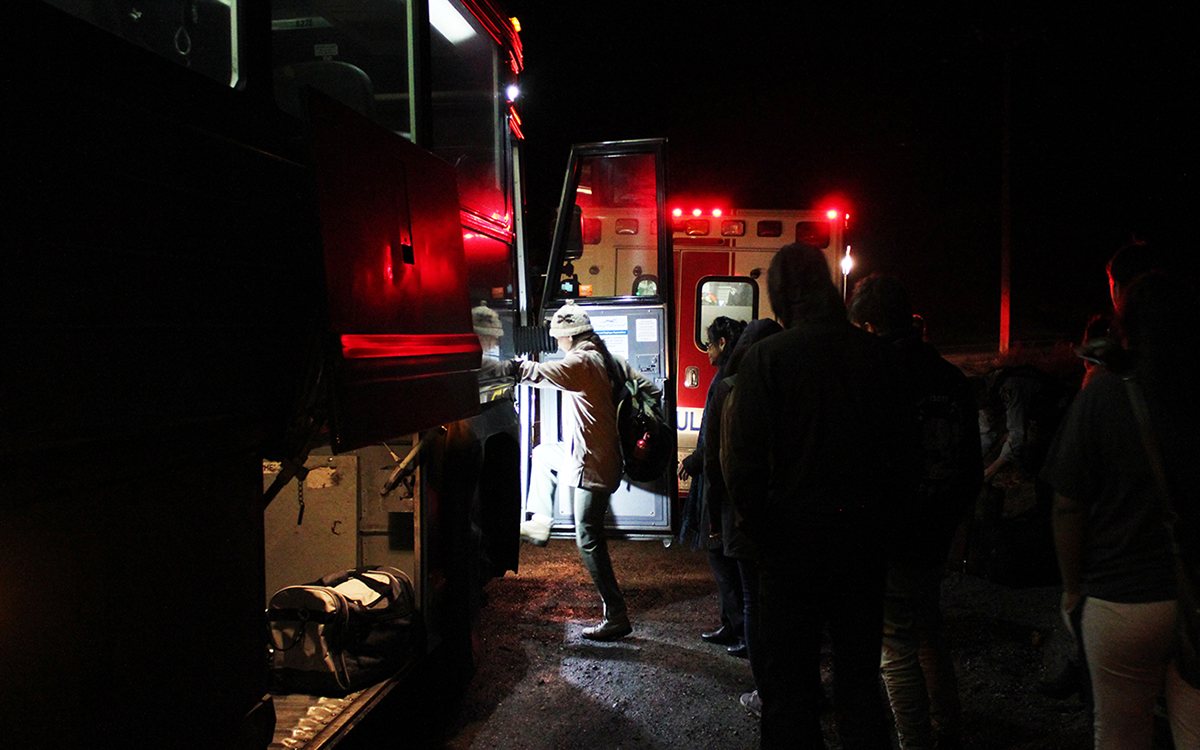 When I heard that Greyhound was closing up this summer, I was sad to think many people might lose vital access to transportation. People like me, who do not drive, might find themselves isolated.
I felt, too, nostalgic, not just for the fading facades and aesthetics of rural Greyhound stations, but for what seemed reliably and simply all of a piece. While it is true that other companies are filling in many routes Greyhound is abandoning, some stretches will not be served, at least not any time soon. On the route I have just travelled, for example, people will be able to take other bus services from Kelowna to Vancouver, and Kamloops to Kelowna, but between Penticton and Kelowna, where the woman with the many bags on my first bus was headed, there so far is no service to replace Greyhound's.
After riding the bus nearly 20 hours in the past couple of days, I need one more lift. I catch a cab outside the Calgary station. The driver asks where I am coming from.
"Vancouver," I say.
"Wow," he says. "Long way."
Yes it was. A good ride, come to its end.