The recent protest against Kinder Morgan was a thing of beauty.
On the day of Prime Minister Justin Trudeau's Kinder Morgan pipeline purchase announcement, a thousand or so people gathered on the grassy field adjacent to Science World to voice their opposition. Amongst this group was a solid representation from Vancouver's documentary community. Some people were filming the action, other folk were blowing kazoos and banging gongs. There was a fair amount of cheerful chatter, gentle hugging and people simply happy to see each other.
It occurred to me in the midst of the speeches and general hullabaloo that protests are as much a source of support for the people present as they are a demonstration of anger and defiance. Weirdly enough, there was an air of joy that evening, a sense that we're all in this together — a mobile, heaving, chanting, singing, shouting, gleefully righteous throng.
It was almost as interesting to watch the people gathered, as it was to listen the assembled speakers (Chief Bob Chamberlin, Tzeporah Berman and Squamish Nation hereditary chief and Vancouver mayoral hopeful Ian Campbell among others). Even more engaging were the homemade banners and signs dotted throughout the crowd. Floating above the fray, hand-made salmon effigies were born aloft by folk dressed as killer whales. These hand-painted statements of protest — some funny, some lovely — were a gentle reminder that art and activism have enjoyed a very long relationship.
The revolution will be crafted
The impulse to make signs and symbols of protest (aesthetic activism) isn't new, but it's taken on interesting evolutions as traditional practices are reinvented and redeployed to fight the powers that be. Craftivism (a combination of craft and activism) has become something of a global phenomenon.
Writer/artist Sayraphim Lothian's book about the movement entitled Guerrilla Kindness and Other Acts of Creative Resistance is only the most recent addition to the wealth of resources and literature available. A quick grounding in the concept can be gleaned from the videos on Lothian's site that offer both historical perspective as well as a global look at the different ways that people have knitted, embroidered and stenciled the fight against oppression and injustice. Lothian is based in Australia, but there are Vancouver chapters of Craftivists actively fashioning creative forms of resistance.
Leanne Prain has written a number of books and essays about the subject. She is part of an active community in Vancouver which is committed to working towards a better, more just world through the application of yarn, beading and fabric. It is a singularly joyful movement, simultaneously subversive and cuddly. As Leanne explains the Craftivist community encompasses a multiplicity of forms — everything from yarnbombing to quilting. "When I kept yarnbombing.com, a knit graffiti blog between the years of 2007-2012, a great many of the knit graffiti artists that I heard from were local, in particular KnitGirl, who was recreating the work of many of Vancouver's well-known wheat-paste artists in knitting," she says.
Leanne's three book on textiles in culture were published by Arsenal Pulp Press in Vancouver, which also published Betsy Greer's book Craftivism: The Art of Craft and Activism. Leanne cites a remarkable list of locally active folk including crochet artist Howie Woo, Jessica Glesby, who teaches knit graffiti, Carlyn Yandle and Katherine Soucie.
Many Craftivist works make use of traditionally female mediums like fabric, knitting and sewing. As Leanne explains, "Textiles have often been the only free source of expression for women in society." The Women's Memorial March Quilt is a strong example. Initiated by the family members of the missing and murdered women from Vancouver's Downtown Eastside, the project was documented by the Vancouver Public Library.
Fight the power
The quilt panels bear an eerie resemblance to other kinds of memorial work undertaken by women seeking a means to document loss and give tangible form to grief and tragedy. Arts of Resistance: Politics and the Past in Latin America, a new show at the Museum of Anthropology in Vancouver, contains a remarkable collection of this kind of artwork.
In addition to MOA's existing Latin American collection, Arts of Resistance includes a hundred new pieces commissioned from artists in Mexico, Guatemala, Peru, El Salvador, Ecuador and Chile. The show itself is stunning, divided into five different sections that highlight cultural practices from across Latin America: Tigua paintings from Ecuador, amate paintings from rural Mexico, Maya textiles and ceramics from Quinchamali, Chile.
Curator Laura Osorio Sunnucks, MOA's Mellon postdoctoral curatorial fellow for Latin America, recently walked me through the show while talking at the speed of light. The woman is as impressive as the collection she has put together. Passionate, erudite and seemingly fearless, information rushes out of her as if from a spigot at full flood. Listening to her talk was thrilling, funny and wildly entertaining. Like many complex productions, the background stories of putting a show together are almost as fascinating as the final product.
Osorio Sunnucks recounted the mechanics of getting some of the pieces for the show out of a city where the drug cartels had recently murdered two women in a taxi cab. Her narrative stopped me in my tracks. It's not very often you hear about someone so dedicated to the presentation of art that they will undertake their quest at some personal risk. Seeing the exhibition through the eyes of someone so deeply and wonderfully immersed is an extraordinary opportunity, providing a means to dive down deep into not only the what of objects but, more importantly, the why of them.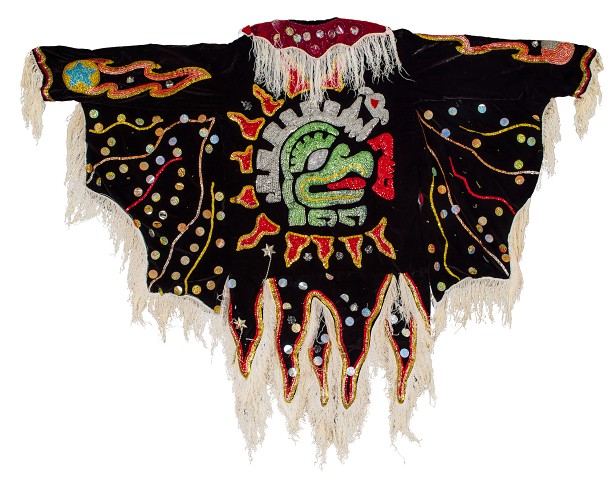 As the show's curatorial statement indicates: "Arts of Resistance will display a number of works from communities in Latin America that have been subjected to violence and state-sponsored terrorism. Through this exhibition, we are challenging established genres by exploring the links between colonial and contemporary political forces, as well as different aspects of popular culture."
It is not only the works on display that are compelling, but also how they interact with each other in a layered accumulation of story, image and cultural tradition. The impulse to find a way to transmute horror and grief into something beautiful threads its way through the entire show, like an anaconda, supple, powerful and mesmerizing. Forgoing any multimedia aspects, with the exception of a recorded soundtrack, the exhibition forces you to look at not only the objects themselves but how they are presented. Even though there is a sign stating emphatically, "Do Not Touch", I can't resist drifting a finger over the pink coffin-like tables that carry Mexican and South American carnival masks in a section cheekily titled Sympathy for the Devil. As Osorio Sunnucks explains, when the Spanish arrived it was a difficult for the Indigenous people to rectify the newcomers' religious cant about the wages of sin with the colonialists busily pillaging everything they could lay hands on. Some of the Devil masks on display are worn at Christmas, while others come with entire suits suitable for Devils cracking bullwhips. The gonzo freakiness is suitably horrifying with masks sprouting leopard and wild boar heads in a mashup of nightmarish creatures that easily calls to mind John Carpenter's film The Thing
But some of the most powerful pieces in the exhibition are also the most subtle including a gentle embroidery that depicts Salvadoran women fleeing from the violence in their country. Much of the work circles around a sense of absence, of making visible that which has been actively suppressed and buried.
The Chilean practice of arpilleras reminded me painfully of the Downtown Eastside Women's Memorial Quilt, as not only a form of active protest but more importantly a kind of memory project to preserve the existence of the disappeared (los desaparecidos). The form originated in Chile during the Pinochet regime, as women documented the facts of life under dictatorship in the cheapest materials available: scraps of cloth, thread and old flour sacks.
This form of addressing disappearance is echoed in another work in the exhibition. Juan Manuel Sandoval Palacios and Diego Sandoval Avila's Ayotzinapa Codex documents the kidnapping and murder of 43 students in Ayotzinapa, Mexico. It is one thing to know the blunt facts of the story, but it is something else to see it retold in pictorial form. The images that depict the disappearance of students unfold like a snake in clearly delineated chapters that make active use of colour and form to render explicitly clear the nature of the crime.
The Ayotzinapa Codex is a potent reminder of the long-standing battle being waged against Indigenous people across Latin America. It is a theme that is carried throughout the exhibition. Sarhua beams, a traditional art form from Peru, evolved into paintings that documented violence perpetrated against the Ayacucho people by both government and guerilla forces. Artist Venuca Evanánda Vivanco replicated the work of her father Primitivo Evanan Poma, who made the original "Shining Path" testimony paintings. In another section, the Oaxacan graffiti collective Lapiztola created a light, stencil and sound installation that embodied the 2006 indigenist insurgency in Oaxaca, México.
Much of the artwork comes from people who have suffered from politically motivated and often state-supported violence. In this aspect, women have been particularly hard hit. In the exhibition's opening section huipiles, traditional blouses from the Maya communities in Guatemala and Mexico, stand shoulder to shoulder in a vivid embodiment of female collectivity and solidarity. The reality for women in many Latin American countries is brutal, but it is especially vicious for Indigenous women who are raped and murdered at staggering rates.
But before you let horror, rage and despair take too deep a hold, the final section of the show provides a resounding reminder that activist art has an additional function, and that is to heal.
Arts of Resistance ends with a one-way entrance to a wall-sized mural created by Olinda Silvano and Silvia Ricopa from the women's art collective in Cantagallo, Lima. Both women are from the Shipibo-Konibo diaspora and come originally from Ucayali and Loreto regions in the Amazon. The mural, painted in situ at the museum, makes active use of the principal of Kené , a women-only artistic practice in the Amazon.
Sitting and looking at their artwork, one can feel the energy emanating out like a wave of gentle electricity. It is a sensation akin to shinrin-yoku, the Japanese concept of forest bathing, and another reminder that there are many curious connections in the world. The mural also reminded me of the Songlines of Aboriginal people in Australia. It is fascinating how the same motifs pop up time and time again the world over.
I would have liked to bathe in the Kené power for hours, but even a few moments of sitting quietly with the indefatigable Osorio Sunnucks left me with a curious optimism that buoyed me up and out the museum with a renewed sense of determination to do good in the world.
Arts of Resistance: Politics and the Past in Latin America is on display at the Museum of Anthropology now to Oct. 8. It is extraordinary.
Zama bama ding dong!
If you need to see the wages of colonialism in other forms, the best film of the year, Lucrecia Martel's Zama, kicks off a retrospective of her work on Friday, June 1 at the Cinematheque. The film, an adaptation of Antonio di Benedetto's novel, tells the story of Spanish magistrate (Daniel Giménez Cacho) stuck Godot-like in a Paraguayan backwater and awaiting a letter from the king that he believes will liberate him. On paper, this sounds rather dry, but the film is lush, almost obscenely so, with images that ravish the senses. Zama is a film that needs, nay, is required to be seen in a theatre. It is gorgeous, confounding and a perfect entrance to Martel's work. Run as fast as your legs can carry you to the Cinematheque and buy a ticket.
Back to the barricades
The term cognitive liberation is used to describe the transformation from survival to empowerment that took place when Chilean women came together to make arpilleras during Pinochet's reign. It is what happens when people gather, share their experience and begin to sew the world back together. It is common thread amongst many different kinds of movement, and at the recent protest in Vancouver it was replete in the chanting yelling crowd with their homemade signs, colourful posters and waving banners.
It reminded me of Beckett's famous credo: "I can't go on, I'll go on." A statement that wouldn't look out of place embroidered on a Craftivist pillow.