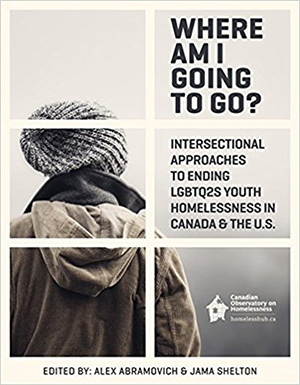 Advocates for the homeless have increasingly battled to move beyond shelters as a solution, arguing for prevention, rent banks and affordable housing.
But for up to 16,000 youth in Canada — lesbian, gay, bisexual, transgender, queer, two-spirited and others who don't fit a gender or sexual binary, also known as LGBTQ2S+ — there is a desperate need for youth emergency shelters just for them.
That's just one of the key messages from a new book, Where Am I Going to Go? Intersectional Approaches to Ending LGBTQ2S Youth Homelessness in Canada & the U.S., published by the Canadian Observatory on Homelessness this month.
While the 40,000 youth who will find themselves homeless in Canada this year are discriminated against for their housing status, "queer and trans youth are especially marginalized because they're experiencing homophobia and transphobia," said book co-editor Alex Abramovich, who researches the issue for the Centre for Addiction and Mental Health.
The limited data available shows 20 to 40 per cent of homeless youth identify as LGBTQ2S+. Stigma against their sexuality and gender expression add to the barriers they face. Some face multiple barriers.
"Being a person of colour who is also trans, you're also experiencing racism, transphobia, and sometimes homophobia as well," Abramovich said.
That stigma follows LGBTQ2S+ youth inside homeless shelters, too.
Along with book co-editor Jama Shelton, a professor at Hunter College's Silberman School of Social Work in New York City, Abramovich has spent more than a decade researching LGBTQ2S+ homelessness and solutions.
The United States has made progress, with targeted youth shelters, a federal LGBTQ Youth Homelessness Prevention Initiative and non-profits like Cyndi Lauper's True Colors Fund.
But Abramovich has had a hard time convincing Canadian policy makers and service providers that LGBTQ2S+ youth homelessness is even a problem.
"The response that I've always received from government and key decision makers is, 'Well, we don't have enough evidence. We need more evidence-based research,'" said Abramovich.
That's what makes Where Am I Going?, the first academic text on LGBTQ2S+ homelessness in North America, so important.
But Abramovich adds the book isn't just for policy makers and academics.
"We wanted to make this book really quite accessible... to the public, because we understand that a lot of people don't understand that this is a serious issue both in the U.S. and in Canada," he said. A free PDF version is available for download.
Both Vancouver and Toronto have transitional housing beds, a more permanent option, for LGBTQ2S+ youth who go through an application process.
What's missing are emergency shelters to offer a safe alternative to the streets.
The "independent-style living" of transitional housing might not suit all homeless LGBTQ2S+ youth, particularly those with mental health issues, Abramovich said.
"Those needs may not be met in a transitional housing program, and that person might not even be accepted into that kind of a program because their needs might be too high," he said.
Alberta is a bright spot in Canada. In 2015, the Progressive Conservative government reached out to Abramovich for help in establishing a provincial homelessness strategy for LGBTQ2S+ as part of Alberta's overall youth homelessness plan.
In consultation with communities, Abramovich developed recommendations for government: support the delivery of LGBTQ2S+ youth housing options, as well as intersectional youth programs; create provincial and regional shelter standards for those youth; develop an integrated training program for all youth service providers, promoting LGBTQ2S+ cultural competency; develop the capacity for research on homelessness and this group; and create a specific homelessness prevention plan for LGBTQ2S+ youth.
All but two recommendations — prevention planning and intersectional programming — are currently being implemented by government according to an Alberta case study included in Where Am I Going to Go?
Abramovich would like to see other provinces follow Alberta's lead and a national strategy to ensure LGBTQ2S+ youth are supported.
But he notes you don't have to be in government or youth services to help end LGBTQ2S+ homelessness. Actions like calling out transphobia and homophobia when you see it — and learning what it looks like if you don't — have big impacts, Abramovich says.
Homophobia, biphobia and transphobia "are a major cause of LGBTQ youth experiencing homelessness," he said. "A significant way for us to end LGBTQ homelessness is for people to understand these problems and to really step in."