Developers are taking a renewed interest in building purpose-built rental in cities like Vancouver and Toronto, but it's nothing to celebrate for many working renters.
That's because, not long ago, new projects were renting for between $2.20 to $2.60 per square foot per month. Today, we see new projects going for $3 per square foot or more. As a result, it's not unusual to pay $1,900 per month for a one-bedroom apartment in Vancouver.
That's giving tenants heartburn, but it's awakening dollar signs in developers' eyes. According to Vancouver architect and planner Michael Geller, soaring rental rates combined with very low interest rates are making rental projects more attractive to developers and investors alike.
What's pushing rents to the stratosphere? Largely, it's what people are willing to pay, says Geller. A one-bedroom that rents for $1,900 is what the Vancouver market will bear, for example. But it's also the fact that the construction cost alone of building a new high-rise rental project — not including land and various soft costs — reaches above $300 a square foot.
"The only thing really saving us is the very low interest rates," Geller says. "Otherwise we would start to see rents similar to what is happening in New York and San Francisco." In either of those cities, the same one-bedroom renting for $1,900 in Vancouver — US$1,383 — would easily fetch more than twice that: US$3,200 to US$3,500.
That picture supports two obvious conclusions. One is that the market won't protect tenants from ballooning rent. The other is that building units too expensive for most tenants won't solve the severe shortages of affordable, suitable shelter in either Vancouver or Toronto.
But is it really so impossible to bring the cost of building apartments for rent down to a level actual renters can afford? No: it's not impossible at all.
Here are three examples of planned, purpose-built, rental developments that working people with families can actually afford. Each presents a combination of unique policy incentives and funding partnerships that has defied the iron law of "what the market will bear."
The first example, from south Vancouver's newest neighbourhood, East Fraserlands, got past the crippling cost of bare ground to build on by leasing city-owned parcels. Seattle's East John Street benefitted from an activist local government that put a priority on building affordable housing. And in Whistler, novel municipal funding and restrictive covenants have preserved (and helped create) rental housing that's affordable for the resort's low-wage service workers even amid an overheated private market.
CASE STUDY ONE
3185 Riverwalk Avenue, East Fraserlands
This is the most advanced of at least four purpose-built rental developments planned for the sprawling East Fraserlands. Eventually the development will house 10,000 people — as many as live in Nelson, B.C. — on a 53-hectare, planned community on the banks of the Fraser River in southeast Vancouver.
The site will eventually include three hectares of new parks, a community centre, retail shopping, and mixture of low and midrise apartments, townhouses, and towers. The first phase of construction commenced in 2010, and construction of the five-storey building at 3185 Riverwalk will start this summer.
Two thirds of this rental building's 109 dedicated apartments are designed for families, with two or three bedrooms. A full 100 per cent of the units will be affordable — meaning that the rent will represent less than 30 per cent of the anticipated occupants' before-tax household income.
"The City is contributing the land value, and BC Housing is contributing the extra equity that's required to get to that 100 per cent [affordable rent] level," says Luke Harrison, director and CEO of the Vancouver Affordable Housing Agency (VAHA).
In a region where land is prohibitively expensive, the City of Vancouver acquired and owns the land where the project will be built. The VAHA, a legally independent entity that the city created to see more affordable housing built on its own and on project partners' land, is working with Wesgroup Properties, a private developer, to secure a building permit for the project.
VAHA will eventually pass on the operation and management of the apartments to the non-profit S.U.C.C.E.S.S., which will lease the land from the city directly.
Beyond the East Fraserlands, VAHA is working on about 10 more affordable housing developments on City land, in partnership with private non-profit groups as well as BC Housing.
Those partnerships are key, Harrison says, most especially when BC Housing or another level of government isn't contributing cash. Because most investors in what he calls the "high yield, high risk" real estate environment are driven by the imperative of maximizing profit, financing from "social purpose" investors are critical to such projects.
"How do you find that patient equity, that social impact equity, that can land into housing and have an expectation of lower yield, and still really produce something that's good for the city?" Groups like Catalyst Community Developments and New Market Funds have a role to play in creating affordable housing in British Columbia, Harrison says, but more is needed.
CASE STUDY TWO
923 East John Street, Seattle
By early 2019, a 110-unit dedicated rental building will be a central feature of a new Seattle Light Rail station in the city's Capitol Hill neighbourhood. Its apartments will provide homes at rents calculated to be at 30 per cent of Seattle's metro median income or below. For a family of four, that income is about $54,000 — which translates into a maximum rent on East John Street of $1,350 a month.
The US$30 million project being developed by a public development authority, Capitol Hill Housing, is taking advantage of a number of innovative local and federal policies. A federal low-income housing tax credit, which benefits the investors who will own most of the building at the start, unlocked initial funding. Capitol Hill Housing will manage the housing but owns only a tiny stake in it. At year 15, the tax-credit investors exit the program, and Capitol Hill will become full owners.
Local policies have also helped. For one thing, Seattle accelerates permitting for affordable housing over market projects. "So we get through the process faster," says Capitol Hill Housing director of real estate, Jeremy Wilkening. On the John Street project, he says, "It's probably saved us three months."
Last year, voters in the city approved a new tax to create an affordable housing fund that will grow to US$290 million over the next six years; it was another source of funding the Capitol Hill project tapped. And once the building is up, Seattle grants a property tax holiday — called the Multi Family Tax Exemption — for up to 12 years for certain affordable housing projects.
The Capitol Hill authority plans to complete construction early next year, with tenants moving in by early 2019. But still, it's taken a decade of planning and negotiations with, among others, Sound Transit (the public agency that owns the land), the surrounding community, and a neighbourhood group that led the design process.
But Wilkening says their biggest challenge has been one Vancouver shares: the scarcity of affordable land. "Right now, we're competing with a lot of market rate people that are able to pay more for land. We need more money to do this, or we need dedicated land."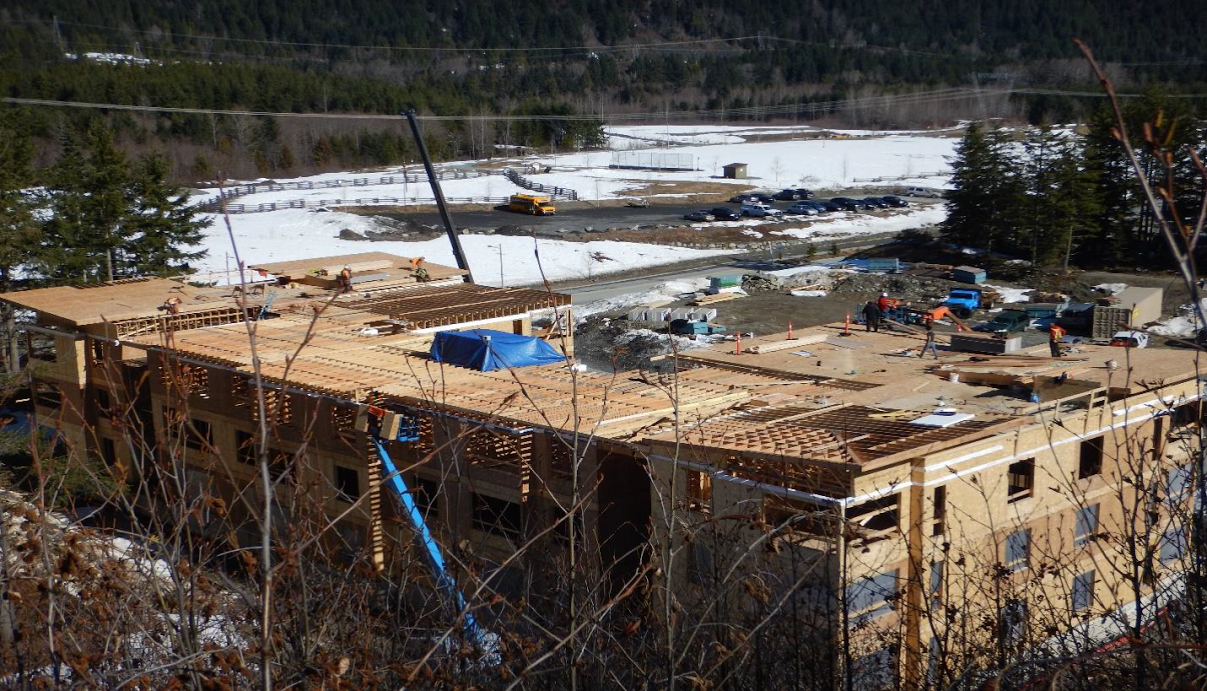 CASE STUDY THREE
1310 Cloudburst Drive, Whistler
The average advertised private market rental rate in Whistler for a one-bedroom apartment is about $1,950 a month. The 230 rental units currently in the Whistler Housing Authority's (WHA) inventory rent at an average rate of just $1,000. How do they do it?
WHA general manager Marla Zucht, who heads the authority, explains that they lock in "price-restricted" rents with legal covenants registered on the title of the buildings. Even when properties change hands from one owner to another, they remain "encumbered with restricted housing covenants, which means they are affordable in perpetuity," Zucht says. As compensation for those restrictions, properties with covenants qualify for lower tax assessments — and lower property taxes.
And Whistler is adding to its stock. The WHA is building four new purpose-built rental buildings that will accommodate at least 250 people when they're all completed at the end of three years.
One on Cloudburst Drive is planned to open this coming October. It will house about 100 people working in the area. Restrictive covenants on the title will require that every unit must be occupied by people employed in the Whistler area, as well as kept at affordable rent — according to Zucht, about "40 per cent of market rental rates in Whistler." BC Housing provided a $2 million grant to the Cloudburst project; the federal CMHC provided seed funding and about $100,000 in interest-free loans. But thanks to an unusual fund organized by the Resort Municipality of Whistler, the local government, it was able to put in another $2 million.
The fund is filled by Whistler's employers. Whenever a new business that requires local staff opens in Whistler, it must provide employee housing itself or do as most smaller employers do: contribute to the fund in proportion to the number of its employees. The current contribution, Zucht says, is about $5,500 per new employee, a figure that's in the process of being updated.
But as much as the WHA is doing to provide affordable rental homes for workers, there is still an enormous unmet demand for the units they are building. "We have about 600 households on a rental wait list, and those are all employees working in Whistler," notes Zucht.