Almost a year after Seattle declared a state of emergency over homelessness, the city is going ahead with a controversial bylaw making it extremely difficult to remove unauthorized homeless camps on public land.
Seattle council recently voted 7-1 this month to introduce an ordinance — equivalent to a Vancouver bylaw — based on a proposal from the American Civil Liberties Union of Washington that was created with other groups involved in advocating for homeless or low-income people.
The groups drafted the ordinance in response to the growing number of homeless people living on public property in unauthorized camps and controversy over the city's regular sweeps of the camps.
The Seattle area has 10 authorized homeless encampments. A one-night homeless count in January found 2,492 people sleeping unsheltered, an increase of 4.6 per cent from the previous year and 67 per cent higher than five years earlier. The region is experiencing a population boom, skyrocketing rental prices and a supply of affordable housing that hasn't kept up with demand.
The proposed ordinance sets out rules and procedures that cover where people can camp and the process for evicting them if the site isn't allowed or there are health and safety risks.
It also sets out protections for campers that would make it harder for the city to move people and seize their belongings.
Before removing a camp or homeless individual, the city would have to provide written notice of the date and time the removal would take place, safeguard all personal property free of charge and ensure accessible housing is available at least 30 days before the eviction.
The ordinance would also set out the rights of campers. "The city shall provide basic garbage, sanitation and harm reduction services upon request at outdoor living spaces containing more than five individuals," it states.
The city would also have to pay a $250 fine for each ordinance violation to the affected individual.
Critics say the ordinance would put too much pressure on city services and make it nearly impossible to remove unauthorized encampments from public land. The city's parks would be lost to the homeless crisis, opponents warn.
Council member Tim Burgess, the lone "no" vote, said the city can do a better job of responding to homelessness but the "poorly crafted and ill-advised" ordinance "was not the answer."
"The proposed ordinance is not the balanced approach the people of Seattle deserve, an approach that carefully weighs and balances compassion with our public heath and safety obligations," he said in a written statement.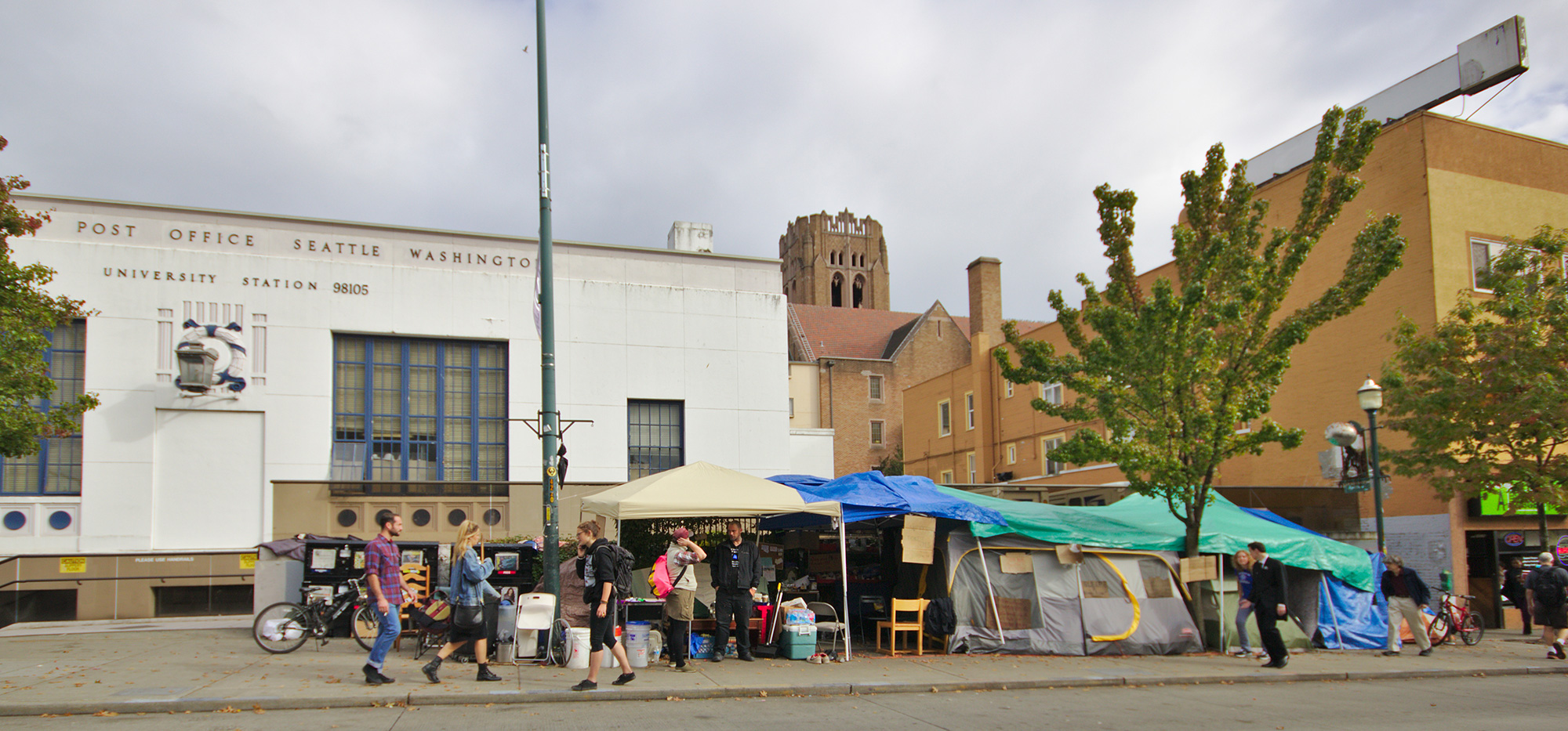 But Ann LoGerfo, a Seattle-based lawyer with Columbia Legal Services who co-authored the ordinance, said it's badly needed. Up until a few weeks ago, she said, the city was conducting sweeps of homeless campers four days a week, with two operations per day. In 2015, there were 527 to 600 sweeps of homeless camps by authorities. Campers' possessions were often seized in the process.
"You have a lot of time and a lot of energy spent on telling people to leave where they are and go somewhere else without any identification of where to go," LoGerfo said. "Often people just return after the sweep, to the original location, and the sweeps themselves are very disruptive to the people living outside in terrible conditions and also very expensive for the government as well."
"There are more and more encampments all the time, they're at record highs despite all of these cleanups, so they don't work and what they do is leave homeless people with even less things that they need to survive."
'Totally applicable in Vancouver'
Pivot Legal Society housing lawyer DJ Larkin said a similar bylaw could be useful in Vancouver.
While Vancouver has more shelter spaces than Seattle, homeless people living on the street are still having their tents or makeshift shelters and possessions removed by authorities, although not in the same numbers as Seattle, she said.
B.C. courts have acknowledged that constant displacement creates risks to health and psychological harm, according to Larkin.
"Having an ordinance or bylaw in Vancouver that acknowledges the existence of encampments, and creates a process of dismantling sites... that are unsanitary or unsafe locations, also respects the ability to retain property and respects the obligation of government to provide services," she said. "It's totally applicable in Vancouver."
Larkin notes Vancouver and Seattle face similar homelessness issues as both are places people want to live where rental capacity is "extremely low."
"I definitely have concerns that we are headed the way of Seattle and we're seeing an increase in people without options at all actually living in the streets," she said. Vancouver has a chance to look south of the border for creative solutions like the proposed ordinance, she added.
Acknowledging the existence of homeless people in the streets with a bylaw would protect them in the short term, make the problem visible and put pressure on higher levels of government to pay attention and provide "more of the robust solutions that we need," according to Larkin.
The Seattle ordinance has now been referred to council's human rights committee where it will be discussed and possibly amended. Then a draft will go to council for another vote.
LoGerfo said Seattle deserves "a lot of credit for really working hard on the affordable housing issues, but construction of affordable housing and the laws and regulations... lags behind the skyrocketing rents."
"What it really is about is the reality that there are people that have no place to sleep or live, and they are going to be outside until we can work at the overall problems of homelessness and lack of housing."