When Beth Lowther gives up her transit pass on Sept. 1, she fears a life of social isolation.
But she says she has no choice.
Lowther is among 35,000 people affected by the British Columbia government's decision to end a program that provided bus passes to people receiving disability benefits.
People with disabilities have paid $45 for a yearly pass. Now, the passes will cost $52 per month, a total of $624 per year.
The increased cost comes as the government raises benefit rates, frozen since 2007, by $77 a month. Eliminating the free bus pass program allows recipients more choice in how they spend their income, says Social Development Minister Michelle Stilwell.
But for Lowther, there is no choice to make. The benefits for a single person — after the new increase — provide up to $375 for housing and $608 for all other expenses.
Even with the small increase, finding $52 each month for a bus pass will be impossible, she says. The $77 rate increase will go to cover a recent rental hike on her North Shore apartment.
Battling several health issues and unable to work full time, Lowther struggles to cover the cost of food after paying her rent, often skipping lunch to make her disability cheque stretch the whole month.
Now that she is forced to give up the transit pass, Lowther says she will try to use the bus as little as possible, even though it allowed her to socialize in her community and commute to her part-time job. (People on disability assistance are allowed to earn up to $9,600 a year before benefits are clawed back.)
"The only bright spot was that bus pass," she says. Now even with the increase, she fears life will continue to be a struggle.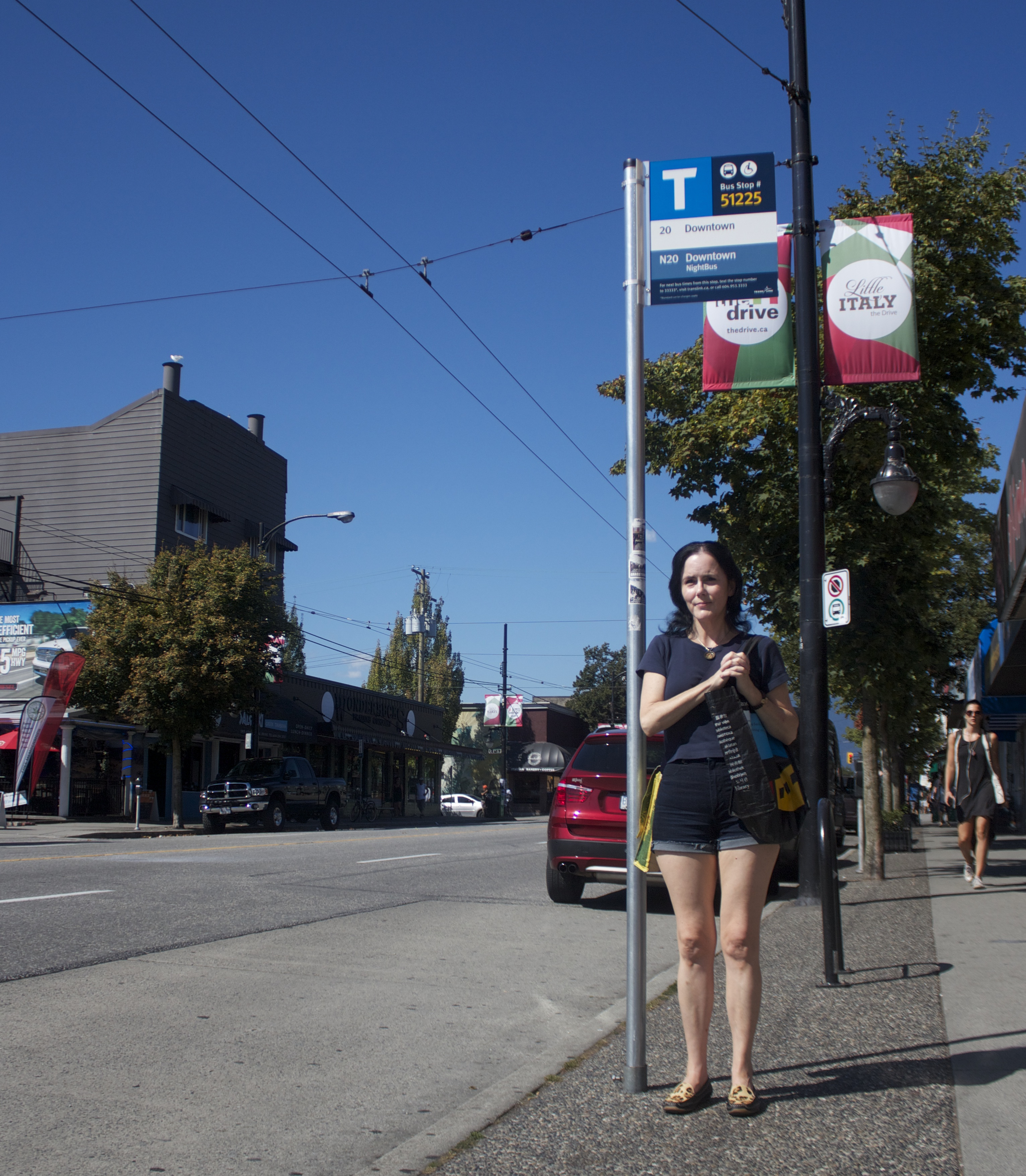 "I don't see myself suddenly able to eat lunch on a regular basis," Lowther says. "That skipping of meals is ongoing... it's terrifying to consider what the possibilities are."
Tears of worry and frustration
In New Westminster, Karla Olson tears up in frustration when she talks about giving up her pass. For Olson, there is also no choice.
"I'm so stressed," Olson says. The transit pass was a huge benefit, she says, allowing her to participate in community events, look for work and shop for groceries. Olson lives with cognitive issues, and the bus pass has saved her money and time on a few occasions where she became confused on the way to a destination and had to redirect her route several times.
Now that the pass is being eliminated, Olson says she is trying to limit her use of transit. She will be forced to decide if each trip is essential, or if she should just stay home, Olson says.
"The way I've negotiated my life is to minimize every cost," she says. "The reason I get so stressed is that I actually have to think of paying for it every day."
Olson — fed up with the low rates and the bus pass clawback — wrote to Minister of Social Development Michelle Stilwell and sought the help of her MLA, New Democrat Judy Darcy. She and Darcy met last week in Darcy's office.*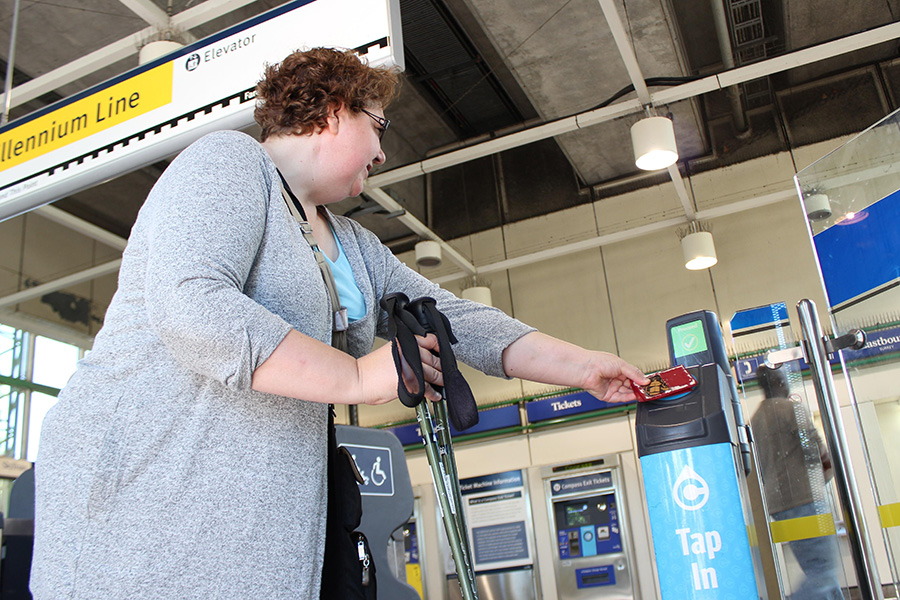 Darcy said she has heard many complaints about the changes. The increase and clawback is "a cruel trick," she said.
"There's just a level of desperation that is steadily increasing, and for people with disabilities this clawing back of the bus pass is a huge piece of that," she said.
The government announced the $77 increase in the February budget. At the same time, it eliminated both the free transit pass and transportation funding received by another 20,000 people on disability assistance.
Choosing bus pass over food
Not everyone is giving up the bus pass.
In Killarney, Timothy and Deborah Birch, a couple who are both living on disability benefits, say they have no choice except to pay the $52 a month each.
Since Deborah uses a wheelchair and the couple cannot afford a car, the bus pass has allowed them to keep medical appointments for more than four years.
"We have no choice, we have to keep it," says Timothy Birch.
The couple needs to make at least a couple of trips each week, so paying for the pass is the only decision that makes sense.
But since they now must pay $52 a month each, they are left with just $25 from the $77 increase the government announced.
The couple, already relying heavily on food banks to make it through the month, don't expect to see any difference in their lives.
"All in all, it's basically a drop in the bucket," says Timothy Birch.
Outcry against the clawback
The bus pass cuts have been greeted with overwhelming opposition from people with disabilities and advocates.
Nelson-Creston NDP MLA Michelle Mungall said she has heard from "thousands" of people opposed to the clawback.
"I lost count a long time ago. I can't even tell you how many emails and phone calls I've received, how many people have signed the petition... it's been countless," she says.
Mungall was one of the MLAs who presented a 15,000-signature petition against the bus pass changes in the legislature.
But the government hasn't reacted, she says.
"The reaction from the minister and from Christy Clark has just been abysmal," she says. "This is one of the worst reactions to a very serious issue for a very vulnerable group people that I've ever seen."
The bus pass changes are set to take effect Sept. 1, but Mungall says there is still time to undo the changes and improve the lives of many people in disability assistance.
"The government has a couple weeks left to do the right thing," Mungall says. "It's a stroke of a pen to do the right thing."
*Story corrected Aug. 22 at 2:20 p.m. Olsen addressed her letter to Minister of Social Development Michelle Stilwell, not Premier Clark as previously stated in this article.