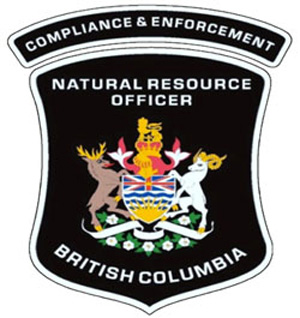 B.C.'s Natural Resource officers are getting additional training in hand-to-hand combat from a retired Vancouver police officer months after their union went public about unsafe work concerns.
The Ministry of Forests, Lands and Natural Resource Operations posted its intent to award a $120,000 no-bid contract to Joel Johnston Consulting on May 2.
The notice said Johnston would provide confrontation management and communication training to 160 officers. Training would include eight two-day sessions for the 160 officers and one four-day session for newly hired recruits.
The officers work for the ministry's compliance and enforcement branch and are responsible for inspections and enforcement covering a wide range of activities on Crown land, from forestry to water use.
Johnston has trained branch staff for more than three years. The notice said he is RCMP-trained and been an RCMP trainer and testified in court about use of force. Johnston's website said he retired from the Vancouver Police Department in 2013 after 28 years and has specialized in use of force and the Emergency Response Team.
"The techniques taught are to be used in accordance with the latest and evolving jurisprudence on use of force," the notice said. "Many of these techniques could result in injuries, minor to serious, to a member of the public and/or the officer involved. Any incident of injury or use of force will be investigated and could result in criminal and/or civil proceedings. The contract instructor would act as a subject matter expert, testifying in court on behalf of the program with respect to due diligence of the program."
The contract runs until March 31, with an option to renew for up to three years.
Greig Bethel, spokesperson for the Forests Ministry, said specialized training is standard in many enforcement agencies. No enforcement officer has been harmed over the past two years as a result of aggressive behaviour by others, he said.
"The decision to provide it to these officers was not a reaction to any particular incident or threat assessment," Bethel said.
But in late January, the BC Government and Service Employees' Union issued a memo that said four officers had exercised their right to refuse unsafe work. Two officers refused unsafe work due to "the lack of adequate training, tools, policies and procedures," the union said.
The union noted officers are expected to deal with industry and the public. They are "commonly mistaken for other law enforcement officers such as conservation officers, police officers and sheriffs, all of whom are fully armed and have the power of arrest and detention," it said.
The BCGEU unit representing the officers did not respond to an interview request.
Body armour in the field, security at the office
In 2014, the ministry awarded a $120,000 contract for bulletproof vests for the officers to Pacific Safety Products Inc. A risk assessment had recommended that the officers be equipped with the soft body armour or no longer carry out some of the activities that had been part of their mandate.
Meanwhile, on May 18, the Ministry of Social Development and Social Innovation issued a call for tenders for crowd control at its offices in the Vancouver Coastal and Fraser Regions. Deadline for proposals is June 17. The ministry has contracts covering the Lower Mainland with Genesis Security Group. Security coverage is required at some offices on a daily basis, and at others on days that income assistance and disability assistance cheques are issued.
"Security services are intended to ensure the safety of the public, ministry clients and ministry staff by dealing efficiently and effectively with individuals who: pose a threat to ministry clients and staff in the office; and present challenging behaviour, which is disruptive and endangers the safety of the public and ministry staff," said the request for proposals.
Spokesperson Sean Leslie said the RFP "is a regular procurement to replace a contract that expires at the end of June, and is not based on any specific increase or decrease in incidents."
The contract is for one year from July 1, with options to renew for up to three years.
Coincidentally, a probation officer was held at knifepoint on May 18 in a Delta government office by a 49-year-old mentally ill woman and rescued by police after some of her hair was cut off.
The worst incident of workplace violence at a government office in B.C. happened in October 2002, but not at a social services office. Richard Anderson, an environment ministry manager in Kamloops, fatally shot supervisor Jim McCracken and union shop steward David Mardon before killing himself.