Enbridge's CEO Al Monaco admits his $55-billion petro-pipeline company has been a "point of attack" over projects like Northern Gateway, but says the conditions are ripe to double down on renewable and low-carbon energy, such as solar and wind.
"We have about $5 billion invested today, and if we see good opportunities over the next five years, we're hoping to double that," said the executive at the GLOBE 2016 sustainable business summit on Thursday.
The Calgary-based company's energy mix is currently five per cent alternative energy, he said, with the rest mostly oil. But two major factors are pushing the company in a new direction: pro-climate policies and the declining cost of alternative energies.
"If you look at the wind and solar parts of renewable opportunities, they've made huge strides in costs. That's allowing for greater investment in renewables," Monaco said.
"The other thing going on is there are renewable targets out there that are now more widespread. You've got the Alberta Climate Leadership Plan that puts a target on the amount of renewables. Ontario, Quebec, B.C. -- all of these jurisdictions are putting a policy framework in place that gives investors in renewables like us greater transparency, and makes sure we get a return on capital when we make these investments."
The business leader spoke on a panel with environmental thinkers about the need to transition to a low-carbon economy. He said that natural gas is an important bridge fuel as society shifts off oil.  
Suncor CEO Steve Williams, who leads Canada's largest oil sands operations, said that "for the record" he believed in global warming. He added that Alberta's new carbon tax, with a hard limit on oilsands emissions, was a model for the world.
Harvard economist Michael Porter hopes such climate policy moves will move the public conversation beyond polarizing debates and towards technical solutions to global warming, like curbing methane with new technology. "We've heard the apocalypse. We've heard that over and over again," he said.
Oil firms forced to change: Berman
But Vancouver environmentalist Tzeporah Berman said oil firms have only moved towards alternative energy because protests have forced their hands. An anti-oil protest later in the day drew 200 just outside the GLOBE conference site.
"The reason why governments and industry are starting to be willing to have conversations is because citizens' movements have highlighted how fast the fossil fuel industry is losing social licence in the climate era." That conflict, "while uncomfortable... creates political space" for discussions on climate progress, she said.
"So I don't think we're just going to be able to work it out over lunch," Berman said to applause from the crowd.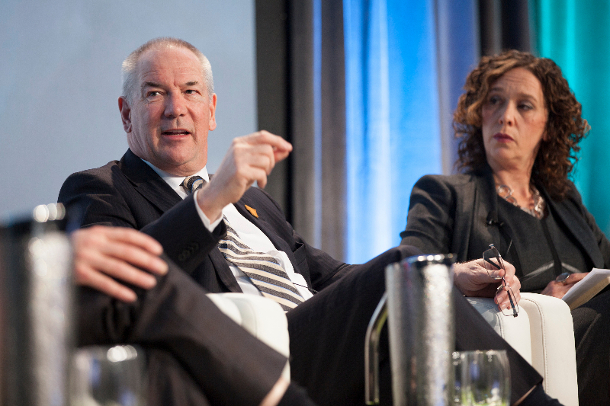 Berman added, giant oilsands pipelines are still being proposed in Canada that are out of step with the "carbon budgets" set out in Paris climate talks to keep the world from warming more than 1.5 degrees.
Despite Monaco's new comments about doubling Enbridge's alternative power, the CEO said Northern Gateway is still being pursued "below the radar" -- even though a Prime Ministerial directive has banned oil tanker transits on the northern B.C. coast, which the project would require.
Green party leader Elizabeth May says Monaco's new green push is hard to buy. She recalled when the executive last spoke at the GLOBE biannual conference in 2014, where he doubted that greenhouse gases could be realistically slashed by 80 per cent by 2050. "It's not going to happen, I'm sorry," he said at the time.
On Thursday, May said, "That's in the realm of runaway global warming, and our kids don't have a future. So do I trust Enbridge? I don't trust any corporation -- do I trust the people in it? Sometimes. But not Mr. Monaco."
'There is trust lacking'
Northern Alberta Cree activist and climate campaigner Melina Laboucan-Massimo said a lot of First Nations have lost faith in Enbridge. More than a dozen bands have filed lawsuits against the pipeline.
"There is trust lacking, indeed. Moving forward, it's a bit difficult to have trust in these companies when they've broken trust with First Nations repeatedly. They've also forced fossil fuel extraction in our homelands that have been detrimental for our communities -- therefore we're going to have trust issues, because of the broken promises, and broken treaties," she said.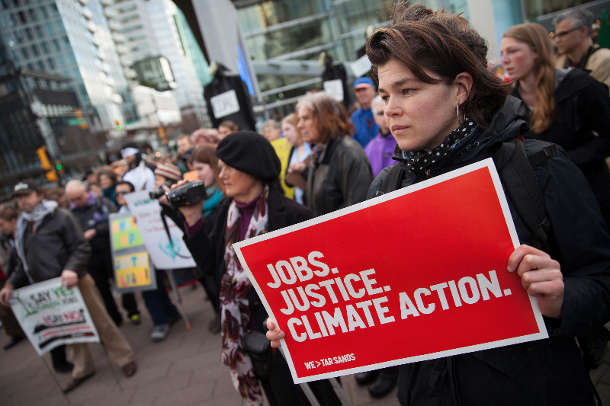 Monaco repeated his long-used argument that too much attention is being paid to the supply side of oil politics -- when it's petroleum's use that needs to be curbed.
"Consumers at the end of the day want to have the energy. People want to travel, they want to take airplanes.
"We have a population growth over the next two or three decades of two billion people. There will be greater than 50 cities over 10 million people --[that] requires more energy," he said.
Prime Minister Justin Trudeau attended the GLOBE summit this week, then attempted at a First Ministers' Meeting on Thursday across the street to get all 13 premiers on board for a national price on carbon. It didn't happen.  
A "Vancouver declaration" was produced, with broad promises to invest more in clean energy and shift Canadians into low-emission cars -- but the prime minister's hoped for national carbon price will be left for a premiers' meeting in the fall to work out, he said.