A serious debate over the energy jobs of the future is underway at a sustainability business conference in Vancouver, with national unions urging Prime Minister Justin Trudeau to create "1 million climate jobs" in new industries that reduce greenhouse gases.
Canadian Labour Congress president Hassan Yussuff said Ottawa needs not only greenhouse gas targets, but also jobs targets that focus on getting workers the re-training and financial supports they need to transition to a clean energy economy.
"Unless you set a target, it's hard to understand what it is you are trying to achieve. I think the government needs to be a little more bold," said Yussuff, minutes after Trudeau gave a speech to the GLOBE 2016 conference -- a biannual green business conference billed as the largest in North America.
This year, the talk is all about the collapse of oil prices and the tens of thousands of Alberta oil workers laid off as a result, Yussuff said. Even further labour disruptions may be required to achieve the kind of "massive industrial transformation" needed to get to a low- or zero-carbon economy in the coming decades, he said.
"It's simply unacceptable to say to workers, 'You lose your job, the government has no role,'" said Yussuff, whose national umbrella organization represents 3.3 million workers in dozens of industries.
The labour leader is lobbying the prime minister for a so-called "just transition" -- the idea that workers shouldn't bear the brunt of major economic changes, including planned moves to curb Canada's industrial carbon footprint to meet climate goals made in Paris.
He said the government could train workers for "climate jobs" for emerging green industries, such as renewable energy, transit and high-speed rail, and suggested that all government buildings be built to high-energy efficiency standards, to encourage private industry to follow.
Trudeau acknowledged that Canadian oil workers in particular will get help -- quickly.
"Obviously there are families in Alberta, Saskatchewan, Newfoundland and Labrador who are facing real struggles because of the fall in oil prices -- but that's why we have a government, and governments across the country, to give them support, by making changes to EI, which we committed to doing in the election campaign, and giving them the support they need in the short term, while we build solutions to the medium and long term," the prime minister told The Tyee.
Carbon pricing battle ahead
Trudeau is walking a fine line for some at the GLOBE summit, suggesting that Canada needs a massive investment in clean energy, such as wind turbines, while affirming that fossil fuel pipelines are still needed to grow the economy in the short term.
"We need both," he told the summit's plenary.
The prime minister is leading a First Minister's Meeting in Vancouver with all 13 premiers starting Thursday morning, where the provinces are scheduled to negotiate a contentious national price on carbon pollution with the federal government.  
Saskatchewan Premier Brad Wall has already balked at a national carbon tax. Meanwhile, the Quebec government launched a court action Tuesday to impose stricter provincial reviews of the Energy East pipeline.
Trudeau's government has promised to devise a new national climate change plan and greenhouse gas reduction target within 90 days of the Paris summit. That deadline is next week.
Yussuff, who was at the Paris conference in December, recalled a heavy equipment oil worker from Fort McMurray, Alberta, who travelled to the historic climate meeting and said oil workers "get it" about global warming, but don't want to be left behind as the oil sector is wound down over the long term.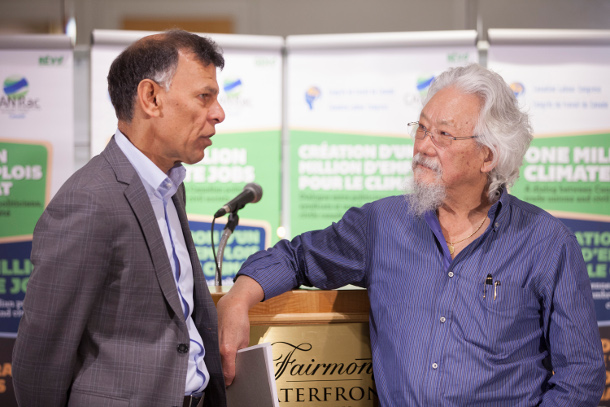 "We had an oil worker, Ken Smith, who came to Paris climate conference, and he spoke very passionately, 'Show me a path, and I will follow it. Because I am not stupid. I get it,'" Yussuff said. Workers want training for clean energy and better unemployment insurance -- not just pink slips, he added.
Environmental leader David Suzuki was standing at Yussuff's side while the labour leader announced his organization's demand for one million climate jobs. Suzuki said oil workers are really just "energy workers" and can be retrained to install solar panels and build wind turbines.
He added that British Columbians have seen the effects of climate change first hand.
"It's not just into the future. We've lost over $60 billion in pine trees in our northern forests because of the mountain pine beetle -- a direct result of climate change. We've seen devastating fires in the Okanagan valley... and a drought last year in a rainforest, for heaven's sake."
The Canadian Labour Congress said it pushed Canada in December to include "just transition" in the Paris climate agreement. It was ultimately included, but only in the aspirational preamble where it has no legal force.
Still, Yussuff said it was a step in the right direction for future generations.
"I keep thinking about what my daughter's future will look like. As her father, I simply would be remiss in my duties if I didn't do my best to ensure that I don't leave her in a hostile world," he said.