Vancouver's mayor Gregor Robertson will meet with the federal infrastructure minister today in Ottawa to make a pitch for a half-billion dollars in new cash for "shovel ready" housing infrastructure.
The city is anteing up 23 properties, worth roughly $250 million, for what it says will be affordable housing -- but only if the Trudeau government meets and doubles that amount to actually build those homes.
"This is the largest offer of municipal land for affordable housing in Vancouver's history, and possibly in Canadian history," the mayor's spokesman, Braeden Caley claimed in an email.
He added that the request for $500 million in federal funds over five years would enable the construction of 3,500 new units of affordable housing on these sites and create 8,000 to 9,000 jobs. Robertson was in Ottawa and unavailable for an interview Wednesday.
According to a map Caley provided to the Tyee Solutions Society, those sites are mainly in the southeast corner of the city along the Fraser River, on the north shore of False Creek downtown, and in the Downtown Eastside.
The city hopes the money will come out of Prime Minister Justin Trudeau's multi-billion campaign infrastructure promise.
Speaking after his election as a Liberal MP, Adam Vaughan -- since named Trudeau's Parliamentary Secretary for Intergovernmental Affairs -- told Tyee Solutions Society that affordable housing would be "part" of that planned $20-billion spending.
"It's a full-spectrum approach to get back into the game of managing the housing market in Canada," Vaughan said. "An integral part of that is better housing." But just how much of that money -- to be split between social, green and transit objectives -- will actually end up going into housing, has yet to be revealed.
Positive... but for whom?
Yesterday, however, Penny Gurstein, who directs the UBC School of Community and Regional Planning, called the mayor's quarter-billion-dollar land gambit a "very, very positive move."
"This is a really great idea," she said in a phone interview. "The one thing the City of Vancouver has lots of is a lot of land. They should be using it.
"It's now left to the federal and provincial governments to see what they can do."
Tyee Solutions Society has explored a number of proposals to put municipal properties to use for affordable housing, including through community land trusts, public transit-linked development, and blending co-operative, nonprofit and market housing on city-owned land.
Low income housing advocates also responded positively to the city's latest move -- though not without qualifications.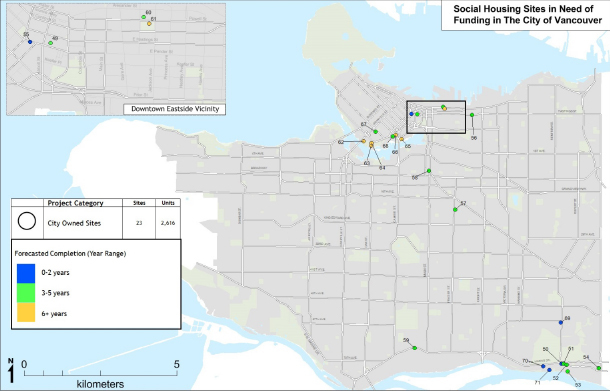 "We've been badgering the city for a long time to put out a proposal to the province and the feds," leveraging city-owned properties, said Jean Swanson of the Downtown Eastside-based Carnegie Community Action Project. "It's good that they've got the sites and are asking for money."
But the longtime activist expressed concern over just what City Hall considers "affordable" housing. A change two years ago to the city definition of what qualifies as "social housing" allows rents well above the province's social assistance rate for shelter of $375-a-month to be considered 'affordable' everywhere in Vancouver except the Downtown Eastside, disqualifying the lowest-income residents from most of that shelter.
If federally funded developments go ahead under the new definition, Swanson says, "our fear is that the new money won't be used to house homeless people or people at risk of homelessness. So homelessness will just keep going up."
Gurstein acknowledged the proposed city-owned sites likely won't alleviate homelessness, which has risen over the past decade in Vancouver.
"Maybe it won't address the kinds of supportive housing needed for people who are very low-income, homeless, or with multiple barriers," she said. "But the province actually has done some of that. It's probably not enough, but that's where they're putting their dollars."
Directing federal infrastructure spending slightly higher up the income spectrum would still be beneficial however, Gurstein argued. Until now, the planning prof points out, "There's been no programs [from Ottawa] addressing the needs of low- to middle-income households who are being pushed out of Vancouver."
With its land-for-construction-cash offer, the City may just have given them a reason to stay.