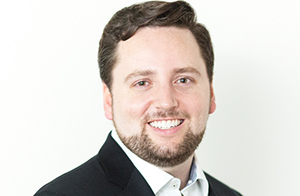 The biography for the BC Liberal Party's candidate in the Vancouver-Mount Pleasant byelection highlights his time at Harvard University, even though he attended only a single one-week course at the prestigious American school.
Gavin Dew's biography on the BC Liberal Party's website says that after studying English literature at the University of British Columbia, "He went on to complete an MBA at Oxford and study crisis management at Harvard."
Asked for more detail from Dew on his time at Harvard, Liberal party spokesperson Jillian Stead said that in 2012 the candidate attended the Harvard Kennedy School of Executive Education where he took "Leadership in Crises: Preparation and Performance."
The school still offers the course. The 2016 edition runs from April 3 to 8. It costs $7,400 U.S., or about $10,450 Canadian, a price that includes meals and accommodation.
Stead declined to answer whether the course was only one week when Dew took it. She did not make Dew available for an interview, and instead referred further questions to Harvard.
A school official at Harvard confirmed "Leadership in Crises" is six days long.
According to the program's website, "there is no formal educational requirement" and candidates are admitted on the basis of whether space is available.
'Close to the line', says prof
Many schools supplement their budgets by running short programs that are open to anyone willing and able to pay, said Ken Thornicroft, professor of law and employment relations with the University of Victoria's Gustavson School of Business.
"It's not a degree, it's not a diploma, yet people are saying they studied at Harvard," he said, noting he's taught in similar programs at UVic. "It does frustrate me."
While such programs may teach something valuable, the schools are also trading on their reputations to generate cash, he said.
Past students like Dew aren't lying when they say they "studied" at Harvard, but it isn't the full story either, Thronicroft said.
"I suppose what he's saying is not technically incorrect," he said. "To me, it's a little bit close to the line. I would prefer to see a little more forthrightness from people setting out their credentials."
'A bit cheesy,' says opponent
Many people are impressed to hear someone has attended an Ivy League school like Harvard, said Nathan Allen, the campaign manager for NDP byelection candidate Melanie Mark.
Dew is giving his short time at Harvard more profile than it deserves, Allen said. "That seems hyperbolic to me," he said. "I think voters could see that as a bit of a stretch if they knew the real story behind it."
Green party candidate Pete Fry said it's "a bit cheesy" for Dew to say he studied at Harvard if it was only for a one-week course. "Yeah, maybe he is fluffing his resume," he said. "He's a communications guy, he's a public relations guy, so he's probably trying to put a spin on his resume."
However, Fry said he's more interested in Dew's role trying to get "social license" for pipeline projects like Kinder Morgan's proposal to expand the Trans Mountain pipeline from Edmonton to Burnaby and as a backroom organizer for the federal Conservative Party and municipal Non-Partisan Association.
"To me, it really is about what he's not promoting," Fry said.
Byelections are set for Feb. 2 in Vancouver-Mount Pleasant and Coquitlam-Burke Mountain.