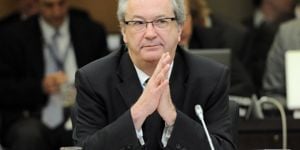 The Conservative Party of Canada has promised many electoral reforms since it first formed government in 2006, and on many counts, they've delivered.
How we identify ourselves at the polls, the number of seats in the House of Commons, and the fixed election date are just a few of the election changes brought in by the Conservatives.
Not every change required a law, like that $7.5-million (or eight per cent) budget cut to Elections Canada in 2013, which cancelled plans to run an online voting pilot in the 2015 federal election.
If you're confused about the current voting ID hubbub, or wonder why your riding is different from the 2011 election, The Tyee created this handy election reform timeline to bring you up to speed.
December 12, 2006: To restrict political and monetary influence by corporations, lobbyists, and unions, the government passed Bill C-2, ''An Act providing for conflict of interest rules, restrictions on election financing and measures respecting administrative transparency, oversight and accountability,'' a.k.a. the Federal Accountability Act. A massive 200-plus-page bill, the Act reached far into the daily life of Canadian politics. Changes that impacted elections specifically included:
a personal annual donation cap of $1,000 to any party, nominee or leader;
banning unions, associations, and corporations from making donations to parties, campaigns, riding associations, or candidates;
a personal annual donation cap of $1,000 to your own campaign, separate from the donation cap to other campaigns;
banning cash donations above $20;
requiring candidates report gifts with a total value exceeding $500 to the Chief Electoral Officer and prohibiting gifts that could be perceived as having ''undue influence'' over the candidate or party;
and reducing to $20 the amount you can donate without requiring a tax receipt.
A new Director of Public Prosecutions position was also created, which took over the prosecution of Election Act offences from the Commissioner of Canada Elections, which would now just investigate offenses.
The first piece of legislation introduced by the new Conservative government, Prime Minister Stephen Harper is quoted stating legislation like the Federal Accountability Act would ''replace the culture of entitlement that took root under the previous government with a culture of accountability.''
May 3, 2007: Government passed Bill C-16, ''An Act to amend the Canada Elections Act,'' fixing Canada's federal election date to the third Monday in October four years after the previous federal election, starting Oct. 19, 2009.
But as you may recall, the next federal election happened on Oct. 14, 2008 after Harper asked then-Governor General Michaëlle Jean to dissolve Parliament.
Political watchdog Democracy Watch challenged the move in Federal Court but lost because the fixed election date law didn't change the GG's power to dissolve Parliament.
June 22, 2007: Government passed Bill C-31, ''An Act to amend the Canada Elections Act and the Public Service Employment Act,'' requiring Canadians to present ID in order to vote in a federal election for the first time ever. At that point, a registered voter could still vouch for non-registered voters, and one's voter information card was still an acceptable form of secondary ID if it had a correct name and address.
Then federal privacy commissioner Jennifer Stoddart expressed concern over another element of C-31: providing names and birth dates of registered voters to all registered political parties.
In a letter sent to NDP MP Paul Dewar and obtained by the Globe and Mail, Stoddart wrote: ''I fail to understand how the disclosure of birth information in this way would contribute to protecting or improving the integrity of the electoral process.''
October 4, 2011: After securing a majority, Conservatives passed Bill C-13, the Keeping Canada's Economy and Jobs Growing Act, which included amendments to the Elections Act that phased out public per-vote subsidies. That means 2015 will be the first federal election where political parties will no longer receive $1.95 per vote received.
December 16, 2011: Bill C-20, the Fair Representation Act passed, legislating a formula that determined the number of provincial MPs by their population. As a result, an additional 30 seats were created in the House of Commons for B.C. (6), Alberta (6), Quebec (3), and Ontario (15). This brought the total number of seats up to 338 from 308.
No provinces lost seats, but federal riding boundaries were adjusted in 2012-13 to make room for the new seats and as part of the once-a-decade ridings review.
Critics were concerned that the way ridings were redrawn gave greater voting power to cities at the expense of rural voters, or favoured the Conservatives by creating more ridings in their strongholds. While the placement of more ridings in cities -- at least in B.C. -- did seem to confirm the urban bias, we'll have to wait until after the votes are tallied to see whether Conservative candidates benefitted.
June 19, 2014: The government passed Bill C-23, ''An Act to amend the Canada Elections Act and other Acts and to make consequential amendments to certain Acts'' a.k.a. the Fair Elections Act.
The list of changes the Fair Elections Act made to the way Canada's elections work is too long to detail here. Here's a sample:
prevents Elections Canada from running ads encouraging people to vote;


requires House of Commons and Senate approval to pilot online voting;
replaces mandatory retirement of Chief Electoral Officer at 65 with a 10-year, non-renewable term;
mandatory registration of ''calling service providers'' (a.k.a. robocallers) with the Canadian Radio-television and Telecommunications Commission, including submitting identification info and keeping copies of their scripts and call recordings;


increases the personal annual contribution cap to a candidate, party or cause to $1,500 from $1,000, with contribution limits increasing by $25 annually.
Increases the annual amount candidates and leadership contestants can donate to themselves to $5,000 and $25,000, respectively, from $1,000.
allows for higher spending limits per party if an election period is longer than 37 days -- the current election campaign is 78 days, the longest in Canadian history;
removes the voter registration card as a suitable form of voter ID and eliminates vouching, but does allow for a non-registered voter to swear an oath they live in the riding as long as it's attested to by another registered voter from the same polling division;*
and has the Director of Public Prosecutions appoint the Commissioner of Canada Elections for seven-year terms, and moves the Commissioner into the Director's office, away from Elections Canada.
Some people were less than happy about moving the Commissioner of Elections because it cost taxpayers an undisclosed sum of money, and previous Commissioners said it wasn't necessary.
Organizations like the Council of Canadians and the Canadian Federation of Students were concerned the Fair Elections Act's new voter ID requirements would prevent homeless people, students, seniors, and people living on reserve from voting because of the need for ID with a permanent address and the removal of vouching.
After much protesting from the opposition that removing vouching would remove some people's right to vote, the bill was amended to allow for a non-registered voter to swear an oath they live in the riding, as long as it's attested to by another registered voter from the riding.
Other concerns included gagging the free speech of the Chief Electoral Officer, and benefitting the Conservatives with new campaign spending increases because of the party's fundraising prowess -- in 2014, the governing party raised $20.1 million, while the Liberals raised $15.1 million, and the NDP $9.5 million.
June 23, 2015: One of the last bills to be made law before the writ was dropped was Bill C-586, the Reform Act.
Brought forward by Conservative MP Michael Chong (Wellington-Halton Hills) the act empowered MPs to:
abolish the rule that party leaders must approve party candidates;
decide whether the MPs or their party leader should be the one to expel or reinstate fellow MPs from caucus;
appoint an interim leader in cases where their leader resigns, becomes incapacitated, or dies;
decide on and formalize the process for kicking out a party leader if the caucus loses confidence in them;
and determine selection process for the caucus chair.
It's not surprising Chong was the one to bring the bill forward. He resigned from his post as Intergovernmental Affairs Minister on Nov. 27, 2006, in protest to a motion brought forward by Harper to recognize the Quebecois as a "nation within a united Canada."
Chong said it was akin to ethnic nationalism, which he opposes. Of course, he stayed within the party and continued to run, and win, his seat up to this election.
The Reform Act received support from all parties, and it will be interesting to see how closely party leaders follow it when Parliament resumes.

*Story updated Monday, Oct. 19 at 2:00 p.m.