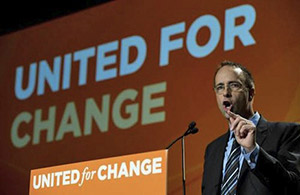 Officials with the British Columbia New Democratic Party say a $2,000 entry fee for people wanting to be the party's candidate in the expected Vancouver-Mount Pleasant byelection is part of a new emphasis on fundraising.
NDP supporters who are critical of the new policy say the fee is a sign the party executive has lost touch with the grassroots, and that the process is being changed to help a favoured candidate.
"It's shaping up like a total betrayal of the founding values of the NDP and the people in the riding," said Geoff Berner, a folk singer who volunteered on New Democrat David Eby's winning campaign against Christy Clark in 2013 in Vancouver-Point Grey. "It's shaping up to look like the fix is in."
The byelection will become necessary when Jenny Kwan, who won the NDP nomination to run federally in Vancouver East, resigns her provincial seat. She remains an MLA, but will have to step down when the federal election is called. At that point, Premier Clark will have six months to call a byelection.
The seat is considered one of the safest in the province for the NDP. In 2001, when the party was decimated, the seat was one of only two that it held.
'Major financial obstacle'
The entry fee, which is due with all nomination applications by May 1, is a "major financial obstacle to participating in democracy," Berner said. "It's a barrier to keep the rabble at bay."
He called the party executive's decision to charge the fee outrageous and shortsighted. "They're blowing their one natural advantage, which is to have grassroots people involved in the party," he said. "They're hurting their electability with this form of so-called pragmatism."
Berner called it "a cynical, nasty, brutally right-wing Tea Party technique" and said it would hamper the party's ability to attract volunteers. "It's a bellwether. It indicates how the people who run the party think."
The federal NDP does not charge a fee to people who are seeking to be candidates, but once a person becomes the candidate they are expected to donate the legal maximum, said George Soule, a spokesperson for the party.
Berner's not the only one to cry foul on the fee. "I have been sent the candidate application package, which was revised by the BC NDP executive in 2015 for the purposes of manipulating the outcome of this byelection specifically," Nicholas Ellan wrote on Facebook. "The fee is due by May 1st, and has served its purpose of excluding virtually every candidate. We may be looking at an acclamation, which is outrageous and will... turn off a huge number of younger voters."
Ellan refused an interview, saying party officials had already asked him to remove some of his comments from Facebook.
Execs make rules: nominee
Melanie Mark, the only person so far to submit a completed nomination package, acknowledged that the fee, as well as the 26-page application form, will make it tough for some people to participate. "I'm sure it's a barrier," she said. "We need to reduce barriers for people, and I want this to be a fair, equitable, transparent process."
Mark said she has to live with the rules like everyone else. "The rules have been set by the executive so I trust it's based on past experience. I've just followed the process," she said.
She said she borrowed the money to pay the fee and is now raising money. "I have a strong team of fundraising volunteers and our website is available starting this week for people who want to contribute," she said. "So far, the response has been very good. I'm told we raised over $1,000 at the launch on Saturday, for example."
Party president Craig Keating defended the fee, saying there have long been entry fees for NDP candidates. Sitting MLAs are expected to provide $2,000 once they're nominated and new candidates pay less, though he couldn't remember how much. "There are significant costs associated with doing background checks and vetting candidates essentially," he added.
Keating and the party are placing high expectations on candidates to participate in fundraising. "I think it's part of the modern age," he said.
No time for delay, says party president
Keating acknowledged there have been calls to delay the nomination process, but said he believes more people will file their nomination applications before the deadline on May 1. The party wants to have a candidate in place well before the byelection is called to give them as long as possible to campaign, he said.
Kwan declined to comment on the fee, saying she wants to stay out of the byelection discussion completely.
Berner said that if the party really wants to encourage nominees to fundraise, it should give them more time to show they can organize and raise money. The fee favours people who can easily put their hands on cash, and sends the message that "if you don't have money, you're not really a serious person," he said.
Mark said she's been encouraged to run, but that she's not the "handpicked" candidate some have imagined. "I think it's interesting people are suggesting the party wants me to run. The truth is I want to run."
She said she has deep roots in the riding. She was born and raised in Vancouver, her mother Nisga'a and Gitxsan, and her father Cree and Ojibwa. "I grew up in the projects," she said. "I grew up in poverty with a single parent, and I think that story resonates for many people."
Mark worked for eight years in the office of the B.C. Representative for Children and Youth, where she says she learned that "vulnerable families need back-up. They need an advocate to help them navigate the system."