"Our bus is coming soon," says Mary Lyn Diana as she breezes through the sliding automatic doors of the hospital, her navy blue housekeeping uniform insulated under a pink winter coat. It's 11:35 p.m. and the 5 degrees Celsius chill is forecast to drop to freezing within hours.
We walk to the nearest bus stop with three of her scrubs-clad coworkers. Diana leans out into the empty street, craning to see if the first bus of her trip home is on time. When it arrives, the driver smiles as he recognizes familiar faces.
For 96 minutes on Monday, The Tyee joined Diana, a 47-year-old single mother, for her weeknight odyssey home from Vancouver's west side to Surrey. She asked that we not identify her employer for privacy reasons.
The first leg of Diana's journey takes nearly 15 minutes on a mostly empty bus. The half-dozen passengers are wearing hospital scrubs, save for one woman engaged in polite debate with the driver over what she calls "spending waste" by TransLink, the public agency which coordinates transit in Metro Vancouver.
Late-night public transit is a key point in the proposed $7.5-billion regional transit plan going to a vote later this month. According to the Mayors' Council, which spearheaded the plan and is leading the "Yes" side of the plebiscite vote, the plan would add 20,000 hours of bus service to the 12 existing NightBus routes, which serve riders after the SkyTrain closes. It's an 80 per cent increase, with the potential for new routes in future.
After ballots are mailed out beginning March 16, Metro Vancouver voters will have about two months to decide if they favour the creation of a 0.5 per cent sales tax to fund the plan.
Port Coquitlam Mayor Greg Moore, spokesman for the council, says many people have the impression that late-night riders are all downtown partiers. "But there are also people that work late at night, whether at the airport or downtown in our town centre areas," he says. "Maybe they're lower income, and they have to work late at night."
According to the most recent data available, 576,000 passengers boarded a NightBus in 2013, a slight increase from 2011. With car ownership unaffordable, transit is the only option for many late-night shift workers. Pulling in about $1,800 each month from her full-time job, Diana is one of them.
"I'm trying to save some money, but it all goes to transportation," she says.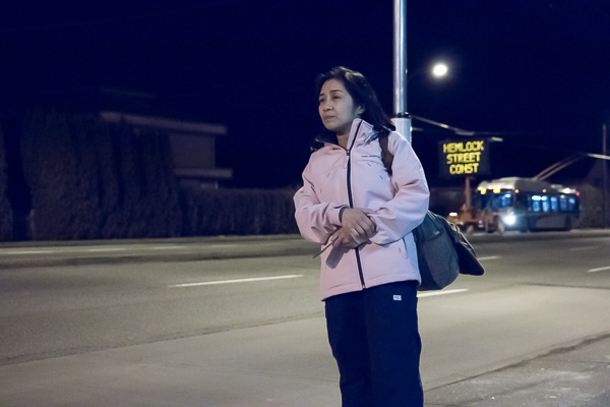 Diana's nightly journey home involves two buses, an often-crowded SkyTrain, yet another bus, and culminates in a 10-minute walk down dark streets. But her commute is far from unusual. Thousands of the region's residents endure similar late-night odysseys, and any of them could potentially benefit from more frequent service if the transit plan is approved.
12:04 a.m.
Our second bus of the night, the 99 B-Line eastbound on Broadway, is almost full on boarding. Diana snags one of three free seats. It's often standing-room-only, she says, especially on a weekend or if there's a sports game on.
We get off at Commercial-Broadway Station in east Vancouver. Nightly track maintenance on the Expo/Millennium line SkyTrain has shuttered one of two tracks for weeks now, adding significant delays. Because buses run much less frequently at night, Diana notes that such delays -- or occasionally trains so crowded she can't board -- are a game-changer for her commute.
"If you miss the train, then you're going to miss the next trip of the bus too," she says.
Indeed, after we board the train, an announcement informs us of maintenance delays lasting "several minutes." We wait five. Will we make the next transfer of the trip when we reach Surrey?
Forty minutes later, our SkyTrain arrives at Surrey's Gateway Station. The emptiness of the streets is jarring as Diana walks under a bleak concrete overpass. She's approached by an older man asking something inaudible. A young woman in a one-piece animal costume stumbles over and lingers as Diana speaks to one of five waiting taxicab drivers. Their presence is a welcome sight, the only people keeping watch over those outside the station.
"Sometimes when I get off the train, there are no cabs here," she says. "There are lots of people on drugs... it scares me when they come up to me, I don't know what they're doing."
The last No. 335 bus of the night, which heads towards Diana's home, leaves at 1:17 a.m., more than half-an-hour away. The penultimate bus leaves at 12:45 a.m., but it has usually departed by the time she arrives at the station.
Diana stopped riding the 335 years ago, however. One night, she was walking the final 10 minutes home from the stop nearest home and a car rolled up behind her, slowing to a crawl and keeping pace with her footsteps.
"He was following me," she recalls. "My instinct was to ask, 'Why isn't he passing by me? Why is he driving beside me as I walk?'... Maybe if he had a chance, he could grab me."
Since then, Diana hasn't left anything to chance. Despite her humble full-time income -- and despite her many expenses, including a teenage son to feed, student loans, rent, and a $170 three-zone monthly transit pass -- she usually phones a taxi three SkyTrain stops earlier so it's there when she arrives. "It's safer for me than standing there waiting for the next cab."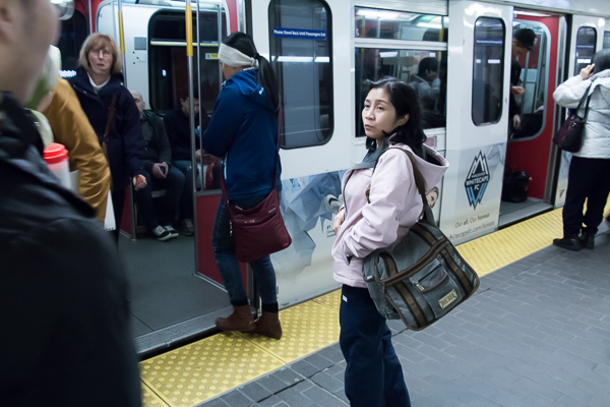 Averaging $9 per trip, Diana spends at least $180 every month on taxis in addition to her three-zone transit pass, totalling nearly 20 per cent of her income.
On this particular night, because she's not alone, Diana agrees to wait for the 335 bus. Within moments, it pulls up.
12:52 a.m.
For our driver, it's the last route of his night. There are only two other people on board as we depart Gateway Station. After 10 minutes, we disembark in an intersection dimly bathed in yellow streetlight. After a block, Diana stops in the middle of the dark road. It's here, she says, where the strange man terrified her in his car.
The light is on at home, and Diana's son waits at the door. We arrive at exactly 1 a.m., more than 1.5 hours after setting out.
For Diana, more late-night bus routes that run more frequently would make her feel safer and save her the taxi fare. She wonders whether other people face commutes as long as hers. "I wonder if they take cabs too?"
For the Canadian Taxpayers' Federation's Jordan Bateman, who is spearheading the "No" campaign, the "devil's in the details" as to who would benefit from increased late-night service.
"We all want people who work late to get home safe," he says. "The question I have is, if you're running a NightBus with one or two people on it regularly, is it cheaper to do that by taxi?"
He suggests giving regular night-riders a subsidized taxi voucher instead. To some, that would amount to the privatization of public transit. But to Bateman, it's about making the best "business case" while ensuring maximum transit coverage.
Diana prefers the idea of more night buses that run more frequently. But it's unclear whether any of the 20,000 new NightBus hours would help her, since the mayors' plan only describes boosts to "high-demand" NightBus routes, primarily those serving the University of B.C. and Burnaby/New Westminster.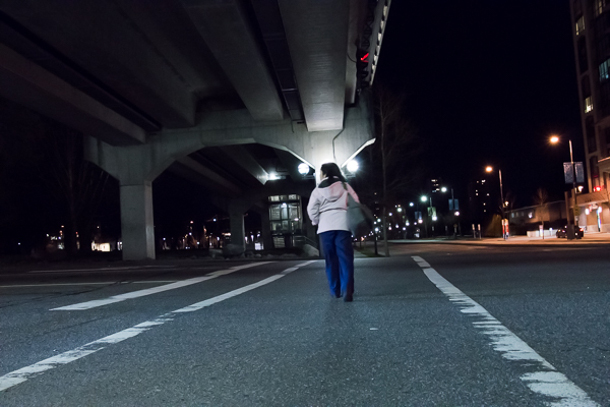 The latter route, the N19, is the system's busiest, with 100,000 riders boarding every year. By contrast, Diana's No. 335 may or may not get a boost.
A Mayor's Council spokeswoman refused an on-the-record interview with a staff person familiar with the proposed NightBus changes, saying the matter is "political now."
So how will Diana vote in the plebiscite? She says increased late-night bus service would certainly help many people in her situation. But introducing a sales tax to pay for it gives her pause.
"I don't earn that much, so it's expensive already. If you added more tax on to what I buy, for me that's adding to my expenses," she says.
Finally home in her Surrey basement suite, Diana slumps onto the couch in her tiny kitchen.
"When I get home, I'm really hungry," she says, as she reaches for a Filipino bun baked with onions in the crust. She closes her eyes. "I'm also just tired from my long trip."