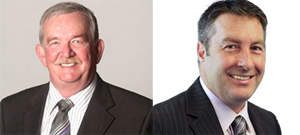 [Editor's note: In this second of four pieces, The Tyee's Bob Mackin looks at the issues and personalities in key municipal races.]
THE PLAYERS
Incumbent mayor Derek Corrigan is seeking his fourth term as mayor of Burnaby. Corrigan is the leader of the NDP-allied Burnaby Citizens Association, and husband of NDP caucus vice chair Kathy Corrigan. He was first elected to city council in 1987.
His main challenger is Daren Hancott of the Burnaby First party. Previously, Hancott considered a run for the federal Conservative nomination in the Burnaby North-Seymour riding, but took a detour into the civic arena. He is the former chairperson of the B.C. Chamber of Commerce and was chief administrative officer at University Canada West, a private post-secondary institution.
In 2011, Corrigan beat rival Tom Tao by nearly 20,000 votes, although most of Burnaby's 146,123 registered voters stayed home.
A third candidate, Sylvia Gung, who ran for mayor in 2011, is taking another stab in 2014. Gung ran an unorthodox campaign, which included banning election campaigns, abolishing the school board and forbidding kissing and holding hands in public. She took just 850 votes in 2011.
THE ISSUES
It will be a tough task for Hancott to topple Corrigan in a municipality where citizens are relatively happy with their city government, according to an Insights West poll.
The survey, conducted Sept. 24 to Oct. 5, said that respondents rated their satisfaction level at an average 6.8 out of 10. The regional average is 6.3.
The poll found that 21 per cent of voters in Burnaby cited housing as the top issue. However, Corrigan has said there is little more the city can do to create more affordable housing.
Hancott, Corrigan's main challenger, has sought to embarrass the mayor for the large golf fees -- more than $5,700 -- charged to Burnaby taxpayers using the city's complimentary pass system.
Hancott has also promised to hire an economic development officer and lobby for provincial funding to rebuild Burnaby's aging hospital.
Corrigan, meanwhile, has focused his campaign on fighting Kinder Morgan Canada's plans to expand its Trans Mountain oil pipeline, which runs from Edmonton to Burnaby, the site of Kinder Morgan's Westridge marine terminal.
Both Corrigan and Vancouver Mayor Gregor Robertson oppose the proposed expansion, which would increase tanker traffic in the Burrard Inlet.
Meanwhile, a series of pro-pipeline TV ads, paid for by Kinder Morgan, stirred controversy during the civic campaign.
Critics, who say the pipeline is an election issue, accused Kinder Morgan of attempting to sway voters with the ads. Under Elections BC rules, parties that run ads on an election issue must register as a third-party advertiser.
However, Elections BC ruled that Kinder Morgan's TV ads do not meet that definition of election advertising.
Kinder Morgan Canada president Ian Anderson said part of the reason the company ran the ads was to counter Corrigan's anti-expansion campaign.