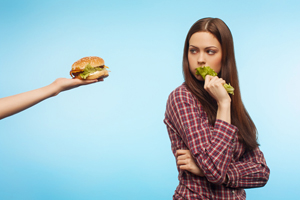 [Editor's note: This is the final story in Grow, Eat, Learn: School from the Plate Up, a Tyee Solutions Society series in which reporter Katie Hyslop visits farms, schools, full-length mirrors and our own kitchen cupboards to examine how we lost our way when it comes to feeding our kids, and how we can get back on the path to wholesome, healthy eating. Find the entire series here.]
When Zach Bergman was growing up, the politics of food was dinner table conversation, often led by his mother over a meal his father had cooked.
Savanna Todd had a different experience with food. Although good health is important to her mother, as are the food traditions associated with their indigenous heritage, for most of her childhood her family depended on welfare, community gardens, and the food bank to keep fed. Even today, with her mom's career off the ground, they still struggle, living in an apartment with no oven and one working burner.
Savanna and Zach had very different upbringings around food, but they and the rest of us share this common theme: from the price of cheese, to the living conditions of cows, and the country both come from, what's on grocery store shelves and what we choose to buy are heavily influenced by food politics.
Anyone who has tried to buy unpasteurized milk in Canada knows what it's like to come up against the wrong side of the political line over food. But perhaps no other group has more of their food decisions made for them than youth.
Parents decide what to feed kids while they're at home, the government decides what they are served at school. When they finally get some allowance money, foods within their budget are usually processed, formulated for and marketed directly to their age group, like Doritos or Pizza Pockets.
This could lead adults to conclude that kids would never be smart enough to choose nutritious foods on their own. They haven't met Zack, now 19.
"I think youth fit into the [food illiterate] stereotype only because the stereotype exists as a way to oppress them," he said. "Of course they're going to eat bad food, because they're told they eat bad food."
Youth like Zach and Savanna may have an advantage over some of their peers. While a few teachers may tackle the pros and cons of food-related issues like industrial farming, global trade, and genetically modified organisms (GMOs), they're not a mandated part of the provincial curriculum.
Zach and Savanna were exposed to those concepts and more at the Purple Thistle, a youth-run community arts and activism centre in Vancouver's Grandview-Woodland neighbourhood.
Based on the theory of "deschooling," which holds that kids don't need brick building or a teacher to learn life's important lessons if they have the freedom to pursue their curiosity, Purple Thistle helps kids explore their own interests in depth.
"Kids deserve the dignity and the respect to run their own lives and be trusted to do so," said Carla Bergman, co-director of the Thistle, and Zach's mom. "Those ideas run through a lot of the principles here [at the Thistle]."
Freedom to choose
Like most of the ideas, projects and programs at the Thistle, it all circles back to food: preparing, eating, and lots of discussing of food.
Carla is currently working on a book about food with a few Thistle members -- of the roughly 30 core members, and almost 200 youth that use the space -- which they hope to publish by spring. "[It's] a primer for youth about food, food politics and food literacy, but we want it to really look at these philosophies of mutual aid, generosity, autonomy, ageism and choice," she said, "and food as a commodity and what that means."
Savanna and Zach both started post-secondary programs this September and are too busy to participate in the book project. But when they sat down with Carla and the Tyee Solutions Society in early September to talk about food literacy and politics, it was clear both would have had a lot to contribute on those topics.
Trying to describe his food knowledge before joining the Thistle, Zach reasoned himself into a philosophical corner more sophisticated than many adults would expect to hear from a young person.
"Food's a complicated one for me, because I've been raised around good quality food," he said, struggling to articulate what "good food" meant to him, without imposing the "fresh, local, organic" holy trinity of many progressive foodies on others. "I never know how to think about it without coming off as shaming."
"You're thinking about your privilege in terms of not wanting to make people feel bad if they have to eat at McDonald's every day," Carla suggested.
"Yeah, that's right," Zach nodded, visibly relieved.
Zach's point of view is not unique in Carla's experience. Topics covered at the Thistle's regular meetings range from poverty to race, class and disability, but they always come back to food and the huge role it plays in young lives.
"The biggest piece is about autonomy, about not having a say," she said. "Asking youth what they eat is sort of a set up, because they don't have a lot of autonomy, so the answer is usually not grounded in anything real."
For many, food "is one of the first ways we get radicalized," Carla added, "because it's something we can change ourselves." She gave as an example the prevalence of teenage vegetarians and vegans.
Food rebellions
Carla estimates up to one-third of the Purple Thistle's members have gone through or are going through some type of "deschooling" or unschooling, like taking classes outside of the public school system or receiving home-based deschooling. But Thistle operates at night and is open both to kids in the public system and in post-secondary institutions, which account for the majority of its members.
Neither Zach nor Savanna are really kids anymore. But they are keenly aware of the "food illiterate" stereotype imposed on their age group and those younger. They've been bucking it for a long time.
Carla remembers an early battle when Zach chose to abandon the vegetarian diet she'd raised him on. "I was vegetarian and Zach was vegetarian, but then when he was nine Zach decided he didn't want to be a vegetarian anymore," she recalled. "So food has always been a conversation about how we negotiated our shared spaces [at home]."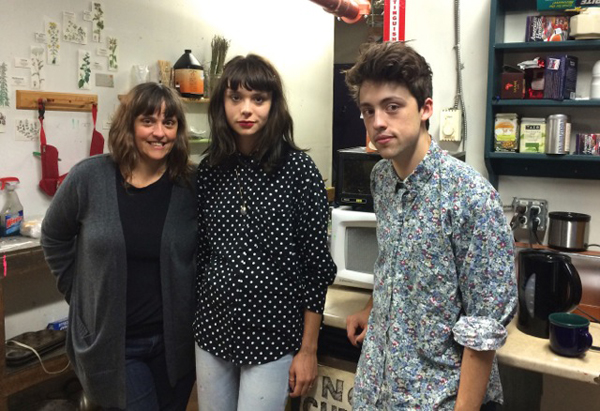 Savanna didn't rebel against her family's diet; it rebelled against her. At age 13, she started developing allergies to gluten and milk.
"My mom has always really been into health, but it was an interesting contrast because she had these ideals and she had these things she wanted for me, for both of us," she recalled. During growing season they had access to fresh produce from East Vancouver community gardens, and shared food with friends, family, and neighbours. But financial dependence on welfare and the food bank whittled away at their grocery options in the off season.*
Savanna believes her allergies are related to the cheap food they ate during that time.
"Food banks mostly had things that involved wheat," she recalls. "So it was a lot of perogies, breakfast cereal, things like that. And whenever we treated ourselves, it was to pizza because that's what was available."
'Around the dinner table, friendship blossoms'
While childhood experiences -- and in her case physical needs -- have informed Savanna and Zach's food philosophies, so have their peers at the Thistle. Because access to the centre and its programs is free, the Thistle attracts a lot of marginalized youth whose relationship to food varies as much as their access to it.
Both Savanna and Zach have served on the Purple Thistle collective, a volunteer group of a dozen or so youth who fulfill staff duties at the space and participate in decision-making. In addition to other duties required to keep the Thistle running smoothly, food prep plays a big part in the role.
"At collective meetings, one of the tasks people will claim each week is who is going to do food," Savanna explained. Because the Thistle's space doesn't even allow a hot plate let alone a full kitchen, collective members take turns cooking, usually with help from other members, at someone's home, and bring food to the meeting.
Quest Food Exchange (which redirects food that grocery stores would otherwise throw out), Terra Breads and Discovery Organics, all donate food to the Thistle.
"Because there's different people on the collective each year and they all have different skills and know how to make special things, you get different [dishes] all the time," Savanna said. "So you're constantly trying new things."
When members become responsible for feeding everyone, they also quickly learn about each other's dietary restrictions, or food politics. "There's definitely a lot of togetherness there that comes through [eating together]," she added.
Eating together is one of the principles of "deschooling," Carla added. Ivan Illich, regarded as the founder of deschooling philosophy, she recalled, "talked about the importance of eating together. He said that it is around the dinner table that friendship blossoms."
Causing food literacy to thrive
As might be expected when strong opinions are shared, food politics have caused issues within the collective. Recently, dumpster diving to retrieve food thrown out by stores became a contested subject after some members spoke out against anyone who purchased food.
"There was a value placed on people who didn't dumpster dive," Carla said. For some who did, it was in reaction to how much food stores throw away; others, it was a necessity because they can't afford to buy food.
"We had a good conversation about class and poverty and how for some people who come from a poverty background [dumpstering] can be really triggering," she said. "There's a lot of shame around dumpster diving for some folks on the collective. So we've had some big conversations about how our politics intersect with other oppressions."
Neither Savanna nor Zach consider themselves particularly food literate, but their knowledge suggests they're being modest.
While Savanna copped to not knowing as much as she'd like about food procurement and preparation, she often engages friends in discussions about food restrictions and choices when she hears criticism of her own gluten-free or other non-conformist diets.
Zach speaks eloquently about a variety of food philosophies, identifying flaws in most of them. Just being aware of where your food comes from doesn't mean anything, he points out, if the way we eat stays the same.
"We rely on way too many unstable ways of procuring food," he said, pointing to the environmental impacts of globalized food trade. "Humans are a little too lazy, I find, and a little too swayed by the easy way out, which is the way [it is with food] right now. When the instability reaches its limit, and we can no longer ship food and people start dying, then we've got to start working at something."
That something could be "grow-your-own," although neither Zach nor Savanna claims a particularly green thumb, or the space to apply one in Savanna's case. Purple Thistle has a community garden, but they admit they're both too busy with other projects to pick up a trowel and dig in.
Savanna has participated in a farm camp that the Thistle holds each year on Cortes Island in co-operation with Linnaea Farm. "I was really proud of myself," she laughed. "I got to try harvesting zucchinis and I had this giant knife and I was just in my boxer shorts, so I got cuts all over my legs. But it was an experience -- I didn't know what zucchinis actually looked like before they got picked.
"It was my first experience with anything like that and it was so, so nice."
Joining the Thistle isn't the only way for youth to pick up some food literacy. But Carla, Zach and Savanna do maintain that overcoming parental fear that kids will automatically make unhealthy food choices, and giving them the freedom and support to make their own choices, is the only way for it to thrive.
Find the series "Grow, Eat, Learn: School from the Plate Up" in its entirety here.
*Story edited for clarification.