[Editor's note: In this ongoing series, Grow, Eat, Learn: School from the Plate Up, Tyee Solutions Society reporter Katie Hyslop visits farms, schools, full-length mirrors and our own kitchen cupboards to examine how we lost our way when it comes to feeding our kids, and how we can get back on the path to wholesome, healthy eating. Find the series so far here.]
On a sunny but blustery late May morning, Doug Palylyk's Grade 4/5 class begins in an atypical classroom: a greenhouse on the University of British Columbia farm, 24 hectares of land located on the south end of the Point Grey campus.
Seated four or five students to a picnic table, arranged in two rows, each group also has two "farm friends": adults, some with farming experience, some without, who volunteer to help the students plant and manage their own small vegetable gardens.
Today, they're all going to visit one of the farm's active beehives and are getting a crash course on the busy bugs. But it's pretty clear from the beginning that the students already have the buzz on bees.
"How do you guys think we should talk when we approach the hive?" asked Nicole Read, a 20-something woman sporting a straw hat and black T-shirt with cartoon bees and "whisperer" printed underneath.
Hands shoot up. "Quietly," responds the boy she picks. Why? "Because if we talk too loudly it might bother the bees."
"Where do you guys think we should stand when we're around the hive?" Read asks.
Before she can pick a hand a student pipes up: "Not in the bee highway!" All the adults laugh with delight and surprise.
"What, may I ask, is the bee highway?" Palylyk prods, smiling.
"Where the bees come in and out, in and out," comes the singsong reply.
This is the class's seventh trip to the farm this school year, and every trip is followed by a farm-related science lesson back at Graham Bruce Community Elementary. The last class was all about the important pollinators.
Bees aren't a mandatory part of the Grade 3 and 4 curriculum in B.C., and while plant reproduction is taught in K-12, it's not often done in a way that sticks, according to Jolie Mayer-Smith, co-founder of the Intergenerational Landed Learning on the Farm Project that Graham Bruce participated in at the UBC Farm last year.
"People know shockingly little about plants: they don't know how they grow, they don't know what they need, they don't know that if you pull the flowers you're not going to get any fruit," Mayer-Smith said. It's that lack of knowledge, she added, that leads people to disrespect plants, allowing industrial food production to flourish despite the high toll it often takes on the environment and our health.
In fact, as part of their participation, Palylyk and other teachers involved in the program must create lesson plans to complement the students' participation in the year-long program designed to bring elementary students together with adults of varying ages to learn how to grow, harvest and cook food.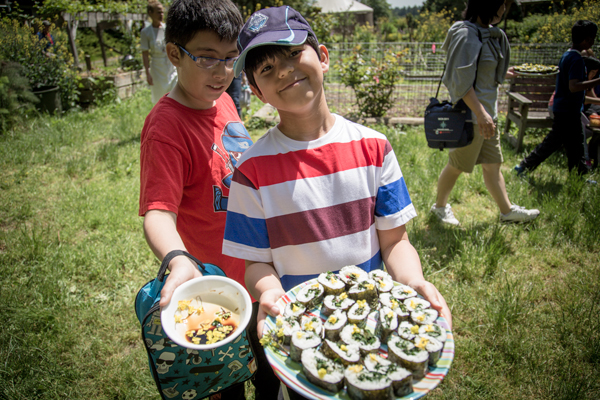 "It's a cutting edge program for kids," Palylyk said of the Intergenerational Landed Learning on the Farm Project. "It's all hands-on. The science they learn out there in the open-area classroom is phenomenal." Palylyk has participated in the program for six of the eight years Graham Bruce has been involved.
Lessons obviously include pollination, but also plant life cycles, healthy soil, the water cycle and the impact on the environment if humans don't respect it. Plus, they get to grow and cook their own food.
"Learning that food comes from beneath your feet, in the soil, that's a surprise for children," said Mayer-Smith. "It seems obvious, but a lot of these children have only seen food that comes in from the grocery store."
Planting the seeds
After the bee presentation, the groups split up with four heading into the farm's Children's Learning Garden to tend and harvest veggies for lunch, and three groups heading off to the hive. There are bee jackets and hoods for students if they want the extra protection -- most do -- and in groups of three or four they calmly approach the hive.
Because it's windy, Read isn't certain the bees will come out, but they don't disappoint: a few dozen fly around students who buzz with nervous excitement.
Student Gaston Ibarra competes with a classmate to see who is the bravest, sticking their arms out for bees to land on. His classmate isn't wearing a beekeepers' suit, but that's where Ibarra draws the line.
Before participating in Landed Learning, he had seen a farm from a distance, but never visited one. All Ibarra knew about plants was they needed water, sunlight and air to grow.
"I didn't know about spacing and depth [of seeds]," he said. But that's all changed now: "I've learned several types of plants, and how many [different meals] you can make with plants."
The list has included smoothies, salads and kale sushi, which every student must help make for the rest of the class using vegetables harvested from their garden plots. Making a meal was a first-time experience for Ibarra.
Intergenerational Landed Learning brings students to the farm 10 times over a normal school year, starting in September when they observe the growth and harvest of gardens planted by the previous year's class.
After a two-month break in the winter, the "farm friends" visit Graham Bruce in February to help students plan their gardens. The students spend the rest of spring until June planting and tending their plants, and harvesting some of the early maturing crops while leaving the rest for next year's class.
During the summer break, a camp started by the Landed Learning Project, but now run by the UBC Farm, tends to the gardens to make sure they fruit in the fall.
This is the 12th year the project has run in a handful of Vancouver elementary schools, starting with a private girls school and eventually moving into public schools. There were four public schools involved in the program last year, and four are again lined up this fall.
It isn't just about growing and eating food, said Mayer-Smith, a professor in UBC's curriculum and pedagogy department in the education faculty. It's also teaching kids why to care for your environment, and how to do it when procuring food. "We're trying to help them make informed decisions about food," she said.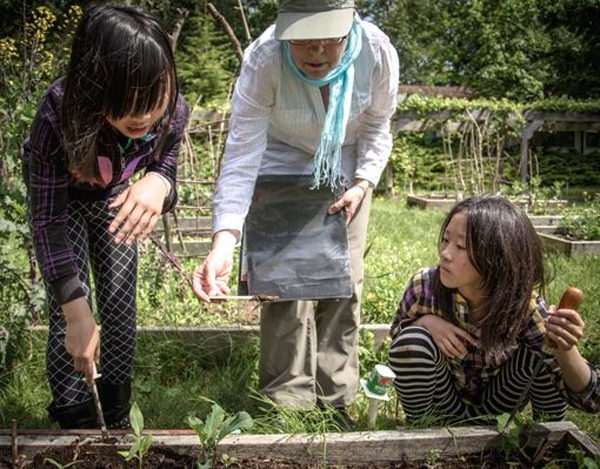 Those are lessons that take a full year to impart, and sometimes even that isn't enough time. UBC education students have been researching Landed Learning's successes and failures, following up with teachers, farm friends and former students about their experience. Six years after the project began they discovered that kids from York House, the first school that adopted the program, hadn't connected it with environmentalism.
That led to more emphasis on the environment now, but Mayer-Smith acknowledges that changing kids' food choices for the long run could be even harder.
"It's not easy to change a culture of attitudes towards food, and I think here we plant seeds [in their minds]," she said, recalling one student who began the project refusing to eat anything that came from the ground.
"Talking to kids later on in their lives is really important," she suggested, "because you aren't going to see the fruits of our labour until quite a bit later."
Mentorship matters on the farm
Parents, however, are already reporting positive results: kids are asking for more fresh fruits and vegetables at home, and commenting on how different -- and much better -- fresh food from the garden tastes compared to grocery store produce.
Some parents volunteer with the project and Mayer-Smith would like to see more. But she knows that's hard, since the majority of the schools involved are on Vancouver's economically vulnerable east side.
The focus there was a matter of choice for Mayer-Smith and the project's co-creator, Linda Peterat, a retired professor in home economics education. They believed less privileged kids would benefit more from exposure to farming and cooking skills.
From student research they also learned that having an older mentor has profound benefits for kids and the mentoring adults. While the farm friends had originally been retired farmers to provide farming skills, today the project takes anyone who can volunteer the time to mentor students.
"[Research revealed that] the closer the relationship between the children and the farm friends, the more the children were excited by the project," Mayer-Smith explained. "[The farm friends] tell us that a lot of them learn about the environment, but a lot of them learn about children and they make a close relationship with children. So it combats ageism."
Teachers play a "huge role" too, she added, "in how the children value [the project], are prepared for it, work with the farm friends, make connections to what it is they're learning, and take that connection back to the classroom." Palylyk does this well, and kids at Graham Bruce can't wait to get into his class because of it.
But that hasn't been the case with all teachers, and as a former high school science teacher Mayer-Smith acknowledges that teaching in a garden is hard, takes a lot of time, and isn't for everyone.
The project's research has shown it can take three years for teachers to do this well, so they stick with the teachers that get it -- and their schools -- until the teacher retires.
"Originally, we thought we would work with a school for just a short time and then rotate new schools in," she said. "Then we realized that the [relationship with] that teacher and with the school takes a long time to form."
'Food is a system'
It isn't possible for every school in Vancouver, never mind B.C., to take part in Landed Learning. There isn't the space, money or time to make that a reality. But you don't need access to a farm to reap the rewards: all you need is a school garden.
Palylyk started his class's school garden at Graham Bruce about six years ago, two years after Graham Bruce became involved with Landed Learning. Although Palylyk's class tends the garden and uses it as a learning tool, other educators utilize it too. Education assistant Caylan Piper, for one, depends on the garden for tactile learning with a special needs student.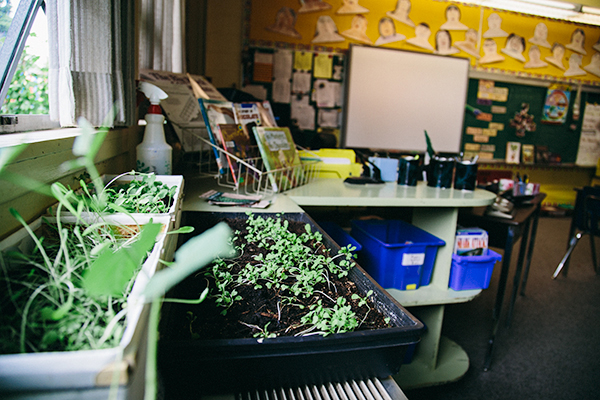 "We tend to water the garden and before school we weed the garden," said Piper. "He uses it as an opportunity to socialize with other kids and he really enjoys playing with sand, so getting him away from that and into other skills is good."
The Vancouver district doesn't know how many schools have gardens, but many that do had assistance from another UBC initiative: the Think & Eat Green @ School program.
Begun as a way to incorporate food security into the curriculum of local K-12 schools, Think & Eat Green provides funding -- through government and academic grants -- and the expertise of undergrad students, to start food gardens at schools, while teaching teachers and students how to seed, tend and harvest the gardens. The whole process demonstrates that "food isn't just food. Food is a system," said Alejandro Rojas, principal investigator for Think & Eat Green.
"It's a system that begins in the soil, that impacts the air, the water; that continues with transportation [of the food], and has economic dimensions. It affects the health of the people and the biological communities that sustain us," he explained, adding the cycle of food runs from seed to food waste providing the necessary conditions for new food to flourish.
"People often talk about 'from the farm to the table,'" Rojas observes. "For us, that misses the entire other half: from the table back to the soil" through composting.
Moving to Toronto
Think & Eat Green's initial goal was to create and maintain 12 school gardens and report back to their funders on the benefits to children's education. Today it assists with almost 40, ranging in size from a few raised beds to a fruit orchard occupying several acres of school property.
Land and food systems undergrad students also visit schools to talk with students about food security and eating local. During the summer break, the undergrads and some high school students maintain some of the gardens, making sure they're still growing by the time school starts up again.
In a video for Think & Eat Green, the Vancouver School Board's sustainability co-ordinator Kevin Millsip notes that several schools already had gardens before they partnered with Think & Eat Green @ School in 2009. "What we needed was the expertise, the capacity, the understanding of how to support that interest and essentially cultivate it," he said.
That's where Think & Eat Green came in. Since 2011, the program has held an annual three-day summer institute for teachers hoping to incorporate school gardens and food literacy in their lesson plans. Workshops, plenaries and "hands-on, experiential activities," cover all aspects of the food cycle, as well as skills in using the garden as a classroom and even 21st century pedagogic tools like digital storytelling.
In 2013, the institute started accepting youth leaders as well as teachers, in an effort to get more high school students involved in gardens and food awareness in their own cafeterias.
The 2014 summer institute was cancelled out of respect for the teachers' strike, but organizers hope to host a winter institute over two Saturdays and a professional development day now that the strike is over.
Teachers and students don't have to be from Vancouver to take part, and out-of-town participants are spreading the Think & Eat Green @ Schools' concept province-wide. The program itself isn't expanding anytime soon, however.
Rojas retires next March. With no UBC colleagues available to take over as principal investigator so far, Think & Eat Green's future hangs in the balance. Everyone involved in the project, from its 32 UBC and community co-investigators, to the school district and community organization partners, appears to want it to live on after spring 2015. But that will take new funding, which organizers are in the process of applying for.
There will be plenty left to do: Think & Eat Green only operates in 40 of the Vancouver district's 108 schools, and considers just 32 of those 40 involved enough with the project to be labelled Think & Eat Green schools.
The project's academic co-investigators have also begun a partnership with Ryerson University, the Toronto School District and Toronto-based non-profit agency FoodShare, to exchange ideas. Vancouver is keen to adopt Toronto's practice of locating gardens on school rooftops, alongside the solar panels that supply extra energy the Ontario district sells to the power grid. In turn, Toronto is interested in emulating Vancouver's school district partnership with post-secondary institutions to the benefit of students from both systems.
"My hope is by the time I'm retired these things will be in place," Rojas said.
Stewards of the land
Back on the UBC Farm, Grade 5 student Ziya Bhatti is showing off the plot that her group -- nicknamed "The Sunflower Senoritas" -- has been tending all year. When she started the program, Bhatti hadn't seen a farm before, but she had helped her grandparents tend the family garden. Still, Landed Learning has opened her eyes to new skills, knowledge... and foods.
"[Cilantro's] my favourite," she said, pointing out the part of the plot dedicated to the herb, which she'd never heard of before. "It tastes so good. When you eat it, it tastes like nothing, but then it leaves this oniony taste in your mouth."
Even foods she already liked were given new life once she made them herself, like baking the pumpkin pie that Bhatti described as "a once-in-a-lifetime experience."
She didn't know it at the time, but it would be Bhatti's last trip to the farm for the year. The teachers' strike pre-empted her class' last three farm visits. But the seeds of sustainable food awareness were already planted in Bhatti's brain: she plans to introduce her parents to the new foods she's tasted, and wants to start growing her own food.
Mayer-Smith has seen over 800 kids like Bhatti get excited by the new foods and new experiences they have on the farm. But that chapter is coming to a close as she, too, is retiring after a dozen years leading Landed Learning.
Sandra Scott, another professor in the department of curriculum and pedagogy specializing in science -- and Mayer-Smith's former doctoral student -- will be taking over as director this month. And now that the project has a permanent home in the faculty, something Mayer-Smith has wanted since the beginning, she will also stay on as an advisor.
The program she helped found has flourished. Intergenerational Landed Learning expanded to the Okanagan Science Centre five years ago, working with a private school in Vernon. Now the Landed Learning team wants to double the size of the UBC Farm Children's Learning Garden to take on more Vancouver schools.
But that's up to the people running the UBC Farm. Landed Learning and its participants, as Mayer-Smith acknowledges, are only passing stewards of the land, tending gardens that will be reaped by future students and hopefully future generations.
It's the message Landed Learning and Think & Eat Green are trying to implant in every participant: we're all stewards of the land. And while we work to provide healthy food for ourselves today, we're also responsible for ensuring the next generation has that opportunity, too.
Monday: Does Canada's Food Guide offer the best information for keeping kids healthy? Or is it time to look elsewhere?