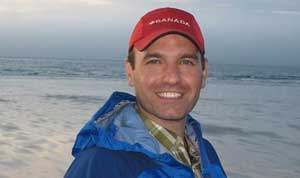 Banning supertankers from the North Coast of British Columbia is one way to avoid potential conflict or environmental hazards related to the proposed Northern Gateway pipeline, says a New Democrat MP from the province.
Finance critic Nathan Cullen tabled a private member's bill Tuesday that if passed would not only ban oil tankers from the province's North Coast, but also force a more thorough consultation with communities to be impacted by such projects in the future.
Cullen represents the Skeena-Bulkley Valley, a geographically massive riding in B.C.'s northwest that is right in the pipeline's path on its route to the Douglas Channel before heading overseas aboard oil tankers.
"This project is fraught with peril," Cullen said. "These are some of the most tempestuous waters in the world."
Cullen told reporters on Parliament Hill that the pipeline is politically toxic with the majority of residents rejecting it, and said he is deeply concerned about future conflicts if it is "forced" through.
The pipeline was approved with 209 conditions in June.
'Not all pipelines equal'
The BC NDP's loss in the 2013 election was partially blamed on the party's initial opposition to Kinder Morgan's Trans Mountain pipeline, which terminates in Burnaby.
Then-BC NDP leader Adrian Dix spoke against the pipeline, then in favour of it after some labour groups and party backers voiced concerned over his opposition.
But Cullen said the bill is more specifically directed at the Northern Gateway pipeline and did not lump it in with other projects, insisting labour groups in the north are opposed to the project.
"Not all pipelines are created equal," he said. "Other communities will debate other pipelines."
With the recent Tsilhqot'in decision granting title of a parcel of land in B.C. to the First Nation, passing the bill would save taxpayers money, Cullen said. Otherwise, he said the government will spend money fighting court battles it knows it "is going to lose again and again."
The bill would not affect LNG tankers.
Liberals happy to see 'discussion'
Federal Liberal critic for natural resources Geoff Regan said his party has been advocating for some time for a stronger consultation process for such projects.
"The government has not been engaged in it," Regan said. "If you talk to First Nations, I think they'll tell you they want government to consult with them in a much broader way, in a much stronger way than it currently is."
He said he also believes it is a "bad thing" to have tankers in the waters off northern B.C., but would not directly divulge if his party would support the bill.
He said the Liberals will "be happy to have the discussion" about the proposal, agreeing with Cullen that it is a "bad thing" to have tankers in the area, pointing out the Liberal government imposed a moratorium on them in 1971.
Markus Ermisch of the Canadian Association of Petroleum Producers said his organization disagrees.
"Transport Canada announced measures in May 2014 that are designed to ensure Canada's already robust marine tanker safety system is world class," Ermisch said in an email. "These measures will help ensure oil and natural gas products continue to be transported safely in Canadian waters, even with increased traffic."
The new measures included updating Canada's marine navigation system and building a more secure network for spill response.
Along with the regulations, the per-instance liability limit of $161 million was raised to $400 million.
Despite the increase, some community groups and citizens have said money is not the answer to such concerns.
Pipelines can harm BC economy: Cullen
It's those groups and citizens the NDP is hoping to sway in the 2015 election.
Cullen said accusations of economic impacts on B.C. are bogus, suggesting the real economic threat is to fisheries and tourism, among other industries, in the province.
"As it's proposed, this is a huge threat to the B.C. economy," Cullen said of the Northern Gateway pipeline. "That project going away is only a benefit to B.C."
He conceded the bill does have an element of election strategy to it, and said he recognizes the pipeline will be a major issue in the province in 2015.
According to Cullen, it will force Conservative MPs to choose between "political masters" in Ottawa or their constituents.
"They know what this issue is in British Columbia," Cullen said. "This issue is one that we're looking to change their minds on, and if they're unwilling to change their minds, then British Columbians will change their MP."