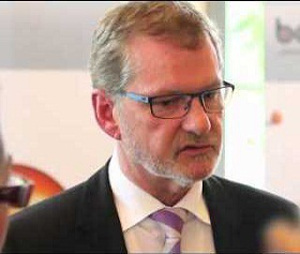 Emails obtained by The Tyee raise further questions about Michael Graydon's shift from heading the B.C. Crown corporation that oversees gambling to running the private firm that plans to build a casino beside BC Place Stadium -- a transition process that investigators for the province found put Graydon in a conflict of interest.
Graydon tendered his resignation as CEO to the B.C. Lottery Corp. board of directors Jan. 29, effective March 31. The resignation was accepted but the board gave Graydon until Feb. 4 to leave. Three days later, on Feb. 7, Graydon's hiring as president of PV Hospitality ULC was announced.
The joint venture of Paragon Gaming Inc., 360 VOX Corp. and Dundee Corp. is aiming to move Edgewater Casino to a new $535 million hotel/casino complex planned for provincial land beside B.C. Place.
The Ministry of Finance's Internal Audit and Advisory Services department found that Graydon had been in discussions with Paragon last December and January. It slammed Graydon, whose undisclosed interest in switching jobs to a BCLC-partnered casino company could "establish a reasonable apprehension" that it would influence his duties as CEO of the Crown corporation.
The report was also critical of the fact that Graydon continued to use his BCLC email account on Feb. 5 to 6, contrary to BCLC policy to terminate system access within one business day of an employee's departure.
Those emails, obtained by The Tyee through a Freedom of Information request, show Graydon was sent sensitive internal BCLC documents discussing how to manage the public reaction to his new job in the private sector.
Those talking points show that BCLC received advance notice that Graydon's hire by PV Hospitality UVC was about to be announced.
'Strictly confidential. Please do not forward'
PV Hospitality ULC published Graydon's hiring on Canada Newswire at 7:30 a.m. PST on Feb. 7. Just over 13 hours earlier, at 6:28 p.m. on Feb. 6, BCLC vice-president of communications and social responsibility Susan Dolinski emailed senior Crown corporation executives to warn them of the announcement. She attached a four-page briefing note which included sentences that also appeared in the Feb. 7 news release for PV Hospitality.
Dolinski's high importance email to "ALL-Senior Executive" was marked "strictly confidential -- please do not forward" and included 17 questions that BCLC anticipated reporters would ask and answers prepared for BCLC chair Bud Smith, the designated spokesman.
"Mr. Graydon will become the new CEO of PV Hospitality, an equal partnership between affiliates of Paragon Gaming Inc. and 360 VOX Corp. Paragon Gaming Inc. is the parent company of Edgewater Casino Ltd., BCLC's service provider at the Edgewater Casino," said the briefing note.
"BCLC understands that Graydon will be responsible for managing the implementation of a strategic business development plan that will see PV Hospitality identify and operate destination resorts. He will be involved in the delivery and marketing of the new urban resort which will house, among other amenities, Edgewater Casino."
The PV news release includes identical language to that found in Dolinski's memo. The third paragraph, for example, reads: "Graydon will be responsible for managing the implementation of a strategic business development plan that will see PV Hospitality identify and operate destination resorts in North America and beyond. His first priority will be oversight and operations of Vancouver's new world-class urban resort adjacent to BC Place."
The last paragraph reads, in part: "PV Hospitality ULC is an equal partnership between affiliates of Paragon Gaming Inc. and 360 VOX Corporation."
Graydon apologized later for being in conflict
The BCLC briefing note said "there are no provisions in public sector employment legislation or Mr. Graydon's employment contract that would preclude Mr. Graydon from working for PV Hospitality."
But as noted earlier in this story, Graydon was deemed in conflict of interest during his last two months on the job in the July 10 report to Finance Minister Mike de Jong, whose portfolio includes marketing and regulation of gambling.
Graydon, the report said, "was ultimately responsible for the oversight and management of commercial gaming and would be in a position to be able to influence BCLC interactions and approvals regarding their service providers."
While admitting no wrongdoing, Graydon responded with a public apology "that a perception of potential conflict was created."
A July 11 letter to Graydon from J. Kenneth McEwan, a lawyer for BCLC, said the board had agreed to pay Graydon $48,135.91 in salary and $35,656 in salary holdback through March 31. In the wake of the conflict of interest finding, McEwan demanded Graydon repay $55,171.20 as "redress for monies that were paid to you based on your incomplete or inaccurate representations." McEwan also asked Graydon to refrain from communicating with BCLC employees until after a Gaming Policy and Enforcement Branch review of his case.
BCLC announced Aug. 21 that it had received the sum, but Graydon was allowed to keep his $30,960 vacation pay.
The Tyee sought Dolinski's comment Aug. 26 and 27. Her assistant said she was in the office, but Dolinski did not respond to phone messages or email.
Paragon director of corporate affairs and strategic communications Tamara Hicks said that Graydon was unavailable for comment.
Bracing for questions
The briefing note was near the end of a 191-page BCLC response to an FOI request for all email in Graydon's account for Feb. 5 and 6. That was the two-day period during which he continued to access the BCLC email system, despite BCLC policy.
Auditors found no evidence that Graydon inappropriately used confidential information, but the report said he did breach a 90-day post-employment agreement barring him from contacting BCLC staff. The report said BCLC "incorporated additional controls into their exit procedures" on Feb. 7, shifting responsibility for deactivating system access from the exiting employee's manager to Human Resources.
Among the anticipated questions in the Feb. 6 briefing note was: "Is there a conflict of interest for Michael Graydon to work at PV Hospitality?"
The prepared answer was: "We take these matters very seriously given the role of BCLC in conducting and managing gaming with contracted service providers. Given our current understanding, BCLC does not believe there is a conflict. All employees are bound to confidentiality agreements about the use of information that belongs to BCLC. Those agreements remain in effect for life."
The briefing note mentioned that former BCLC CEO, Vic Poleschuk "went on to work for service provider Great Canadian Gaming after he was terminated from BCLC and continues to do so today. Other former employees have left BCLC to work for hospitality partners and vendors in the past."
Poleschuk, a senior vice-president with GCG, was fired by the board in June 2007 after a damning Ombudsperson report about lax security around lottery prize payouts. He was entitled to a $603,000 severance package.
The briefing note said BCLC was aware that PV Hospitality was being created, but said neither BCLC nor Graydon had any role. It also claimed neither Graydon nor BCLC had any role in Paragon's contract to develop lands at B.C. Place, a decision it said was made in Jan. 2010 by another Crown corporation, B.C. Pavilion Corporation.
After resigning, in on the chatter
Email received in Graydon's account was partly censored for personal and third-party business information, so it does not show whether he referred anyone he corresponded with to a personal, non-BCLC email address.
Messages received ranged from trade newsletters iGaming and Daily Lottery Insider to Bally Technologies second quarter results and alerts for TransLink service disruptions. There were also memos from BCLC's IT service desk about the BCLC.biz extranet outage, a copy of the government's Today's News Online media monitoring report and correspondence with 102nd Grey Cup Festival committee general manager Jamie Pitblado and B.C. Lions' president Dennis Skulsky. Graydon is co-chair of the Nov. 26 to 30 event, which counts BCLC and Edgewater as sponsors, and he forwarded an invitation to the committee's Feb. 12 news conference to Dolinski and Rhonda Garvey, the BCLC vice-president in charge of the company's sports and poker website, PlayNow.com.
On Feb. 5, the morning after his last day on the job, Graydon emailed BCLC communications associate Jennifer Wint, at 8:14 a.m., from his BlackBerry: "I am still getting all my Linkin [sic] info to the old email address. Have I missed a step? Mg"
Wint responded 15 minutes later: "I just updated the new email to be the primary and deleted the old one. So you'll sign in now with your gmail. Should be good to go!"
To which Graydon responded at 8:30 a.m. "Thanks. Mg."
Also on Feb. 5, Dolinski and Graydon exchanged email about a Texas company offering to improve BCLC's mobile website and the appointment of ex-Ontario Lottery and Gaming Corp. chair Rod Phillips as the new chair of Postmedia. Postmedia CEO Paul Godfrey was fired as OLG CEO in May 2013. Graydon forwarded a Financial Post story about Phillips's move to Rod Baker, CEO of Great Canadian Gaming.