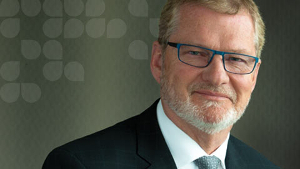 The B.C. Lottery Corporation CEO who quit to run the company that wants to build a casino beside B.C. Place Stadium was found in conflict of interest in a July 10-published report.
Michael Graydon tendered his resignation to the board of directors Jan. 29, effective March 31. The board accepted the resignation, but wouldn't let him work past Feb. 4. Three days later, Graydon's hiring as president of PV Hospitality ULC was announced.
The joint venture of Paragon Gaming Inc., 360 VOX Corp. and Dundee Corp. is aiming to move Edgewater Casino to a new $535 million hotel/casino complex that it wants to build on provincial land beside B.C. Place. The report, by auditors in the Office of the Comptroller General, said Graydon had been in discussions with Paragon in Dec. 2013 and Jan. 2014.
"As an individual, Mr. Graydon would have a private economic interest in his prospective employment with an affiliate of Paragon Gaming," concluded the report, which was ordered by Finance Minister Mike de Jong. "This interest could be considered significant enough to at least establish a reasonable apprehension that it would influence the duties and responsibilities of a CEO of BCLC."
Graydon lingered in BCLC email system after resigning
Graydon's BCLC employment contract did not include any post-employment restrictions which would have prevented him from working elsewhere in the B.C. gambling industry, but the report said other rules were broken after he left.
Graydon was allowed to retain his mobile devices and his remote access to the company's information system should have ended the day after his job ended. But his privileges were not cut-off until 10 days after his departure.
"Outgoing emails were sent via his BCLC email account on Feb. 5 and 6 demonstrating that the access and information had not been properly secured," the report said. "BCLC was unable to demonstrate that the mobile devices were adequately cleansed of data; however, there was no evidence of confidential information being inappropriately used. Had Mr. Graydon's server access been immediately terminated, and the devices been retained by BCLC, these issues would have been avoided."
A Tyee Freedom of Information request seeking "all correspondence and reports regarding the duplication, transfer, deletion and destruction of proprietary BCLC information and data" from Graydon's laptop, mobile phone and tablet garnered a July 7 response from BCLC. All 15 pages of information are being withheld by the Crown corporation, for fear that disclosure would harm law enforcement or security.
The report also said Graydon breached the 90-day, no-contact provision of his resignation settlement, but "the contacts related to inconsequential matters."
"BCLC, through legal counsel, reminded Mr. Graydon of the no-contact provision in a letter dated Feb. 12 and sent an email to all BCLC staff informing them of this provision. No evidence was found of any subsequent contact."
A March 13 entry in interim CEO Jim Lightbody's agenda, obtained by The Tyee, shows a 10:30 a.m. to noon "Paragon/BCLC" meeting in the executive boardroom, but it does not include the names of the participants.
Apology for 'perception of potential conflict'
A prepared statement released by Paragon and attributed to Graydon said he accepts the findings and supports the recommendations.
"While the auditors found no evidence of my current employer receiving preferential treatment, and no evidence of any confidential information disclosed, I understand that a perception of potential conflict was created, and for this I apologize," the statement said.
The report said Graydon "had limited involvement in the day-to-day operations of casinos and [community gaming centres] but was the person ultimately responsible for the oversight and management of commercial gaming and would be in a position to be able to influence BCLC interactions and approvals regarding their service providers."
Graydon also "had access to government, service provider and stakeholder information including strategies and performance results. As CEO, Mr. Graydon would, and did appropriately have a role in facilitating strategic and high priority initiatives such as the Edgewater Casino relocation and the proposed Surrey Casino development."
The report said there was no evidence of removal or inappropriate use of confidential information and that Graydon's confidentiality agreement with BCLC "extends indefinitely beyond his term of employment."
Sandy Garossino of Vancouver Not Vegas, which opposes the B.C. Place casino, said despite the lack of evidence, Graydon would have possessed day-to-day operating knowledge and relationships that would have helped him in his new job.
"Everyone knows knowledge is the most important thing, the document is secondary," Garossino said. "But the bottom line here is that Michael Graydon who is now heading up a major player in an industry that's known for Hollywood accounting, it's a massive cash business, it's extremely vulnerable to corrupt practices, we know he can't be trusted."
BCLC responded by requiring its senior executives and next CEO to be disallowed from going to work with a private B.C. gambling company for at least a year after leaving BCLC. Effective immediately, the B.C. government ordered a one-year post-employment restriction on working for an entity that an employee has a business relationship with.
Said the report: "Restrictions in employment contracts such as non-compete or non-solicitation clauses help to safeguard public interests by ensuring that individuals charged with management and oversight in key industries are not seen to benefit from knowledge or confidential information acquired through their employment to the detriment of the industry or public. Such restrictions must be drafted in a manner that is reasonable and not overly broad to ensure they can withstand any legal challenge."
The B.C. government has a one-year cooling-off period for senior workers who quit to become lobbyists, but the government only prevents them from lobbying the specific department in which they worked.