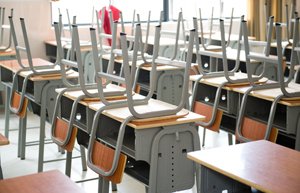 A joint press release issued yesterday by the BC Teachers' Federation and its employer indicates they are one step closer to employing Vince Ready as mediator in the ongoing teacher contract talks.
Ready, an independent mediator, has met with both the BC Teachers' Federation and the BC Public School Employers' Association separately on Wednesday. According to the release, he has "agreed to monitor the situation, and to resume exploratory talks or commence full mediation when he believes it will be productive."
A union spokesperson could not elaborate on how Ready will monitor talks, and there are no scheduled bargaining sessions next week at this time.
With just over two weeks until schools are scheduled to reopen, time is running out to wrap up 19 months of contract negotiations. The teachers walked out of classes two weeks before the school semester ended in June, and the two sides only returned to the bargaining table Aug. 8 after failing to meet a June 30 contract deadline.
The union has been calling for mediation since June 20 when they first requested Ready's services. The author of a 2005 industrial inquiry commission on a new teacher bargaining structure and a facilitator between government and the union that same year, Ready was unavailable until mid-August.
Both sides then agreed on Chief Justice of the B.C. Supreme Court Stephen Kelleher as mediator, but that plan fell through when Kelleher determined the two sides were too far apart in working conditions and wage offers.
No news on offers
Charles Jago was appointed by the government as mediator during the 2012 teacher negotiations. Despite telling media it was "mission impossible," Jago managed to achieve a negotiated contract between the parties, the second under the BC Liberal government and the third for the union since provincial bargaining was mandated by the New Democratic Party government in 1994.
Neither side is talking about what offers are currently on the bargaining table. But last offers made public included the employers' seven per cent wage increase over six years -- or 8.5 per cent over seven years -- and the union's counter offer of eight per cent over five years and an annual increase equaling the sum of the proposed Gross Domestic Product minus the actual Gross Domestic Product.
As for class size and composition, the union will wait for the B.C. Court of Appeal to rule on January's lower court ruling that the government did not solve class size and composition issues with the Education Improvement Act.
Meanwhile, it wants an annual $225-million Workload Fund to address class size and composition issues, and another $225 million per year to cover outstanding grievances from the stripping class size and composition from teachers' contracts in 2002.
The employers' association has countered with tying the $75-million annual Learning Improvement Fund, introduced in 2012 to address education issues including but not limited to class size and composition, to the teacher contract.