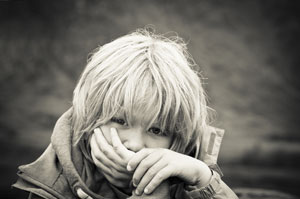 British Columbia's schools aren't just educational institutions. For some families they provide access to doctors, social workers and childcare. For students it can be a source of a free meal, counselling, cultural programming or just a safe space to hang out when home life is too chaotic.
In June the teachers strike shut down schools two weeks early and caused most districts to cancel their summer school programs after the union promised to picket them. But if the ongoing teachers strike continues into the fall, it will be more than children's education at risk when schools remain closed.
"It is truly incredible hearing some of the hardships these students live with on a day-to-day basis," said JP Lancaster, who has taught at Merritt Secondary School for the last three years, but has since decided to quit teaching.
"There are a lot of services that impoverished students in Merritt are in great need of, but could be without should the strike continue."
Low-literacy and high drop-out exacerbated
B.C. had the highest child poverty rate in Canada for over a decade, and according to Statistics Canada 20 per cent of children in Merritt lived in low-income households in 2010. A resource-dependent town, Lancaster says differences between the haves and the have-nots in Merritt are stark at the 600-student Merritt Secondary School.
Lancaster was a French immersion teacher, a program typically populated by academically successful students, yet there were students in his high school classes who couldn't read or write. A literacy summer program was scheduled to run in Merritt for the first time this summer that could have helped these students, he said, but it was cancelled because of the strike.
"At our school we've had a high drop-out or non-completion rate because there's no place in this academic stream that's at all pertinent to what [these students] are capable of," he said.
The district also offers a hot breakfast and lunch to kids in need at all five elementary schools and began serving breakfast at the high school this past school year. Some First Nations, like the Coldwater First Nation, pay for their students' meals not because students are in need but as a service to their members. However Coldwater education manager Krisalena Antoine told The Tyee students' families are responsible for feeding them when school isn't in session.
There are few other service providers in the community offering similar free services for youth. Calls to Literacy Merritt went unanswered this week but their website lists only the Bright Red Bookshelf program, a lending library for students to check out books, under Kindergarten to Grade 12 student literacy programs.
The Conayt Friendship Society providing programming and support to the Aboriginal community in Merritt isn't offering youth programs over the summer. Every other youth program in the area costs money.
Aware of impact on students: Chilliwack union head
Lack of access to health and social services can also result from picketing schools. Several districts including Chilliwack turn schools with extra space into Neighbourhood Learning Centres by offering it to childcare, medical services, and Ministry of Children and Family Development services that families, particularly low-income families, utilize.
Chilliwack Teachers' Association president Clint Johnston told The Tyee the B.C. Teachers' Federation left it up to union locals to decide whether they wanted to picket Neighbourhood Learning Centres, which continue to offer services over the summer.
Johnston and his fellow union members opted not to picket those locations because their employer doesn't provide services there.
He doesn't know if other union locals have opted to picket Neighbourhood Learning Centres in their districts, but Johnston says the union doesn't take decisions that impact students lightly.
"We're very aware as teachers of the link between education and the social demographics of children in poverty," he told The Tyee.
"When we're considering things like do we picket a [Neighbourhood Learning Centre] and how do we deal with it, we're very acutely aware of the problem of the demographics. We work with these families and children every single day, so when we make these decisions it's not done in a vacuum. It's one of the things that makes it very difficult for us to have a coherent province-wide plan."
Chilliwack Senior School, a Neighbourhood Learning Centre, could see its services disrupted in the fall if the strike continues into September. But Johnston says third party services have the option of appealing to the B.C. Labour Relations Board to make it easier for their employees and customers to cross the picket line since the labour disruption has nothing to do with them.
Wait to see impact on poor students: Lancaster
Whether the strike has impacted low-income students more than their financially better off peers is difficult to determine. Johnston says it could depend on whether parents were working poor who couldn't afford to provide childcare during the two weeks school was closed in June, or if they had at least one unemployed parent who could stay home with the kids.
Unless students were enrolled in summer school or summer camps run by the school board, summer childcare plans of families from all economic backgrounds would likely be unaffected by the teachers strike over the summer.
But if the strike extends into fall, the only support some parents will receive is the $40 a day government has pledged to families with children 12 and under, sourced from the $12 million government will save every day schools are closed in September.*
"My friends' childcare costs are approximately $30-$40 per day depending on where they take their kids," Lancaster said. But childcare might not be available in September, or families may need the money for more immediate needs like paying for rent, food and clothes.
For the true impact on low-income families from the strike, Lancaster believes we may have to wait until kids leave the school system.
"From what I observed in my three years in Merritt, the cycle [of poverty] seems to still be perpetuating itself," he said. "Maybe the data to be examined isn't from the present but 10-15 years from now when the current generation of students have kids in the system."
*Story updated at 3:12 p.m.